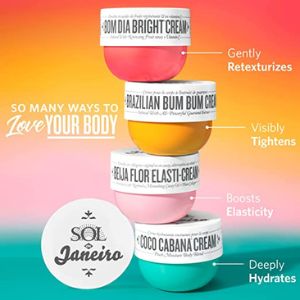 In the category of luxury body creams, Sol de Janeiro's Brazilian Bum Bum Cream is one of the most popular and renowned products. Formulated to deliver the goodness of natural ingredients to the skin and provide anti-aging effects, Bum Bum Cream is the number one choice of many.
However, the only downside of Bum Bum Cream is the high price that does not allow people to invest in it regularly. Even though the addicting fragrance and anti-aging properties compel people to buy it, the hefty price tag restrains. But, the good thing is there are many Bum Bum Cream alternatives in the market that gives a similar result at a fraction of the price.
Sol de Janeiro's Brazilian Bum Bum Cream
We have selected the five best Bum Bum Cream alternatives that are designed to tighten and brighten the skin while leaving a refreshing aroma. At the same they, they do not cost as much as Sol de Janeiro's Brazilian Bum Bum Cream.
Before we discuss these great alternatives to Bum Bum Cream, let's find out what makes it so effective and popular among the folks.

Ingredients
Whether we talk about the stunning scent or the special formula that keeps the skin tight and firm, Sol de Janeiro's Brazilian Bum Bum Cream is a superlative product. While natural extracts of different plants deliver the hypnotizing scent, the active ingredients keep the skin moist, supple, and well-nourished.
Let's take a look into the ingredients that impart aroma to Bum Bum Cream-
Pistachio
Salted caramel
Vanilla
The blends of these three create a pleasing scent that hooks the users forever.
The active ingredients of Sol de Janeiro's Brazilian Bum Bum Cream are-
1. Oils-
Coconut Oil- It consists of fatty acids that repair and nourishes the dry skin and keep it well-moisturized.
Acai Oil- Loaded with anti-oxidants, acai consists of omega-3, 6, and 9 fatty acids that revitalize the skin and protect it from damage.
Brazil nut seed oil- Rich in fatty acids, it also prevents the skin from getting dry. Also, it consists of mineral-like selenium that delivers anti-aging benefits to the skin.
2. Plant Extracts
Guaraná Extract- It is an extract from a Brazilian coffee berry that contains a higher amount of caffeine. It helps to improve circulation and the way your skin looks.
Cupuacu Butter Extract- Rich in fatty acids, it keeps the skin well-hydrated. At the same time, the presence of phytosterols and polyphenols delivers anti-aging benefits by protecting the skin from free radical damage and supporting skin elasticity.
3. Sodium Hyaluronate
It draws moisture to the skin to keep it well-hydrated and moisturized.
Pros
Leaves the skin looking and feeling firmer and more hydrated.
Smells amazing.
The cream has a thick and creamy consistency that glides on smoothly and melts into the skin.
Provides long-lasting hydration and a luxurious feel to the skin.
Available in a variety of sizes.
Cons
It is an expensive product and not easily affordable.
5 Best Similar Bum Bum Cream Products
Even though Sol de Janeiro's Brazilian Bum Bum Cream is a luxury skincare product, there are a few Bum Bum cream alternatives that can come close to the real thing without breaking your bank. Some of them are listed below-
1. Trader Joe's Brazil Nut Body Butter
Active ingredients are similar like in Bum Bum Creame- Coconut Oil, Acai Extract, and Guarana Extract.
Fragrance is like salted caramel and pistachio scent, lingering for longer hours.
Creamy consistency glides smoothly and moisturizes the skin with shea butter, aloe vera extracts and marshmallow root extract.
2. Tree Hut Tropic Glow Firming Whipped Body Butter
Pistachio seed oil, guarana fruit extract, and cupuacu seed butter are some common ingredients in this alternatives and bum bum cream.
Smells like Almond, Golden Amber, and Australian Sandalwood, making it even closer with Bum Bum Cream.
Enriched with shea butter and antioxidants like vitamins A, E, and F that keeps skin firm and tight.
The whipped formula of cream feels much lighter on the skin than Bum Bum Cream.
3. Soap & Glory Smoothie Star Body Butter
Consists of three oils and two butters that keep the skin well-moisturized and nourished. They are pistachio oil, almond oil, coconut oil, shea butter, cocoa butter.
Oils moisturize the skin and butter deeply nourish, without making it feel greasy or oily.
Nutty pistachio and fresh vanilla contributes to pleasing aroma of this product.
4. OGX Extra Creamy + Coconut Miracle Oil Ultra Moisture Body Lotion
Lightweight body lotion that consists of nourishing ingredients like coconut oil, essence of tiara, and vanilla bean extract.
Also consists of safflower seed oil and Vitamin E that are loaded with antioxidants and prevent premature aging.
Tropical coconut vanilla scent hooks the users as the smell lingers for hoursn the body.
Non-greasy and absorbs quickly, leaving you with hydrated, softer, and smoother skin.
5. Hempz Body Moisturizer – Daily Herbal Moisturizer
Anti-Aging body lotion can be used daily to help reduce fine lines and wrinkles while replenishing dry skin.
Aids in diminishing already flawed skin and is used for preventative care.
Formulated with Shea Butter, Ginseng, essential fatty acids, key amino acids, 100% Pure Organic Hemp Seed Oil, natural minerals and vitamins.