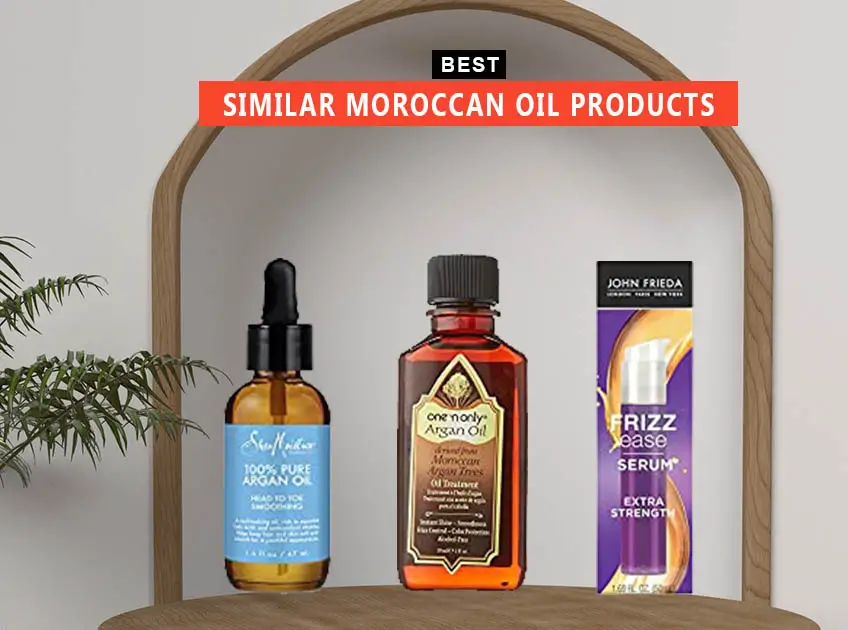 Hair oil treatments work wonders in managing major hair issues. When the hair gets dry, brittle, and frizzy, the right hair oil treatment can prevent these issues, making hair healthy and lustrous.
From nourishing the hair to replenishing the moisture, oil treatments can help in multiple ways. However, using the right product that suits your hair is essential for the best results.
Here, we are talking about Moroccan Oil Treatment, which is one of the most effective and popular hair oil treatments. It can help to eradicate major hair issues and bring back the shine and volume of dull and dry hair.
While everything about Moroccan Oil is great, the hefty price tag does not make people look for Moroccan Oil similars.
Luckily, we have some great similars of Moroccan Oil that helps prevent dandruff, add shine, and even stimulate hair growth. But before checking them, let's understand Moroccan Oil's major ingredients and features that make it so effective and popular among the masses.
[ Read: 9 Best Home Remedies for Dandruff ]
Moroccan Oil similars
Moroccan Oil is a multitasking, argan oil-infused hair treatment that absorbs quickly and helps improve shine and softness. Also, it adds hydration to the strands, making them smooth and frizz-free. This oil treatment helps to nourish the hair, add moisture, and protect it from further damage.
The major ingredients of Moroccan Oil are:
Argan Oil: Rich in vitamin E and antioxidants to help hydrate and nourish the hair.
Linseed Extract: An essential fatty acid that helps improve hair's health
Apart from these two amazing hair-loving ingredients, Moroccan Oil also consists of Cyclomethicone, Dimethicone, Argania Spinosa (Argan) Kernel Oil, Fragrance, Linum Usitatissimum (Linseed) Seed Extract, CI 26100 (Red 17), CI 47000 (Yellow 11).
The major features of Moroccan Oil include the following:
It is infused with argan oil that adds a layer of shine to the hair while making it feel super soft
Helps to control frizz and manage dry hair
Works for all hair types ranging from pin straight to coily
Formulated with Linseed Extract, which helps to improve the overall health of the hair and make it stronger
Free from sulfates and is cruelty-free
While everything is great about Moroccan Hair Oil, one downside is its high price. Due to the hefty price tag, this Oil doesn't fit everyone's beauty budget.
Pros
Suitable for all hair types
Adds moisture and shine
Controls frizz
Improves overall hair health
Free from sulfates
Cruelty-free
Cons
It is expensive
Heavily fragranced
Since it is out of budget for many people, we have listed the five best Moroccan Oil similars available at a lower price and deliver an almost similar result. Enjoy the goodness of high-end hair oil treatment at a fraction of the price.
[ Read: 7 Best Coconut Oils For Healthy And Nourished Hair ]
5 Moroccan Oil Alternatives
1. One N Only Argan Oil Treatment
The argan oil treatment from One N Only is one of the closest similars of Moroccan Oil that works magically on hair, giving them strength and shine. With the high concentration of argan oil, this product suits people dealing with hair issues.
Repair Dry Hair That Has Split Ends And Breakage
Deeply moisturizes damaged hair of all types.
Leaves hair smooth with a healthy shine
Instantly absorbs into strands to smooth cuticles and tame frizzy hair leaving a soft silky texture.
Makes hair stronger and more manageable; works as a styling detangler for wet or dry hair.
Lightweight and nongreasy with no oily residue
Encourages hair follicle growth and overall healthier hair
Helps block future damage from chemicals and heat
Alcohol-Free, Sulfate and Paraben Free
[ Read: Wet Brush Pro Detangle Hair Brush Review ]
2. The Ordinary 100% Organic Cold Pressed Moroccan Argan Oil
The Ordinary is one of the popular brands for good reasons. With its exceptional range of skincare and hair care products, it has become one of the ideal products for managing major hair issues. Therefore, it is also a good alternative to the costly Moroccan Oil.
Uses 100% pure Moroccan Argan Seed Oil extracted through a cold pressing that preserves the integrity of the Oil's fatty acids, vitamins, phenols (including caffeic acid), and carotenes
Works wonders on dry or damaged hair
Adds softness and shine to the hair that makes it incredibly smooth to the touch
Formulated without any water, the argan oil is not diluted at all.
Suitable for skin as well
It is lightweight and doesn't feel heavy or sticky on the skin.
Supports healthy skin and reduces the appearance of flaking due to dryness
[ Read: 15 Basic Hair Care Tips to Include in Your Hair Care Routine ]
3. John Frieda Frizz Ease Extra Strength Hair Serum
One of the popular hair care brands, John Frieda, is a well-known name in the makeup industry. The Frizz Ease Extra Strength Hair Serum from John Frieda is known to control frizz and manage flyaways. Also, it can be used to treat dry and damaged hair.
Adds tons of shine to the hair making it super soft and healthy-feeling
Great at lightly detangling the hair
Has heat protectant which will prevent your hair from becoming further damaged
Nourishes unmanageable, frizzy hair, leaving locks with a silky, smooth finish
Extra strength hair serum helps to protect from heat damage and repel humidity for up to 72 hours.
Formulated with hydrating Argan, Coconut, and Moringa extracts, making it weightless, anti-frizz hair serum for dry, damaged hair
[ Read: 5 Easy Homemade Hair Rinse Recipes for Silky and Shiny Hair ]
4. Hask Argan Oil Repairing Shine Oil
People swear by the results of Hask Argan Oil Repairing Shine Oil for many good reasons. To begin with, it adds shine and luster to hair without making them feel greasy or too oily. It is a relatively affordable similar for Moroccan Hair Oil Treatment, which is infused with argan oil.
Feels very lightweight, and it absorbs quickly into the hair.
Features a very pleasant smell that doesn't feel overpowering
Free from any sulfates, parabens, or alcohol
Strengths the hair strands and restores moisture
[ Read: 16 Effective Tips For Healthy Hair ]
5. SheaMoisture 100% Pure Argan Oil
Super accessible and affordable, the SheaMoisture 100% Pure Argan Oil is a perfect alternative to Moroccan Oil. It gives amazing results as it is made with pure argan oil.
100% pure argan oil that can be used as a hair serum, hair oil treatment, anti-frizz serum, or face, and Body Oil
It is a multitasking oil, rich in essential fatty acids and vitamin E
Provides head-to-toe smoothing, controls frizz, and adds a healthy shine to hair
Replenishes moisture to help smooth hair and give skin a youthful glow
Formulated with no sulfates, no parabens, no phthalates, no mineral oil or petrolatum
You Might Also Like: