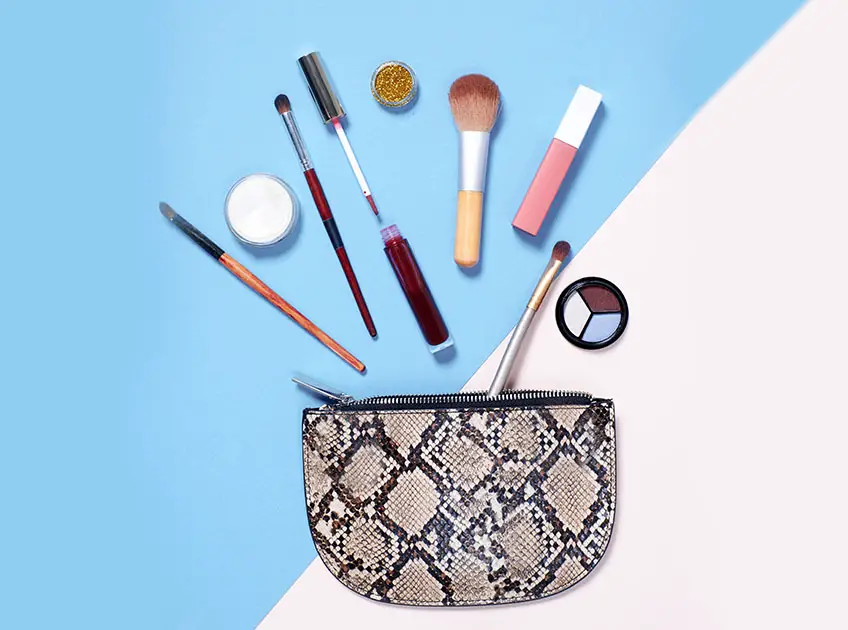 Travelling is fun and games until it comes to packing all the major and minor essentials.
"All my bags are packed and I am ready to go", said no one. There's always something or the other that we miss or end up carrying heavy pounds of weight for just a week of vacation.
It is another task when it comes to makeup for travel. It takes too much to decide which makeup would be helpful while travelling and which we need to leave at home.
Do I need that purple eyeshadow? Oh, would that nude lipstick go so well with this brown dress!? There are lots of questions that pop up in your mind while packing your delicious makeup whilst travelling.
Minimal makeup and exploring maximum new places should be the motto of easy travelling. Here we bring you some tips and tricks on how to manage your travel with the makeup package:
10 Pack Makeup For Travel
1. Go And Get That Makeup Bag:
A waterproof and leakproof makeup bag is a must when you are travelling with your makeup. It not only saves your makeup from leaking but also keeps your luggage safe from all the spills and splatter.
2. Always Plan Your Travel Looks:
You would always plan what are you gonna pair with that yellow top and those wide-legged jeans, right? In the same way, it is always good to pre-plan what makeup look you would go for while travelling. It would not only save your time but it also helps you in accessing things which you really require; plus the extra free space!!!
3. Refillable Silicon Travel Containers:
A good set of refillable and washable travel containers for makeup is a must for travelling. They are great to assemble all your cosmetics with different labels and are durable. They help in organizing all your things such as foundation, sunscreen, body wash, body lotion, facial moisturizer, cleanser, hair oil, hair spray, face serums, etc all in one go and prevent unnecessary spills.
4. Travel-Friendly Makeup Samples:
Instead of carrying large tubes or bottles of your lovely makeup, you can always ask for makeup samples at the beauty store. They are not only easy to carry but also cost no money. So a win-win situation for you!
5. Carry Your Own Mirror:
Always carry a travel-sized mirror so that you don't have to search for a mirror every now and then when you are on travel. It's always good to have a handy mirror to keep your makeup intact where ever you are.
6. Use Multi-Purpose Makeup Products:
Multipurpose Makeup products are always a good choice as they make your travel packaging hassle-free. You need not carry multiple products when only one product can serve the full purpose. For example, some highlighters can be used on the eyes, cheeks and lips or a multi-purpose glow stick can give youthful radiance within no time.
7. Looks For Combo-Products:
While you are shopping for travel makeup, always go for combo products. For example, a bronzer and brush together is a good combo package deal. You can also go for a blush and lipstick combo pack which can help in easy travel packaging.
8. Try To Choose Solids Over Liquid Creams:
Even though we are very careful with our luggage while travelling, we cannot stop it from flopping over whenever it is out of our sight. Carrying liquid or powdery makeup products can break, shatter and spill all over your luggage. It is advised to carry a solid makeup product for example a foundation cream stick rather than a liquid so that it is more manageable.
9. Sunscreen Is A Must! :
Be it any of your skincare regime or your basic makeup look, sunscreens cannot be skipped. It is a vital part of your daily routine and you should always try to choose makeup products which contain a good amount of SPF.
10. Carry A Good Makeup Remover:
You should always go to that beauty sleep only after removing your makeup. Otherwise, your skin would end up getting little bumps in the morning. Always carry an alcohol-free makeup remover that is gentle and kind to your skin.
We travel to stress out our minds from the day-to-day monotonous chores. Different people have different needs according to the type and destination of their travel but keeping it easy and stress-free is the need for all.
So, follow the top 10 tips on how to curate your makeup for travel and keep your packaging as minimal as possible because travelling is all about filling your pockets with lots of fun and adventures and not stress.
Have a Playful Makeup and A Happy Vacation! 🙂
You Might Also Like: