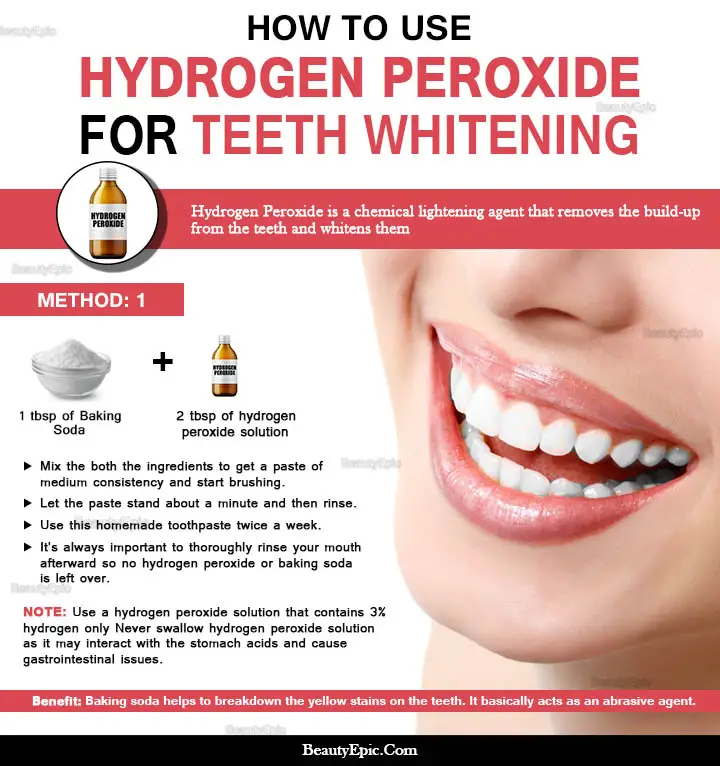 Yellowing teeth is a sure cause of immense embarrassment to you. Hiding your teeth and not being able to give that perfect smile is just heart wrenching. Your shining white teeth play an essential a role in enhancing your beauty and smartness as does your hair and glowing skin. Having too much of carbonated drinks and keeping a bad oral hygiene affect your teeth adversely. They become stained and turn yellow. There are various teeth whitening toothpaste available on the market that showcase a lot of promises but fail to deliver accordingly. Now if you do not desire to go to the dentist then you can depend on Hydrogen Peroxide to do the work. This article will surely give you some good ideas regarding the use of hydrogen peroxide for teeth whitening.
Is Hydrogen Peroxide Safe For Teeth
This is a common question that strikes our mind. Can we trust this product with our teeth? The answer is yes we can depend on hydrogen peroxide to whiten our teeth.
A study conducted on different chemicals to know their effectiveness in teeth whitening showed that When manufacturer's instructions are followed, hydrogen peroxide and carbamide peroxide based tooth whitening is safe and effective (1).
Here are few reasons that will tell you why it works well on teeth.
It has antiseptic and disinfectant properties that keep germs at bay.
It removes bacteria through oxidation.
It heals minor wounds inside the mouth.
Being a chemical lightening agent it removes germs buildup from teeth and whitens them.
The antimicrobial properties help to cure oral problems like plaque, gingivitis, and bleeding gums.
Hydrogen peroxide removes the odor-causing bacteria from the mouth as well.
How to use Hydrogen Peroxide for Teeth Whitening
Here is a method of using hydrogen peroxide to your advantage.
1. Baking Soda and Hydrogen Peroxide for Teeth Whitening
Ingredients:
1 tbsp of baking soda
2 tbsp of hydrogen peroxide
Toothbrush
Procedure:
Mix together the baking soda and hydrogen peroxide
The paste should be of medium consistency. Add hydrogen peroxide only if needed.
Transfer this mixture onto your toothbrush and brush your teeth for 5 minutes
Wash your mouth lukewarm water.
Repetitions: 2 to three times a week.
Preparation Time: 3 minutes.
Best Time To Apply: Anytime that is convenient for you.
How It Work:
Baking soda acts as an abrasive agent
It breaks down the yellow stain on the teeth and boosts the working of the hydrogen peroxide.
Tips: Use a hydrogen peroxide solution that contains 3% hydrogen only.
A number of clinical studies have also shown that baking soda–based dentifrices are more effective in stain removal and whitening than some non–baking soda—containing dentifrices with a higher abrasivity (2).
[ Read: How to Use Coconut Oil for Teeth Whitening ]
Dangers Of Using Hydrogen Peroxide
Nothing comes without certain risk and so does the use of hydrogen peroxide. There are some important things that you should keep in mind while using hydrogen peroxide. They are given below.
Hydrogen peroxide solution with a hydrogen concentration of more than 3% will whiten your teeth faster but will corrode your mouth, cause temporary tooth sensitivity, and gum irritation. So despite the desire for quick results do not use those. A study on 'Safety issues of tooth whitening using peroxide-based materials' tells that the most commonly seen side effects are tooth sensitivity and gingival irritation, which are usually mild to moderate and transient (3).
Be careful while using hydrogen peroxide and do not swallow it as it will affect your stomach and lead to gastrointestinal issues. If the hydrogen peroxide solution has a higher concentration of Hydrogen it will corrode your lungs and food pipe.
There can also be a case of the bleeding oesophagus if hydrogen peroxide is swallowed every time you use it.
Do not use it for children.
Do not combine hydrogen peroxide with your teeth whitening products. It can lead to serious issues like the erosion of teeth enamel, and gum irritation.
If you have a history of tooth trouble, then do not use hydrogen peroxide. If you are suffering from sensitive teeth, bleeding gums, or any other teeth ailment then do not just randomly use hydrogen peroxide. It will make the situation worse. It is best if you consult your doctor before using it as a home remedy.
This article will surely give you some good ideas regarding the use of hydrogen peroxide as a teeth whitening agent. Use the solution wisely and consult the doctor if you face any kind of irritation while using it.
Scientific Evidences
1. Tooth Whitening: What We Now Know- https://www.ncbi.nlm.nih.gov/pmc/articles/PMC4058574/
2. Stain removal and whitening by baking soda dentifrice: A review of literature- https://www.sciencedirect.com/science/article/pii/S0002817717308115#:~:text=A%20number%20of%20clinical%20studies,dentifrices%20with%20a%20higher%20abrasivity.
3. Safety issues of tooth whitening using peroxide-based materials- https://pubmed.ncbi.nlm.nih.gov/23846062/
You Might Also Like:
Image:- 1