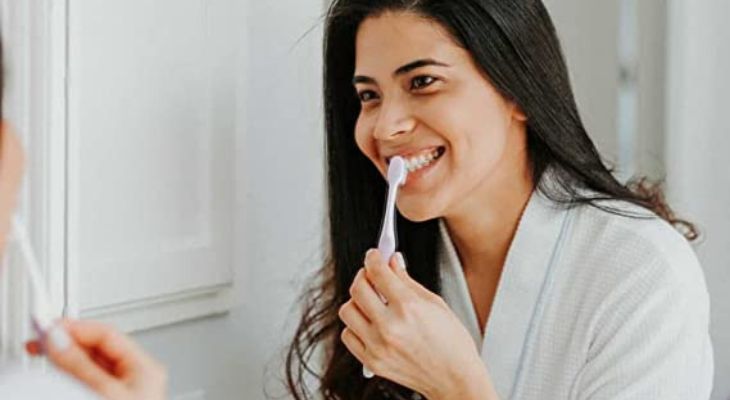 Using the best toothpaste for sensitive teeth will help if you are dealing with hypersensitive teeth. Tender teeth often experience sensitivity to certain food. Often it is triggered by cold and hot foods, but anything can cause teeth sensitivity.
Even though you can find different toothpaste for sensitive skin, reading each label could be overwhelming. Therefore, here we have listed the 7 best toothpaste for sensitive teeth that help manage the condition and bring a huge relief with regular use.
Toothpastes
All these toothpaste are selected on the basis of their ingredients, quality, and performance. We have also considered users' reviews and their opinions. If you are not able to decide on one toothpaste, check out its major features and potential benefits to make the decision.
Keep scrolling!
7 Best Toothpastes For Sensitive Teeth
1. Best Overall: Sensodyne Rapid Relief Sensitive
One of the top-recommended toothpaste for sensitive teeth
It contains the goodness of potassium nitrate or fluoride
Free of sodium lauryl sulfate (SLS) that may irritate certain people's mouths
It is ADA-approved and offers quick relief from sensitivity
The Minty flavor makes it even more appealing
What We Don't Like: Not for kids.
[ Read: How to Whiten Your Teeth Naturally at Home ]
2. Best Complete Protection: Colgate Sensitive
It contains the maximum-strength FDA-allowed anti-sensitivity active ingredient
Manages tooth sensitivity effectively
It also helps protect teeth against tartar buildup and cavities
It is clinically proven and provides 24/7 Sensitivity Protection
Repairs and strengthens painful sensitivity and weakened tooth enamel
Tastes good and leaves breathe fresh
What We Don't Like: Some users complain of a tingling sensation.
3. Best Natural Sensitivity Toothpaste: Hello Sensitivity Relief Fluoride Toothpaste
Infused with coconut oil for extra soothing relief
It contains naturally friendly ingredients and also includes fluoride
Natural ingredients make it safe for everyone and for everyday use
It provides a complete protection
What We Don't Like: It doesn't offer instant results.
[ Read: How to Whiten Teeth with Coconut Oil ]
4. Best Sensitive Whitening Toothpaste: Twice Sensitive Teeth Whitening with Fluoride
Aids in preventing new stain buildup without triggering sensitivity
It is free of SLS, and most of its ingredients are plant-based
With 7 pH, it helps keep your microbiome in balance
It boasts a pleasing lavender mint taste that leaves a fresh feeling in the mouth
It is cruelty-free and clean
What We Don't Like: It is not ADA-approved.
5. Best Affordable Sensitivity Toothpaste: Arm & Hammer Sensitive Teeth & Gums Toothpaste
It features a low-abrasion formula that helps whiten your teeth
Also, it helps relieve tooth and gum pain
Aids in maintaining healthy gums and teeth
Sodium fluoride and potassium nitrate for managing tooth sensitivity
It is FDA approved and offers fluoride cavity protection to the teeth
What We Don't Like: It contains a couple of abrasives and SLS.
6. Best whitening toothpaste for sensitive teeth: Sensodyne Extra Whitening Toothpaste
It is ADA-approved toothpaste, highly effective for sensitive teeth
Also, it contains hydrated silica, a physical tooth polisher
It contains fluoride to upkeep teeth and gum health
It is free of SLS and other harsh ingredients
The fresh minty flavor makes it more appealing
What We Don't Like: It takes time to give results.
[ Read: Lemon And Baking Soda For Teeth ]
7. Best Sensitivity + Gum Health: Crest Pro-Health Toothpaste, Sensitive and Gum
Offers relief from sensitivity within a matter of days
It also helps in teeth whitening
It is ADA approved and easily available
Also, address other teeth and gum issues like acid erosion, gingivitis, plaque, and cavities
What We Don't Like: Not for kids.
Conclusion
Now that you know some of the best toothpaste for sensitive teeth, it's time to shift from normal toothpaste to them. These toothpastes contain ingredients that help manage the issue and give healthy teeth and gum. Regular use of these kinds of toothpaste twice daily or as directed by the doctor will give good results.
You Might Also Like: