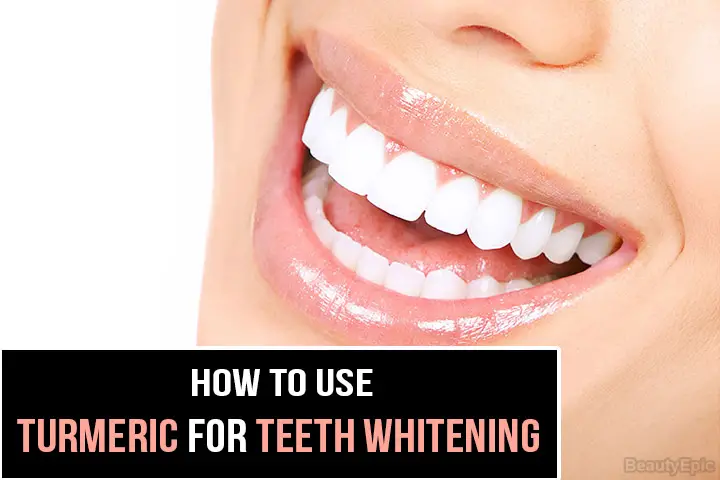 Turmeric is probably the most effective nutritional thing we use in our day to day life. Because of its numerous benefits, it has rightly been described as the magical herb. We have been using turmeric in our daily life since very early times. Also called as Pasupu in Telugu, arisina in Kannada and haldi in Hindi, turmeric is one of the fundamentals of Indian dishes. Surprisingly, turmeric is a great compound for teeth whitening. Teeth whitening from turmeric is a natural, easy and effective method. Here we explain in detail how to use turmeric for teeth whitening naturally.
How to use Turmeric for Teeth Whitening?
Teeth whitening may not be a very common concern among people but it is surely a basic wish of everyone. Along with other methods of teeth whitening, using the turmeric paste is one of the most common technique which have peculiar and great results.
1. Turmeric Paste for Teeth Whitening
Preparing turmeric paste for teeth whitening is a very simple and functional procedure. It is very common and simple.
Ingredients:
Preparation time: 2-3 minutes
Procedure:
Add almost a quarter teaspoon of turmeric powder with few drops of water.
Mix the solution gently by stirring.
How it works: Since Paste is abrasive in nature, it will remove the take away the stains and cleanse the teeth.
Repetition: since it doesn't have any side effect, you may use it daily for a certain period.
[ Read: How to Use Baking soda for Teeth Whitening? ]
2. Coconut oil and Turmeric Teeth Whitening
Coconut oil is arguably one of the best options to mix with turmeric for teeth whitening. Coconut and turmeric both contain essential nutrients to maintain your oral health.
Ingredients:
Preparation time: 4-5 minutes
Procedure:
Take around one quarter teaspoon of turmeric powder.
Add a few drops of Coconut oil (almost 1/8 teaspoon) and mix the solution
How it works: The paste of coconut oil and turmeric is antibacterial and anti fungal in nature, thus works effectively in not just removing stains and cleansing, but in overall oral health.
Usage: use it for a week to get best results.
[ Read: How to Whiten Teeth with Coconut oil?]
3. Turmeric and Lemon Teeth Whitening
We all know about the anti staring and cleansing features of lemon. Similarly turmeric and lemon paste can be a good option for teeth whitening.
Ingredients:
Preparation time: 3-4 minutes
Procedure:
1/8 teaspoon turmeric powder
A relatively less lemon drops
How it works: lemon and turmeric both have anti stains properties. The paste is thus helpful in teeth whitening.
Usage: can be used for few days till the results shown. Should avoid a long term usage.
Tips: Since Lemon is acidic in nature, it is advisable to have lemon in lower concentration in comparison to water and oils.
[ Read: How to Use Activated Charcoal for Teeth Whitening? ]
4. Turmeric and Olive oil Teeth Whitening
In all over the world, Olive oil is renowned for teeth whitening. Like the coconut oil, Olive oil also contains nutrients to maintain a proper oral health.
Ingredients:
Preparation time: 3-5 minutes
Procedure:
Add 1/8 teaspoon of olive oil
Add 1/4 teaspoon of turmeric
Mix well
How it works: This solution of Turmeric and olive oil kills bacteria and clean teeth. Also it is anti-inflammatory in nature.
Usage: The solution can be used for up to a week.
Turmeric is really an effective and nutritional herb which has tremendous advantages. For teeth whitening, using Turmeric is one of the easiest and the most productive technique. People have been using turmeric for ages for various purposes including teeth whitening. Adding it with coconut or olive oil gives an extra edge. Turmeric for teeth whitening is a well known and natural approach.
You Might Also Like:
Image:- 1