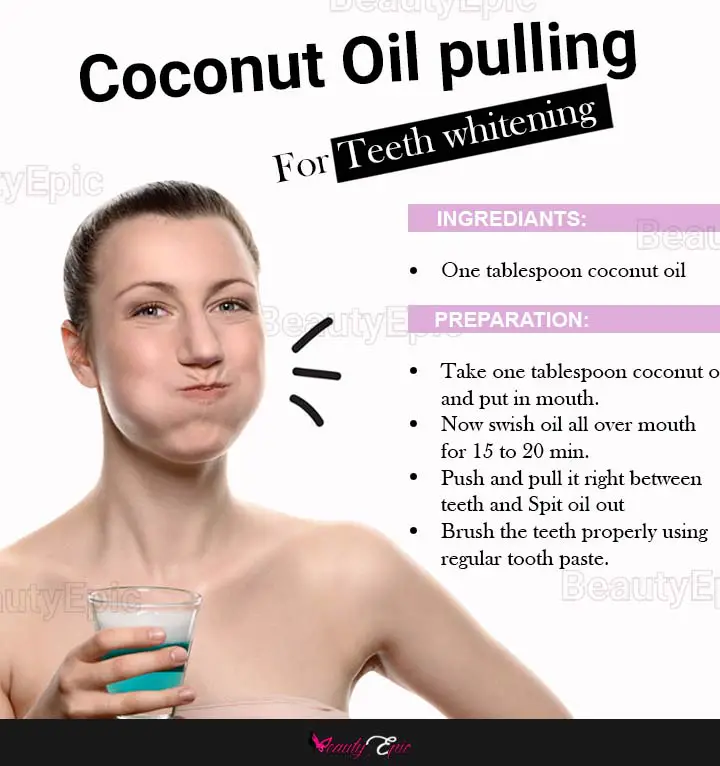 Having stained teeth is one of the common problems which we can see these days. The main reason behind this is unhealthy food habit and lifestyle along with too much intake of tannin in form of tea and coffee. For some, specific medicine consumption can also be the reason for stain. In today's article we are going to read on how to whiten teeth with coconut oil.
Does Coconut Oil Whiten Teeth?
Lauric acid present in coconut oil is known for attacking all harmful bacteria present in mouth and can cause serious bad breath, tooth decaying and  lso gum disease. Coconut oil won't bleach it removes plaque giving a shinning look to teeth.(1)
How to Use Coconut Oil for Teeth Whitening?
There are so many ways in which coconut oil can be used for whitening the teeth.  You can use just the oil or mix it with other ingredients for excellent performance.
1. Brushing Teeth with Coconut Oil
Coconut oil is known for attacking the harmful bacteria present in mouth, it is always considered healthy to use small amount of coconut oil daily before toothpaste brushing to keep the gums and teeth healthy.(2)
2. Coconut oil Pulling for Teeth Whitening
Oil pulling is one act in which you swish oil in mouth for about 20 minutes and spit it out. It acts as mouthwash.(3)
Take one tablespoon coconut oil and put in mouth.
Now swish oil all over mouth for 15 to 20 minutes.
Push and pull it right between teeth.
Spit oil out
Brush the teeth properly using regular tooth paste.
[ Read: How to Whiten Teeth With Baking Soda ]
3. Turmeric and Coconut Oil to Whiten Teeth
Turmeric is good for gingival inflammation and any dental pain. Along with coconut oil it will soothe the gums and protect from any infection.(4)
Ingredients:
Organic turmeric powder
Coconut oil
Preparation Time: 5 Minutes
Procedure:
Take 1/4 the spoon of Turmeric powder
Mix the turmeric with 1/8th spoon of coconut oil
Brush your teeth using the mix
Do not rinse and wait for 5 to 6 minutes to let the turmeric settle on your teeth
Spit and rinse your mouth
Brush again with regular toothpaste and rinse
How it work: This mix cleanse the teeth thoroughly and makes gum free from infection.
Repetitions: 2 to 3 times weekly
Best time to Apply: Always at time of brushing.
Tips: If some yellow stain is around corners of mouth, wash it with dental soap and it will erase out.
[ Read: How to Whiten Teeth With Turmeric ]
4. Brush Teeth with Coconut Oil and Baking Soda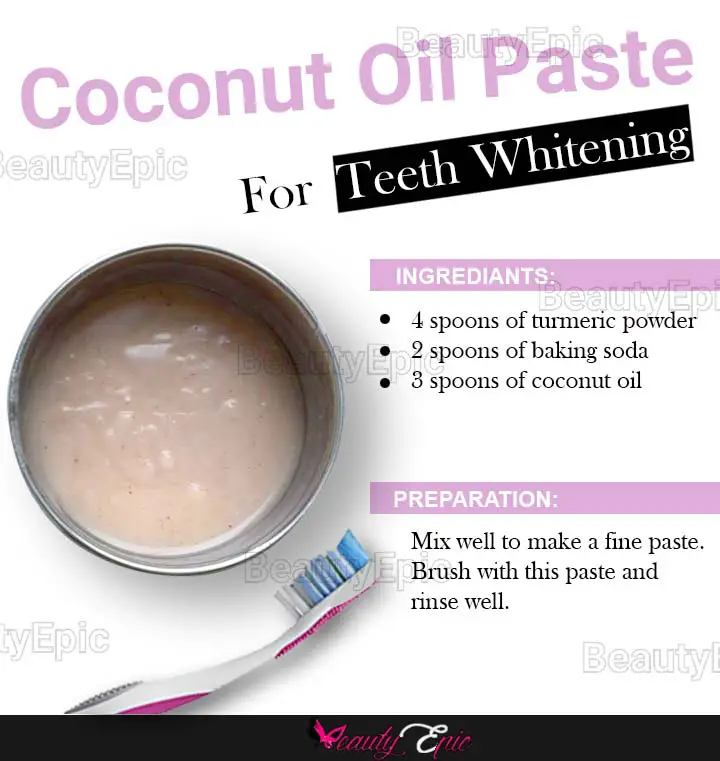 Baking soda effectively works for removing stains from teeth surface and make it look more white and clean. It will work slowly and steadily to clear teeth.(5)
Ingredients:
Coconut oil
Baking Soda
Turmeric
Preparation Time: 5 minutes
Procedure:
Take 4 spoon of turmeric powder and mix it with 2 spoon of baking soda
Add 3 spoon of coconut oil in it and prepare a thick paste
Brush with this paste and rinse well
How it works: It will clean and whiten teeth naturally, and will protect teeth and gums from infections as well as inflammation and tooth decay.
Repetitions:  2 to 3 times weekly for a month
Best time to Apply:  Always at time of brushing
Tips: Do not swallow the mix
5. Coconut Oil and Activated Charcoal Teeth Whitening
Activated charcoal takes out toxins as well as impurities from body. It offers mouth an excellent Detox, and whitens enamel without effect of bleaching agents.(6)
Ingredients:
Coconut oil
Activated charcoal
Peppermint oil
Mold
Preparation Time: 5 minutes
Procedure:
Take 2 tsp of Activated charcoal powder
Mix it with 1 cup full Coconut oil
Put 20 drops of Peppermint essential oil
Mix well to make it soft
Place it in mold of round shape. 2-3 spoon in every mold
Place it in freezer for 15 mins
Now take one tab in your mouth and keep chewing till it melts. Keep spreading as it lets all over teeth and tongue for 10 to 20 minutes.
Spit well
How it work: The tabs work to completely detox the teeth and tongue to remove the stains specially caused due to tannins
Repetitions: Use these once weekly
Best time to Apply:  Before brushing.
Tips:  Store the Charcoal and coconut tabs in cool dark place to avoid melting and for storing long.
What Kind of Coconut Oil is Good for Teeth?
Micro nutrients present in unrefined coconut oil helps in killing bacteria present in mouth, tooth decay and corrosion of enamel. It is also popular as Streptococcus Mutans. It cleanses the teeth better than refined coconut oil.(7)
It's true that coconut oil alone and also with other natural ingredients can do wonders for your teeth and make look naturally white. But you need to have patience in noticing the change with time. For old stains you need to visit dentist.
Scientific Evidence:
You Might Also Like:
Image:- 1