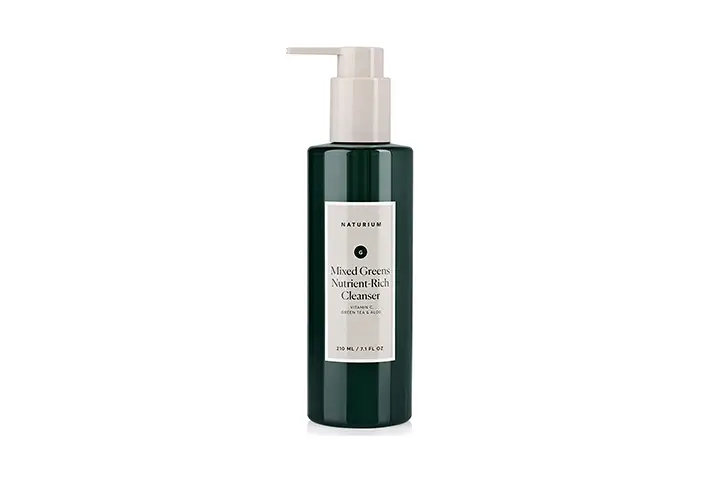 To make your skin oil free and hydrated use Naturium Mixed Greens nutrient cleanser. It removes dirt, debris and impurities from your skin and makes it radiant.
It removes makeup effectively and smoothes skin for an even complexion.
Maintain your skin bacteria free and other unwanted debris from the skin. Because of pollution our skin is covered with germs, viruses and dead skin cells.
Vanish all these daily build up from your by using this Naturium Mixed Greens Nutrient- Rich facial cleanser and get refreshed.
Naturium Mixed Greens Nutrient-Rich Cleanser
How it Works:
The gel formula of this product locks hydration and cleanses your skin by removing the dirt, impurities and dead cells.
The deep cleansing formula improves complexion and gives you a feel of parlor treatment.
The perfect blend of anti-inflammatory aloe plus antioxidant rich green tea and with vitamin C, which help to boost collagen and prevent breakouts and redness.
It is the combination of natural ingredients and advanced synthetic ingredients.
They help to nourish and balance by removing dirt, oil, makeup and other debris.
Pros:
Skin compatible.
Milky, translucent gel formula.
Prevent breakout effectively.
Cruelty free and vegan.
Appropriate pH level.
Cons:
For some it may irritate.
Rating: 4.6 out of 5.
The best product made with nourishing super fruits, antioxidants green tea and soothing aloe. Get a flawless smoothie soft skin with Naturium.
Frequently Asked Questions (FAQ's)
Q. Is this product safe for camping?
Ans: Our Mixed-Greens Cleanser is formulated with biodegradable cleaning agents which are great for outdoor use.
Q. Does it work gently on your face?
Ans: Yes it works gently on your face.
Q. What is the expiry date for this product?
Ans: All Naturium non-OTC products have been stability tested for a two year shelf life. Once opened, it is suggested to use these products within 6-12 months depending on the formula.
Alternate Products:
You Might Also Like: