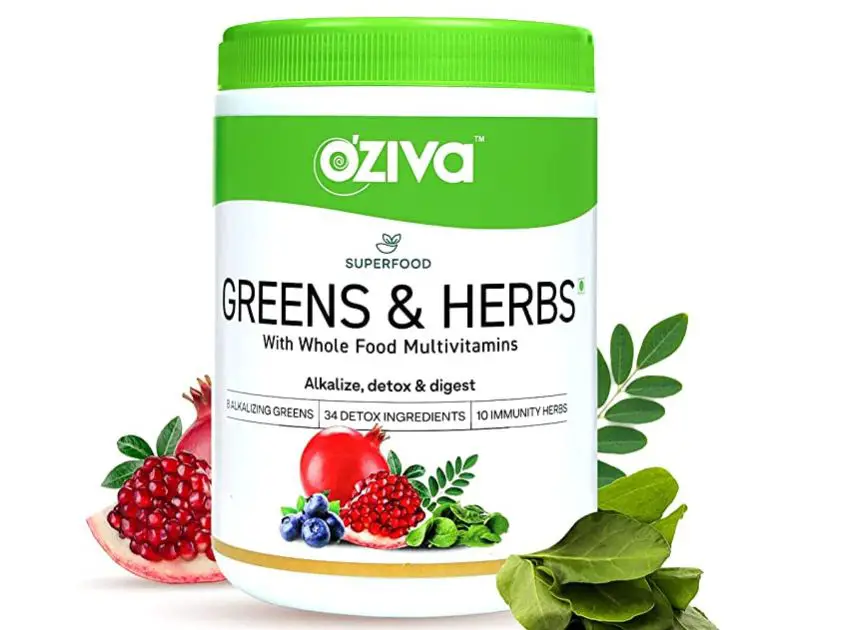 Poor eating habits and sedentary lifestyles have taken a toll on our health. It welcomes many health issues, among which poor metabolism is one. To combat it, intake of certain health supplements becomes essential to help the body regain strength and become healthier. At the same time, it improves immunity and makes the body more energetic.
There are plenty of brands that manufacture health supplements; however, most of them utilize synthetic ingredients that are not as effective as they should be. On the contrary, a few brands manufacture plant-based products that, even though they take time to show results, are highly effective.
In the same context, today, we will review Oziva Greens & Herbs, which helps the body alkalize, detox, and digest. It is like a superfood with high nutritional power loaded with essential minerals and vitamins.
Product Review
Oziva Superfood Green and Herbs is an amazing product consisting of more than 35 superfoods, including greens and Ayurvedic herbs. It is an all-rounder product that works wonders to make you healthy and fit and detox the body.
The good thing about it is plant-based ingredients that ensure there will be no side effects. It promotes overall well-being and takes care of physical and mental health. The Ayurvedic herbs are stress-busters, and greens loaded with anti-oxidants fight off free radicals, making the body healthier.
The different blends in this superfood consist of a well-balanced formulation supplying essential nutrients to the body. Another good thing is all the family members can take it irrespective of age.
Product Description
Oziva Superfood Herbs and Greens is an amazing product that furnishes the nutritional requirement of the body. It is a wholesome product that helps in cleansing and detoxing. It is useful in many ways and highly effective.
The plant-based ingredients promote health and strengthen the immune system. There are 34 detox ingredients, ten immunity herbs, eight alkalizing greens, and whole-food multivitamins for overall health and fitness.
To use it, mix two scoops (around 8 g) of Oziva Superfood Herbs and Green powder in 200 ml water. Stir well and enjoy!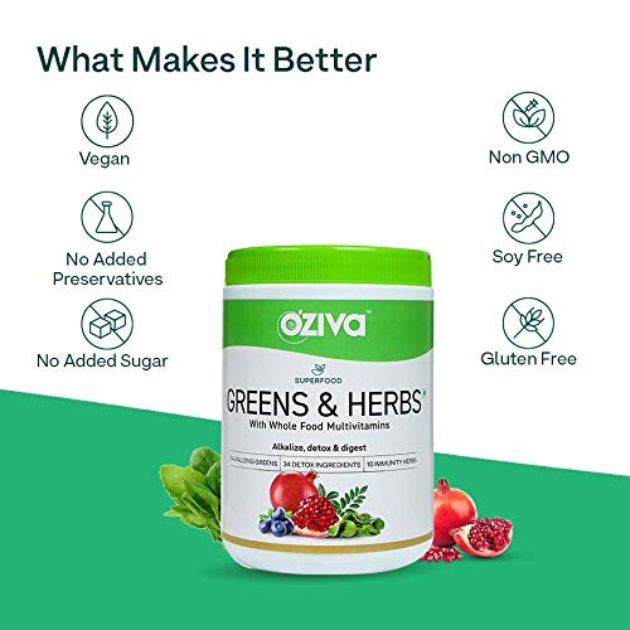 Nutrition Facts
The six different blends in Oziva Superfood Greens and Herbs furnish all the nutritional requirements of the body. These blends are-
Alkalizing Greens Blend- It consists of the goodness of greens like Chlorella, Spinach, Moringa, and many more.
Wholefood Multivitamin Blend- The presence of Carrot and Curcumin extracts and Orange Peel replenish the Vitamin C requirement of the body.
Detox & Digest Blend- Amla, Manjistha, and Triphala are some of the herbs present in the detox blend. It also aids in easy digestion.
Energy Blend- Ayurvedic herbs like Maca Root, Ashwagandha, and Brahmi are loaded with stress-relieving components that keep the mental balance of the body.
Heart Health Blend- Fruits like Pomegranate, Pineapple, and Guava improve heart health and ensure it functions efficiently.
Brain Health Blend- To maintain brain health, this superfood consists of extracts of herbs like Blueberry, Ginkgo Biloba, Rose Hips, and more.
What We Like
It is a complete plant protein, certified vegan by the Vegan Society of the UK.
Easy to digest and perfect for all family members.
It is free of gluten, soy, added sugar, artificial sweeteners, and preservatives.
It is a non-GMO product.

What We Don't Like
To get the desired results, you need to take two scoops of Oziva Superfood Greens and Herbs in 200 ml of water. Drink it for at least two to three months to see the difference in energy, stamina, and immunity.
If you are looking for some instant result-giving product, this is not the one.
How Much Does Oziva Superfood Greens And Herbs Cost?
The regular price of Oziva Superfood Greens and Herbs is Check Here. Make sure you buy it from Oziva's official website or some reliable source like Amazon to avail of the benefits of discounts and offers.
Alternative Products
Conclusion
Some health supplements consist of magical ingredients that work like a one-man-army and give complete nutrition to the body. Oziva Greens and Herbs is one of them. If you are looking for a health supplement that can help overall fitness, this is the right product.
Read More