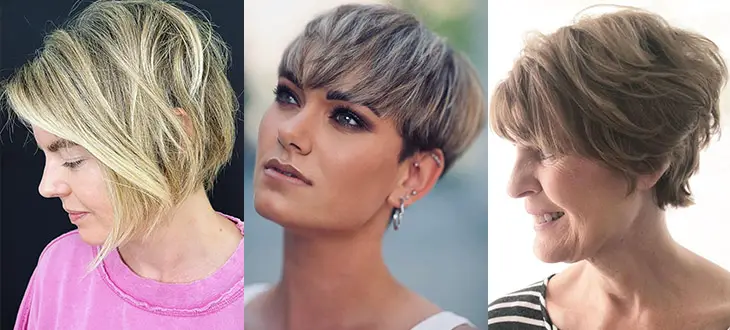 Pixie haircut for women over 50 is the new fad, and mature women are all going gaga over it. There is no denying that a pixie haircut looks cool and older women look younger than their age with this style.
Whether you have thin hair or dense, pixie hairstyles, suit all hair types and give a stunning look. At the same time, pixie haircuts are easy to manage and do not require effort. So, if you want one, check out these amazing pixie haircuts for women over 50.
Best Pixie Haircuts For Women Over 50
1. Pixie Haircut with Chopy Bangs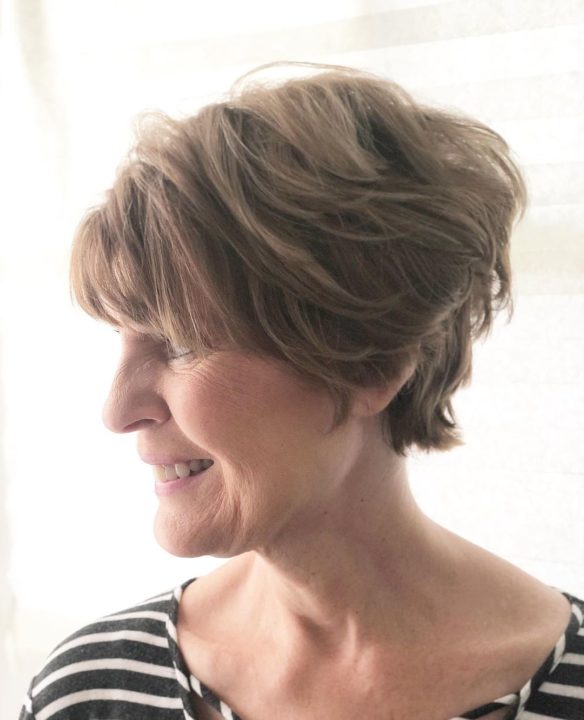 Some haircuts are made to create a stylish look, and this pixie haircut with chopy bangs is one of them. Women over 50 can have this haircut to look gorgeous. Completing it with icy blonde color will enhance the look even more.
2. Pixie Cut With Wispy Fringe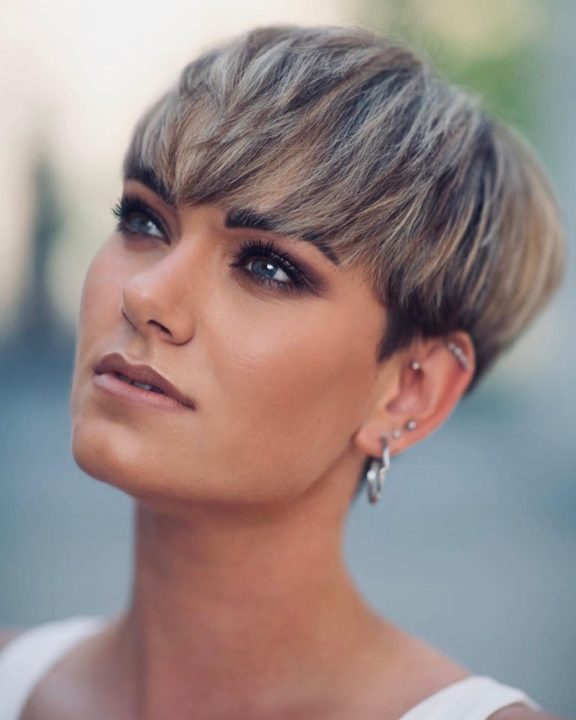 For all the bold ladies over 50 who want an edgy look, a pixie cut with a wispy fringe is the right pick. Your hairstylist may have to use shears or razors to get this style, in addition to using heat styling tools to give a perfect look.
3. Classy And Long Pixie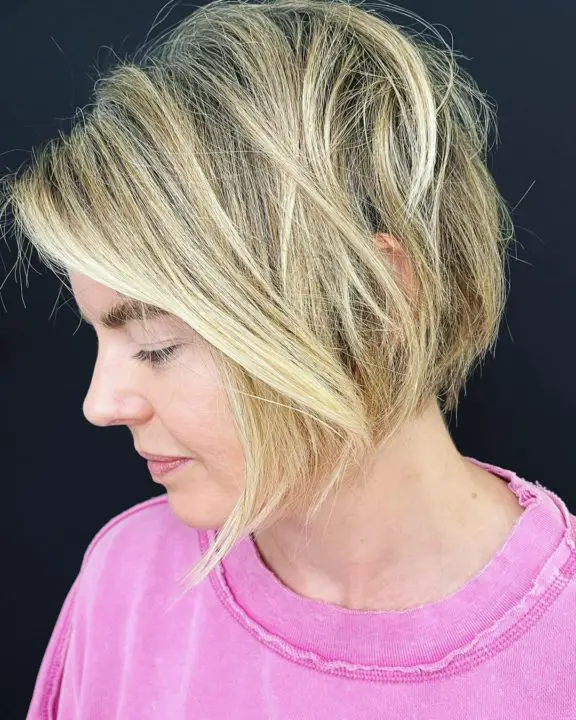 This classy and long pixie is your go-to style if you have blonde hair. Perfect to have in your 50s; this style gives a stunning look to your personality. Additionally, the long pixie will make you feel you still have long locks to adore.
4. Asymmetrical Pixie For Gray Hair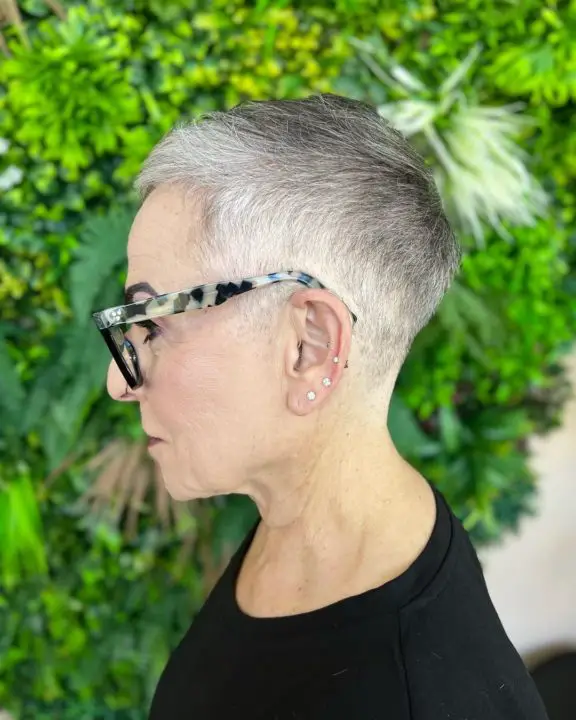 Sometimes going a bit messy and asymmetrical look gives an oomph factor to the personality and this pixie haircut is perfect for getting such a look. Here, the waves and layers of hair make the style more emphasized and stunning. At the same time, it looks trendy.
5. Simple Pixie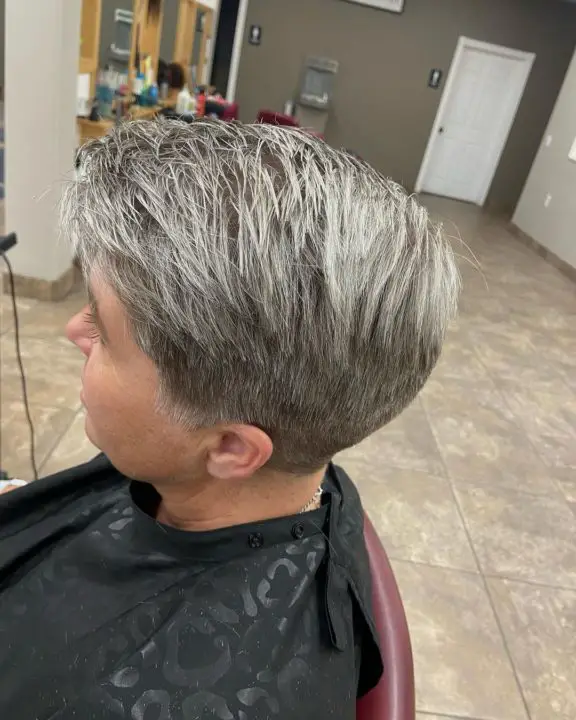 Giving a simple younger-looking edge, this simple pixie haircut is suitable for women who don't want to experiment much and want an elegant and sober hairstyle. A simple pixie cut gives more volume and texture to hair, making you look fabulous.
6. Extra Long Side-Swept Pixie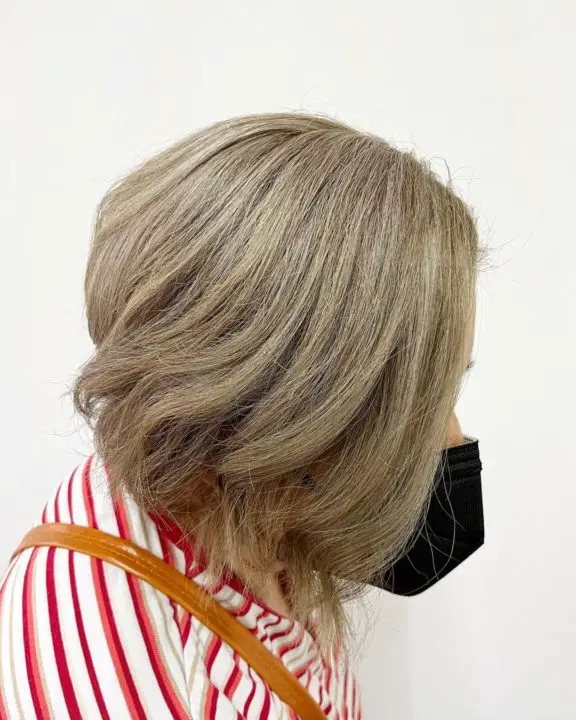 Adding a little bit of sass and a little extra spice to your style, this extra long side-swept pixie haircut is perfect for all women over 50. Mature women can rock this style anytime. The advantage of this side sweep is it hides most of the fine lines and wrinkles over the forehead while the attention remains mostly on this amazing haircut.
7. Rounded Pixie For Summer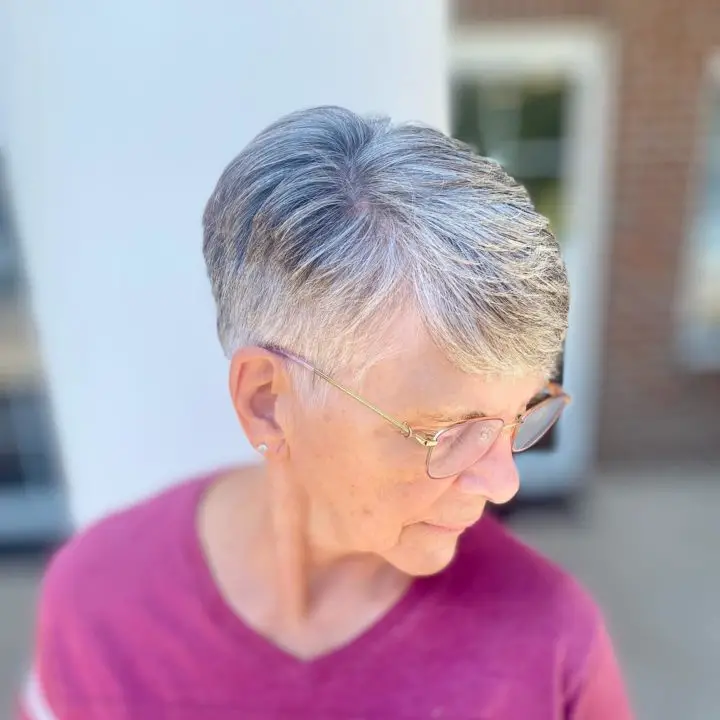 With layering at the back and small fringes in the front, this rounded pixie hairstyle is so summery that you can't get over it. With the right layers, this haircut also gives a voluminous look to your face. It is perfect to have a radiant personality for a mature woman.
8. Pixie Cut With Long Bangs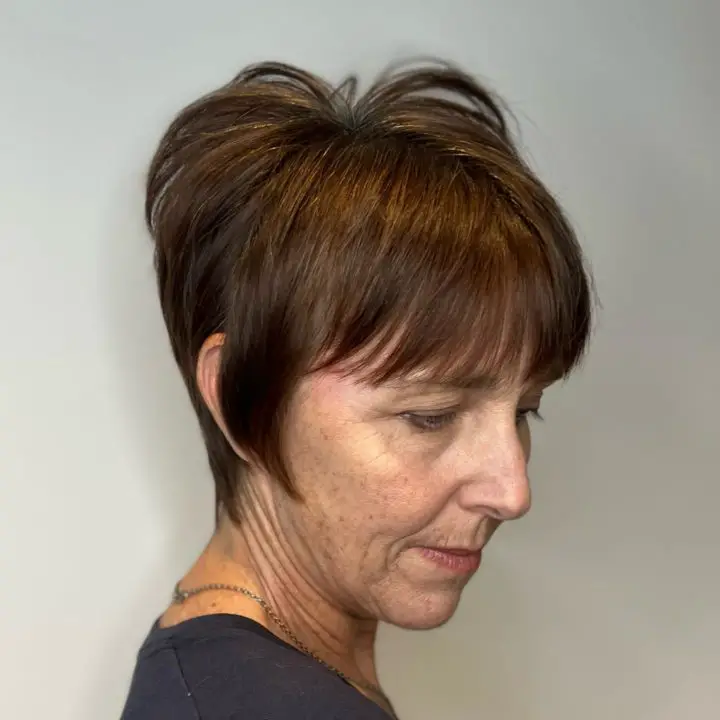 Bangs are always in fashion, and getting them with a pixie cut gives you a younger and youthful look. Just like side swept bangs, long bangs also hide your forehead imperfections as the attention stays on your hairstyle alone.
9. Flattering Bronde Shaggy Pixie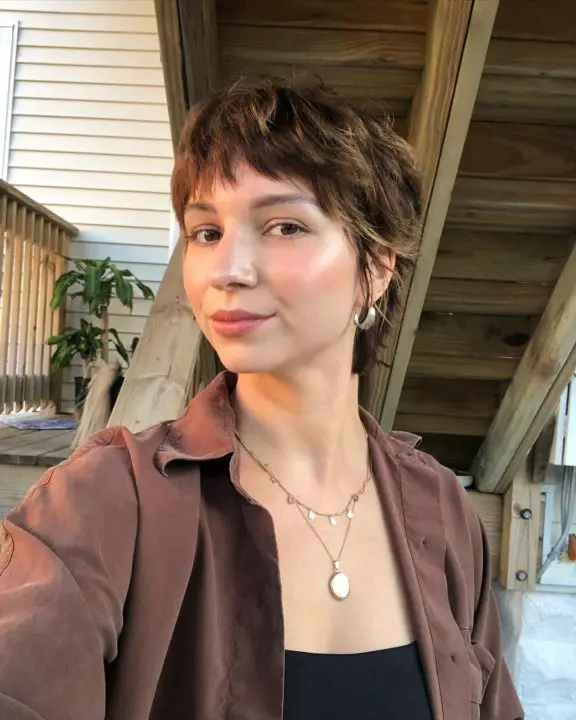 Women with bronde hair color should pick shaggy pixie haircut without any second thoughts. It is because this hairstyle speaks volumes, especially when done with bronde color. It looks cool and chic on older women.
10. Feathered Pixie For Fine Hair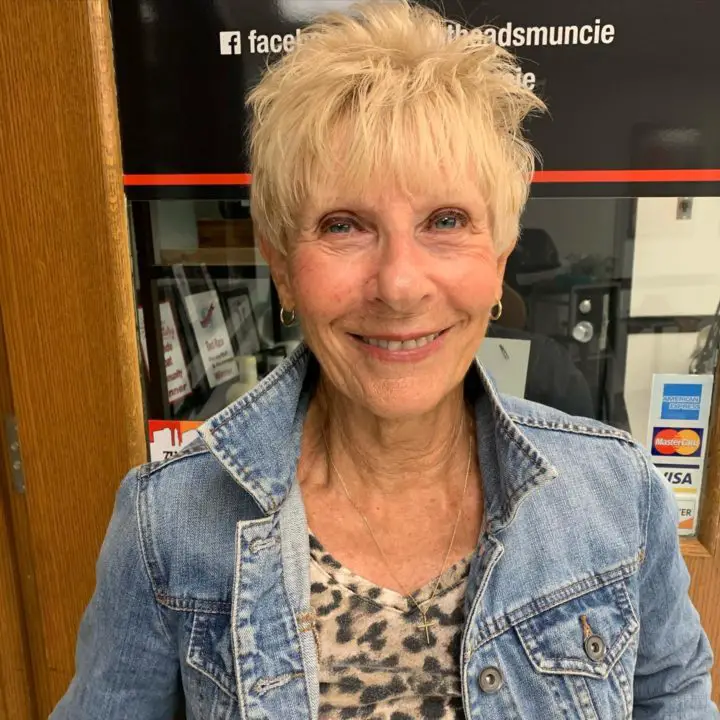 Hair thinning is a part of aging, but a few hairstyles can make your hair look voluminous, and a feathered pixie is one of them. It gives a classic look to your personality, and you look younger than your age.
11. Choppy Pixie For Thin Hair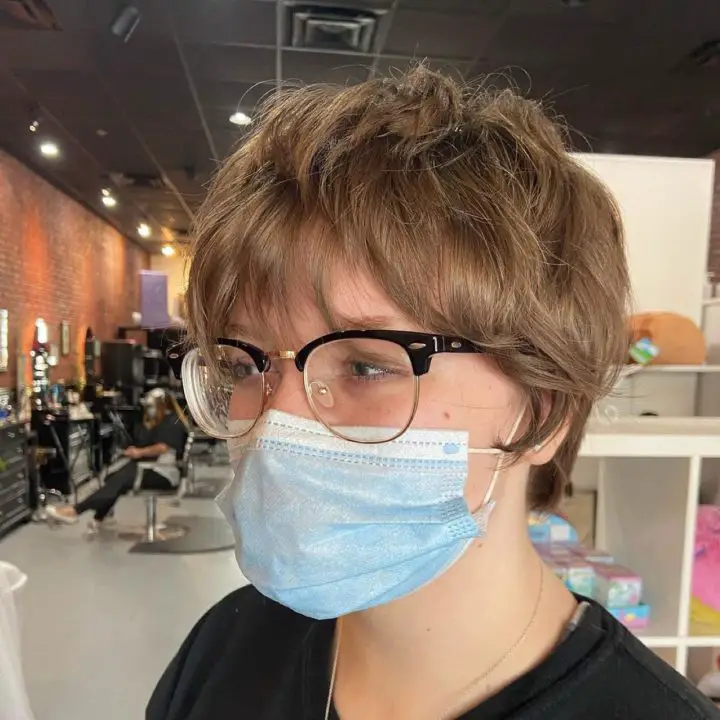 No matter what's your hair type or face shape, some hairstyles suit all, and a choppy pixie is one of them. This is also suitable for women with thin hair as asymmetrical chops give a voluminous look to the haircut. Get this textured hairstyle and stand out from the crowd.
12. Super Short Pixie Cut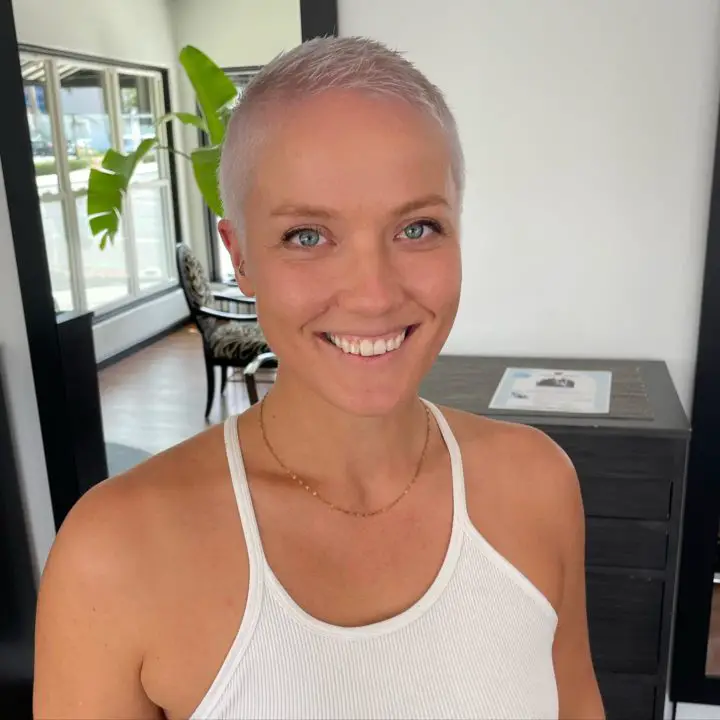 Working women look for hairstyles that are easy to manage and low maintenance. If you are one of them, don't think twice before getting a super short pixie cut. It looked great on women with round faces and didn't require any time for maintenance. You can head for work without combing too.
13. Bronde Pixie Bob
Women with bronde hair color can also opt for a pixie bob which is usually chin length and looks super stylish. This haircut looks classy and elegant and is a perfect pixie haircut for women over 50.
14. Youthful Layered Pixie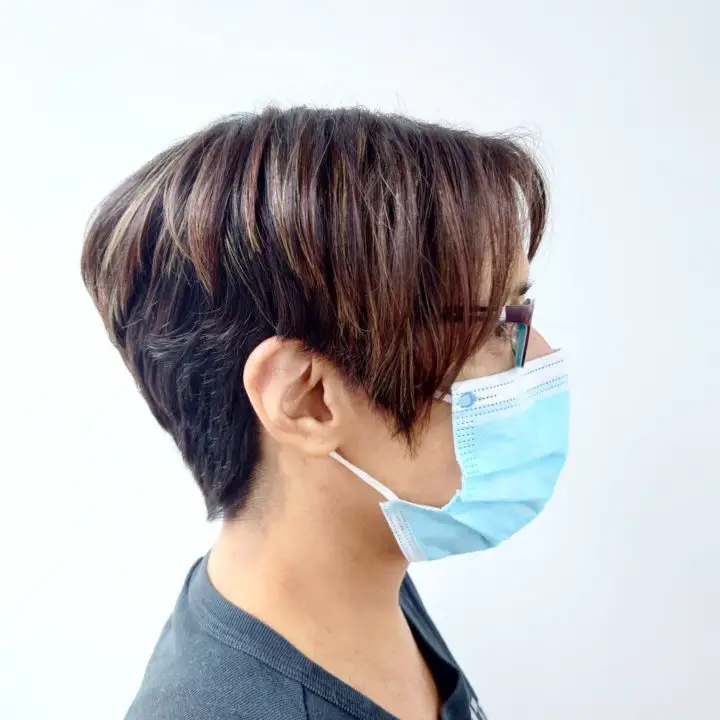 A layered pixie haircut talks volume and is one of the most amazing haircuts of all time for mature women. Easy to manage, this haircut is classy and elegant at the same time. It looks great when you tuck one side behind your ears and get an effortless look.
15. Mocha Razor Pixie Cut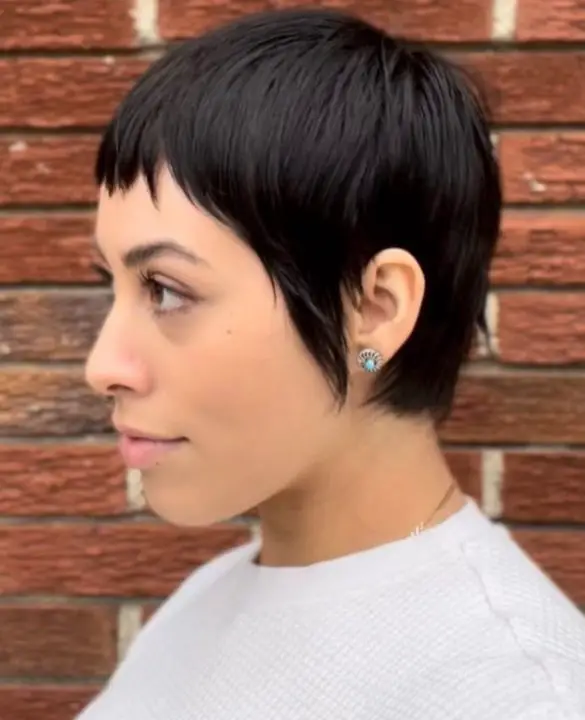 Have you got mocha hair color and are looking for some stunning haircuts to go with it? Razor pixie is the go-to style that you can flaunt anytime. It is soft, edgy, chic, and modern, giving a youthful look to older women.
Conclusion
Giving an illusion of full and voluminous hair, these pixie haircuts are perfect for women over 50. So, if you are transitioning from long or shoulder-length hair to short, start with a bob and later pick any of these pixie haircut to rock your personality like never before.
Make sure you visit a hairstylist who is a pro in short haircuts to help you achieve a perfect style without looking masculine.
You Might Also Like: