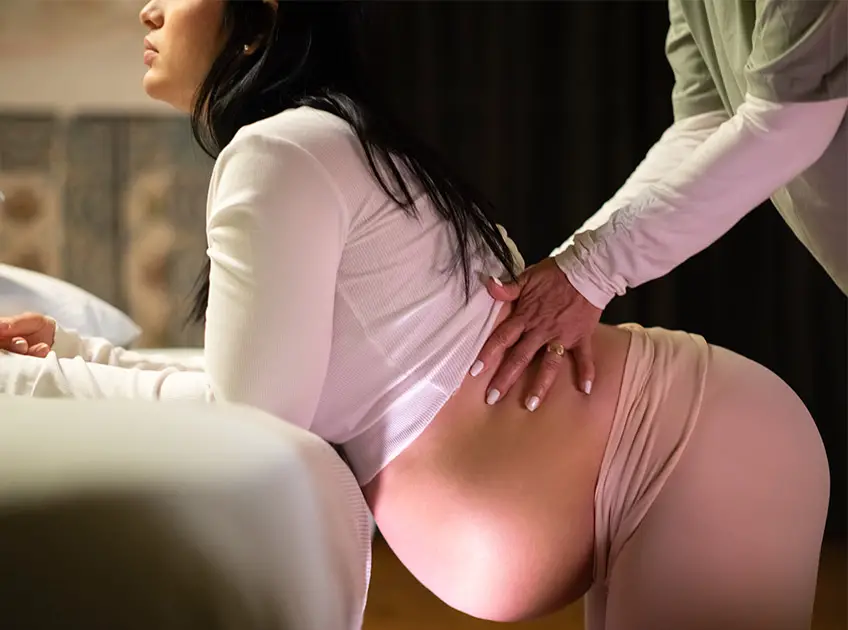 The expanding belly in pregnancy, hormonal surge, postural changes, etc., could cause discomfort in the lower body, leading to backaches. A relaxing back massage during pregnancy could be one of the ways to help reduce backache and keep you comfortable. But how safe would be pregnancy back massage. Read this post as it discusses the benefits, precautions, and tips for pregnancy-safe back massage.
Is It Safe To Get A Back Massage During Pregnancy?
A pregnancy massage, also called prenatal massage, is considered safe for women who get beyond their first trimester. However, before you get a pregnancy back massage, you should consult your doctor and find a massage therapist trained in pregnancy massage. You might want to take extra precautions or avoid a pregnancy massage if you are:(1)
In your first trimester
Experiencing nausea, vomiting, and morning sickness
At high risk for miscarriage or have a high-risk pregnancy
Having a blood clot
Experiencing abdominal pain or bleeding
Having swelling in one or both legs
Benefits Of Back Massage During Pregnancy
Some research has shown the benefits of back massages during pregnancy. They include:(2)
1. Reduces Swelling: Swelling in the arms and legs, called edema, is common during pregnancy. This is caused by reduced blood circulation and increased pressure on major blood vessels by the uterus. Getting a back massage helps reduce the swelling in the joints and improves circulation.
2. Improves Oxygenation to Muscles and Soft Tissues: Massaging during pregnancy can improve circulation in the body. Improved circulation means a better oxygen flow to the muscles and other soft tissues, relaxing and relieving them from aches and pains.
3. Regulates Hormones: Research states that massage during pregnancy helps lower cortisol levels (a hormone known for causing stress and anxiety). Getting a massage or a back massage during pregnancy can help reduce depression, anxiety, leg and back pain. Studies also show that women who receive bi-weekly massages reported reduced norepinephrine and cortisol and increased serotonin and dopamine levels. This hormonal balance helps in mood stabilization and better birth outcomes.
4. Eases Pain in The Nerves: Pregnancy back massage is helpful for the joints and muscles and the nerves in the region. Sciatic nerve pain is common in the third trimester, and getting a back massage helps ease pain in this region. In addition, massaging the back helps relax the nerve and eases pain.
Other Benefits
Some other benefits of pregnancy back massage include:
Better sleep
Reduces muscle tension and headaches
Reduces labor pain during childbirth
Alleviates depression and mood
Lessens preoperative pain
Precautions To Follow For Pregnancy Back Massage
Getting a back massage during pregnancy does not always require you to go to a massage parlor. You can safely get a massage at home during your pregnancy. Ask your partner or a friend to help you give a back massage. Here are some tips that they may use:
While getting a gentle back rub, lie on your side and ask them to focus on the muscles around your spine.
A shoulder rub could be relaxing along with a back rub.
Avoid massaging your belly but applying some vitamin E can help soothe any effects of stretch marks and also prevent them to a large extent.
Practice prenatal yoga– some stretching exercises and breathing could help. Pregnant women should discuss the benefits and risks of pregnancy back massage with their obstetrician-gynecologist. The following are the precautions for you:
Avoid getting a massage when you have varicose veins or signs of a blood clot Heated beds and electric blankets are not recommended in pregnancy.
Take care while you are getting on and off the massage table
Avoid applying direct pressure on your abdomen by lying on it or allowing your abdomen to dangle.
If you have high blood sugar levels, avoid back massage until your sugar levels stabilize
Avoid a back massage during pregnancy if you have been diagnosed with placental issues.
Step-By-Step Tips For Pregnancy Back Massage
Lie on your side and support your belly using some pillows.
Avoid lying on your back past the fourth month of pregnancy If you are getting a shoulder massage, a sitting position may also be comfortable.
For a back massage, gently rubbing and kneading the back muscles can help ease your sore muscles.
Rubbing the palm along the sides of the spine could be relaxing.
Gentle presses on the lower back can help relieve muscle aches.
Use palms and thumbs to work up and down the spine.
Where Not To Massage During Pregnancy?
It is natural for women to want a full body massage to find relief from their aches and pains during pregnancy. However, you should avoid massaging your belly to prevent hurting your baby. You should also avoid a deep tissue massage to your legs and pressing certain pressure points in the body that can trigger contractions.
How To Choose The Professional Massage Parlor?
To have a pleasant and safe back massage experience during pregnancy, you should get prior approval from your doctor. The next step is to find a professional massage parlor and a trained masseuse. Here is what you can look for:
A parlor that has professionals trained and certified in prenatal massage.
The parlor with expertise in providing back massages for pregnant women
Professionals in the parlor can address issues you may be facing during pregnancy, including positioning your body while keeping it safe and comfortable for you.
Should be experienced in spotting potential issues, such as blood clots or varicose veins.
Should be well aware of how not to strain uterine ligaments during a massage.
The massage parlor should be hygienic and clean to avoid infections during your pregnancy.
The parlor should be equipped with appropriate equipment and use safe, recommended techniques.
The benefits of pregnancy back massage are well-documented and known. Getting a massage is good for your back and your overall health and well-being during pregnancy and childbirth. Though getting a pregnancy back massage is safe, always check with your healthcare provider before getting one.
Scientific Evidence:
Image Credit: freepik