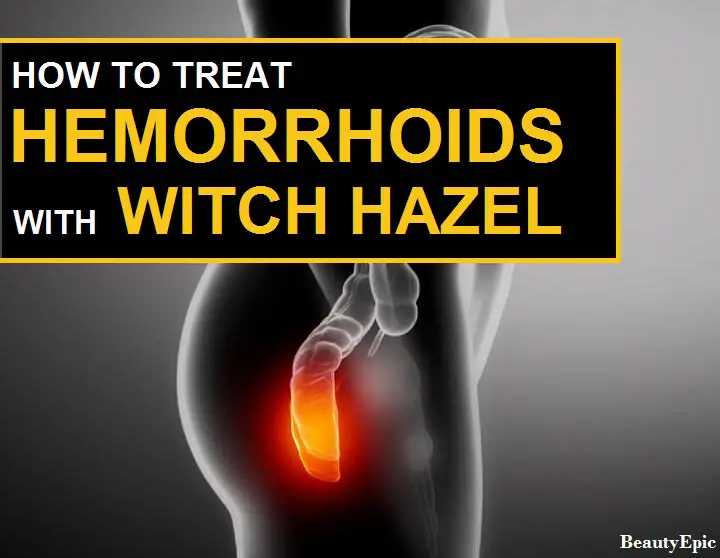 Known in the Latin language as Hamamelis Virginiana, Witch Hazel is a plant with medicinal values. Basically, bark and twigs are processed after drying leaves and liquid material is manufactured to formulate such drugs. The most effective thing about the medicinal liquid is that it possesses ability to heal illness. In fact, the tribes of Native America are active in using it for curing skin irritation because of the anti-oxidant, anti-inflammatory and anti-microbial substances properties.
Is Witch Hazel Good for Hemorrhoids?
Absolutely yes because witch hazel is one of the prominent home remedial treatments for curing skin irritation, inflammation and various other forms of skin problems.  Besides treating skin diseases, witch hazel is ideal for curing hemorrhoids pain too. This may necessitate for solution manufactured with witch hazel and alcohol.
What Does Witch Hazel do for Hemorrhoids?
Being an ideal remedy intended to cure skin irritation and hemorrhoid pains, it works towards relieving from burning sensation, itching and even inflammation. Witch hazel is famed for containing anti-inflammatory properties. Along with this, it is highly effective in easing the troubled bowel movements.
How to Use Witch Hazel for Hemorrhoids?
The main components of the witch hazel extract comprise of calcium oxalate, safrole, gallotannins, as well as chemicals located in the vital oil. It is mostly utilized externally on hemorrhoids, trivial bleeding, and skin inflammation. It is often used as a natural medication for psoriasis and eczema and for handling insect bites and poison ivy.
1. Witch Hazel Wipes for Hemorrhoids
Hemorrhoids can be seriously problematic with extensive pain. Witch Hazel wipes available in the market help people towards managing piles. Generally, these wipes are already dipped in witch hazel solution and can be applied over anus. It should be changed after a while, so that hemorrhoids can be handled easily.
Procedure:
It should be kept on the affected area for about 5 to 6 minutes and changed after a while.
Keep doing the same thing for about 15 to 20 minutes on daily basis.
The hemorrhoids should not be strained by constipated stools. So, it is essential for the patients to treat constipation in the first go to fight away hemorrhoids.
2. Witch Hazel Pills for Hemorrhoids
Apart from the wipes, pills manufactured with witch hazel as an ingredient can be opted to treat hemorrhoids. Though, pills are not recommended much as it has the ability to develop gastrointestinal problems. They are available throughout the medical stores and at reasonable rates. This is the reason that Witch Hazel Pills should be kept as the last option.
It is recommended to take pills under the doctor's supervision and as instructed.
3. Witch Hazel Cream for Piles
Known to be one of the common options to treat hemorrhoids, witch hazel cream is quite a safer way.  These hemorrhoids creams and ointments are developed with witch hazel as well as other natural ingredients. This amalgamation of ingredients is usually meant to relieve people from hemorrhoids in a specific way.
It helps reduce pain, itching and bleeding as well. So, it is advised to apply them as per the directions of a doctor.
4. Garlic and Witch Hazel for Hemorrhoids
Not only does witch hazel decreases inflammation and sterilize wounds; but it also tightens skin, stops bleeding, lessens itching and contracts inflamed blood vessels. The powerful natural therapeutic curative properties of garlic are considered highly effective. As one of the more widely used home remedies for hemorrhoids garlic is used to help with itch relief, inflammation and pain. It wields anti-inflammatory, antibacterial properties to fend off the symptoms of hemorrhoids.
These can be used as suppositories dipped in witch hazel and inserted in rectum.
In the external hemorrhoids, garlic pieces can be used with witch hazel wipes or pads.
Procedure:
You will need 3 garlic cloves and 10 drops of Witch Hazel
Crush Garlic and mix with witch Hazel.
Coconut oil also can be used to make a smooth paste (optional)
Form this mixture into suppositories
Refrigerate and then insert into the anus.
Do this once everyday in the evening so that your body gives the medication time to recover.
5. Tea Tree Oil and Witch Hazel for Hemorrhoids
Tea tree oil hemorrhoids treatment is one of a rising number of alternative medicine cures for hemorrhoids. The oil utilized for tea tree oil hemorrhoids treatment is purified from the leaves of Melaleuca alternifolia, which has been a small tree or large shrub growing around streams or on sandy flats. Tea tree oil in the treatment of hemorrhoids has to be prepared carefully.
How to Use Tea Tree Oil and Witch Hazel for Hemorrhoids?
1 tbsp of Coconut oil
10 drops of witch hazel
5 drops of Tea tree oil
Make a mixture and refrigerate for 2 hours.
Make suppositories and insert in the anus.
It is best to use before night as it gives your body time to recover. It is recommended to use it to 1-2 times a day.
6. Aloe Vera and Witch Hazel for Hemorrhoids
Aloe Vera alone can be utilized in numerous ways for handling internal as well as external hemorrhoids.
Process:
Prepare Witch Hazel tea by boiling dry witch hazel in a cup of water
Let it rest for 10 minutes
Strain and add 1 tbsp of aloe vera juice in it
Soak a cotton boil and apply in the affected area.
You can use this remedy upto three times a day.
7. Apple Cider Vinegar and Witch Hazel for Hemorrhoids
It is said that apple cider vinegar is highly effective in reducing itching and pain caused from Hemorrhoids.
But, doctors recommend that it should not be used because such a mixture burns the skin and may add to the problem. However, this does not apply to all and hence should be done under the supervision of your doctor.
How to use?
As ACV is strong in nature you may dilute ¼ ACV with  one cup of water, and few drops of witch hazel and use it.
Soak a cotton ball in this mixture.
Lay on your stomach and put the cotton ball on the Hemorrhoids for around 20 minutes
Do this 2 – 3 times daily.
[ Read: How to Use Apple Cider Vinegar to Cure Hemorrhoids? ]
8. Witch Hazel Bath for Hemorrhoids
Also famed as Sitz bath, it is recommended that the person should sit in warm water for about 15 minutes.
Repeat the process several times in a day; particularly after bowel movement.
Available at medical stores, a small bowl with Witch Hazel fits in every toilet and helpful in soaking the area better.
Is it safe to Use Witch Hazel for Hemorrhoids during Pregnancy?
Yes, it is safe to use Witch Hazel for hemorrhoids in times of pregnancy. Though, it is recommended to use medicated wipes or pads soaked in Witch Hazel than pouring it directly over affected area.  Another thing to note is that one should avoid sitting and using it for longer period of time.
Hemorrhoids are a medical issue that can be termed as piles too. There are various types of medications required to treat and the patient may select the treatment process as accessed. Of course, keeping it as natural as possible will help in curing the problem faster.
You Might Also Like:
Image:- 1