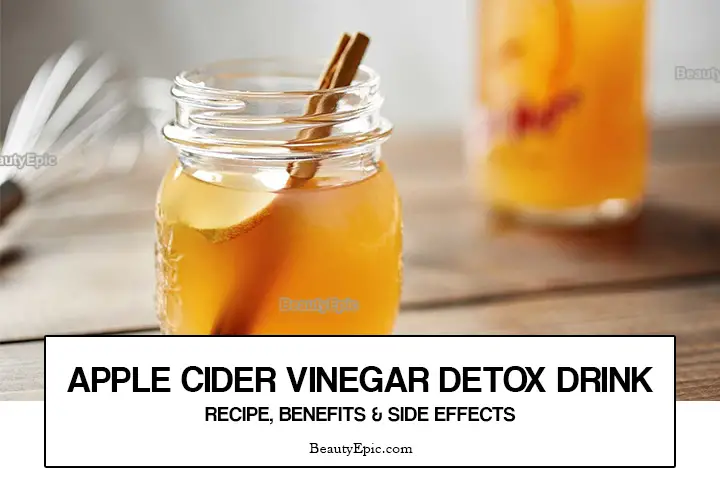 Many people believe that apple cider vinegar is best only for dressing salads, but then, this is not the case. Apple cider vinegar is used all over the world for many other medicinal purposes. It is used as a basic ingredient in preparing apple cider vinegar detox. Apple cider vinegar for diet, detoxification, and other benefits is something that was discovered a long time ago. For this reason, let's learn more about it.
Apple Cider Vinegar Detox Drink Recipe

Ingredients:
Like any other thing, there is a need to have in place the basics before you commence to prepare it. For an apple cider vinegar detox drink, the basics you require are
Raw honey,
A glass of hot water or lukewarm,
A tablespoonful apple cider vinegar of high quality,
4 tablespoonfuls of lemon juice,
A pinch of cayenne pepper,
1/2 tablespoonful of ground cinnamon (optional).
Preparing Apple Cider Vinegar Detox Drink:
You will start by dissolving cayenne, lemon, cinnamon, and honey in a hot glass water.
All these ingredients need to be forcefully stirred and thereafter you add your apple cider vinegar to the entire mixture.
It would have been ready for use.
Note: Since it is fairly concentrated, it should be drunk only in small amounts or pour it in more water if it seems to be strong.
[ Read: Benefits of Activated Charcoal Detox ]
Benefits of Apple Cider Vinegar Detox
Our bodies have the capability to detoxify themselves.
There has been no enough research that has supported that detox diets actually remove body toxins.
There are a number of benefits an individual can gain from consuming apple cider vinegar.
Some of These Benefits Include:
Helps provide our bodies with the right enzymes dose.
It increases an individual's potassium intake.
It greatly supports a healthy immune system.
It is helpful with weight control.
Brings about healthy digestion.
Helps to treat acne if used externally.
[ Read: How to Use Apple Cider Vinegar for Weight Loss ]
Side Effects of Using Apple Cider Vinegar Detox
Anything with benefits has some accompanying side effects with it. This is not an exemption with apple cider vinegar. There are quite a number of side effects related to its usage.
Some of These are:
Leads to delayed stomach emptying
Brings about digestive side effects
Bone loss and low potassium levels
Brings about an erosion of tooth enamel
May cause throat burns, drug interactions and skin burns among many others.
How Often to Drink Apple Cider Vinegar Detox
It is said that two tablespoons on daily basis are helpful as it can lead to losing weight nearly twice much in three months as compared to the individuals who were fighting to lose weight and the never used it.
You simply require stirring into a glass of water and taking it before meals or you can too consider mixing it with oil to come up with a salad dressing.
Even though there is no big body study that suggests this product as a great health cure, reviews and testimonials that are found online are such compelling. This is a safe product and you should try it out.
You Might Also Like: