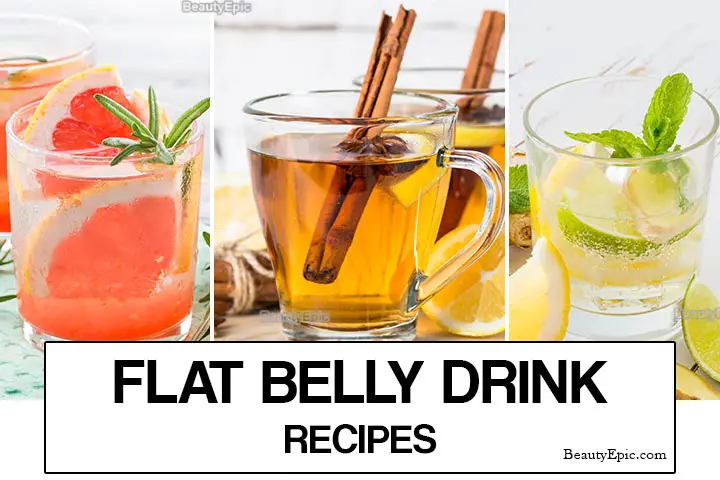 Fat stores around your belly can be quite embarrassing. Unfortunately, they are also quite stubborn compared to fats accumulated in other parts. Having said that, you need to understand that reducing your belly fat is one thing and having a flat belly is totally different. If you wish to flatten your belly, you need to follow a strict diet plan combined with special workouts that can tighten your abdominal muscles. One of the easiest ways to enhance your dieting practices is to include a group of drinks made out of certain chosen ingredients that are known for their weight loss properties.
Do Flat Belly Drinks Work?
Flat belly drinks can work only if you have them regularly. You need to include these drinks in your weight-loss plan for at least 3 days a week. For faster results, you need to have 2 to 3 of these drinks daily. Every day you can try a different drink and thus enjoy the benefits of a variety of superfoods. Note that, the results of your flat belly drinks also depend on your overall food intake so you need to keep a tab on your entire diet regimen.
Flat Belly Drinks
Here is a list of 7 delicious drinks that can actually support your weight-loss plan by improving the overall fat-burning capacity of your body.
[ Read: 7 Day Flat Belly Diet Plan ]
1. Lemon Ginger Drink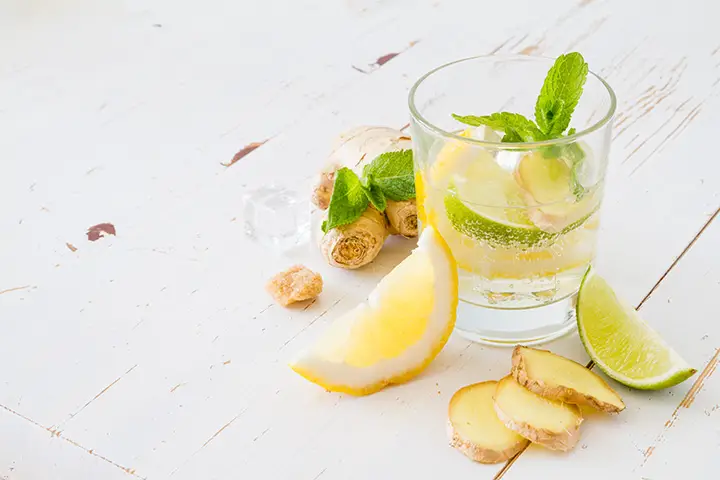 Lemon Ginger Drink can be simply termed as a "Detox drink". Lemon and ginger are both known for their strong detoxification properties. It is an easy-to-make drink that can hardly take more than 5 minutes.(1)
All you have to do is boil a glass of water with few pieces of ginger and then squeeze an entire lemon into it when it cools down. You can also add honey or sugar to this combination and sweeten the drink.
Having this drink in the morning can help your body in flushing out all the unwanted materials including toxins that hamper your weight loss efforts.
[ Read: Detox Juice Recipes for Weight Loss ]
2. Green Tea with Ginger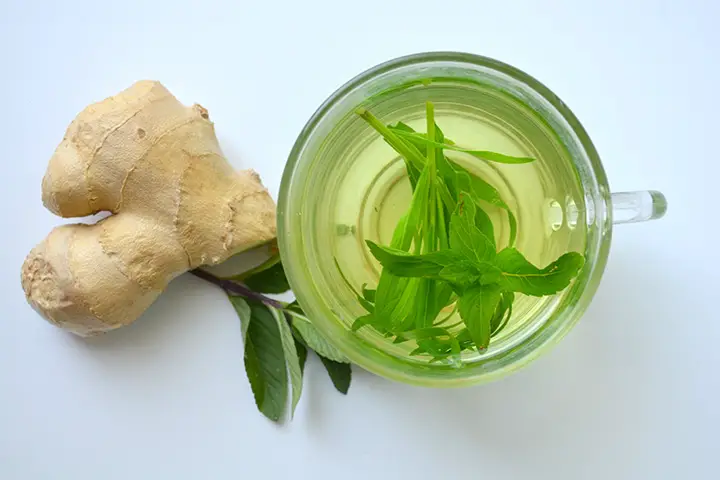 If your goal is to have a flatter tummy you should definitely cultivate the habit of having green tea. Green tea is a rich source of antioxidants that boost metabolism and make you feel more energetic.(2)
Mainly, it contains catechins that have proven helpful in promoting weight loss. Having green tea with ginger 3 to 4 times a week can significantly reduce the fat stores around your abdomen and waistline. However, the results are also dependent on the nature of the exercises you follow.
[ Read: Healthy Weight Loss Smoothies ]
3. Cucumber Ginger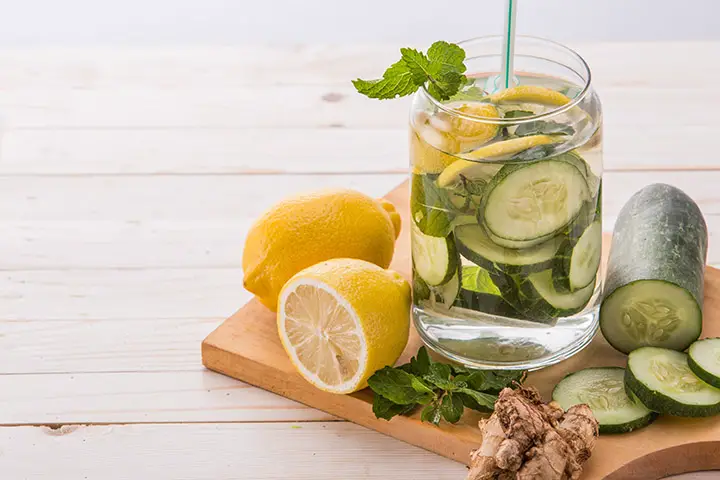 Cucumber is an amazing weight-loss food that can be consumed in different ways. However, to get faster results you can extract the juice and mix it with half a teaspoon of ginger paste. For best results, avoid adding any kind of sweeteners. Cucumber is a zero-fat ingredient that contains several fat-burning minerals like magnesium.(3)
[ Read: Fat Burning Foods ]
4. Grapefruit and Rosemary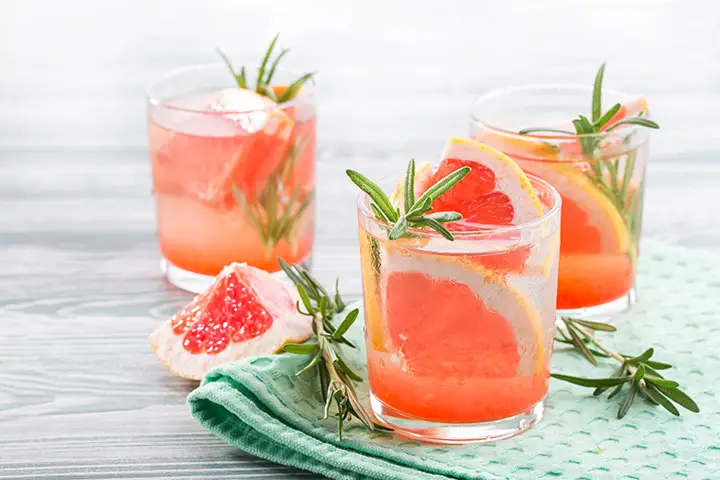 Just as lemons grapefruits are a rich source of Vitamin C that plays a key role in fat oxidation. They also contain a good amount of Vitamin B, biotin, and antioxidants that can speed up the rate at which your body burns calories. You can add a few leaves of rosemary to your grapefruit juice and make it more rejuvenating and aromatic.(4)
[ Read: How To Lose Belly Fat In A Week ]
5. Apple Cider Vinegar with Warm Water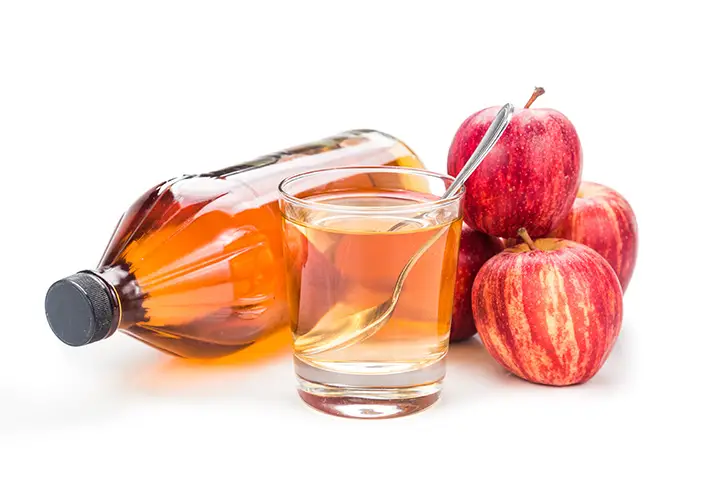 Apple Cider Vinegar is a rare combination of vitamins and minerals that offers several health benefits including detoxification and higher metabolic rate. It is a good source of Vitamin B1, B2, and B6 that promote improved glucose and fat metabolism. For best results, you can mix 1 tablespoon of apple cider vinegar in a glass of lukewarm water and have it every morning.(5)
[ Read:  How to Lose Belly Fat After 40 ]
6. Cinnamon Drink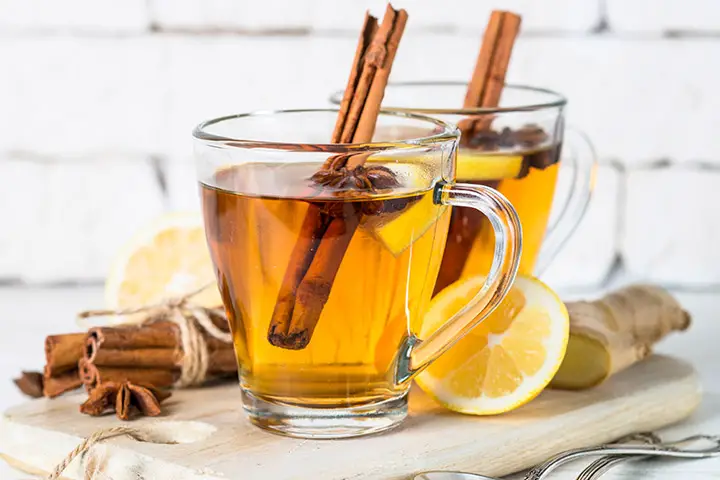 No weight-loss diet can be complete without cinnamon. Widely recognized for its powerful antioxidants, cinnamon can promote safe and healthy weight loss. When consumed before lunch or dinner, cinnamon can significantly improve the rate at which your body breaks down glucose. Cinnamon tea is one of the most popular cinnamon drinks that can be easily made with very few ingredients.(6)
[ Read: Why You're Not Losing Belly Fat ]
7. Chia Seed with Lemon Drink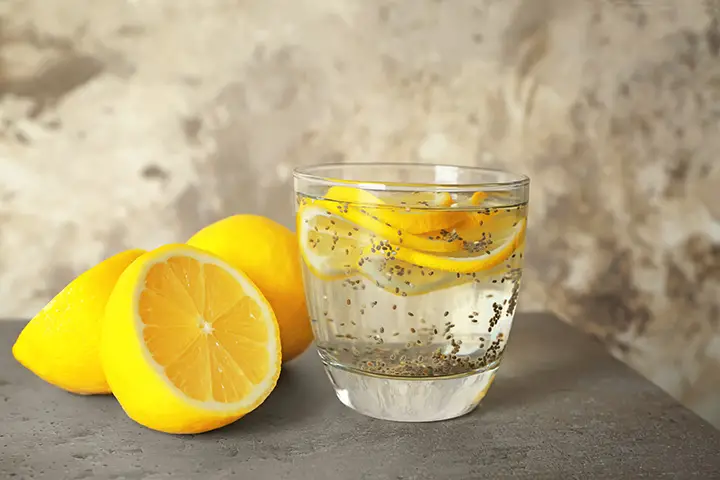 There are numerous ways to enrich your plain lemonade and adding chia seeds is one such trick that can definitely make you shed some extra pounds. For best results, prepare a mixture by adding 1 teaspoon of lemon juice and 2 teaspoons of crushed chia seeds to a glass of lukewarm water, and have it before your workout.(7)
Getting a flat belly can take time and the results may not be the same for everyone. Depending on factors like the extent of fat stores and overall health conditions can affect the rate at which your belly responds to various types of exercises and weight-loss diets. However, you can expect better results by adopting a habit of drinking some of the above-mentioned drinks.
Scientific Evidence:
You Might Also Like: