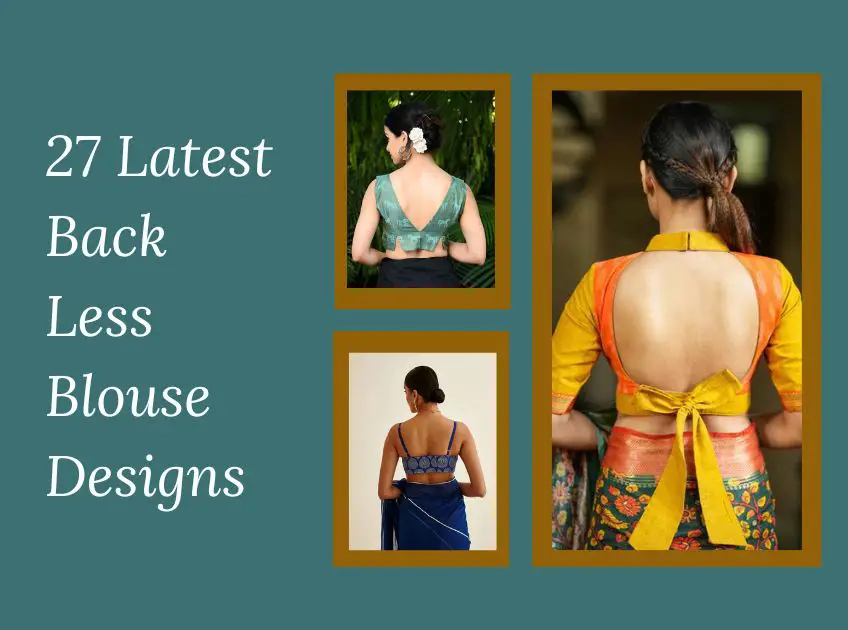 A backless blouse design is a stylish and trendy choice in women's fashion, where the back of the blouse is intentionally left uncovered, adding a touch of elegance, sensuality, and uniqueness to the attire. These designs have gained popularity across various occasions such as parties, weddings, and formal events, thanks to their versatility and comfort. They have become a sought-after option for their ability to cater to any body type, offering a wide range of styles in terms of back exposure, opening shapes, and decorative detailing.
27 Latest Back Less Blouse Designs
1. Off White Georgette Gold Sequin Chinese Collar Blouse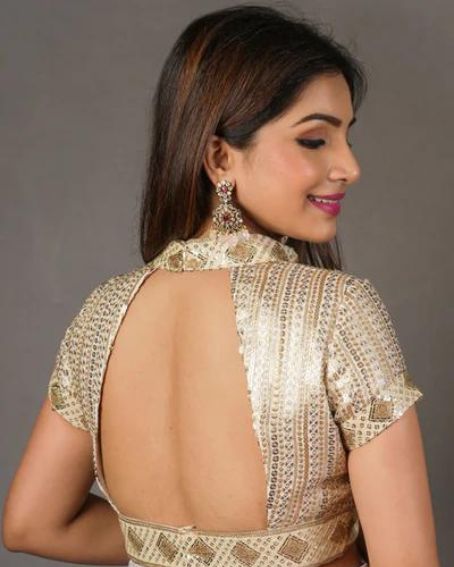 This exquisite piece combines tradition and trendiness with a Chinese collar and sequin embellishments, complemented by an open back. Perfect for weddings and festive occasions.
2. Blue Color Backless Blouse with Full Sleeves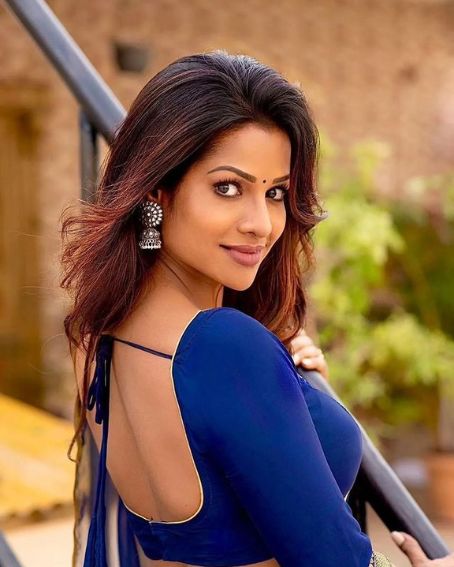 This design strikes a fusion of modesty and allure, making it suitable for various body types and occasions, from casual gatherings to formal events.
3. Women's Cream Dupion Silk Backless Readymade Saree Blouse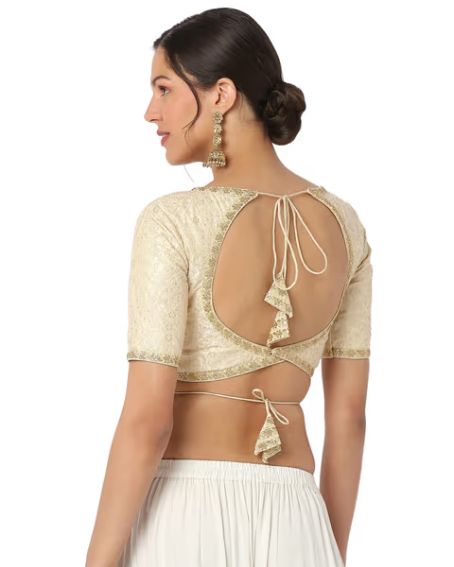 Crafted from luxurious dupion silk, this blouse offers both comfort and style. The open back enhances its grace, making it a versatile choice for weddings and parties.
4. Dark Green Blouse in Raw Silk with Mirror Work and Open Back with Tassel Dori Tie-Ups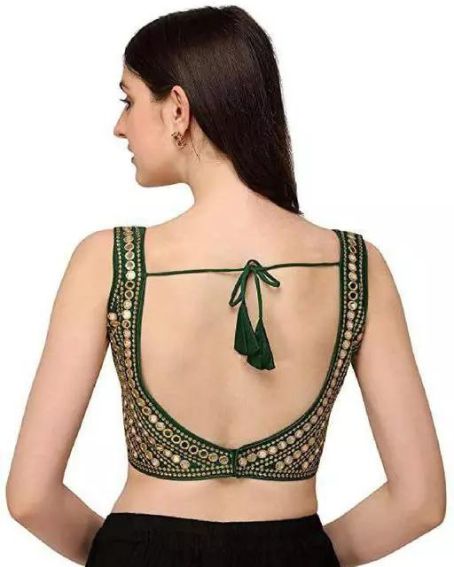 The addition of mirror work adds an ethnic touch to this raw silk wonder. Tassel dori tie-ups on the open back make it a contemporary choice for festive celebrations.
5. Pink Color Backless Designer Blouse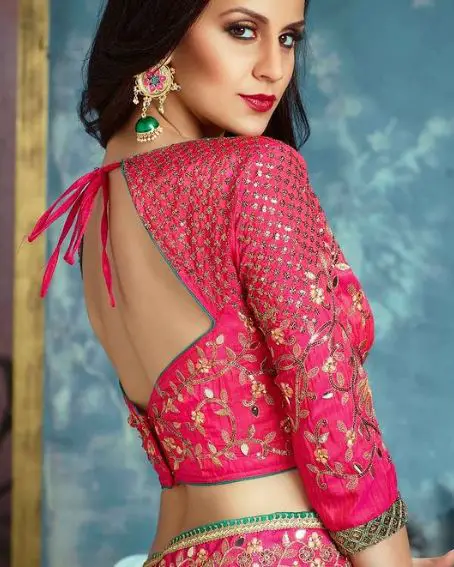 This pink delight combines sophistication with modernity. The backless design adds an element of surprise, making it perfect for cocktail parties and social events.
6. Pink Color Velvet Backless Blouse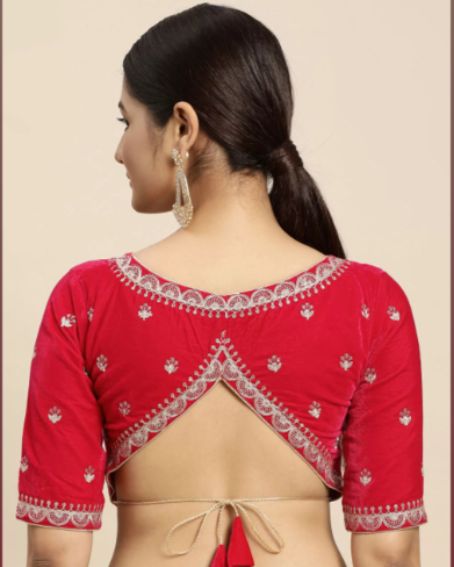 Velvet exudes luxury and comfort, making this blouse an epitome of elegance. The backless style enhances its glamour quotient, suitable for grand soirées.
7. Women Pink Art Silk Backless Readymade Saree Blouse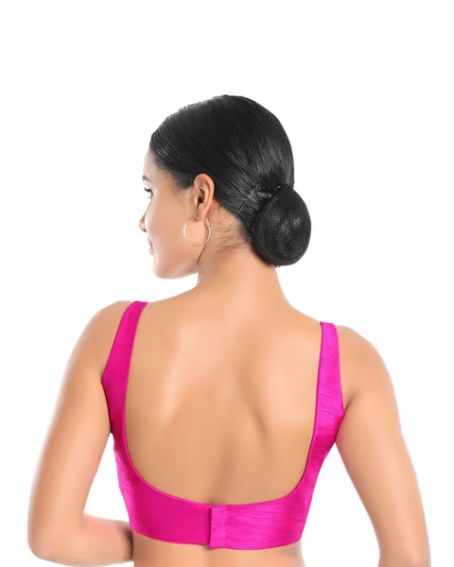 Art silk drapes gracefully, and the backless style of this blouse accentuates its beauty. Ideal for weddings and traditional gatherings.
8. Dark Pink Color Backless Designer Blouse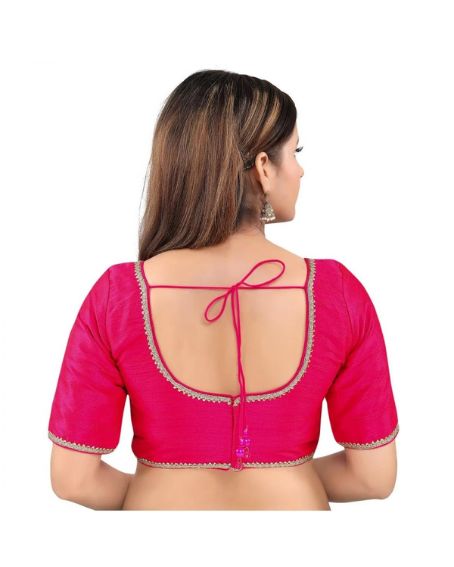 The deep pink hue is accentuated by the backless design, creating a stunning ensemble for evening galas and upscale events.
9. Butternut Olive Satin Spaghetti Strap Backless Blouse with a Curved Neckline Tie-Down at the Back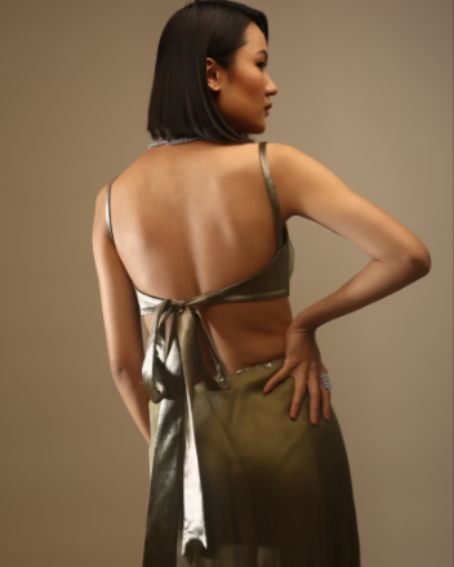 The satin texture adds a lustrous appeal to this design. The tie-down at the back infuses a playful element, making it perfect for summer parties.
10. Black Designer Indian V-Neck Saree Blouse Choli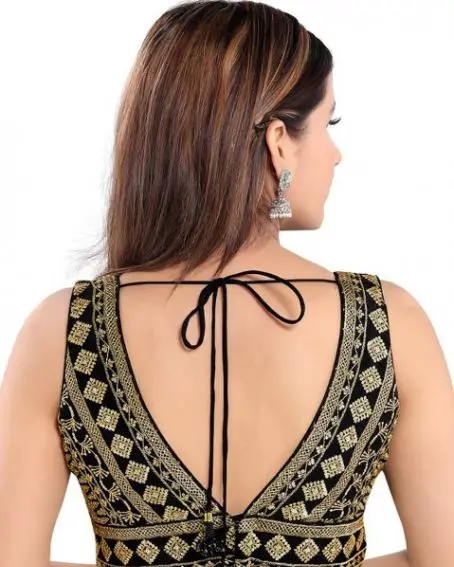 This Indian V-neck style meets an open back design, striking a balance between tradition and trend. Suitable for weddings and cultural events.
11. White Gold Embellished & Sequined Sleeveless Blouse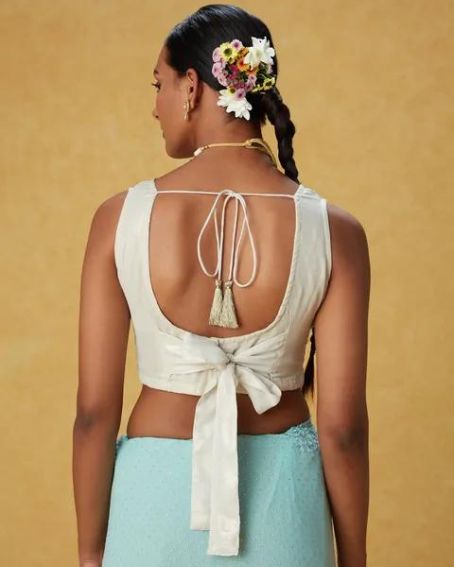 This sleeveless wonder embraces opulence with its gold embellishments. The sequined open back design makes it an ideal choice for lavish gatherings.
12. Pale Gold Sleeveless Blouse with a Sweetheart Neckline and Back Lace with a Tie-Down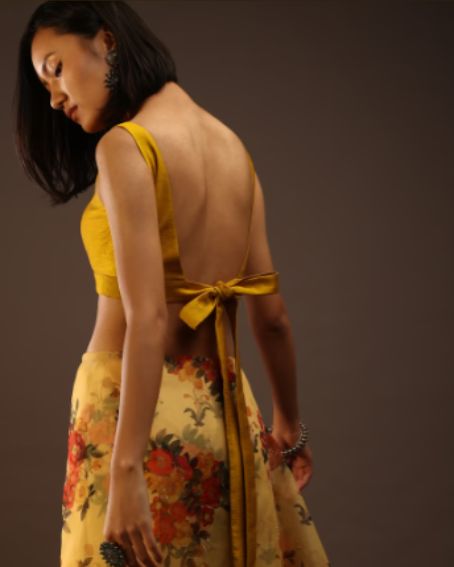 The sweetheart neckline adds a touch of romance to this blouse. The tie-down back lace enhances its charm, making it a versatile option for diverse occasions.
13. Emerald Green Blouse in Raw Silk with Overlapping Sweetheart Neckline and Cut-Out Back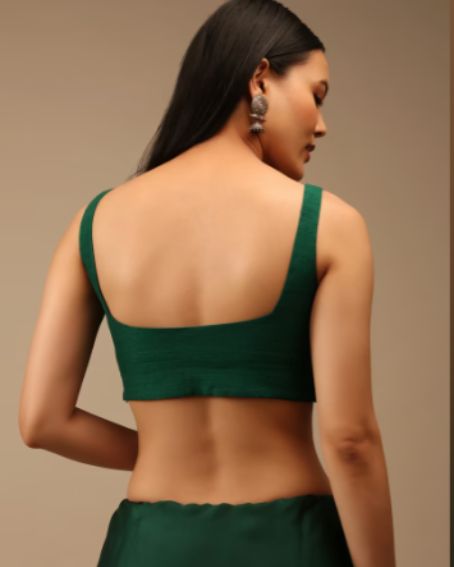 The overlapping sweetheart neckline exudes sophistication, while the cut-out back design adds a dash of daring, suitable for high-profile events.
14. Baby Pink Sleeveless Blouse in Silk with Boat Neckline and Back Open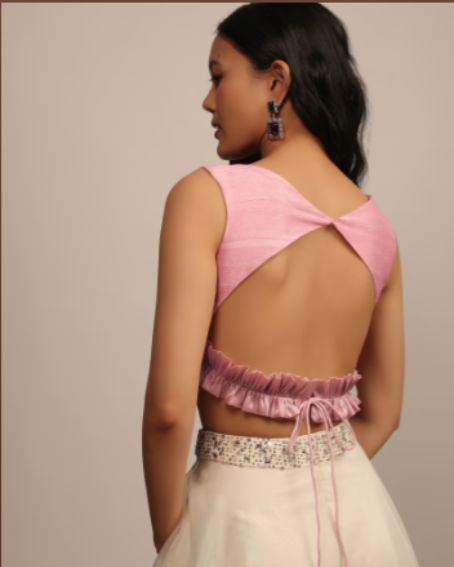 The boat neckline and back open design create a delicate yet daring combination. Perfect for summer gatherings and daytime events.
15. Navy Blue Color Backless Blouse with Full Sleeves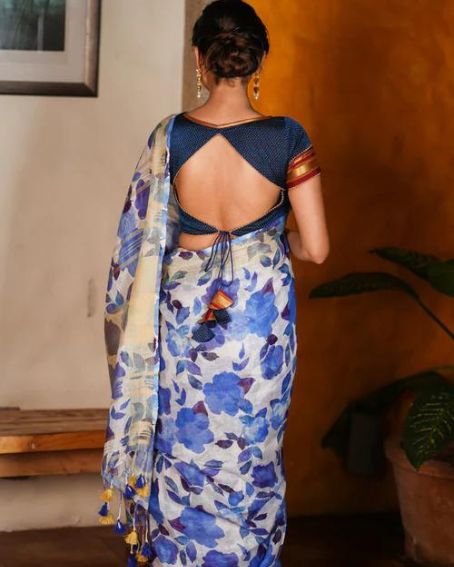 The navy blue hue exudes elegance, and the full sleeves offer a modest touch. The backless design makes it suitable for formal gatherings.
16. Imperial Blue Banarasi Paan Zari Blouse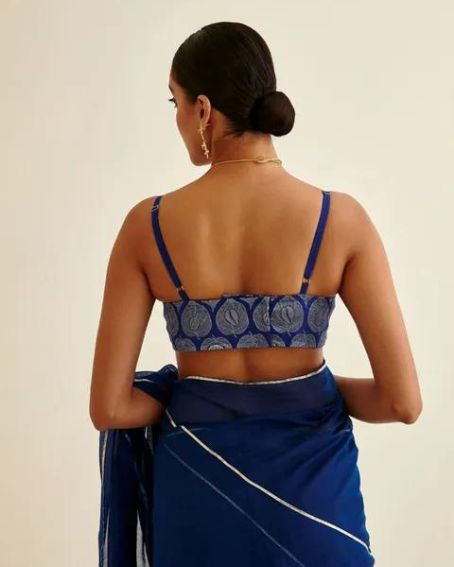 Banarasi paan zari work is a timeless classic. The backless design adds a contemporary twist, perfect for weddings and traditional events.
17. Tangerine and Cyber Yellow Handloom Chinese Collar Blouse with Border Detailing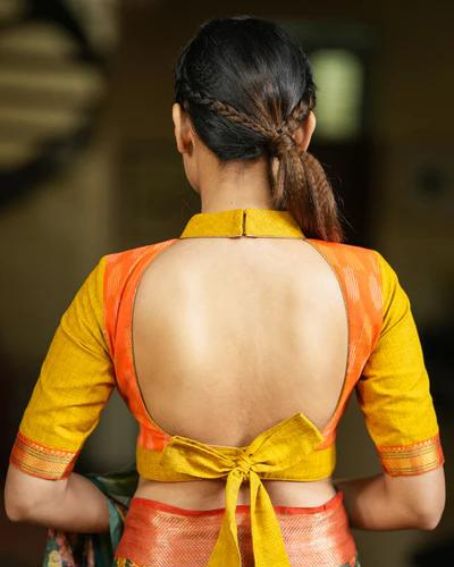 This vibrant creation fuses handloom beauty with a Chinese collar. The border detailing and backless design make it suitable for cultural celebrations.
18. Yellow Color Sleeveless Backless Blouse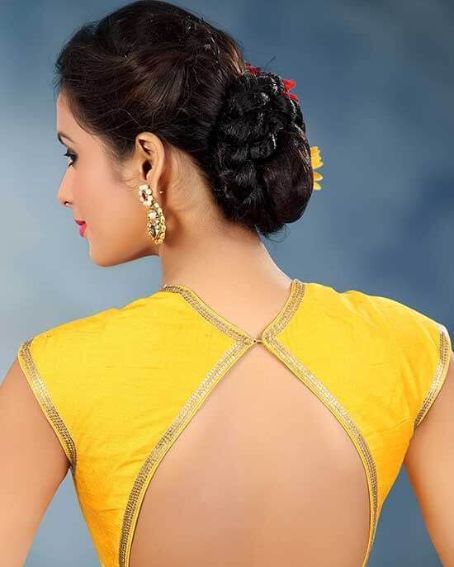 The vibrant yellow shade adds a pop of color to this design. The backless style enhances its appeal, ideal for casual gatherings.
19. Green Raw Silk Stitched Blouse with Back Open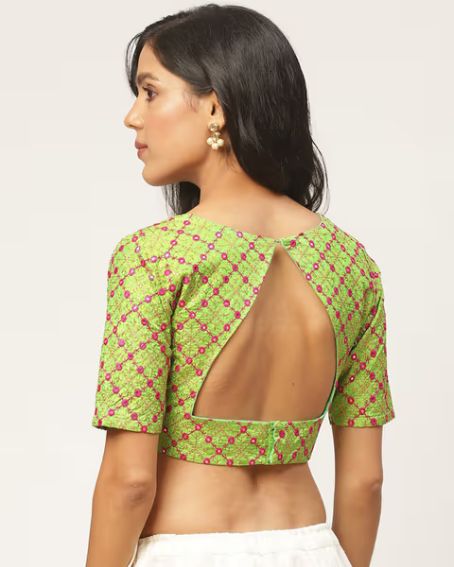 This green raw silk stitched blouse features an alluring back open design, adding a touch of sophistication and style to your outfit. Perfect for making a statement at any occasion.
20. Green Horse Blended Silk Printed Blouse with Back Open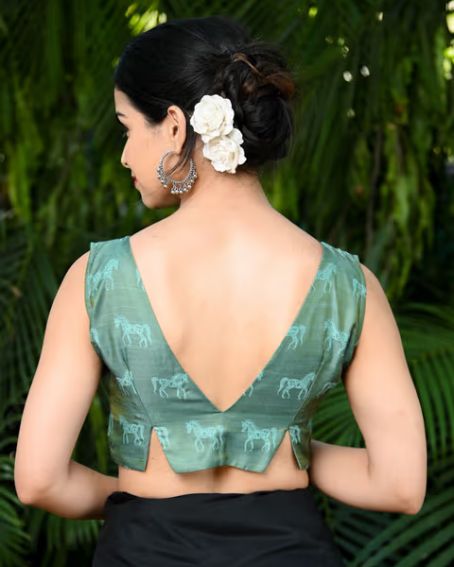 The printed silk design exudes a fusion of traditional and modern aesthetics. The backless style adds a contemporary touch, suitable for various occasions.
21. Yellow Color Full Sleeve Backless Blouse Design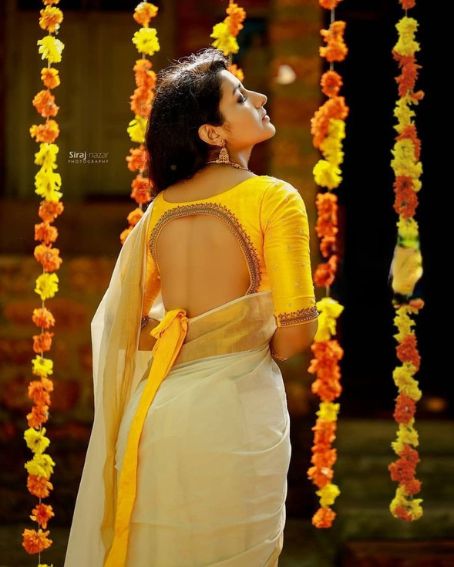 This blouse strikes a balance between full sleeves and an open back. The yellow color makes it an excellent choice for daytime events and gatherings.
22. Amazing Multi-Color Backless Blouse Design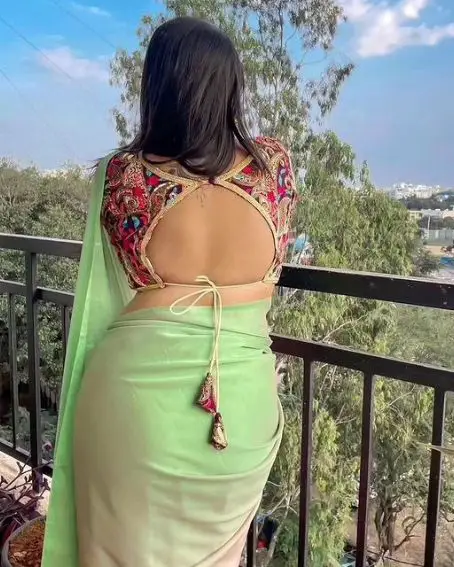 The multi-color palette adds vibrancy to this design. The backless style enhances its uniqueness, perfect for eclectic gatherings.
23. Maroon Color Backless Designer Blouse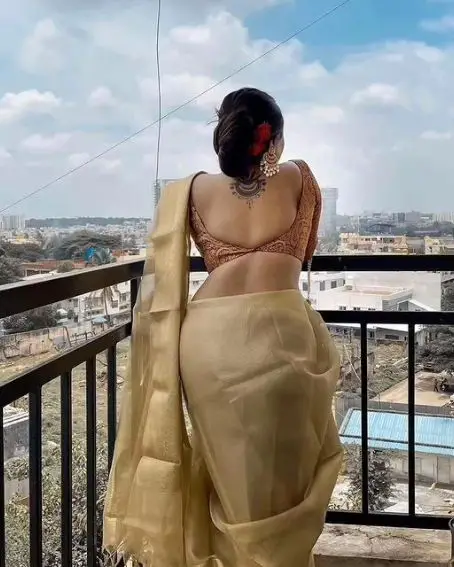 Maroon exudes richness, and the backless design adds a trendy twist. Suitable for evening events and upscale parties.
24. Maroon Color Backless Designer Blouse with Gold Color Dots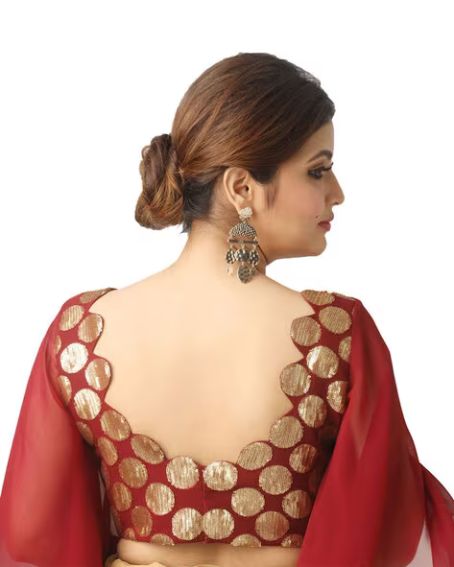 The addition of gold color dots elevates this maroon blouse. The backless style with dot detailing makes it suitable for festivities.
25. Black Color Floral Backless Designer Blouse
Floral elegance meets contemporary style in this design. The backless pattern adds a touch of allure, perfect for evening sarees.
26. Pink Color Sleeveless Backless Designer Blouse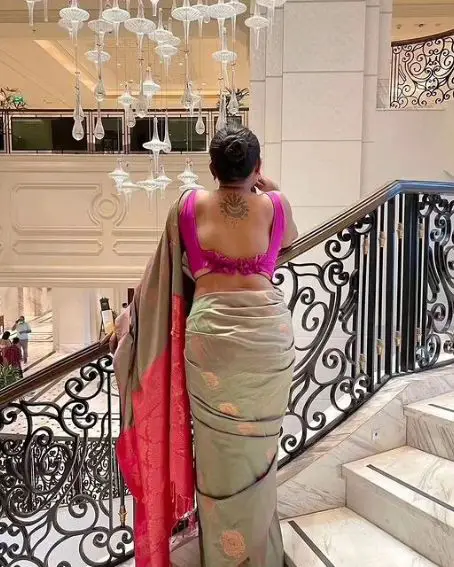 This pink sleeveless wonder is a testament to modern elegance. The backless style adds an element of surprise, suitable for upscale events.
27. Blue Color Backless Sleeveless Blouse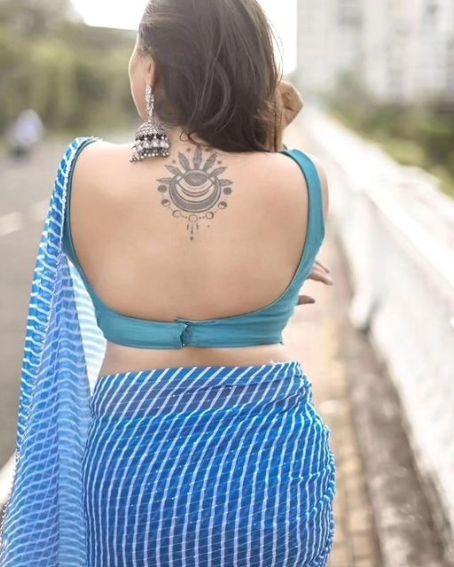 The soothing blue shade is enhanced by the sleeveless and backless design. Perfect for summer gatherings and casual events.
The Significance of Backless Blouse Designs
Backless blouse designs have garnered immense popularity due to their flattering nature and inherent stylishness. They possess the power to elevate any outfit, making them a go-to choice for various occasions, from weddings and parties to casual gatherings and social events.
Pairing Backless Blouse Designs with Sarees and Lehengas
Backless blouse designs seamlessly blend modernity with traditional Indian attire, such as sarees and lehengas. The suitability of these designs depends on several factors, including the occasion, personal style, and specific blouse characteristics. Here's a guide to help you choose the right backless blouse design for your sarees and lehengas
Sarees
Party Wear Sarees: Backless blouse designs are an excellent choice for party wear sarees, especially those with contemporary or modern themes, adding a stylish edge to your look. These designs are particularly favored by young girls, teenagers, and women seeking a fashionable statement.
Designer Sarees: Backless blouses beautifully complement designer sarees that feature unique and trendy elements, enhancing the overall appeal of the ensemble.
Georgette and Chiffon Sarees: Lighter fabric sarees like georgette and chiffon pair well with backless blouses, creating an appealing contrast between the flowing saree and the modern blouse design.
Sarees with Embellishments: If your saree boasts intricate embellishments or embroidery on the pallu (drape), a backless blouse can provide balance and sophistication to the overall look.
Lehengas
Crop Top Lehengas: Backless blouses perfectly complement crop-top style lehengas, enhancing their modern and youthful charm.
Contemporary Lehengas: For lehengas with contemporary or fusion designs, backless blouses elevate the overall stylish appearance, making them a suitable choice for various events.
Lehengas with Slits: If your lehenga features a high slit or unique cut, a backless blouse can accentuate the modern appeal of the outfit.
Lightweight Lehengas: Like lightweight sarees, backless blouses pair well with lightweight lehengas, creating a balanced and comfortable ensemble, ideal for young girls and teenagers at hangouts and gatherings.
It's important to remember that fashion is subjective, and personal style plays a pivotal role in making the right choice. When selecting a backless blouse design for your sarees or lehengas, consider factors such as comfort, the event's formality, and your individual preferences. For personalized advice based on your specific outfit and body type, consulting with a fashion stylist or expert is always an option.
Which Events Are Perfect for Backless Blouse Designs?
Backless blouse designs are a versatile and stylish option suitable for various types of events, depending on their formality and the desired aesthetic. Here are some occasions where backless blouse designs can shine:
Cocktail Parties: Backless blouse designs add a touch of glamour and elegance to cocktail parties, striking a balance between sophistication and allure, making them ideal for semi-formal to formal events, especially preferred by young girls and teenagers.
Wedding Receptions: Attending a wedding reception, especially in the evening, allows you to make a statement while maintaining an elegant appearance. Ensure your choice aligns with the wedding's theme and dress code.
Evening Galas: For upscale evening galas and black-tie events, backless blouse designs provide a modern twist to traditional formal wear. Opt for luxurious fabrics and refined accessories to complete your look.
Fashion Shows: When attending fashion-related events or runway shows, backless blouses can help you stand out as a fashion-forward individual with a keen sense of style.
Dinner Dates: Backless blouses can add a touch of romance to a dinner date, especially in upscale restaurants or when you aim to leave a lasting impression.
Bachelorette Parties: Celebrating with friends at a bachelorette party or a night out is the perfect occasion to don a backless blouse, capturing attention and creating a fun, stylish look.
Music Concerts and Festivals: Opt for backless blouses with a casual or bohemian vibe for music concerts and festivals, allowing you to express your unique style while staying comfortable.
Art Gallery Openings: At art-related events, backless blouse designs enable you to showcase your individuality and appreciation for artistic expression.
Beach or Resort Events: Backless blouses made from lightweight, flowy fabrics are excellent for beach parties, resort gatherings, or tropical vacations, offering a relaxed yet fashionable appearance. Young girls, teenagers, and women often find these designs comfortable and stylish for such occasions.
Rooftop Parties: Trendy and chic, backless blouse designs are a popular choice for rooftop parties, especially during warmer months, adding charm and allure to your look.
When choosing a backless blouse for an event, consider the dress code, your personal style, and your comfort level with the level of exposure the design offers. Proper accessorizing and confidence in your choice are key to making a statement.
What Is the Trendy Evolution of Backless Blouse Designs?
Backless blouse designs have evolved from occasional party wear to versatile staples in women's wardrobes. Their popularity surged with the influence of contemporary fashion trends and a desire to break away from conventional norms. Designers began experimenting with fabrics, necklines, sleeve lengths, and embellishments, creating a diverse range of options suitable for various occasions.
Is 'Suitable for Every Body Type' Suitable for Every Body Type?
One of the most remarkable aspects of backless blouse designs is their inclusivity. Regardless of body type or age, there's a design to flatter every woman. Those with well-defined backs can opt for sleek cutout patterns to enhance their features, while those with petite frames can choose more delicate back exposure. Broad-shouldered individuals can also find designs that suit their body type, showcasing the versatility of backless blouses.
What Are Some Exquisite Backless Blouse Designs to Inspire Your Wardrobe?
Explore a variety of backless blouse designs that blend tradition with trendiness, offering choices for different occasions
Backless blouse designs have breathed new life into traditional attire, allowing women, girls, and teenagers to express their unique styles while preserving the elegance of their cultural heritage. From playful pinks to regal maroons, these designs offer a wide array of choices to suit various preferences and occasions. Whether paired with a saree or a lehenga, the backless blouse design is a statement-making choice that adds allure and sophistication to any outfit. Embrace this trend, and let your personality shine through the intricacies of backless blouse designs.
Related Articles