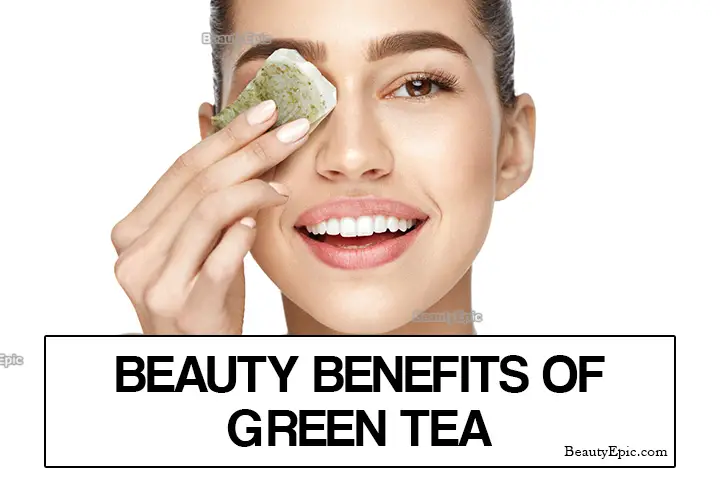 It is no secret that green tea has many beauty benefits. Green tea has antioxidants which are good for your health. Drinking it can be good for your mind, as well as your heart. However, it is equally powerful when it comes to your skin. It is the active ingredient that is found in many skin care and cosmetic products. Green tea is one of the most natural ways when it comes to improving the appearance of the skin. When you gulp down green tea, it is can be great for your overall health, while if you apply it on your face, it will offer incredible skin benefits. Here are some beauty benefits of green tea for your skin.
8 Surprising Beauty Benefits of Green Tea
1. Unclogs Pores
Green tea serves as a powerful anti-bacterial agent. This can be helpful in treating acne and also to unclog pores. It contains polyphenols that can damage the bacterial membranes and also fight infection. Thus, it can be effective when it comes to fighting bacterial growth which leads to acne. Green tea can kill systemic bacterial inflammation to provide you with smoother and toned skin.
[ Read: Surprising Beauty Benefits of Baking Soda ]
2. Maintains Skin Health
Green tea is rich in Vitamin E and B12. These are essential when it comes to maintaining the health of your skin. B12 plays a significant role in regards to the level of collagen for your youthful and firm looking skin. Vitamin E helps with the growth of new cells and performs the role of intense hydration for nourished and soft skin.
3. Treats Dark Circles
The tannins and caffeine present in green tea will help in shrinking the blood vessels around your eyes. Thus, it works like a miracle on dark circles and puffy eyes. Apply some coffee and green tea face mask to get powerful and bright looking skin.
[ Read: Beauty Benefits of Apple Cider Vinegar ]
4. Slows Down Aging
No one wants to look older. There is evidence which shows that the antioxidants present in green tea can slow down aging. The EGCG is particularly beneficial. It can reactivate your dying skin cells and affects the outer layer of the skin. Thus, it can prevent wrinkles and reduced age spots which are caused due to free radical damage.
5. Offers Protection from UV Rays
Drinking green tea will offer your protection from sun damage. If you consume one to two cups of tea every day, it will help in reducing inflammation or irritation that is caused by excessive exposure to the sun. This might be due to the anti-inflammatory properties of the tea. If you use it topically, it can also bring about a difference. Hence, you should not be stringy when you apply a lotion that is based on green tea.
[ Read: Amazing Beauty Benefits of Coconut oil ]
6. Removes Dandruff and Promotes Hair Growth
Itchy scalp is going to become a thing of the past when you try out green tea shampoo. The active compound that it contains will keep away fungus. Hence, you will not suffer from chronic dandruff. The leaf fibers promote the growth of hair due to the polyphenols and catechins triggering the cell turnover in the hair follicles.
7. Fights Skin Cancer
If you drink and apply green tea, it will help in fighting skin cancer. It does this promoting DNA repair. Green tea is known to have powerful antioxidants which are called EGCG. This helps to fight the damage caused to the DNA by the sun. Thus, it prevents skin cancer. It is also known to be an excellent anti-aging ingredient which fights the signs of aging if you apply topically or ingest it.
[ Read: How to Use Green Tea for Rosacea ]
8. Reduces Swelling and Redness
Green tea is known to have anti-inflammatory properties. This is mainly because it is rich in polyphenols known as catechins. This can reduce redness, irritation, and also swelling in your skin. Prepare a face mask using green tea to pamper yourself and enjoy the benefits that green tea has to offer. Make sure that it is a hydrated face mask so that the goodness is absorbed by your skin to sooth it and reduce redness.
However, if you have to reap the benefits of green tea for your skin, you need to stick to a specific skin care routine to reinforce the natural ability of the skin to defend itself.
You Might Also Like: