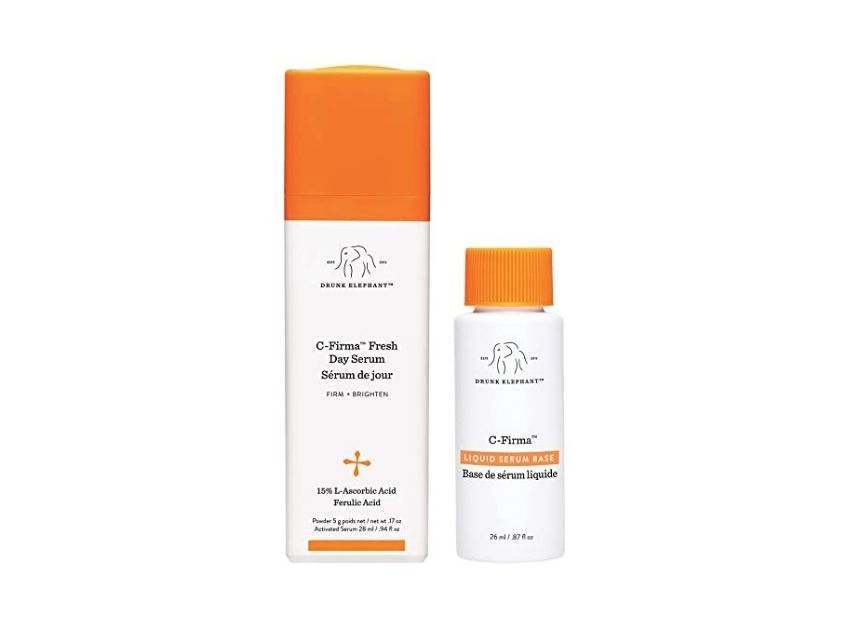 Drunk Elephant is a cult skincare brand that deeply nourishes the skin and makes it healthier than ever. It uses high-grade and bio-compatible ingredients to compose its skincare line. Each ingredient in the product is skin-loving, ensuring skin health and nourishment.

Drunk Elephant
The brand has launched multiple skincare products, among which different types of serums, oils, and creams are popular. However, these products are expensive and come with a hefty price tag. Therefore, we have come up with the top five Drunk Elephant alternatives that you can easily afford.
Before checking them, let's find out what makes Drunk Elephant so popular and the top five best-selling products from it.
Products And Ingredients
1. Drunk Elephant C-Firma Fresh Day Serum
Loaded with antioxidants and Vitamin C, this serum brings radiance and glow to the skin. It is composed of 15% l-ascorbic acid (pure vitamin C), 0.5% ferulic acid, and 1% vitamin E, which naturally brightens, smoothens, and firms the skin.
Additionally, it consists of pumpkin ferment and pomegranate extract that removes the dead skin cells and improve the skin texture. Moreover, the presence of grape juice extract and Indian gooseberry relieves skin from oxidative stress and acts as an anti-aging ingredient.
2. Drunk Elephant T.L.C. Framboos Glycolic Night Serum
This gel works overnight to bring charm to the skin by improving its texture. It reduces the fine lines, wrinkles, and pores. The active ingredients are 10% AHA and 1% BHA in the form of glycolic, tartaric, lactic, and citric alpha hydroxy acids (AHAs), plus salicylic acid, a beta-hydroxy acid that brightens and lighten the skin tone and reduces acne and breakouts.
At the same time, it moisturizes the skin and deeply nourishes it, making it look plump and healthy in the morning.
3. Drunk Elephant B-Hydra Intensive Hydration Serum
It is a hydrating serum that consists of pro-vitamin B5, sodium hyaluronate, pineapple ceramides, watermelon rind/apple/lentil complex, also known as panthenol, that together moisturizes, hydrates, and brightens the skin and supports a healthy skin barrier.
4. Drunk Elephant C-Tango Vitamin C Eye Cream
The powerful blend of 5C Vitamin Complex firms the skin and brightens it. Regular use of eye cream improves dark circles and puffiness around the eyes, making them feel relaxed. Furthermore, it reduces the fine lines and wrinkles around the eyes, giving a youthful look.
It consists of a blend of 8 peptides and antioxidants that protect from free radical damage and ensure glowing, younger-looking skin. Ceramides support a healthy skin barrier, and sodium hyaluronate crosspolymer hydrates the skin at multiple levels.
5. Drunk Elephant A-Passioni Retinol Cream
Retinol is an active ingredient in this product that protects skin from photoaging by increasing the synthesis of collagen. Also, increases cell turnover to make skin firm and smooth. It reduces fine lines, wrinkles, and sun damage as well.
The active ingredients are Kale, winter cherry, and xanthophylls that protect skin from environmental damage and oxidative stress. Natural ingredients like passion fruit, apricot, marula, and jojoba oils replenish the skin.
Pros
Every product consists of skin-friendly ingredients.
They balance the skin's pH and keep it refreshed and revitalized.
Deeply nourishes the skin, keeping it healthy and supple.
Cons
Drunk Elephant products are expensive.
It is the sole reason why people often look for alternatives to Drunk Elephant skincare products. We have listed the five best Drunk Elephant alternatives that will provide the same benefits at a fraction of the price.
5 Best Similar Drunk Elephant Products
1. Olay Regenerist Retinol 24 MAX Night Hydrating Moisturizer
Consists of retinoid complex of retinol and retinyl propionate.
Smoothes wrinkles and evens skin tone.
Moisturizes and nourishes the skin and strengthen the skin's natural moisture barrier.
2. La Roche-Posay Hyalu B5 Serum
Formulated with pro-vitamin B5 (panthenol) to moisturize and plump the skin.
Acts as an anti-aging serum that strengthens the skin's natural moisture barrier.
It is suitable for dehydrated, dry, mature, and even sensitive skin.
3. Olay Vitamin C + Peptide 24 Brightening Eye Cream
Protects the skin from free radical damage and helps to improve fine lines and uneven skin tone.
Smoothens wrinkles and fade hyperpigmentation.
It is lightweight eye cream that absorbs easily, and works well under makeup.
4. Good Molecules Overnight Exfoliating Treatment
Formulated with a blend of 10% AHAs and a BHA to resurface the skin.
Smooth the skin's texture and clean out clogged pores to deliver radiant and fresher skin.
Stimulates collagen synthesis for improved skin elasticity and firmness
5. Paula's Choice Resist C15 Super Booster
Consists of 15% concentration of pure l-ascorbic acid which is a powerful antioxidant, and vitamin E and ferulic acid to revitalize the skin.
Deeply moisturizes and nourishes the skin.
Speed ups cell renewal, helping to improve skin texture and skin tone.