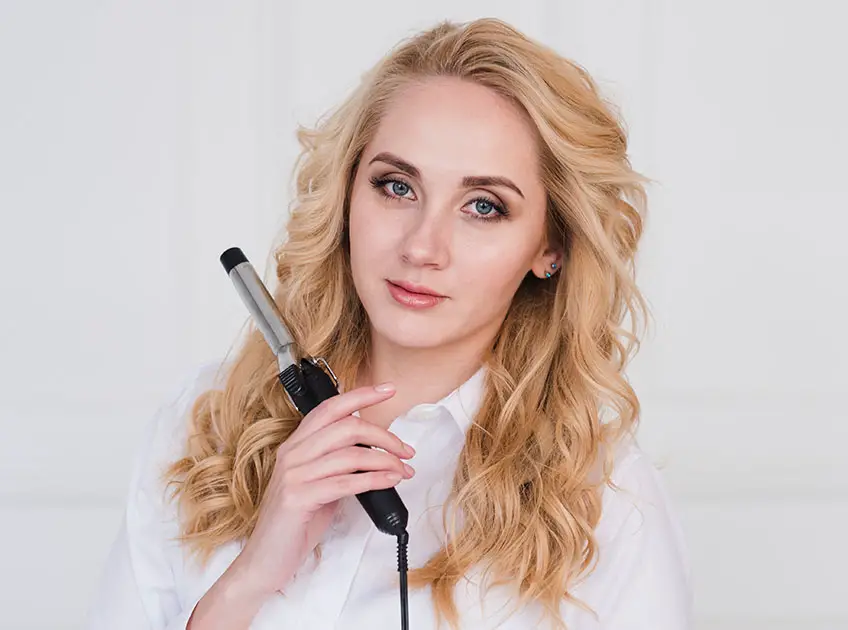 Whether you are looking to style the perfect curls, you would probably want to get the perfect curling irons. Most popular curling irons are typically manufactured in ceramic or titanium material. As both can offer high performance and gorgeous curls, here is a blog that compares the features of ceramic and titanium curling irons.
Ceramic Vs Titanium Curling Iron
Ceramic Curling Iron
A ceramic curling iron is the most common form of curling iron you can find. However, there are two types of ceramic curling irons are available. One is the solid ceramic curling iron and another is the ceramic coating curling iron. Ceramic-coated curling irons are of lower quality and have less durability while solid ceramic curlers are safer and offer long-term usage. A ceramic curling iron is not only beginner-friendly but also provides even heat distribution.
Titanium Curling Iron
A titanium curling iron is often spotted in salons or professional surroundings because it can endure being used for a large range of styles. It is made of a durable titanium material which can be utilized on a daily basis while also offering consistent heat. The titanium curling iron has intense and high-temperature settings allowing you to work quickly. Titanium wands are prone to cold spots but, the heat and high temperature of titanium wands work in favor of you when used properly.
Get To Know The Differences Between The Features Of Ceramic And Titanium Curling Iron
Distribution Of Heat: A ceramic curling iron has a smooth surface and curls your hair without any dragging or pulling of hair. It is best at distributing the heat evenly by emitting the negative ions. On the other hand, a titanium curler can reach extremely high temperatures very fast. It also produces negative ions to style your hair but the heat can get uncontrollable.
Suitable Hair Types: A ceramic curler is best and gentle enough to use on damaged/damage-prone, fine, delicate or frizzy hair. If you find your hair is slightly dull or damaged from color or chemicals, or if it is fine, thin, or uncontrollable, you can benefit from using a ceramic curling iron. Whereas a titanium curler works great on coarse, thick hair, or curly hair types. As these hair types require a bit extra heat and effort to hold the style, the high temperature of the titanium curling wand provides an efficient curling process.
Amount Of Damage It Causes: Although every heating tool causes some heat damage to your hair, ceramic curling iron prevents heat damage as it evenly distributes the heat to make your hair look fabulous and smooth as you curl it. Also, because of its even distribution of heat, it will help you achieve uniform curls and long-lasting results. In contrast to a ceramic curler, a titanium curling iron can damage your ends severely because of its high temperatures. However, it is advisable to use heat protectants before styling your hair with any hot tools.
Styling Time: Because the titanium curling wand has high-temperature settings, it helps to cut down the styling time in half. Besides this, titanium curler isn't beginner-friendly, again because of its high temperature as it likely may cause heavy damage to your hair. As with the case of ceramic curler, it distributes the heat evenly and also curls your hair effectively in less time. Additionally, ceramic curling iron offers a lower temperature setting and even heat distribution, you can curl style your hair without much difficulty.
Material Quality: Whether your ceramic curling iron is entirely made from ceramic or if it has only a ceramic coating, will determine the longevity and quality of the iron. If your ceramic curler has a ceramic coating, its quality may diminish over time. The heat will end up cracking the ceramic coating with frequent and inappropriate usage. Curling wands fully made from ceramic are high-quality and remain much more durable, long-lasting, and less likely to crack. In the case of titanium curling irons, it is a lightweight durable material alloy that is tough enough to withstand daily use and also offers longevity.
Pros And Cons Of Ceramic Curling Iron
Before opting for a ceramic curling iron, check out its pros and cons.
Pros
Perfect for thin, fine, and damaged hair
Causes less damage to your hair
Delivers long-lasting uniform curls
Beginner-friendly and is more gentle on your hair
Cons
A bit expensive
As it is fragile, it can brittle or crack due to heat
Pros And Cons Of Titanium Curling Iron
Know the pros and cons of titanium curling iron before using it.
Pros
Offers a quick and efficient curling
Heats up instantly
Fine polished finish, lightweight, sustainable, and long-lasting
Perfect for dense, curly, fuzzy, and coarse hair
Cons
Causes more damage to your hair
Recommendable for experienced or professional hairdressers as it isn't beginner-friendly
You Might Also Like: