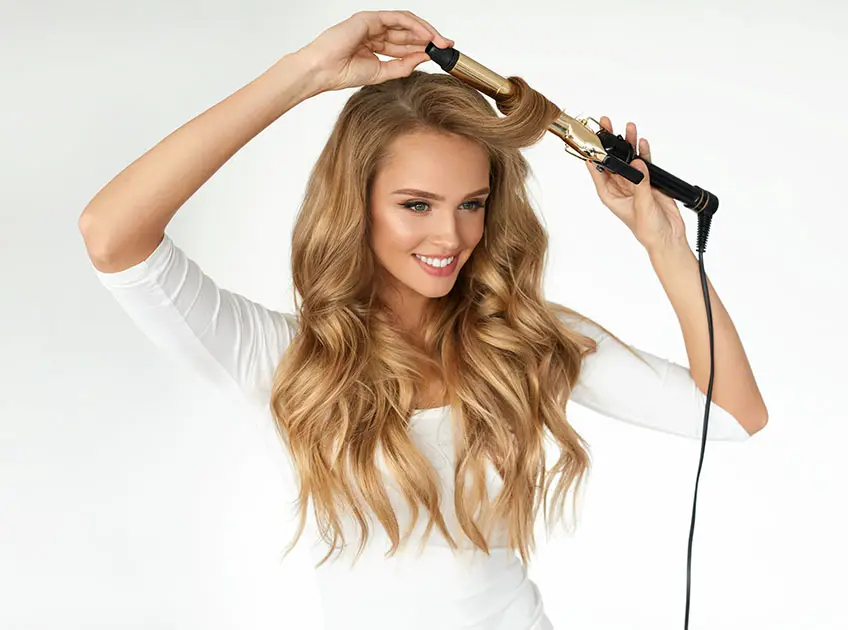 You use many styling tools to create different hairstyles that suit you. When coming to curl style your hair, you will need a perfect curling wand to create gorgeous lovely curls that you are wishing for. And this article focuses on the 25mm and 32mm sized curling wands which helps you to know their differences, and pros and cons.
25mm and 32mm curling wands are the most common barrel sizes available. The basic difference between these two wands is the size of the curls that can be achieved. Scroll down to know more.
Difference Between 25mm Vs 32mm Curling Wand
25mm Curling Wand Vs 32mm Curling Wand
Here are the differences between the 25mm and 32mm curling wand
Size Of A Wand: The 25mm curling wand is about one inch in diameter and is the most popular barrel size. Whereas 32mm curling wand barrel size is about 1.25 inches in diameter.
Suitable Hair Length: The 32mm curling wand is perfect for anyone with long to extra-long hair. While the 25mm curling wand is suitable and works perfectly for short, medium, or shoulder-length hair.
Type Of Curls They Can Create: When compared to a 32mm curling wand, a 25mm curling wand can create tighter, more defined curls. Because the curls are more defined, they last longer as well. Curls created using 25mm curling wands are more spiral due to the smaller barrel size. On the other hand, a 32mm curling wand creates loose and tousled beach waves. As this wand creates more relaxed curls, waves are not tight enough to last longer for the day. However, you can use the styling products like mousse and sprays that help to last your curls for a longer time.
Best Styles They Can Offer: A 25mm curling wand is the best tool to create spiral curls, full-bodied curls, and waves, easy vintage waves, defined curls, flipped ends, textured waves, natural looking and loose curls. Moreover, if you wish to have a polished hairstyle or classic Hollywood curls, then a 25mm curling wand is an evident choice. The 32mm curling wand works best for creating loose waves, relaxed curls, ombre curls, classic waves, blowout waves, undone or tousled waves, and as well as neat and messy beach waves.
Pros And Cons Of 25mm Curling Wand
The pros and cons of a 25mm curling wand are given below
Pros
Versatile and a top pick for anyone whose hair strands are thin and delicate
Curls remain on hold for a longer time
Suitable for all hair lengths
Creates more defined and tighter glamorous curls
Resulting in full-bodied curls that are bouncier and voluminous
Cons
Not appropriate for creating large curls
Not suitable for providing relaxed curls or waves
Pros And Cons Of 32mm Curling Wand
Check out the pros and cons of a 32mm curling wand that are mentioned below
Pros
Creates loose curls, tousled and relaxed-looking waves
Ideal for medium to long hair
Perfect for sexy beach waves, or more undone messy looks
Works best for thick, coarse, and voluminous hair
Cons
Not suitable for thin and limp tresses
Curls and waves do not last longer
No tight curls
Don't give your hair enough volume and bounce
Not suitable for short hair and all hairstyles.
Bigger barrels are difficult to control
Which Sized Curling Wand Is Better: 25mm Or 32mm?
The right size of the barrel will depend upon your hair length and the hairstyle you wish to have using these wands. The wand barrel size is most important because it can affect the shape and size of the curls as well as its ease of use in proportion to the length of your hair. Using a wrong-sized curling wand could lead to poorly formed curls or curls that don't last very long.
For instance, if your having a short hair and using a bigger-sized curling wand which is 32mm, it will be difficult to wrap the hair around the barrel properly resulting in misshapen curls or curls that can last only for a very shorter time. So, while shopping for a perfect curler, opt for a curling wand whose barrel size is proportional to your hair length. That is a 25mm curling wand is best for short hair and for those having long or extra long hair, a 32mm curling wand is the best choice.
Conclusion
To sum up, the 25mm and 32mm curling wand delivers perfect and beautiful curls in their own desired way. A 25mm curling wand creates tighter curls while a 32mm curling wand creates a loose, indefinite and tousled curls. It is only the size of the wand that matters which is decided by the length of your hair and the hairstyle you crave for.
You Might Also Like: