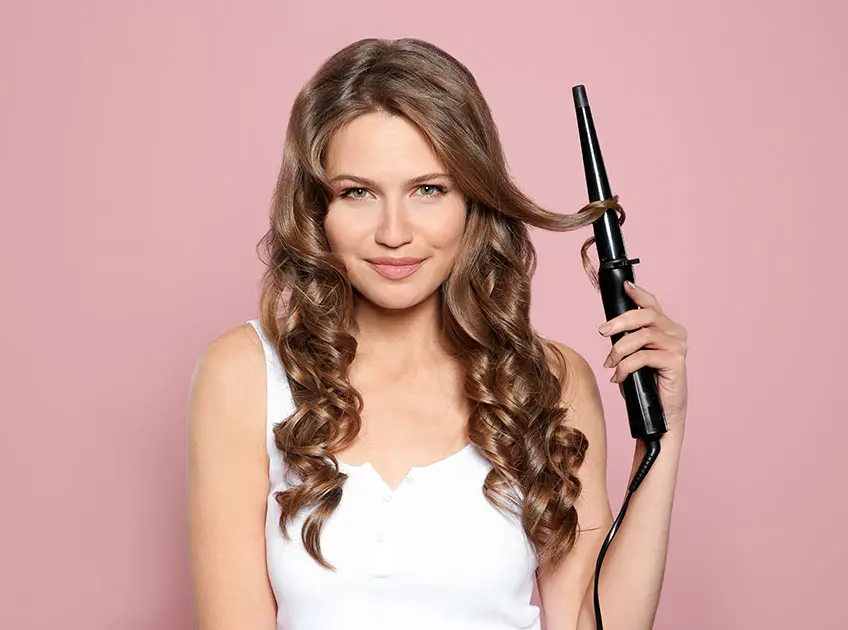 Do you wish to add beautiful spiral curls to your hair but are concerned about how to use a spiral curling iron? No worries. Just head on to this article to learn to use the spiral curling iron to create those gorgeous spiral curls for your mane.
What Is A Spiral Curling Iron?
A spiral curling iron is similar to a regular curling iron which has a spiral-shaped barrel. It can be easy to use and creates a super spiral curl to your hair in a very quick time. It either has a curved barrel or a barrel with a spiral pattern along the barrel. These spiral curling wands come in various shapes and designs and the newer models contain a protective shield that covers the barrel to safeguard your fingers and forehead from heat.
How Does A Spiral Curling Iron Work?
The spiral pattern of this device, winding down the barrel, holds your hair section to render well-defined and uniform curls. Place your hair between the ridges around the barrel, and thus each section of your hair is heated evenly to ensure that you get perfect and long-lasting spiral curls. Spiral curling iron works best for wavy hair and medium-length hair. It is also suitable for long, thick hair but takes a very long time to curl.
How To Use A Spiral Curling Iron?
Now coming to the main topic, let's look at how to use the spiral curling iron. The curling process is time-consuming as you can't put lots of hair into the curler at once. Take enough time and follow the below basic instructions to bring those lovely curls to your hair.
Hair Prepping: The first and foremost step is hair preparation which is to wash, condition, and dry your hair. Detangle your hair thoroughly and apply a heat protectant coating each strand of your hair evenly. Let your hair air dry or use a hair dryer to dry it completely.
Partition Your Hair Into Sections: Divide your hair into sections to make your work easier and to get the desired results. Make small sections of hair, if you are looking to have tighter curls. Else use bigger sections to get softer, looser curls and also to speed up the curling process. But a spiral curling iron with a heat insulation shield around the barrel will not be able to handle the larger portions of hair also leading to additional tangling.
Start Curling Your Hair: Now, set the appropriate temperature for your hair type in the curling iron. Insert the end of the sectioned hair in the clamp of the spiral iron and wind it around the barrels to lock it properly. With some spiral curling irons, you will have to start curling from the roots and then wind the section of your hair around the barrel. For both methods, hold the device for a specific time to let the curl set. The longer you hold the iron in each section the tighter the curls you get. Release the barrel and let go of your hair section. Repeat working the same with all other sections until you finish the curling process.
Styling: Once finished working with all the sections and have your entire hair curled, use a hairspray to set and style the curls.
Some Tips To Consider While Using The Spiral Curling Iron
Here are some useful tips while curling your hair using a spiral curling iron
You should begin with dry hair before using a curling iron
Don't use the spiral curling iron on damaged hair as it can worsen the damage and won't hold a curl properly
Use the appropriate size and type of curling iron that is suitable for your hair type
Set the temperature to the lowest on your curling iron to avoid hair damage
Most of all, use the heat protectant for your hair always before using the spiral curling iron
Section your hair for easy work and to achieve perfect curls
Avoid stretching or pulling your curls
Make sure to use hair spray as it helps your curls to stay for a long time
Pros And Cons Of Using A Spiral Curling Iron
Pros
Creates well-defined and natural-looking curls
Even heat distribution
The curls are long-lasting
They have smaller clamps that enhance the level of comfort and ease of use as well
Cons
Because spiral curling iron is designed to create perfectly defined curls, it may reduce the length of your hair.
Frequent usage of spiral curling iron may affect your hair health as your hair is exposed to high temperature
Conclusion
Spiral curling irons are very easy to use and now that you have learned how to use the spiral curling iron, you can create beautiful and lovely curls on your tresses effortlessly. These spiral curling irons are specially designed to create tighter, well-defined, glorious, and long-lasting curls.
You Might Also Like: