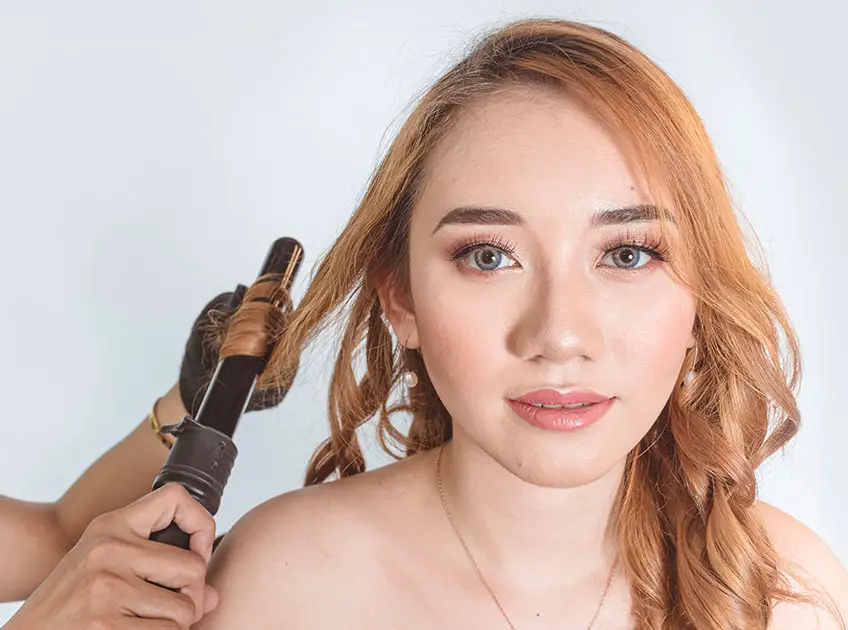 There were times when options were limited, expensive, and sometimes way out of bounds for hairstyle. So, some cheat sheets for those times were clothing iron or metal rollers or basically rollers overnight. Nevertheless, the result wasn't always perfect in the end. It was tough times with limited hair styling options at home and frequent visits to salons.
But these days, the ladies have it easy with many options open for them at home to do the styling. Starting from bubble wands to twisted barrels, skinny, tapered, and reversed tapered there many options to go around for the wavy, luscious curls. Some of these may appear gimmicky but others really do have their functionality at the point to give you a nice curl.
Out of all the options though, generally two majorly preferred are Tapered and Straight Curling Wand. Let us discuss in detail about both of these magical wands.
Tapered Vs Straight Curling Wand
Straight Wand
This one, however, is not mysterious because it is frequently referred to as a straight cylindrical barrel, and when it first arrived it was like a blessing. If you intend to get into uniform curls, a straight cylinder barrel is typically the best choice. Instead of using a clip, all you need to do is wrap your hair around the barrel and hold it there for a short period of time to achieve perfect curls.
This wand is best for achieving those loose large waves that could be brushed into relaxed waves. Since the barrels give you more surface area for curling, it helps you in achieving your curls faster while allowing you to check the size of the curls according to your choice. The one amazing thing it pulls off is the versatility it provides with curls.
An amateur who is not familiar with the product might end up burning her finger during high heat setting when curling her hair. It is a rookie mistake most make at the initial stage. Although most of the time the product does come with a heat protective glove to keep your from burning your fingers when styling your hair. You can purchase the glove separately from a local salon or super market too. It is advisable to use them at the beginning but rather use it for the long run to avoid burn marks.
Starting with a straight curling wand, there might be a "tail" at the end of each curl. It is yet another rookie error given that without a protective glove, it can be quite challenging to curl all the way to the bottom in the beginning. The tail won't be particularly noticeable if you style yourself regularly.
If anything, there is always the straight curling rod with built-in clip as an alternative. These will aid you in the initial stages of developing graceful curls with large waves that can have a revitalising glow when you enter the room. Additionally, if you are new to curling your hair, a clip-on one is a lot safer.
Here Are Some Pros And Cons:
Pros:
A built-in clip is much helpful to achieve those elegant curls and also have that professional-finish look.
If you are into big curls in a uniform style, this is the tool you must have at your need.
The product is highly adaptable.
Get the one with a clip to prevent burned fingers and protect yourself from the burn.
It is widely recognized for getting even curls on the hair.
Cons:
Not very use friendly curling wand.
There can be those dreaded clip marks as a beginner.
As a newbie, there can be confusion when you are trying this tool.
Tapered Wand
The wand is renowned for its adaptability and is also referred to as a "conical wand" because of its shape. The barrel gradually widens at the base of the wand after becoming narrower at the tip. This is done in order to create thick curls with just one type of curler. If you use the curler's base, you'll get big, voluminous curls; however, if you use the tip, the curls will be tighter and more precisely defined.
Being able to get close to the roots and add more volume to the hair makes it the perfect curler for women with short hair. Additionally, those who enjoy experimenting with various styles will benefit greatly from the curler's adaptability. Although the barrel changes from thin to thick, creating uneven curls also known as spiral curls, this option is not the best if you want to stick to uniform beach curls. Small and large curls can be made using the flexible barrel's design.
When your hair starts to look lifeless or can no longer maintain the curls for an extended period of time, this wand is one of your best options. As you get wider waves at the top that gradually cascade into narrow curls at the end, it also enables curls that look natural. The wand will give you S-shaped hair that looks natural and, when tousled, will make your hair appear voluminous.
You can much more easily release the curls at the palm of your hands thanks to the wand's narrow tip. The convenience of touch-up is another benefit. You can easily add volume if, after a day or two, one curl has become errant with the aid of the smaller end. Therefore, for those seeking natural curls, this is the best option.
Pros:
Let your experimentation flow, the wand gives you the liberty to alternate between styles.
This is the absolute choice if you have short hair.
The tapered wand offers you natural-looking curls.
Cons:
It does not offer uniform curls.
The wand is not for large relaxed and big curls.
The curls are not softer and glistening as their counterpart from a straight curling wand.
conclusion
The type of curls you want at the moment will determine which wand you choose, whether it is straight or tapered. But keep in mind that practice is the secret to getting those gorgeous, voluminous curls. As there is no such thing as perfection, continue practicing on a wig to learn the subtleties of getting lovely curls. Although it will take some time, you will eventually get the desired curl.
You Might Also Like: