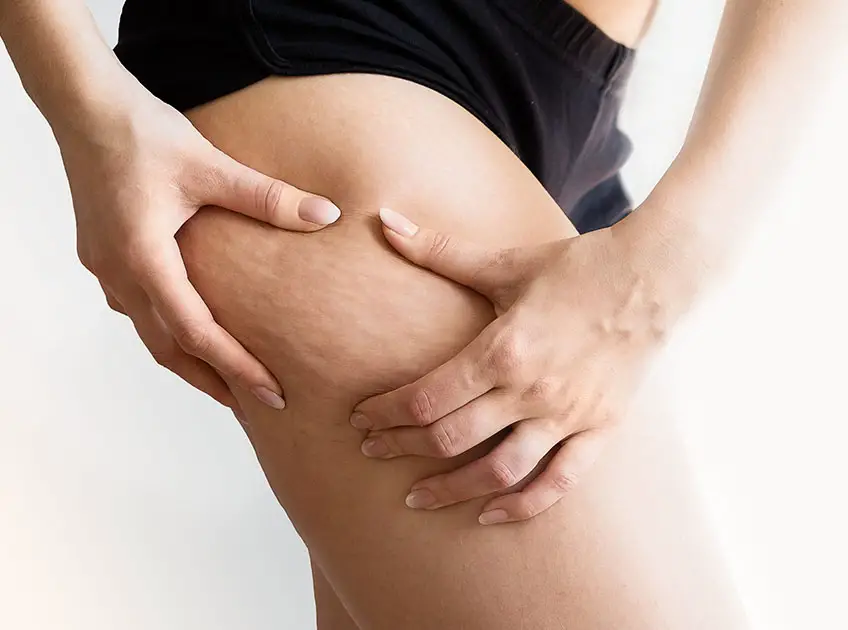 When it comes to cellulite, using natural ingredients like coconut oil and baking soda can help immensely. Both these ingredients are a powerhouse of antioxidants, antibacterial and anti-inflammatory agents that makes skin firmer and healthier.
While coconut oil helps with skin hydration, baking soda improves blood circulation, giving skin a rejuvenated and youthful look.
Before we understand how coconut oil and baking soda helps in cellulite reduction, let's be aware of what cellulite is and why it appears.
What is cellulite?
Cellulite is a skin condition that causes lumpy and dimpled flesh on the skin. It usually appears on the things, hips, buttocks, and abdomen. Even though the condition is harmless, it is not aesthetically pleasing.
Usually, cellulite is inherited due to its genetic component. Besides, it may occur when excessive fat cells accumulate and push up against the skin. It pulls the connective chords down, creating dimples or uneven surfaces over the skin.
Overcoming Cellulite with Coconut and Baking Soda
People yearn for firm and youthful skin; as a result, they look for effective ways to remove cellulite. Both coconut oil and baking soda (sodium bicarbonate) have their own ways to counteract cellulite.
Let's dive in and find out how to use these ingredients to overcome cellulite. We have listed three skincare solutions with coconut oil and baking soda- mask, scrub and moisturizer to give a boost of health and firmness to cellulite affected skin.
Method 1: Coconut Oil and Baking Soda Mask
Prepare a highly effective mask for cellulite using baking soda, coconut oil, and honey. Here are the steps:
1. Take 1/2 teaspoon baking soda and mix in 1 tbsp honey.
2. Prepare a smooth mixture.
3. Add 4-5 drops of coconut oil and mix well.
4. Apply it thoroughly in the cellulite-affected areas and massage for 2 minutes.
It is one of the most beneficial ways to decrease cellulite. A regular application of this mask can counteract cellulite development to a great extent. Honey is a powerful ingredient and highly beneficial for different skin issues.
Method 2: Coconut Oil and Baking Soda Scrub
Gentle scrubbing over cellulite affected areas with effective ingredients can help tremendously. The following are the steps to make scrub for cellulite:
1. Take 1 teaspoon of sugar and mix it with 1 tbsp coconut oil.
2. Mix well until sugar cubes become tinier.
3. Now add 1/2 teaspoon baking soda and mix well.
4. Scrub the mixture gently over the affected areas for 5 minutes.
Sugar is a great exfoliant and removes all the dead cells from the skin. On the other hand, coconut oil provides desired moisture to the skin, making it well-hydrated and moisturized. Baking soda helps increasing the circulation and absorbing the oil.
Scrubbing this paste twice a week can give astounding results.
Method 3: Coconut Oil and Baking Soda Moisturizer
Keeping the skin well moisturized is one of the ways to keep it healthy. Since coconut oil is rich in lauric acid, it works as an antioxidant, antibacterial and anti-inflammatory agent.
On the contrary, baking soda exfoliates the skin thus helps in deep cleansing. Using these two ingredients together can help improve the skin condition.
Here is how to prepare cellulite moisturizer using coconut oil and baking soda:
1. Take 1 teaspoon of baking soda and mix it in 2 tablespoon of coconut oil.
2. Mix it well to get a paste of thin consistency.
3. Slather it thoroughly over the things, abdomen and the skin around.
4. Gently massage and wash after an hour.
This moisturizer is healthy for skin and apart from fighting off cellulite, prevents a lot of skin issues like acne, pimples, saggy skin, and much more.
Cautions To Keep in Mind
Even though coconut oil and baking soda are two highly effective natural ingredients to keep cellulite at bay, here are a few points that you should keep in mind-
1. Baking soda is alkaline in nature. Using it in high amount can alter skin's pH. It is the reason why we have kept its dose less in all the methods.
2. Using virgin coconut oil is far more beneficial than using normal coconut oil. The skin absorbs virgin coconut oil easily that helps in breaking down the cellulite more effectively.
3. Always perform a patch test before applying cellulite scrub or paste, as some skin types are highly sensitive and are prone to allergic reactions.
4. Harsh scrub may break the epidermal layers and cause dryness. So always be gentle while scrubbing over the skin.
Final Words
Cellulite is one of the common skin issues, and around 80 to 90% of women develop it post-puberty. Excessive fat from a sedentary lifestyle and unhealthy eating practices elevate cellulite development.
However, precautionary measures like a healthy lifestyle and home remedies like coconut oil and baking soda can help curb the problem. Make sure to use the ingredients in the prescribed dose to avoid any uncertainty.
Recommended Topics: