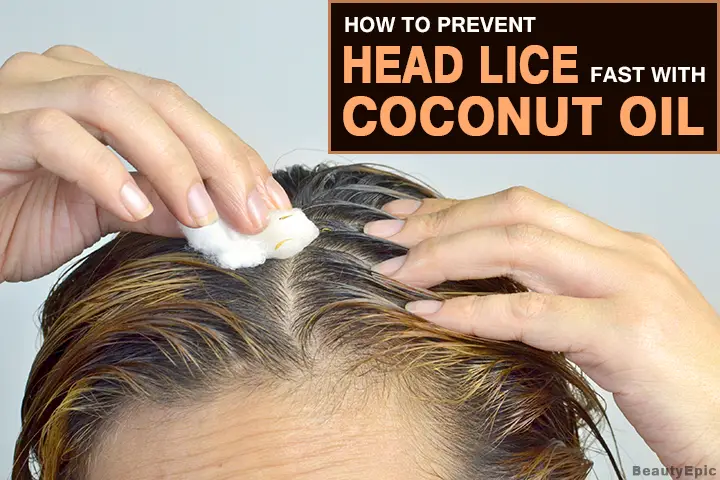 Head lice is certainly not a friend of us, especially for children. This hair problem creates much trouble for us, and we surely want to get rid of them. Have you ever been so frustrated that you cannot find the right way to combat the issue? You may want to try coconut oil then. Here, you will know how the solutions for head lice, and you will then realize that killing head lice is not as troublesome as you thought. Let us read here are some effective ways to use coconut oil for head lice removal.
Why There is Head Lice
Lice cannot survive for more than 24 hours
Most infestations result from direct contact with head to head. This is why children are more prone to infestations
Using shared items such as hats or brushes may also cause the problem. So be aware of them when you share these items.
Sitting closely with people with lice may also lead to infestation.
How to Use Coconut oil for Head Lice?
1. Coconut oil and Garlic for Head Lice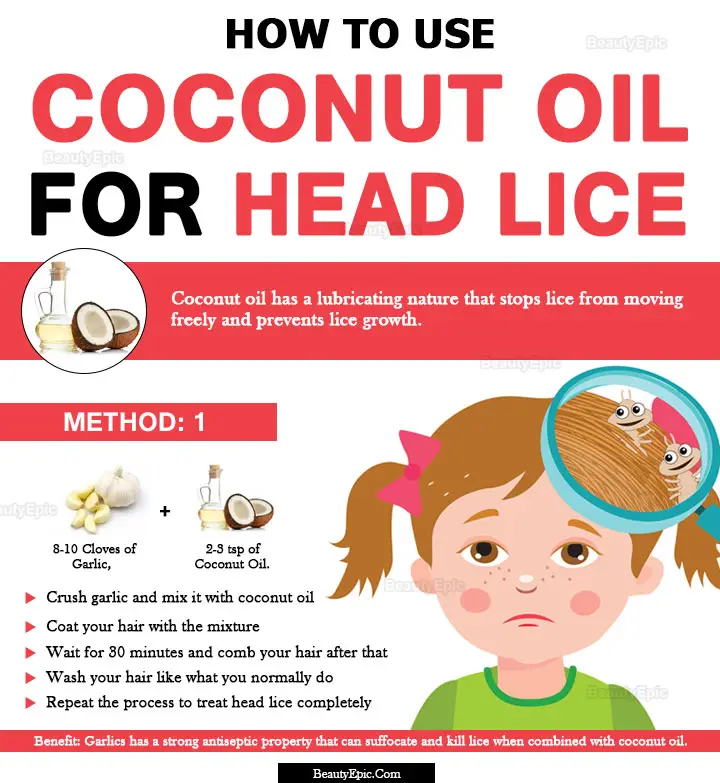 Using coconut oil together with garlic is an effective way to combat hair lice since garlics has a strong antiseptic property that can suffocate and kill lice when combined with coconut oil.
Ingredients:
8-10 cloves of garlic,
2-3 teaspoons of virgin coconut oil.
Procedure:
Crush garlic and mix it with coconut oil
Coat your hair with the mixture
Wait for 30 minutes and comb your hair after that
Wash your hair like what you normally do
Repeat the process to treat head lice completely
2. Apple Cider Vinegar and Coconut oil for Head Lice
Apple cider vinegar is famous for its ability to dissolve the glue of head lice so it will no longer stick to your hair follicles. Therefore it is a remedy that we simply cannot miss. Please take a look at the recipe below
Ingredients:
Sufficient amount of coconut oil,
Sufficient amount of apple cider vinegar
Procedure:
Mix the two ingredients
Rub the mixed solutions to your hair
Massage your scalp gently and leave it for 5-10 minutes
Comb your hair
Repeat the procedure twice per week
Alternative Procedure:
Coat your hair using a layer of apple cider vinegar
Coat your hair with coconut oil after the vinegar solution dries completely
Wear a shower cap or a towel in order to cover your head
Comb your hair after 3-5 minutes
Wash your hair like what you normally do
[ Read: How to Use Apple Cider Vinegar for Lice ]
3. Coconut oil and Oregano oil For Head Lice
Oregano oil is recognized for its ability to remove head live by the American College of Healthcare Science. When mixed with coconut oil, the effect will be doubled. The recipe is as follows:
Ingredients:
5 parts of coconut oil,
1 parts of oregano oil
Procedure:
Mix the two oils together
Apply the combination directly on your hair
Comb your hair
Wash your hair like what you normally do
Repeat the procedure regularly
4. Coconut oil and Tea Tree oil for Head Lice
In general tea tree oil is a great essential oil for hair care and it is a powerful home remedy for head lice. Combining it with coconut oil can get rid of almost all head lice.
Ingredients:
3-5 drops of tea tree oil,
2 tablespoons of coconut oil
Procedure:
Stir the two oil well
Evenly coat your hair with the solution
Wear a shower cap and blow your hair over the cap with a hairdryer for 4-6 minutes
Leave it overnight
Shampoo your hair and massage your scalp well next morning
Continue to wear the cap for 30-35 minutes and comb your hair after that
Shampoo your hair for a second time and conditioner it. Do it regularly.
[ Read: How to Get Rid of Lice with Tea Tree oil ]
5. Lemon Juice and Coconut oil for Lice
Combining four famous natural home remedies altogether can greatly increase the removal impact since they are all great ingredients to treat head lice.
Ingredients:
1 teaspoon of coconut oil,
1 teaspoon of lemon juice,
1 teaspoon of green tea and
1 teaspoon of garlic juice
Procedure:
Combine all the ingredients to form a mixture
Coat your hair using the mixture
Cover your hair using a towel or a cap
leave it for half an hour
Comb your hair, Wash your hair like what you normally do
Repeat the procedure once a week and maintain this habit for a month.
So, it is not difficult to handle the trouble caused by head lice using coconut oil. It becomes much easier to solve this trouble once you understand the causes and remedies of it. The ingredients are easy to grab while the procedure is not complicated at all. I hope the 5 remedies mentioned above can help you end the nightmare with head lice. So now—you know how to use coconut oil for head lice.
You Might Also Like:
Image:- 1