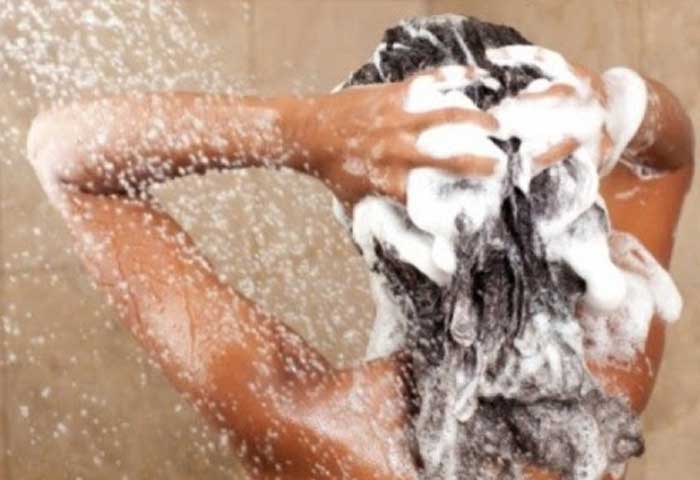 There is a big debate when it comes to using shampoos and conditioners. Hair being our crowning glory we tend to fuss about its health. Hairstylists and trichologists have different views on the use of shampoos and conditioners. Most of them say it depends on the person's hair type and lifestyle. There are some people who need daily hair washing while others can go without shampoo. The focus is on frequency of using shampoo and dispelling the myths regarding washing hair regularly.
Before you read what experts say about washing hair, let's study what shampoo actually does to the hair. Angela Lamb the assistant professor of dermatology at the Icahn School of Medicine (Mount Sinai, New York) states, "Hair produces natural oil called sebum and shampoo is an emulsifier that captures and traps excess oil, dirt and product residue, which you then rinse out to clean the hair."This sebum that hair or scalp releases act as a protective barrier and keeps the hair moisturized. So little bit of dirt and oil doesn't do any harm. However, those who have thin hair, lives in a humid place and exercises daily needs to wash their hair regularly.
[ Read: Hair Care Tips to Include in Your Hair Care Routine ]
Sunil Kumar Yadav, top hairstylist working for Hyderabad's top salon states, "If a person uses shampoo daily it is not a problem as long as he or she washes it off properly. It is very important to use a conditioner every time you use shampoo otherwise your hair will become dry and damaged. If someone has oily hair or scalp he or she needs to wash their hair atleast four times a week. A person with dry hair washing twice is just enough. It all depends on hair type. It is best to take professional help to know your hair type and use shampoo accordingly."
If you are blessed with thick hair that oozes less oil you can skip the shampoo. However, if your hair feels really dirty and itchy then you should head straight for the shower. The hot season calls for frequent hair wash, so the climate should also be taken into consideration.
Philip Kingsley, a renowned trichologist from London is a proponent of daily hair washing. He points that certain hair type needs daily care so one needs to be vigilant. Hair washing is totally upto an individual. There is no blanket rule. If your hair becomes greasy you need to wash often.
Using a heavy shampoo or conditioner will make your hair greasy fast and you will need to shampoo it more often. So choose something that is light in weight and leaves no residue in the hair. Brushing your at night will help to distribute natural oils throughout your hair and preserve the style better. Finer hair needs more maintenance. You can use some hair mask to give your hair deep conditioning sometimes.
[ Read: How to Use Castor oil for Hair Growth ]
If your hair is styled then you can skip the shampoo. However, if you are blow drying your hair or applying heat while styling your hair then make sure that your hair is absolutely clean. The styled hair will look better and last longer, so you don't need to use those styling tools often. From a medical point of you, it is okay if you shampoo once a week as long as you don't have any scalp problems.
There is a range of hair styling products like hair serums, hairstyling mousse, hair sprays and leave-in conditioners that make your hair look good for a long time. The gap between hair washes have decreased after their invention. These products are used mostly by busy professionals to save time.Though almost everyone uses it these days.
Here is a crazy deal for all those who really don't get time for a hair wash, you have dry shampoo to camouflage your hair and make it look gorgeous. You can spritz some dry shampoo where dirt and oil has accumulated (mainly the hair roots). Spray some on the nape of your neck and hairline. Make sure for maintain 3-4 inches distance while spraying. You can use it before hitting the bed so that it absorbs excess oil. Dry shampoos energize your hair and also add volume at the roots. The debate whether over styling is good or not, is another story altogether. If you are hesitating to use these new styling products, you can take professional help to know which products suit you best and whether you need it at all. If you stay indoors you can skip them, but if your job demands that you should look presentable daily then these products will come to your rescue.
Those who use less shampoo have experienced improvement in the quality of their hair. Lesser you use shampoo, styling tools and products your hair remains undisturbed. Invest in a good shampoo and conditioner and use it when required. Some people use conditioners instead of shampoo because it has all the cleansing agents that you need and it doesn't strip your hair of healthy sebum. So you can wet your hair and apply conditioner.
Just make sure that the gap between washing should not be more than 14 days. It is best if you keep the shampooing routine to yourself, otherwise people might think you are dirty. 
Be gentle to your hair by using sulfate-free shampoos and always apply conditioners that have nourishing oils in it. Never apply conditioner to the scalp or roots, this way your hair will become less greasy. A small trick for you here, you can use some baby powder to soak up the excess oil. Shampoo a day before you need to go for a party, so that your styled hair doesn't look too bouncy.
Now that you have both sides of the argument, you decide for yourself what suits you best. Just make sure that you are not exerting too much pressure on your sebaceous glands by stripping off the necessary moisture. Washing your hair daily and shampooing are two different things, so never confuse. Love your hair and give it the care it deserves. Here's wishing you a happy hair day everyday!
You Might Also Like:
Image: 1