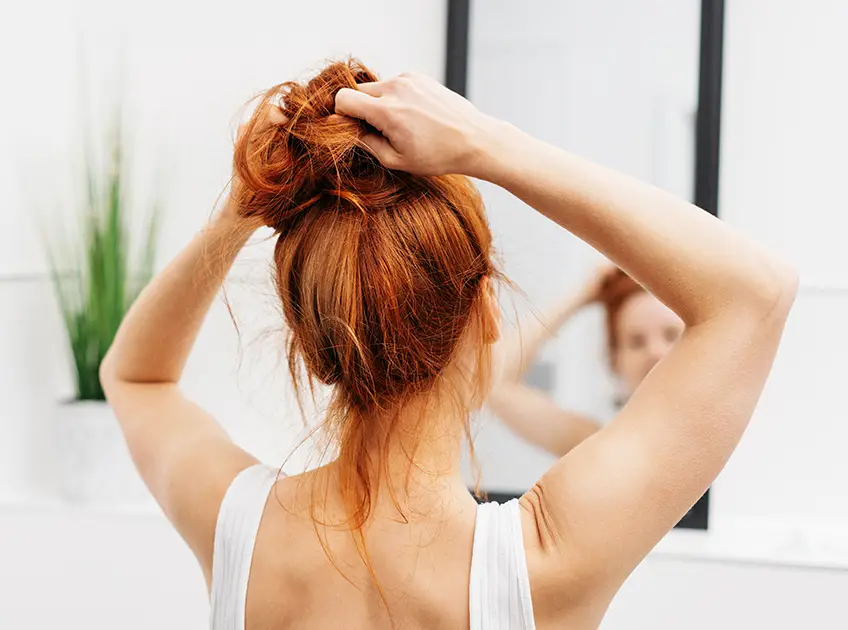 No matter how lovely the hair are, when they keep coming on the face and bothering, they look like a nightmare. Whether you are studying, working, sitting leisurely, or just sleeping, it's disturbing seeing the hair coming on your face all the time and doing little tingling.
While you can have a short haircut to keep hair out of your face, it is not something everyone can try. Therefore, for all those looking to keep hair out of their face, we have come up with some great and useful ideas that work and ensure you look good.
Ways To Keep Hair Out Of The Face
People with long locks can utilize different techniques to keep them out of the face as there are many hairstyles to manage them. From getting tight ponytails or using clips to braiding the hair back, there are multiple ways. While side parting the hair and tucking them behind the ears is also common, it is not a way of getting rid of the problem. You would still require hair accessories to solve the issue.
When hair falls on the face, covers the eyes, and tickles the skin, it irritates, especially when concentrating on something. So, hair can be kept off the face in the following ways-
1. Using A Clip To Secure The Hair Back
You can find different types of clips in the market- chip clips, butterfly clips, banana clips, and others available with different names that can help resolve the problem to a great extent. Here, you can invest in larger clip sizes, preferably XL versions that are often in fashion. If you use smaller clips, they won't be able to hold most of the hair; therefore, buying a larger size will help.
These clips are easily adjustable and adapt to hair types- normal, silky, or curly. At the same time, they do not leave creases on hair, despite you do not wear them on wet hair. Using clips is one of the easiest and most practical ways of keeping hair out of the face.
2. Pinning Hair In Different Ways
Using hairband aka hair tie
Another useful method is pinning the entire hair using an elastic hairband that can easily hold the hair back. Go for elastic hairbands covered with cloth, like scrunchies, as they hold hair tightly without causing hair damage. Such hairbands are often sold with a name ponytail holder or hair tie.
To use hairbands, gather your hair and pull them away from the face with the help of your hands. Now let your hair slide in through the hairband, keeping them away from your face. Apart from a ponytail, you can also try making a bun by gathering the hair at the back of the head, drawing it halfway through the hairband and making a twist, and looping the hair band around the bun. It secures all the hair without letting them come on your face.
Using Headband
You can try different looks with a bun or ponytail, like putting on a headband for a sporty look. A headband will provide double protection and never let the hair fall on your face. If you are working out or running headband will be an excellent choice.
Take any stretchy elastic headband, backcomb the hair and slide the headband up to the hairline. Adjust the headband so that it stays fit on the head without making you feel uncomfortable.
Using Plastic Hair Clip
You can also go for a plastic hair clip that clamps onto the hair and secures them with its jaws. Gather your hair to make a bun and put plastic clips to secure it tightly. The clips will ensure that hair will not fall off on the face and the bun will stay on the head.
Using Bandana
Bandana is a great choice that you color mix and match with your outfit. To put on a bandana, gather the hair in your hands and brush them back. Now wrap the bandana around the forehead and tie it behind the head.
3. Backcombing The Hair
Take the section of hair falling on the face and tickling you. Pull them backward gently, or else it may cause a headache. Do not stretch them excessively tight. Now clip back the short hair present on the edges. You can use clicker clips, bobby pins, or embellished or fancy clips for a fashionable look.
Conclusion
Now that you know how to keep hair out of your face, you can prevent them from tickling your face. Try different ponytails or braids like a French braid or fishtail braid to get an upscale look. Besides hairstyles, you can also use gel to secure stray hair tightly pressed against your scalp.
You Might Also Like: