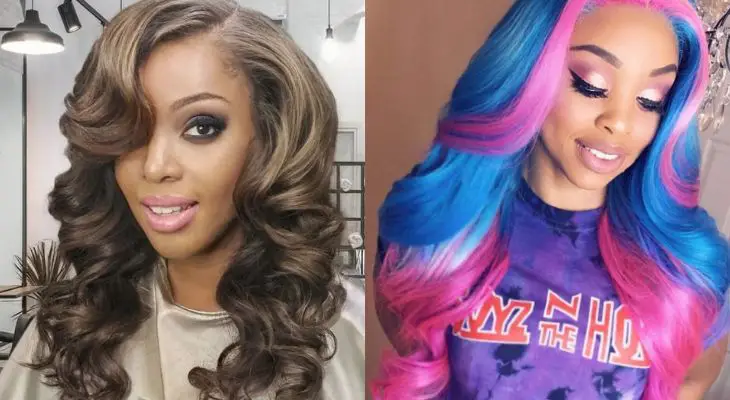 Beautiful long hair is a dream for all women. Most African and American women naturally have amazing long hair. If you are one of them you should know how to present the hair in a great light. Probably you already know what kind of hairstyle suits you best. Here are a few fabulous black women's long hairstyles. The following images are breathtaking as well as worth initiating. You don't want to make an exact copy of this hairstyle, just do creative ideas with it according to your style.
Top 18 Long Hairstyles for Black Women
1. Blonde Highlighted Black Long Wavy Hairstyle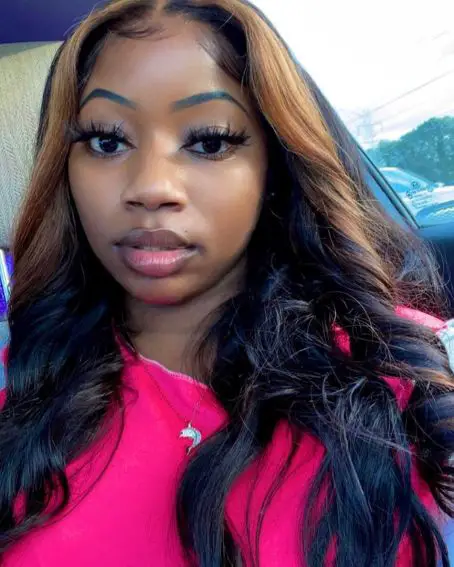 This is one of the outstanding natural hairstyles for black women. It is a voluminous style with playful vibes which are further enhanced by the combo of blonde highlight in a wavy style.
2. Long Braided Style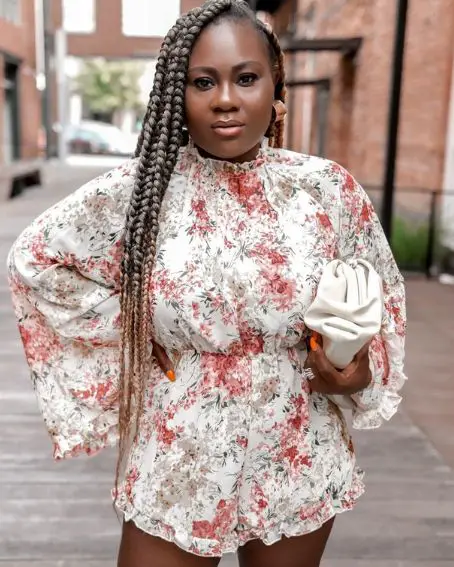 Natural braided hairstyles for black women are considered the most versatile choices to ever exist. In this style, long hair is braided with tiny knots. Braids match everyone and can be done in several ways.
3. Very Curly Thick Hair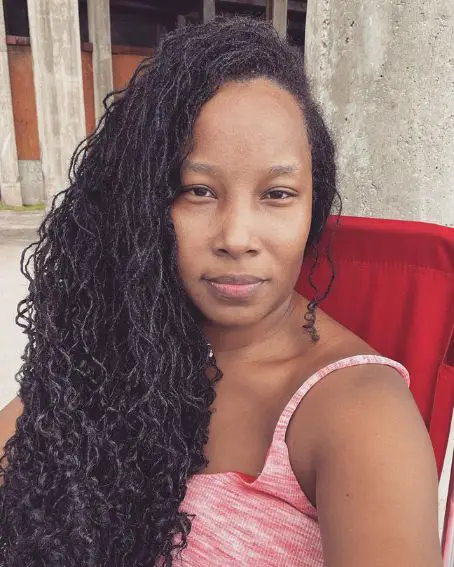 Very curly thick hair is one of the major styles for black women. This got plenty of natural volumes and hits with a wavy hairstyle. It shows a glossy and elegant look to your hairstyle.
4. Long Bubble Ponytail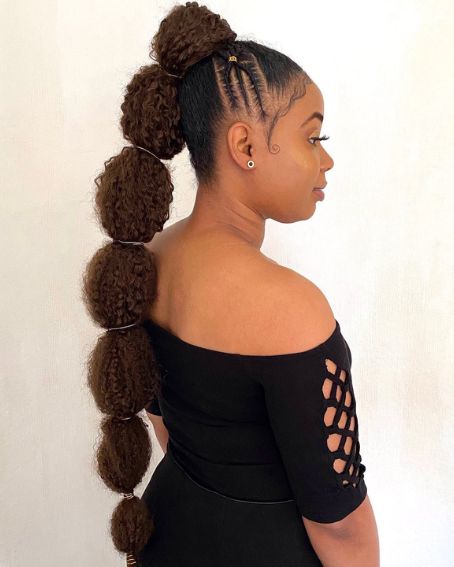 If your hair is fine and thin then you can try out this long bubbled ponytail hairstyle, it gives variant look but it is a time-consuming style yet gives chic and glam status.
[ See More: Bob Hairstyles For Black Women ]
5. Side Parted Black Curly Hair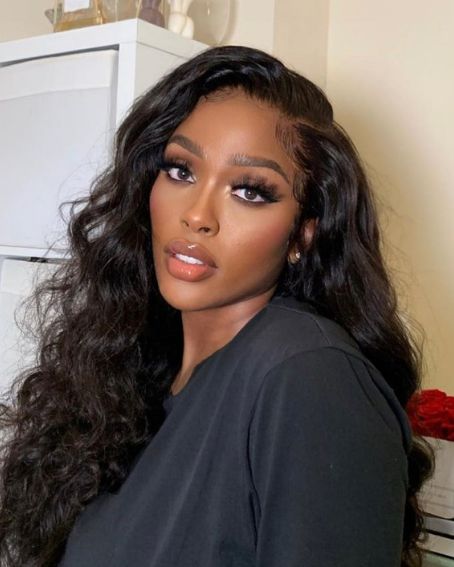 Most of the black curly hair women are interested to do side parted hairstyles. This style is perfectly blended with curly hair and the side parted for curly hair will give gorgeous look.
6. Small Feed In A Ponytail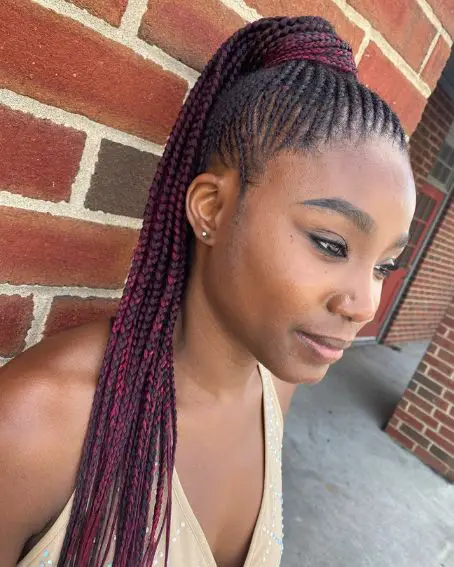 Small feed in a ponytail is a super stylish braid hairstyle. This style features a few chunky braids to create a ponytail. It is a long-lasting protective hairstyle. The feed-in braid work as a cute accent.
7. Half Braid And Half Curly Hairstyle
This is incredible hair for women, here the stylist will have hair with half braid and half curly. You can have this superb mix-up hairstyle , without any hesitation because it is a fun and elegant hairstyle
8. Long Knotless Braid Hairstyle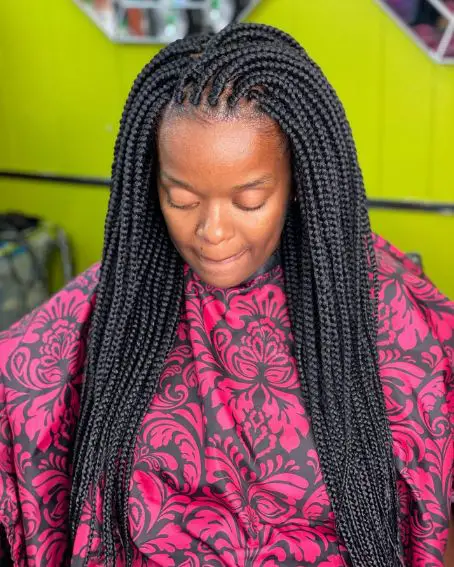 Long knotless braid is another style for black women which is versatile, comfortable, and stylish. This style is work for various lengths of hair the knotless gives you a protective and fabulous one.
9. Long Cornrow Hairstyle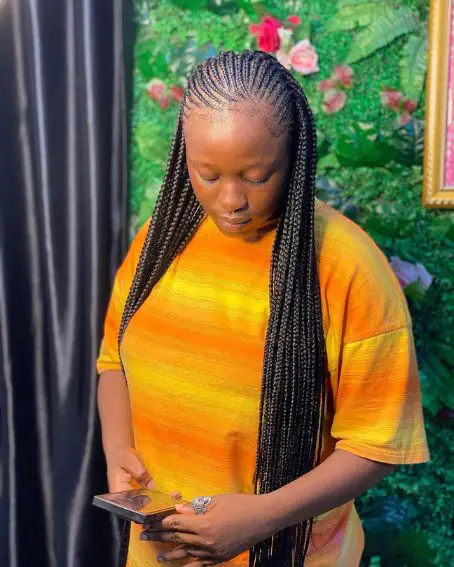 This style differs from other styles here the long hair will be braided as corn rows so that it gives glamour and a stunning look.
10. Mouse Bun Hairstyle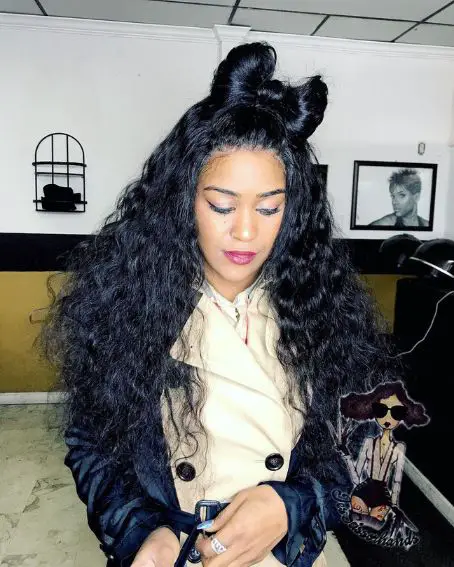 A black wedding hairstyle with natural hair is fun as well as look stunning. One hairstyle that you can see in all events is said to be the mouse bun. If you have long hair, you can generously go for this style.
11. Red Shade Updo
Want something easy to manage as well as yet high on the style quotient? Then black women should try this red shade updo. The red shade suits black women and also look pretty glam at the same time.
[ See More: Pixie Haircuts for Black Women ]
12. Blonde Highlighted Long Updo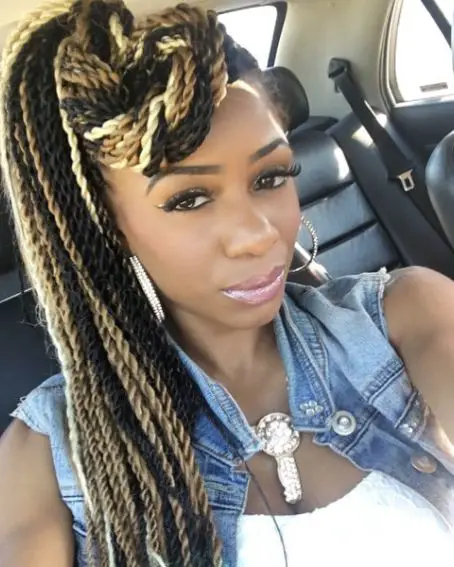 No one can go wrong with braids for black women. This blonde-shaded braided style is stylish and fabulous and also goes long way in preventing the hair from seasonal damage. Here, the long updo comes with a modern twist.
13. Unicorn Hairstyle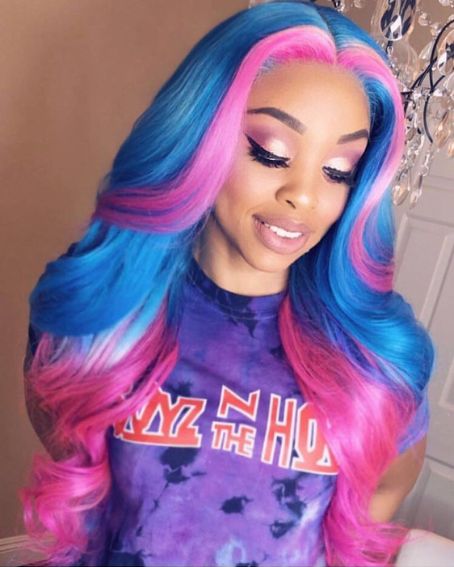 Unicorn is one of the great hairstyles for black women. Let the black girl's magic shine through. It is a voluminous style with playful vibes and it is further improved by the combo of blue and pink hues.
14. Traditional Weave Hairstyle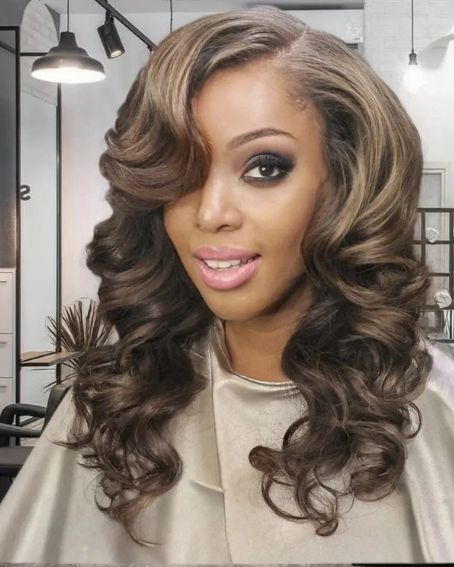 When you cannot decide what type of style to do, then go for this hairstyle. The traditional weave hairstyle is a comfortable, stylish, and fuss-free hairstyle to go for. This particular style gives you a stunning effect.
15. Middle Parted Long Shiny Hairstyle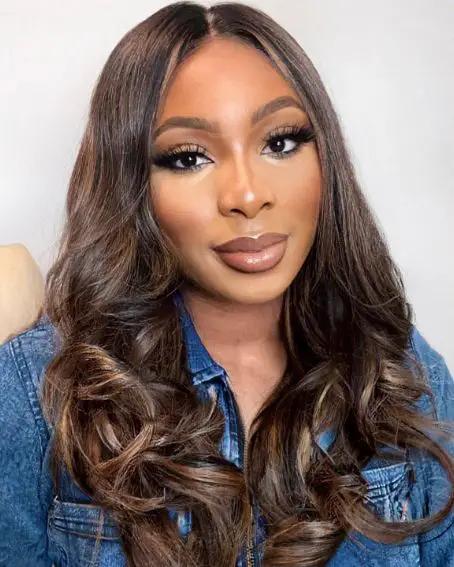 It is amazing and stylish for all those times when you need your hair out of your face. This middle-parted long-shine hairstyle with an end curl is one of the chicest hairstyles for a beautiful black lady.
16. Frontal Quick Weave Hairstyle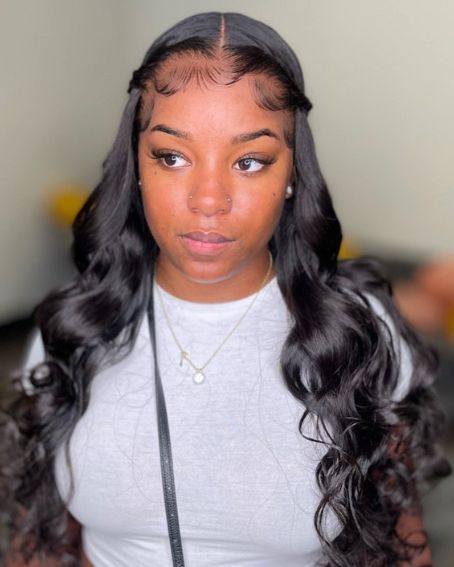 Are you looking to wear one of the best weave styles that have been steadily getting fame nowadays? Come for a frontal quick weave hairstyle that looks good even for casual occasions.
17. Long Layered Hairstyles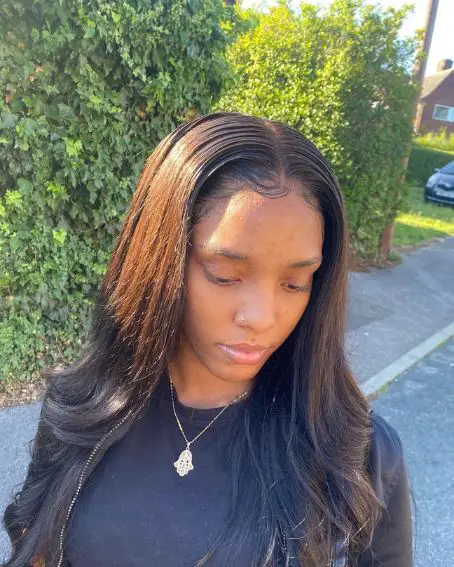 Curly hair leaving you bored? Straighten it out right now. There is nothing easier than this long layered hairstyle. By doing this hairdo your image will change as well as hair will obtain a new and improved shine.
18. Several Parted Box Braids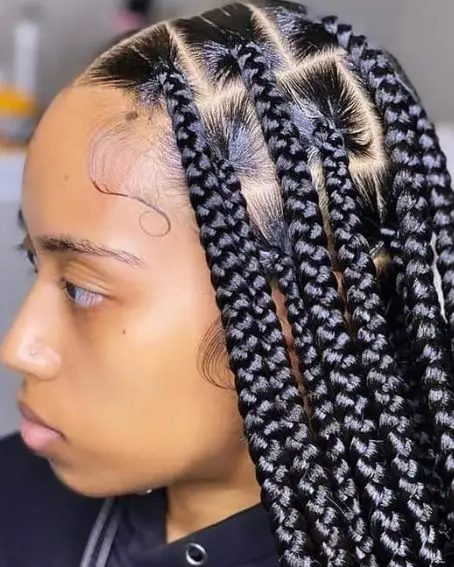 Does not it look pretty enchanting? this several parted box braid is excellent that no one can take their eyes on you. Box braids are a distinctive way to express a black girl's charismatic personality.
You Might Also Like: