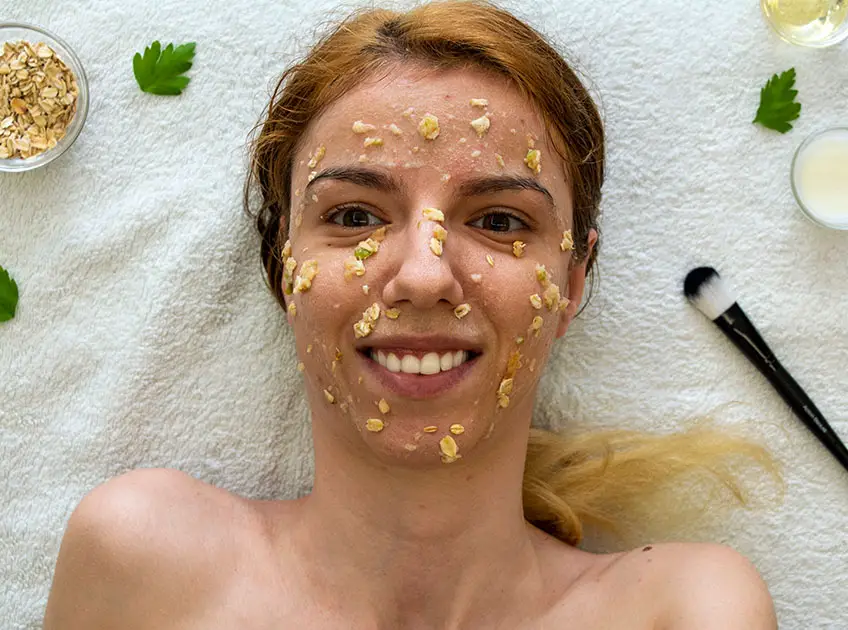 Oats are considered a wonderful diet food that holds extraordinary profits for skin, face and hair. Wrapping up with various antioxidant and anti-inflammatory properties such as vitamin B, zinc, omega 3, fatty acids, selenium, and thiamine, oats is majorly infused in skin, face and hair care.
Benefits of Oats for Skin
The wealthy nutrients of oats enhance your skin health. The following are some of the benefits of oats for the skin.
1. Heals Eczema
Dryness of the skin is the main cause of eczema. The rich enzymes of oats keep your skin away from redness and irritation.
Cooked Oatmeal Mask
Ingredients
Recipe
Add a cup of oats to boiling water and let it cook for 15 minutes.
Once oatmeal is cooked, allow it to cool down completely.
Use this on the affected areas and leave to dry for 15-18 minutes.
Wash with chilled water.
Tip: In research, it's proven that oatmeal provides relief from flaky skin and eczema symptoms.
[ Recommended: Amazing Beauty Benefits Of Aspirin ]
2. Used as an Exfoliator
Saponin present in oatmeal acts as an excellent exfoliating factor that acutely cleanses the impurities and dirt from your skin.
Apple and Oatmeal Face Pack
Ingredients
2tbsp Oatmeal
2-3 drops of Rose Water
2tbsp Apple Sauce
1tbsp Honey
Recipe
Mix apple sauce, honey, and rose water.
Add in the oatmeal and stir properly.
Apply to your skin and face.
Scrub gently and let it sit for 15 minutes.
Wipe off with warm water.
Tip: The antioxidants in apple aids in detoxifying your skin while the anti-inflammatory properties of rose water soothe your irritated skin.
[ Recommended: Surprising Beauty Uses for Baking Soda ]
3. Makes your Hands Softer
Oatmeal fortified with proteins limits water loss and keeps your skin hydrated for a longer period.
Oatmeal and Olive Oil Pack
Ingredients
2tbsp Grounded Oatmeal
½ tbsp Honey
Few Drops of Olive Oil
2-3 tbsp Water
Recipe
In a bowl, add well-grounded oatmeal, honey, olive oil, and water.
Blend in the ingredients well and apply to your hands.
Leave it dry for 12-15 minutes.
Scrub well and rinse it off.
Tip: Olive oil acts as a deep moisturizer lending your skin the essential nourishments.
[ Recommended: Beauty Uses for Apple Cider Vinegar ]
4. Delivers Oil-Free Skin
Oats cleanse excess oil from your skin and cuts down the surplus sebum production. It helps in maintaining your skin pH balance.
Tomato and Oatmeal Face Mask
Ingredients
Recipe
Get a tomato puree by blending it well.
Add the oatmeal to puree and mix properly with no lumps formed.
Apply the smooth paste to your face.
Wash your face after keeping it for 15 minutes.
Tip: As tomato is fully loaded with antioxidants, it eliminates the excess oil and impurities giving your skin a bright appearance.
[ Recommended: Benefits of Tea Tree oil for Your Skin and Hair ]
Benefits of Oats for Face
There is a long list of advantages of oats for the face. Below are a few popular perks of sots for the face.
1. Removes Sun Tan
Exposure to UV rays damages your skin and fades the skin complexion. Oats are the great essence for removing the adamant suntan and regaining your natural skin tone.
Oats and Buttermilk Face Mask
Ingredients
2 tbsp Oats
3 tbsp Buttermilk
1 tbsp Honey
Recipe
Combine oats, buttermilk, and honey
Put it on your face and neck by scrubbing in a circular motion
Let it settle in your face for fifteen minutes and rinse off.
Tip: The lactic acid in buttermilk can brighten your skin naturally, which helps you get rid of stubborn sun tan.
[ Recommended: Benefits of Banana For Your Skin and Hair ]
2. Supple-Looking Face
Besides its antioxidant properties, Oats poses vitamin B that provides even looking face and firms the skin.
Papaya and Oats Face Pack
Ingredients
2 tbsp Oats
3-4 Pieces of Papaya
1 tbs Almond Oil
Recipe
Blend the oats to a fine powder and squash the papaya to a pulp.
Mix the papaya pulp and oatmeal powder including almond oil.
Use this on your face and neck by giving a gentle scrub for 2-3 minutes.
Rinse with warm water by letting it sit for 10 minutes.
Tip: Papaya contains uplifting enzymes called papain that cleanses your face and enhances collagen production.
3. Promotes Natural Glow
Increase your face glow naturally by utilizing oats often in your face masks.
Oats and Turmeric Face Pack
Ingredients
2 tbsp Oatmeal
1-2 pinches of Wild Turmeric
3-4 drops of Rose Water
Recipe
Make a smooth paste by mixing oatmeal, wild turmeric, and rose water.
Apply this paste to your face.
Scrub gently for a minute and leave to rest for 10-12 minutes.
Rinse it off with cool water.
Tip: The anti-inflammatory and antibacterial components of turmeric revive your skin health and help you to get a lustrous glow to your face.
4. Treats Inflamed Face
Oatmeal soothes the irritation, redness, and swelling of your face due to acne and pimples. Its rich anti-inflammatory components remove the dead skin cells and help your face to stay away from future breakouts.
Egg and Oats Face Mask
Ingredients
1 Egg
Half cup Cooked Oatmeal
1tbsp Almond Oil
Recipe
Bind together cooked oatmeal, 1 full egg, and almond oil.
Apply the combination of ingredients to your face.
Let it stay on for 15 minutes.
Cleanse it off with lukewarm water.
Tip: Eggs are the best source for skin tightening and shrinking the pores as well. Almond oil is the essential oil with vitamin D and E that soothes your skin making it look soft and supple.
Benefits of Oats for Hair
When coming to hair care, the one agent that stands high for its beneficial assets is oats. The few advantages of oats for hair are listed below.
1. Relieves Itchy Scalp
As oats are known for their vitamins and nutrient efficacy, it eases the itchiness and soreness of your scalp.
Oats and Milk Hair Pack
Ingredients
3 tbsp Plain Oats
½ cup Milk
1 tbsp Coconut Oil
1 tbsp Honey
Recipe
In a bowl of milk, mix oats, honey, and coconut oil.
Blend it and apply it to your hair and scalp.
Massage it for a few minutes and let it soak for 25 minutes.
Then shampoo your hair as usual.
Tip: Milk contains moisturizing agents that gently hydrate and smoothen the itchy scalp.
2. Get Rid of Dandruff
The lipids in oats promote your scalp moisture further preventing dandruff and dry flakes.
Oat Milk Hair Wash
Ingredients
1 cup of Oats
2 cups of Hot Water
Recipe
Add a cup of oats and 2 cups of water to the blender and blend until creamy.
Strain the milk using a filter.
Use this oat milk as a final rinse after shampooing and conditioning your hair.
Tip: To have a dandruff-free scalp, rinse your hair with oat milk twice a week.
3. Improvises Hair Growth
Rich in fiber and zinc, oats encourage inactive hair follicles and boost your hair growth.
Oatmeal and Honey Hair Pack
Ingredients
1 cup Cooked Oatmeal
1-2 tbsp Sunflower Oil
1 tbsp Honey
Recipe
Blend well the cooked oats and get creamy milk by straining it.
Add the sunflower oil and honey to the creamy oat milk and stir well.
Apply it onto your scalp and leave for 25-30 minutes.
Wash off with warm water.
Tip: Sunflower oil consists of natural vitamin D which is the prime source for strengthening your hair roots and therefore helps in reducing hair fall.
4. Fix Dry Hair Problems
If you want soft and silky hair then oats set a path for it. It provides the required nourishment and moisture to your hair.
Egg and Cooked Oatmeal Hair Pack
Ingredients
1 Cup Cooked Oatmeal
1 Egg
Recipe
Add 1 egg to cooked oatmeal and beat well.
Using a brush, apply this to your hair and scalp by massaging generously.
Put on a shower cap and rest for 30-40 minutes.
Rinse your hair thoroughly.
Tip: Eggs are the super hair supplement, high in nutrients and vitamins making your hair damage-proof. The egg yolk moisturizes your hair deeply hence preventing dryness.
To make your appearance more radiant and protect your skin, face and hair from various damages, invest oats in your every skin, face and hair care routine. Furthermore, it adds a glow and youthful look to your face and makes your hair flaunt more lustrously.
Recommended Topics: