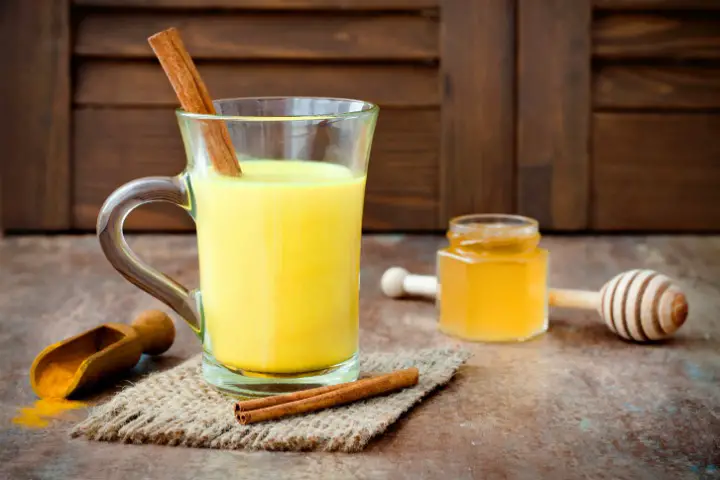 A combination of turmeric and honey is extremely beneficial. Known as "Golden Honey" when combined together, this potent combination can treat cold, cough, acne, sore throat, can be used as a face mask, etc. If you were not aware about the amazing benefits of using a mixture of turmeric and honey, then it is time for you to enlighten yourself.
Benefits of Honey: We know that honey is an effective sweet food that is mined from a flower by honey bees. It is a type of thick, sticky liquid that is also used for its various healing properties. It is well-known to treat many stomach related problems, cures allergies, cough, cold, etc.(1)
Benefits of Turmeric: Turmeric is a yellow colored powder and we all are quite familiar with it.It is refined in India and has been extensively used in making Indian Ayurvedic and Chinese medicine to treat several health diseases. It contains anti-bacterial, anti-inflammatory, anti-viral, anti-microbial and antiseptic properties that can treat wide arrays of health ailments.(2)
Health Benefits of Honey and Turmeric
We have listed down 14 benefits of using turmeric and honey and we are sure that by the end of this post, you are going to stock up your kitchen shelf with these two essential ingredients.
1. Prevent Cough: Cough occurs due to cold weather and causes respiratory tract, lungs, pneumonia, wheezing, asthma, etc.So, consuming turmeric and honey mixture helps fight against these as it has vast antibacterial and anti-viral properties. This mixture is the best medicine to treat a cough naturally.(3)
2. Treats Cold: Cold mostly occurs in people due to the winter season or cold weather. It can also occur when you eat or drink something that is very cold. But the common cold can be easily treated using this natural ayurvedic medicine of honey and turmeric mixture. They contain antibacterial, anti-inflammatory, anti-viral properties that help to eliminate cold and other cold-related problems effectively.(4)
[ Read: Benefits of Drinking Baking Soda with Water ]
3. Sore Throat Relief: A sore throat can be cured by using the mixture of honey and turmeric because of its various anti-bacterial, anti-microbial, anti-viral properties.These properties act together to get rid of sore throat instantly.
4. Prevent Acne: Turmeric and honey both effectively help interating acne in people of all ages and skin types. They are rich in anti-oxidant properties and have great moisturizing ability. This mixture can also remove visible scar marks present on the face.
[ Read: How to Use Turmeric for Acne ]
5. Digestive Problems: Turmeric helps to improve digestion and lessen gas and bloating. It also promotes the formation of bile in the liver which in turn improves the fat digesting ability of the body. You can also treat stomach aches, stomach ulcersand stomach upset with this combination as the turmeric purifies the digestive tract.(5)
6. Relieves Arthritis: The people who are suffering from arthritiscan consume turmeric every day as it helps to ease joints pain and joint inflammation.
7. Control Diabetes: Turmeric aids in controlling the insulin levels in the body. It improves glucose conditions and helps to cure diabetes.
8. Reduces Cholesterol Levels: Maintaining the cholesterol level in your body is extremely important. Turmeric is a very important ingredient which can reduce cholesterol levels in our body. There are a number of studies which have proved this.(6)
9. Prevents Cancer: Turmeric is also used to prevent prostate cancer, stop the development of existing cancer and even kills its germs. It is not capable of curing the disease completely, however, it plays a major role in controlling it.
[ Read: How to Use Turmeric for Cancer Prevention ]
10. Improves Immunity: Turmeric helps to promote the immune system in your body and keeps the body strong and healthy. It contains antioxidants, anti-bacterial, antiviral, antiseptic and anti-microbial properties which help prevent several common diseases.
11. Weight Management: Turmeric helps your body to condense fats and in turn helps in reducing your weight. It would be best if you could take a teaspoon full of turmeric on a daily basis to maintain your weight.
12. Prevents Alzheimer's Disease: Turmeric is helpful to slowing down the progress of Alzheimers's disease. It also improves the overall brain function, enhances memory and increases oxygen flow to the brain and also sharpens your brain function.(12)
[ Read: Can Coconut Oil Treat Alzheimer's ]
13. Prevents Liver Disease: Turmeric enhances the power of the vital enzymes in the liver that detoxifies the blood. Turmeric is also helpful in increasing blood circulation and keeps your liver healthy.
14. Gum Disease: Turmeric acts as a mouthwash that is very effective in reducing the bacteria in your mouth and helps in keeping a lot of gum diseases at bay.
Turmeric And Honey Recipe
Ingredients:
5 oz. (100 grams) of raw organic honey.
1 tbsp. of turmeric powder.
 Method of Preparation:
Add 1 tbsp. of turmeric in 3.5 oz. (100 grams) of raw natural honey.
Give a thorough stir to the mixture ensuring that both the ingredients are mixed well.
Once done, place the mixture in a glass container.
How To Use :
Day 1 – Take ½ tsp. every hour during the day.
Day 2 – Take ½ tsp. every two hours during the day.
Day 3 – Take ½ tsp. three times a day.
So, the next time you are down with cold or flu, give this golden potion a try before opting for other tablets and syrups.
Scientific Evidence:
You Might Also Like:
Image:- 1