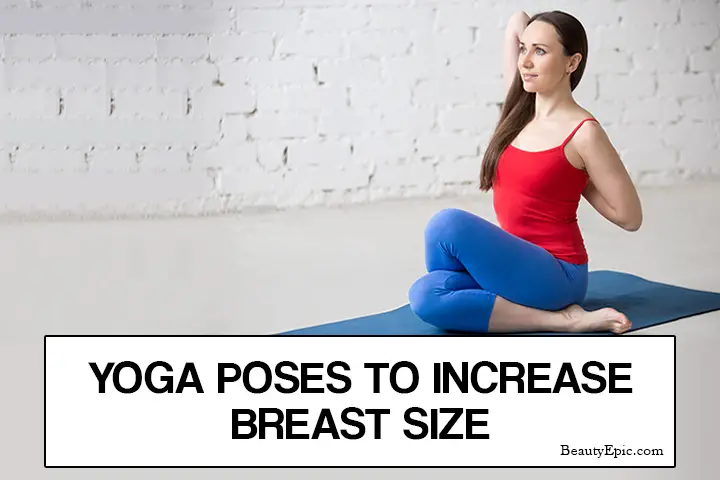 Yoga is one of the best practice which has a lot of benefits to the body of a human being. It can assist a lady in enlarging their breasts. Yoga is a natural process since there is no particular medication required. Yoga can be the best answer to your breast enlargement since its natural. You do not need to go through a surgical process or use supplements. The top 5 Yoga poses you can practice to increase your breasts size include:
5 Yoga Poses to Increase Breast Size
1. Gomukhasana (Cow Face Pose):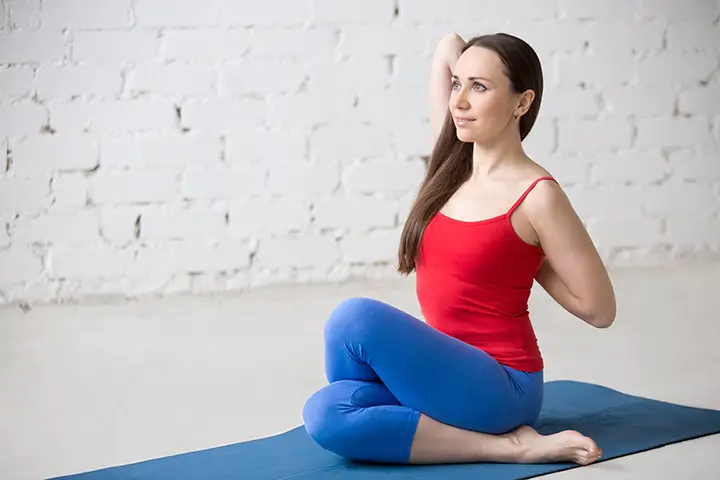 The pose can also be referred to as a cow pose. The posture a participant makes looks more of a cow face. It can be done twice a day probably in the morning and in the evening. When doing this pose, you should be on an empty stomach.
How To Do It:
You may sit on the ground while your legs are well stretched.
You then should bend your left leg and position it beneath your buttock.
Place your knees together.
Fold and place your left arm under your back.
Position your right arm over the right shoulder and stretch as much as you can.
Keenly expand your chest.
Hold this posture for the longest time possible.
Focus on your breathing.
Benefits: The pose will assist you in stretching your breasts appropriately.
[ Read: Yoga poses to Reduce Belly Fat ]
2. Cobra Pose (Bhujaṅgāsana):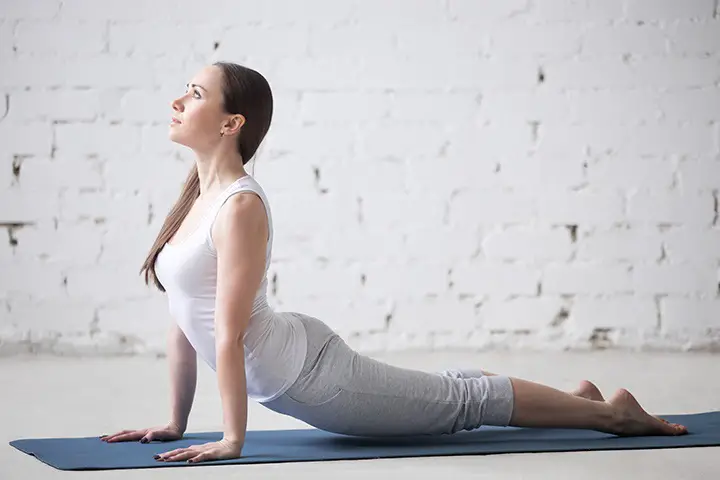 The yoga pose is also known as bhujangasana. It's more similar to a hood of a snake which is raised. You can hold the pose for like 30 seconds.
How To Do It:
You should lie on your belly.
Place your hands at the front, at a shoulder level.
Place your weight on the palms. You should raise your head and trunk as you inhale.
Push your neck backward and make an arch.
Firmly push your thighs, hips, and feet on the floor.
You may hold to pose for 15-30 seconds.
Release the posture by bringing your hands to the side slowly.
Benefits: The pose assists in strengthening your breast muscles. This is achievable through the stretching of your bust region.
[ Read: Yoga for Lower Back Pain ]
3. Camel Pose (Ustrasana):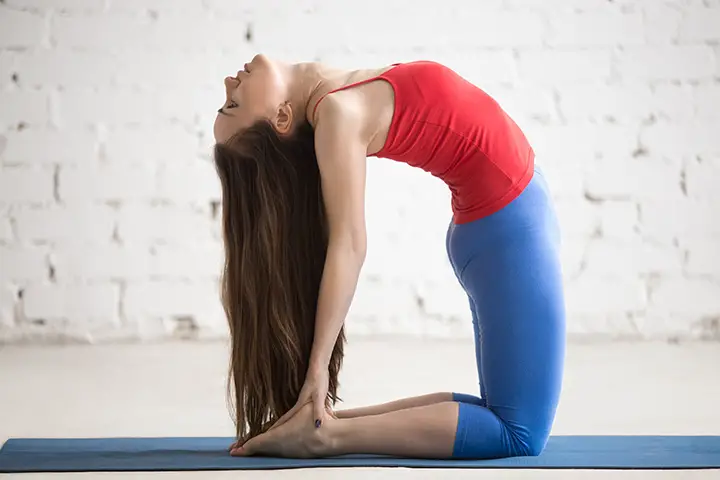 The pose can be referred to as ustrasana. It looks more like the stance of a camel. Its practiced by beginners in Vinyasa yoga. You can do it on a clean bowel both in the morning and evening.
How To Do It:
Kneel on your mat followed by placing your palms on the hips.
Your shoulders and knees should be in the same line.
Your soles should be flat on the ground facing the ceiling.
Inhale as you draw the tailbone near your pubis.
Arch your back.
You can slide your palms over your feet while straightening your arms.
The neck should take a neutral position and not strained.
You can hold onto this position for 30-60 seconds.
Benefits: The pose works by stretching the tissues around your breasts. It increases the rate of blood flow to your breasts.
4. Bow Pose (Dhanurasana):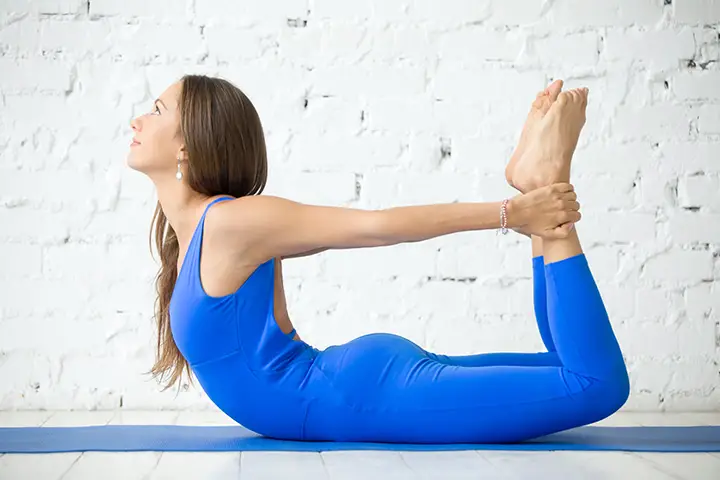 You can also refer to the pose as Dhanurasana pose. It resembles a stringed bow and is also great for stretching your back. You may practice in the morning or the evening. Your bowels should be clean, and the stomach should be empty.
How To Do It:
You can lie flat on your belly.
Ensure your feet are apart, approximately hip-width.
Fold your knees gently while holding your ankles.
Inhale deeply.
Lifting both your chest and legs off the ground.
Start pulling your legs back.
Ensure you stay stress-free and maintain a straight look.
Concentrate on how you are breathing as you hold your pose. You should take deep and long breathes in this position.
You can keep the posture for 15-20 seconds.
Benefits: The pose works by improving blood flow to your breasts. It works to strengthen your breasts and your shoulders.
[ Read: Yoga for Back Pain Relief ]
5. Tree Pose (Vrksasana):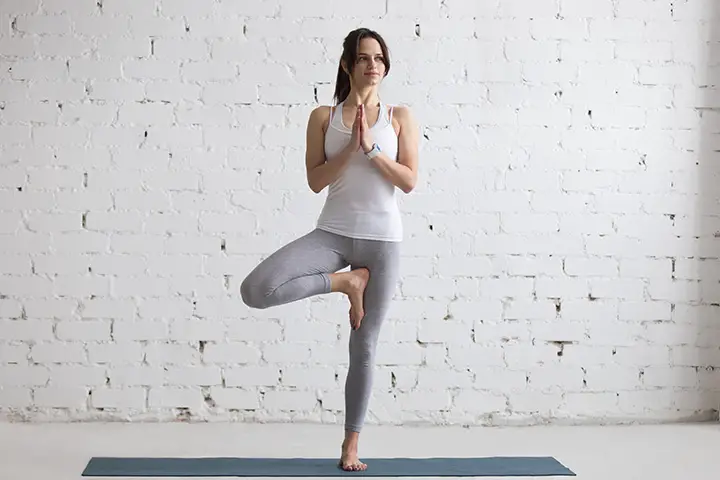 The pose looks similar to a tree stance. While performing this pose, you'll need to keep your eyes open. Its good for beginners in the Hatha yoga. You need to be on clean bowls in the morning as you practice the position.
How To Do It:
You should stand erect with your arms on the side of your body.
You can bend the right knee while placing your right foot on your left thigh as high as you can.
Your sole should be flat and firm on the root of the thigh.
The left leg should be erect as you find your balance.
Inhale deeply while raising your arms high above your head and bring them together.
Look at a distant object and maintain the gaze to help you keep your balance.
Your spine should be straight and take in deep breathes when you are exhaling.
You can release your right leg as you bring your hands to the side.
Stand in your normal posture as you prepare to do it with your left leg.
Women care more about their general outlook. The results achieved from these yoga poses will vary from one person to another. The effects may not occur immediately, but you need to check from time to time. You can try to get firm breasts through the yoga poses listed above. If there is no difference at all, you may look for a medical solution to get the kind of breasts you want.
Best Yoga Accessories
You Might Also Like: