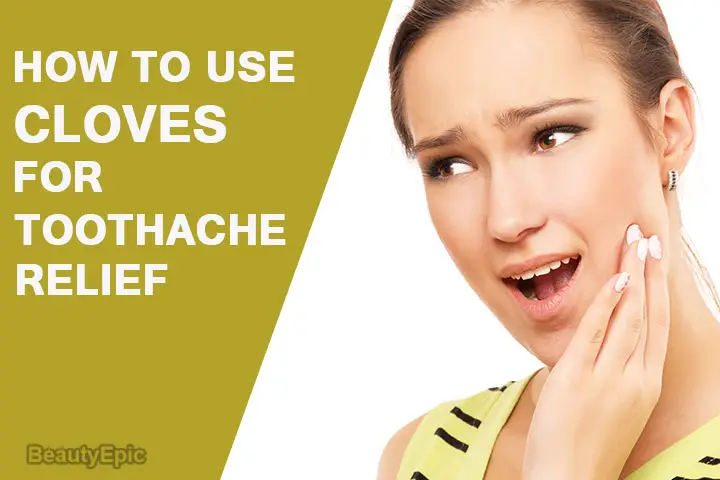 Toothache is a common term these days that is quite familiar with a number of people. Toothache can be defined as a pain or inflammation which is generally caused because of tooth decay and infection as well. Clove is a wonderful remedy for the treatment of toothache, which makes it one of easiest and surprising ways to treat the same. Several researches found that using Clove oil is very much effective for Toothache. Here are we explain in detail some effective homemade ways to use cloves for toothache relief.
What Does Clove oil Do for a Toothache?
Clove oil is an age old solution to most of the teeth related problems.
Native to India and Indonesia, Clove oil contains essential elements which are necessary to kill bacteria.
The oil is antibacterial and analgesic in nature, thus works accordingly for tooth decays and toothaches.
Teeth, gums and tissues are the places where bacteria may live and decay them.
Clove oil seems to be a highly effective method to cure it.
To cure and heal cavity and toothache, Clove can be used in a number of ways, that is oil, powder and paste.
How to use Cloves for Toothache
1. Clove Powder for Toothache
Powders can be pretty useful and easy to apply. Toothache can be really annoying but Clove powder seems to be effective in the treatment years after years. Here is how you can use it.
Ingredients:
Clove powder
Cinnamon powder
Sea salt
Bentonite clay
Preparation time: 3-5 minutes.
Procedure:
Take one teaspoon clove and little bentonite clay.
Add ¾ teaspoon salt in that and one teaspoon of cinnamon powder.
Mix all ingredients together gently.
Note: The mixture powder is prepared for several days.
How it works: Scoop up the mounded heap of the powder with toothbrush (dry toothbrush) and then place in the mouth. Your saliva would provide moisture.
Note: Spit and then rinse water.
Repetition time: Once daily would be a good method.
[ Read: How to Use Clove oil for Toothache ]
2. Clove oil and Coconut oil for Toothache
Scientifically Coconut oil is proven to cure many mouth issues. Toothache is one of them. It also kills bacteria and gives a quick relief. A combination of coconut oil and Clove oil makes the process of treatment faster.
Ingredients:
Preparation time: 3-4 minutes.
Procedure:
Take one teaspoon of coconut oil.
Add 2-3 drops of Clove oil
Prepare a mixture by mixing well.
Note: You need to rub it directly on the pain or Toothache affected area.
How it works: This mixture is strong for mouth, it relaxes in mouth pain and Toothache.
3. Garlic Clove and Salt for Toothache
Garlic Clove has huge benefits on overall health of body. Apart from making the food recipe delicious, garlic clove maintains a property of containing essential nutrients which treats different problems of the body. Salt, which is scientifically Sodium Bicarbonate helps in cleaning the teeth and killing bacteria and viruses. Here is how you can use both for Toothache.
Ingredients:
Preparation time: 6-8 minutes.
Procedure:
Take a bowl and put two garlic cloves in it.
Add one teaspoon salt in it.
Toss the same to prepare a paste.
Note: Apply the paste on the pain area in mouth for at least 30 minutes.
How it works: The paste contains essential elements which kills bacteria and infection in mouth.
Normal dosage: Apply this method for days. Stop when you the get well.
[ Read: How to Use Garlic for Tooth Abscess ]
4. Olive oil and Cloves for Toothache
Olive oil does amazing wonder to different parts of the body and one of them is mouth. Cloves as we all know gives a quick relief in cavities. Olive oil and Clove oil can be a great and natural way in treating the cavity, tooth pain etc.
Ingredients:
Preparation time: 2-3 minutes.
Procedure:
Take few drops of Clove oil in a spoon or something
Add few drops (as equal as clove oil) to the same.
Mix well before use.
How it works: Clove oil is analgesic and antibacterial, Olive oil too does wonders. The Olive oil dilutes the strong Clove oil.
Repetition time: Use it for several days before the Toothache gets better.
5. Clove and Honey for Toothache
Honey is a natural ingredient for beauty, heath and other essential factors of body. Honey may not be too notorious in treating the Toothache but mixing it with Clove oil makes it really helpful and effective.
Ingredients:
Preparation time: 2-4 minutes.
Procedure:
Take one teaspoon of honey
Add equal amount of clove oil
Mix the solution well.
Note: Apply this for few minutes before rising with water.
How it works: Honey is effect in many problems, Clove is antibacterial. The mixture kills bacteria and relieve pain.
Toothache can be caused due to a number of problems such as a bad eating style, not cleaning mouth properly etc. Toothache can be really annoying which often deemed as helpless, making hard to eat something. Clove oil is a nature ingredient used for thousands of years. Several other ingredients may be needed at times with Clove to make it a complete solution to toothache.
You Might Also Like:
Image:- 1