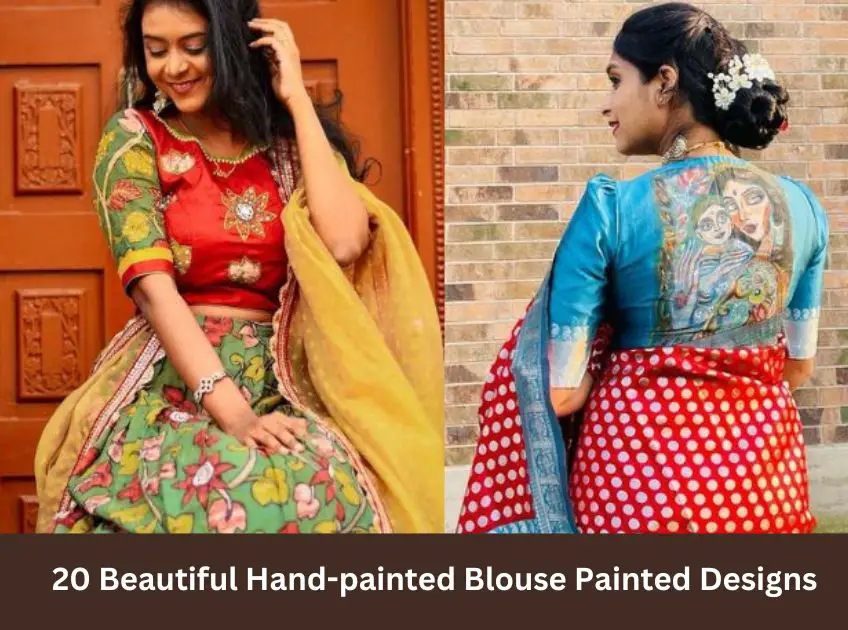 Hand painting on fabric is becoming trendy and fashionable. When it comes to blouse design you can be as creative and experimental as your imagination lets you. It can be done in all types of fabric including silk etc., and painted will featuring detailed craftsmanship. This authenticates blouse does play a significant role in making or breaking your look. Continue reading to understand the beautiful hand-painted blouses which are given below.
20 Best Hand-painted Blouse Painted Designs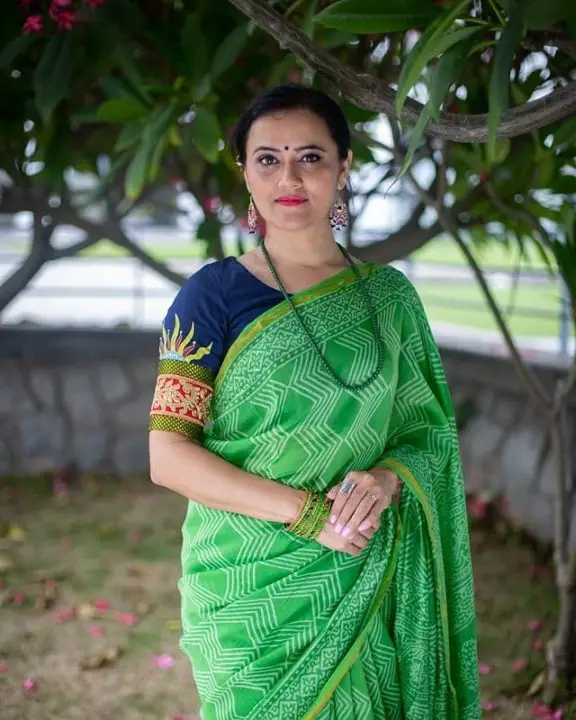 Bringing unique style back through this brocade-painted blouse design gives elegant look. The half sleeve is painted and the elbow is embroidered with gold zari on contrast red fabric.
2. Ikat Handloom Hand-painted Blouse Design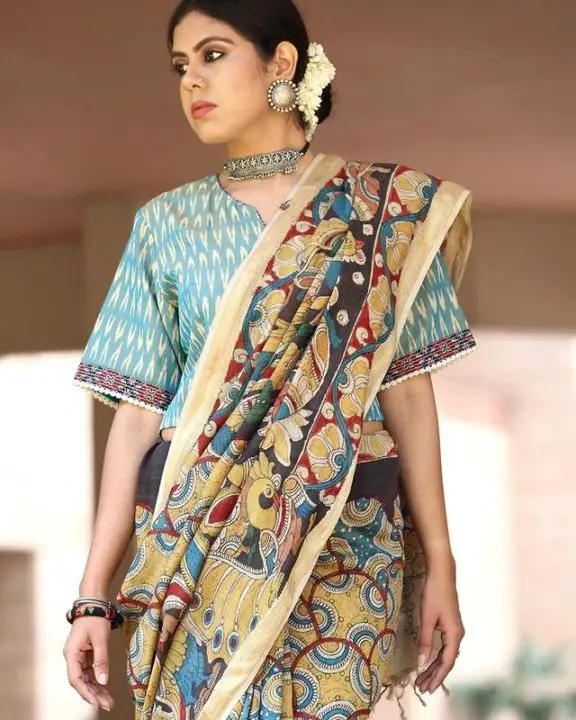 Of all the latest hand-painted blouse designs, this one stands out the most. The uniqueness of the blouse is the ikkat pattern on light shade fabric with a closed neck, the end of the sleeve is intricated with thread embroidery giving versatile look.
3. Bharatanatyam Hand-painted Blouse Design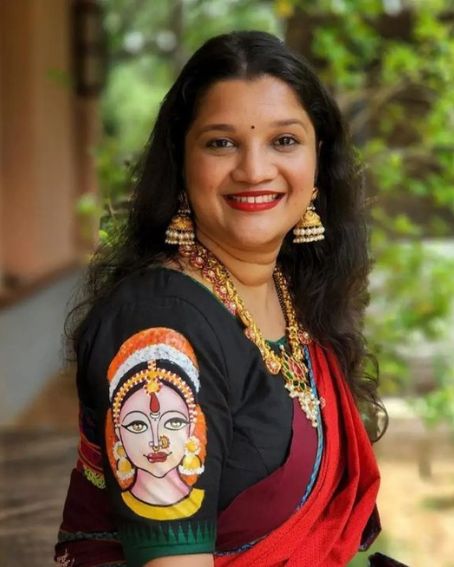 Here, the black blouse is embellished with a Bharatanatyam girl's face on the sleeve rendering a wow look. It shows the traditional and ethnic look when we wear it. In the end, the sleeve is defined with a green zig-zag pattern.
4. Acrylic Hand-painted Blouse Design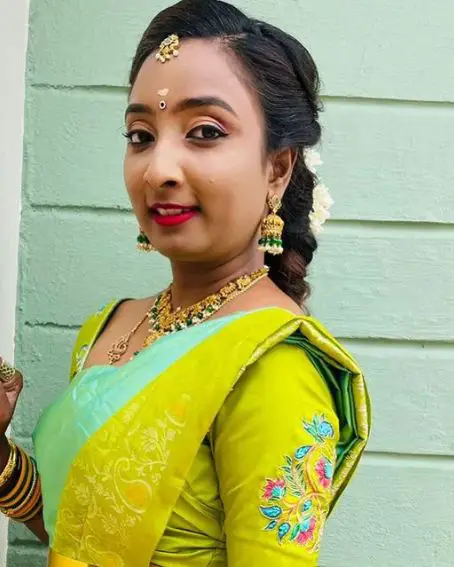 The beautiful leaves and floral design is painted with acrylic paint on the silk blouse offering a chic look to the whole blouse. It suits all festival occasions.
5. Ash Color Flower Bloom Hand-painted Blouse Design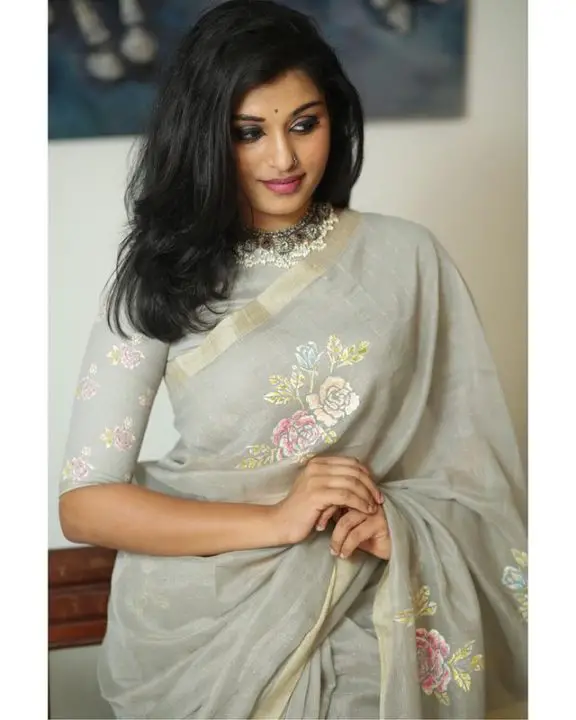 It is a boat neck blouse painted with rose flower patterns on contrast colors. They highlighted the full sleeve with hand painted. It showcases finesses that will amp your look for any occasion
6. Pink And Gold Hand-painted Blouse Design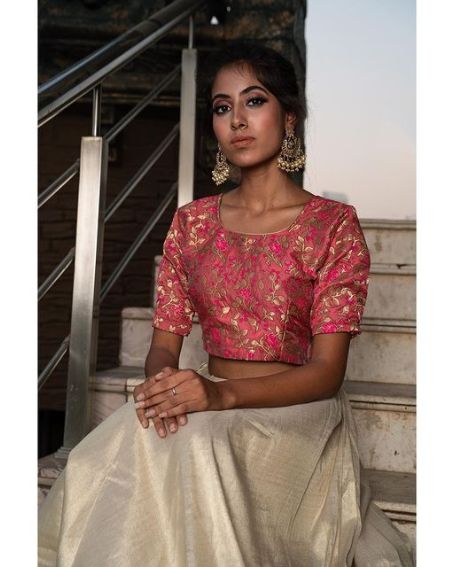 The combination of pink and gold is fabulous. On pink shimmer fabric, the gold leaf hand-painted pattern on the blouse grants a vibrant shade. It will be the masterpiece in your wardrobe.
7. Yellow Kota Tissue Hand-painted Blouse Design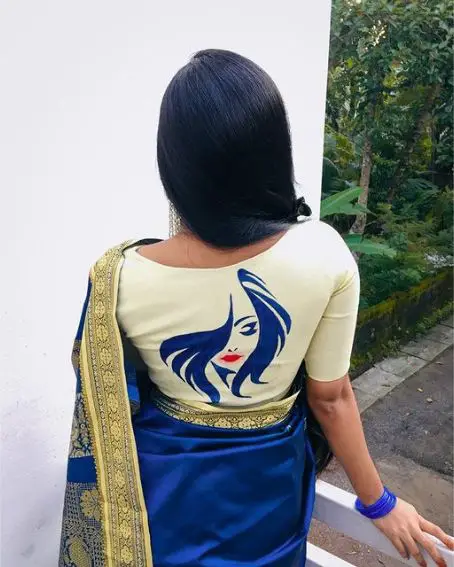 This is a sleeveless blouse, so hand painting is done on the back side of the blouse. A cute girl pattern painted in contrast purple color gives an overall fancy and trendy look.
8. Motherhood Hand-painted Puff Blouse Design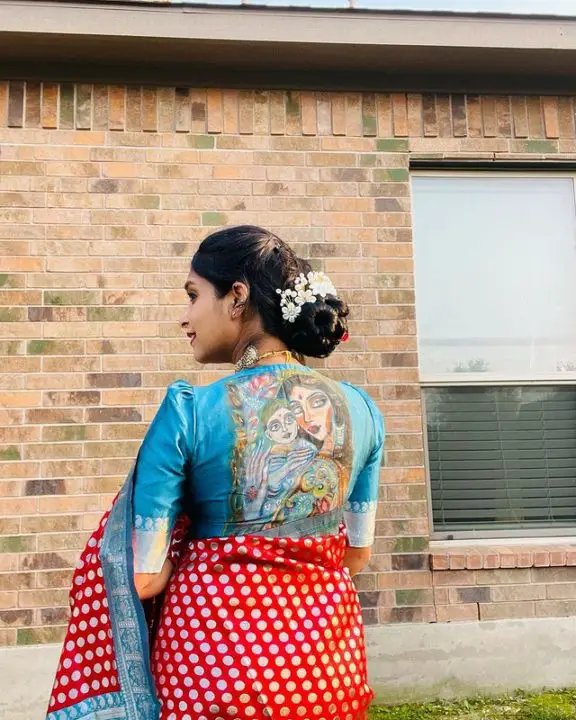 The blouse is painted with some lovely motherhood patterns on the back of the blouse. It adds a plain sleeve and silver brocade elbow with a chic puff. This delicate design helps in enhancing the blouse better.
[ Read: Top 20 Simple High Neck Blouse Back Designs ]
9. Hand-painted Floral Blouse Design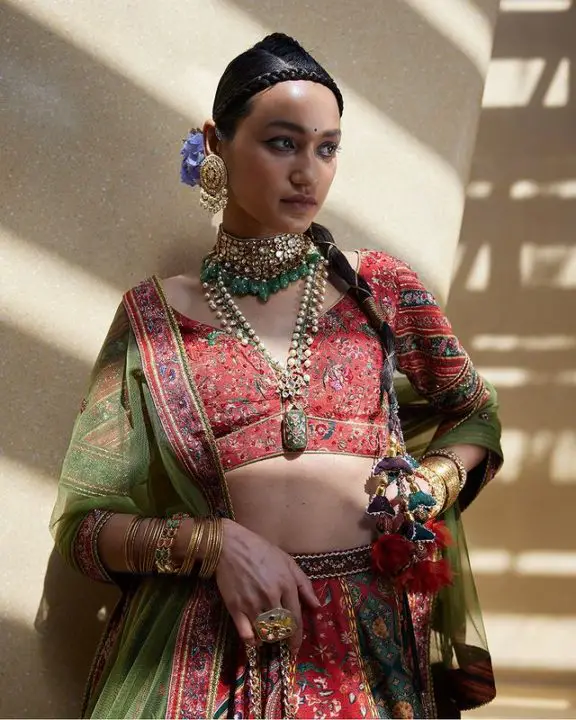 If you are looking for a heavily painted blouse then surely choose this one. Here, the blouse adds more elements, and patterns are defined with thread embroidery giving marvelous look.
10. Peacock Hand-painted Silk Blouse Design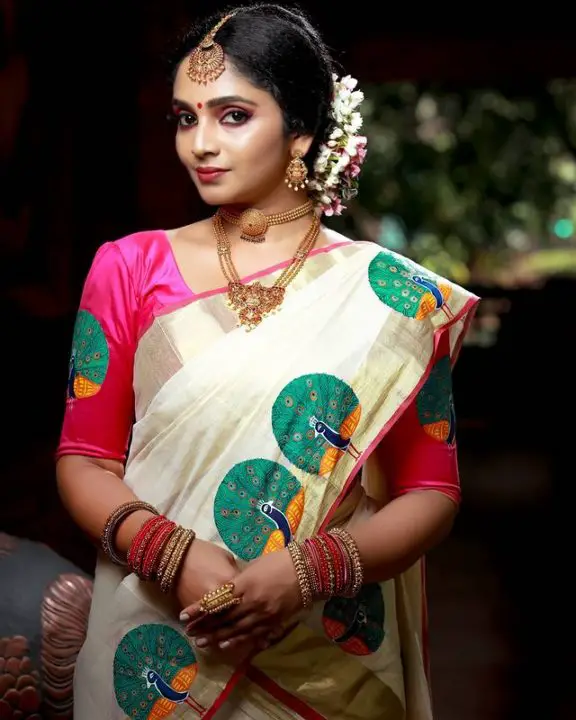 This pink silk blouse is established with a minimal peacock pattern with multi-color. For the pink blouse white silk saree give gorgeous look and it is a perfect fit for all events.
11. Pure Tussar Hand-painted Blouse Design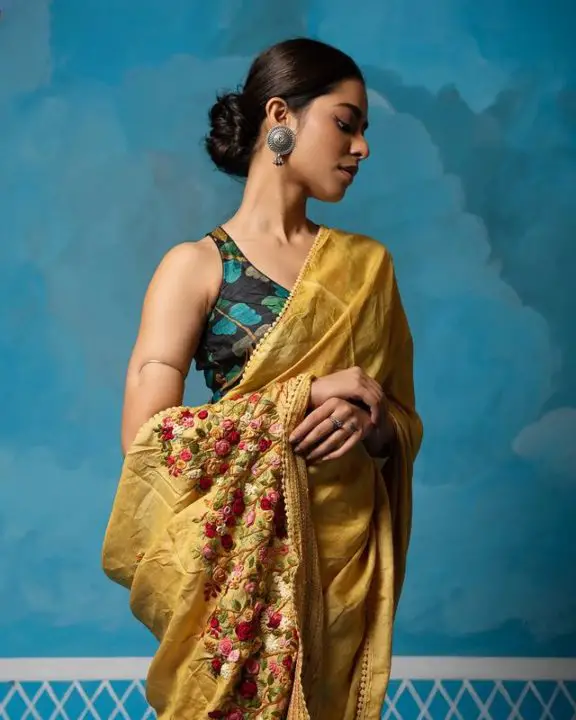 The material of the blouse is different. This black tussar fabric is the best choice for hand painting. Simple floral patterns are used to define the blouse which gives an attractive view.
12. Organza Hand-painted Cuff Blouse Design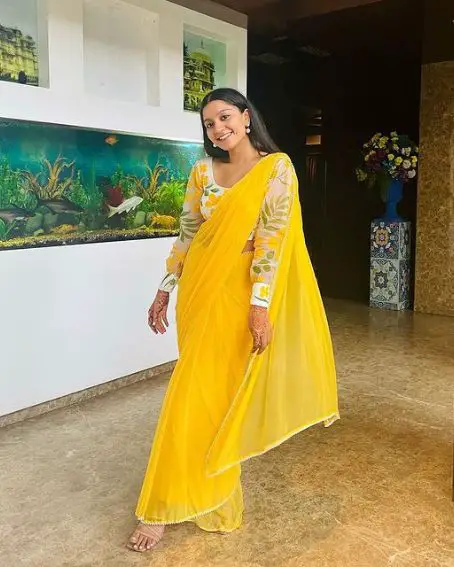 Green leaf and yellow blooms are painted on the full sleeve and its end with a white cuff. The full blouse is designed with the same pattern as the plain yellow saree showing an exquisite look.
13. Black Collar Neck Hand-painted Blouse Design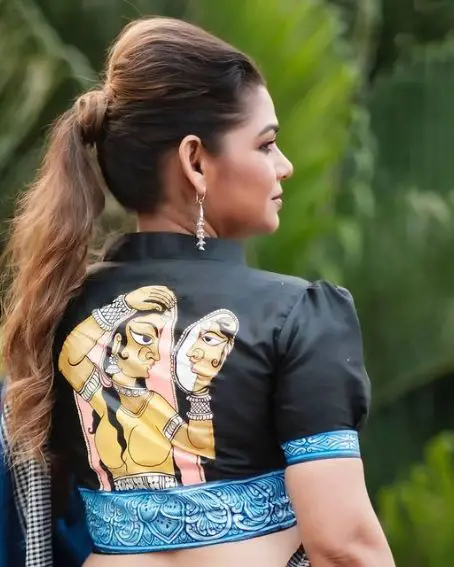 This blouse's back side is elaborated using hand paint is attractive. A girl's face is painted on it and brocade blue border is decorated at the waist and a stunning hakoba sleeve is attached.
[ Read: 20 Simple Blouse Back Neck Designs With Borders ]
14. Hand-painted Floral Motif Bridal Blouse Design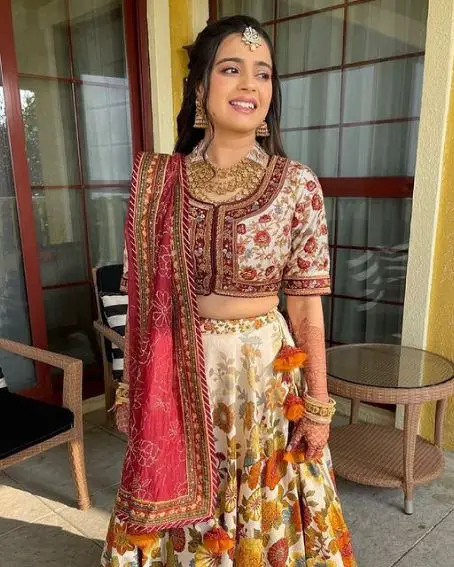 If you are the bride, then you can try a floral motif hand-painted blouse which gives a grand and traditional look all over your wedding. This blouse piece will be a treat for everyone's eyes
[ Read: 15 Beautiful Wedding Saree Blouse Designs ]
15. Chikankari Hand-painted Blouse Design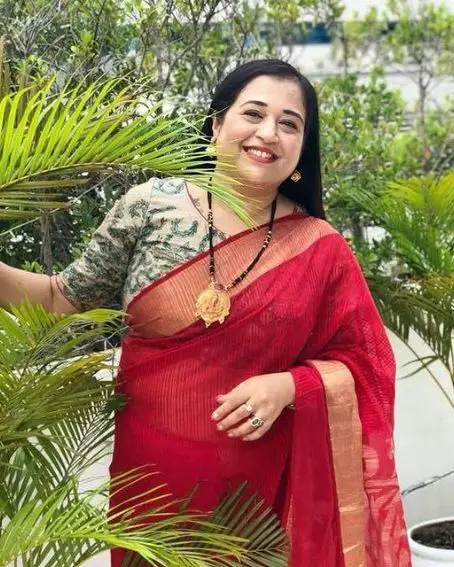 A red saree with a chikankari hand-painted blouse is admired. The full blouse is detailed with a small leaf pattern with thin red lace on the neckline. It is flawless for all regular occasions.
16. Kalamkari Hand-painted Blouse Painted Design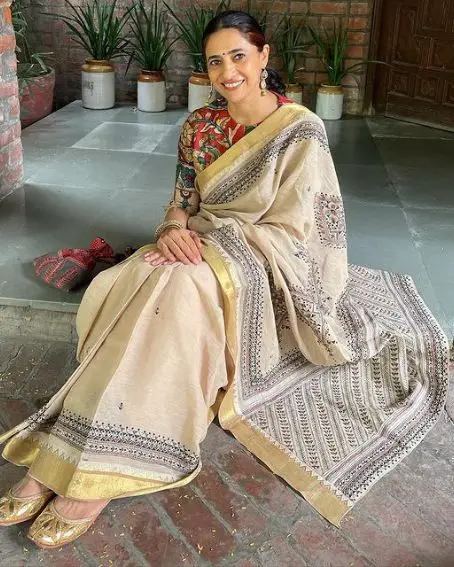 This is a round-neck crimson blouse. Here the famous traditional Kalamkari pattern is used in hand painted blouse which portrays our mythology and it is a lovable one.
17. White Handloom Hand-painted Blouse Design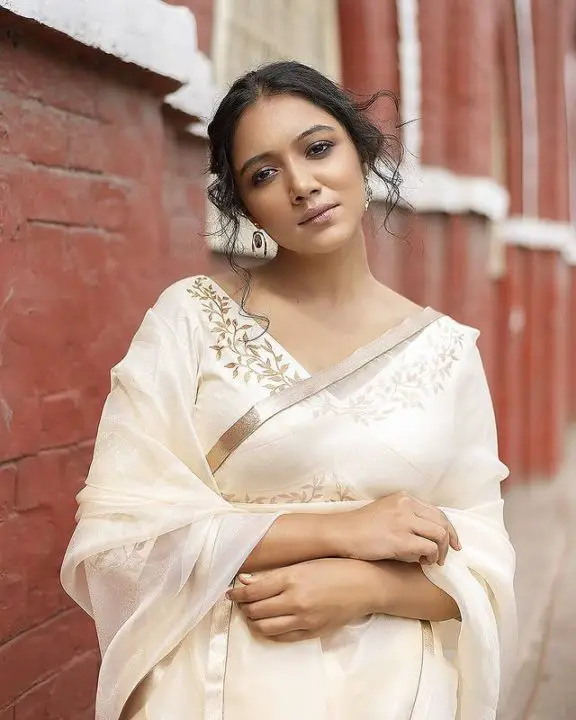 Longing for a trendy and fancy look? then surely go with this hand-painted blouse. It is painted with gold leaves on the neckline and elbow. It will enhance your look spontaneously.
18. Hand-painted Gold Tissue Kerala Saree Blouse Design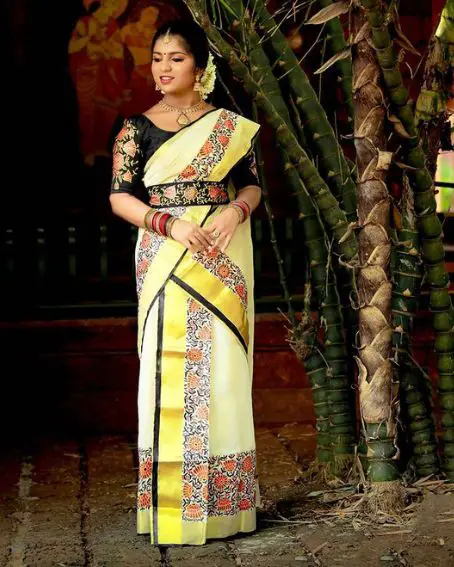 Here, the hand painting is done on a gold tissue blouse of a Kerala saree. The sleeve of the blouse is painted and every border of the saree is highlighted with hand paint it goes very well for auspicious occasions.
[ Read: Top 20 Beautiful Boat Neck Kerala Saree Blouse Design ]
19. Green And Red Chinos Crepe Hand-painted Blouse Design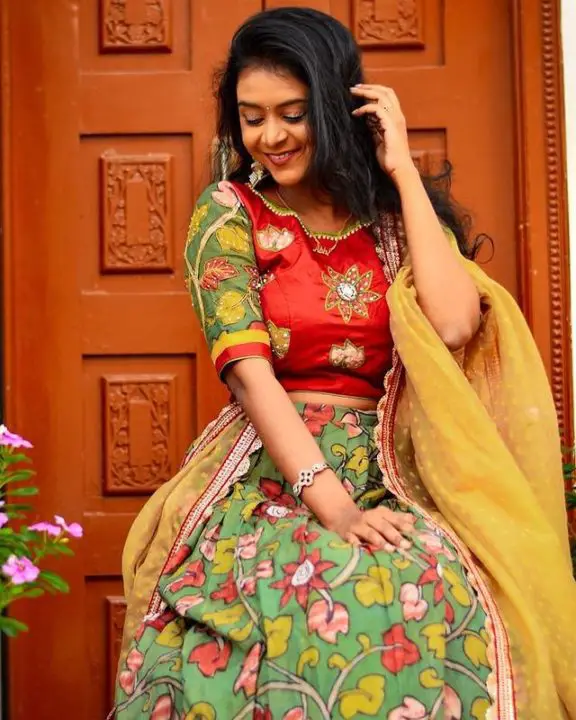 The sleeve of the blouse is painted with flowers and leaves. The rest of the area is covered with minimal floral motifs and it is defined with gold thread embroidery showing a dazzling appearance.
20. Lotus Floral Hand-painted Blouse Design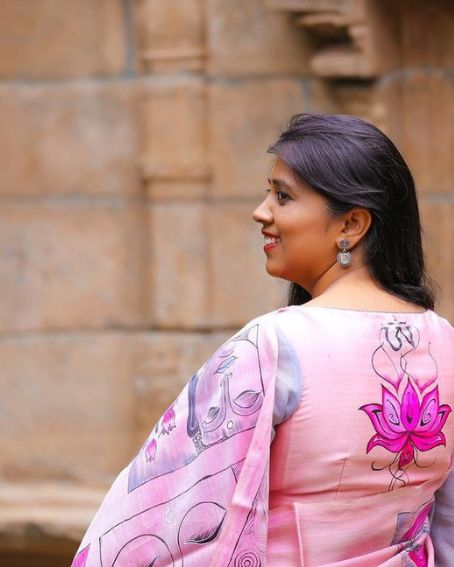 The back of the blouse is embellished with a big pink lotus flower. For the pink blouse contrast, the smoke grey sleeve is attached. It is beautiful and enhances your overall look.
You Might Also Like: