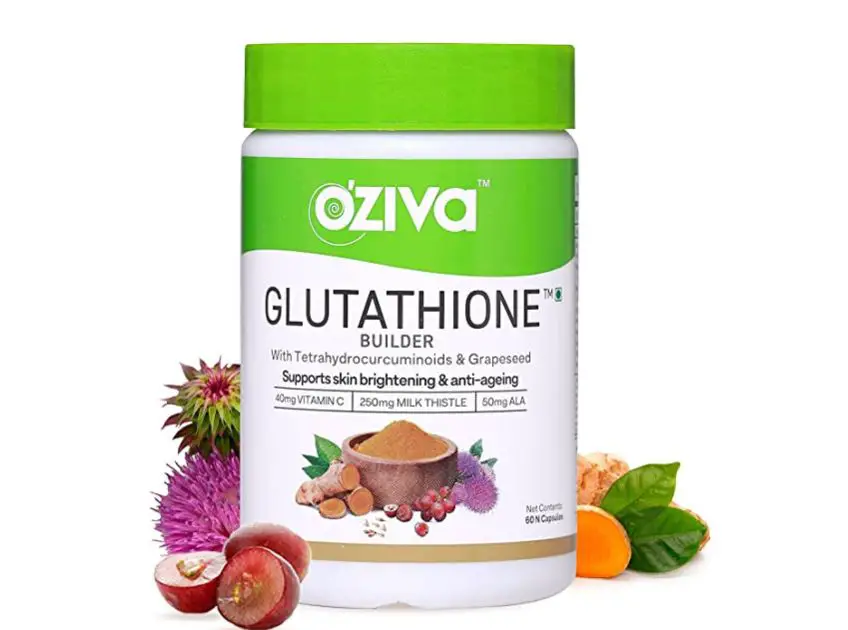 Aging is a natural process. Over time the skin starts losing its elasticity due to a lack of collagen. The shine, brightness, and vibrancy of the face start to fade. Getting fine lines and wrinkles along with aging spots and blemishes is considered an irreversible process. However, with the use of the right skincare products, you can actually reduce the signs of aging and delay it for some more years.
You can easily find several anti-aging products on the market; however, it is not easy to find the one that suits your skin type. While most of the products work on the outer layers, there is a need to do something that can work on the root cause and keep the skin healthy from the inside.
Oziva has come up with a product, Oziva Glutathione Builder, which works on the deficiencies and helps in getting youthful skin.
PRODUCT REVIEW
Oziva Glutathione Builder looks promising as it comprises all those components that help in making the skin healthy. With the intake of Oziva Glutathione Builder, you enhance the natural production of glutathione in the body- something that promotes skin health and works as an excellent anti-aging agent.
The extracts of grape seeds and tetrahydro curcuminoids also work magnificently to support skin brightening. The best part is it works on the root cause of the problem and tries to combat the issues internally. Once the product starts working, the results become evident.
One package comes with 60 capsules that you have to consume to see the difference.
PRODUCT DESCRIPTION
Glutathione is a component that aids in skin health. With an intake of Oziva Glutathione Builder, you enhance the body's ability to produce glutathione that, in turn, helps in skin brightening and lightening.
We all want healthy and supple skin that looks youthful, and Oziva Glutathione Builder helps in achieving that. It has 220mg of N-Acetyl-Cysteine (NAC), 250 mg of Milk Thistle, and 50mg of Alpha Lipoic Acid (ALA)- everything that promotes glutathione production and keeps the skin healthier.
Skin vitamins like Vitamin E, Vitamin B6, and Vitamin C, along with selenium, work wonders in bringing charm and grace to the face. The anti-oxidant properties come from the natural extracts of plants, ensuring good results.
You need to take two capsules of Oziva Glutathione every day on an empty stomach. To see the effectiveness, consume it for at least three to six months.
NUTRITION FACTS
The magical blends in the product make it worth a try.
Glutathione Retention Blend– This blend comprises skin vitamins like Vitamin C, Vitamin E, vitamin B6 and Selenium that keep the skin healthy. Alongside, there are extracts of Grapeseed and Tetrahydrocurcuminoids to keep skin blemish-free.
Glutathione Builder Blend– It consists of N-Acetyl-Cysteine, Milk Thistle, and Alpha Lipoic Acid to make the skin glow and reduce fine lines and wrinkles.
WHAT WE LIKE
It is a natural product that improves skin condition from the inside.
Being completely natural, the chances of side effects are very less.
It works on the natural production of glutathione in the body.
It consists of skin vitamins that keep the skin healthy, hydrated, and supple.
WHAT WE DON'T LIKE
Intake of Oziva Glutathione Builder comes with certain restrictions like-
You have to take it on an empty stomach, preferably in the early morning.
It is essential to have it for at least three months to get the results.
HOW MUCH DOES OZIVA Glutathione Builder COST?
The regular price of Oziav Glutathione Builder is Check Here. Make sure you buy Oziva products from some trusted source like Amazon or its website to get the benefits of the sale price and receive the right product.
ALTERNATIVE PRODUCTS
Conclusion
Oziva Glutathione Builder helps to enhance the production of glutathione in the body which is one of its excellent features. It is because glutathione promotes healthy skin, free of anti-aging signs, fine lines, and wrinkles.
Since most of the components in this product are natural, like grape seed extracts, etc., it is worth giving a try.
Oziva Similar Products