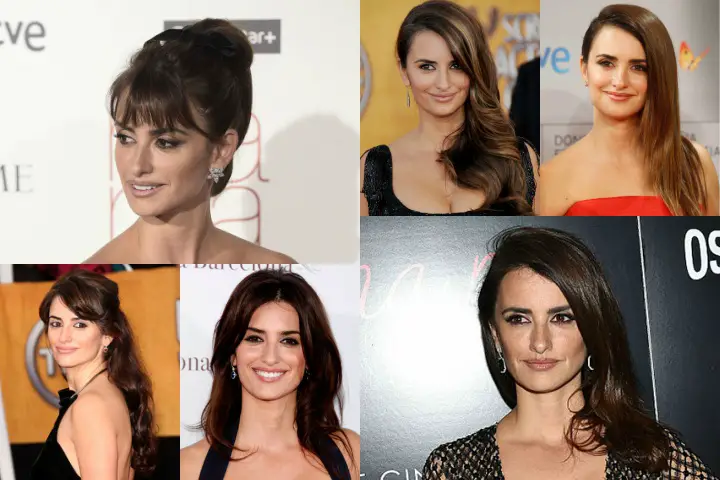 Are you searching for an idea to try new hairstyles and haircuts? Discover the top hairstyles and haircuts that Penelope Cruz showcased at various events and occasions. Penelope Cruz is a well-known Spanish actress. She achieved worldwide recognition for her lead roles in the movies All the Pretty Horses, Vanilla Sky, etc, and earned several awards for her splendid performance. Penelope Cruz is a pretty charming actress with flawless skin and fine bone structure who is more stylish and her fashionable hairstyles and haircuts are loved by her fans.
This beautiful actress often popped in different and magnificent hairstyles and fabulous haircuts with her luscious dark tresses that are worth trying.
Top 24 Penelope Cruz Hairstyles & Haircuts
1. Penelope's Half-up Half-down Hairstyle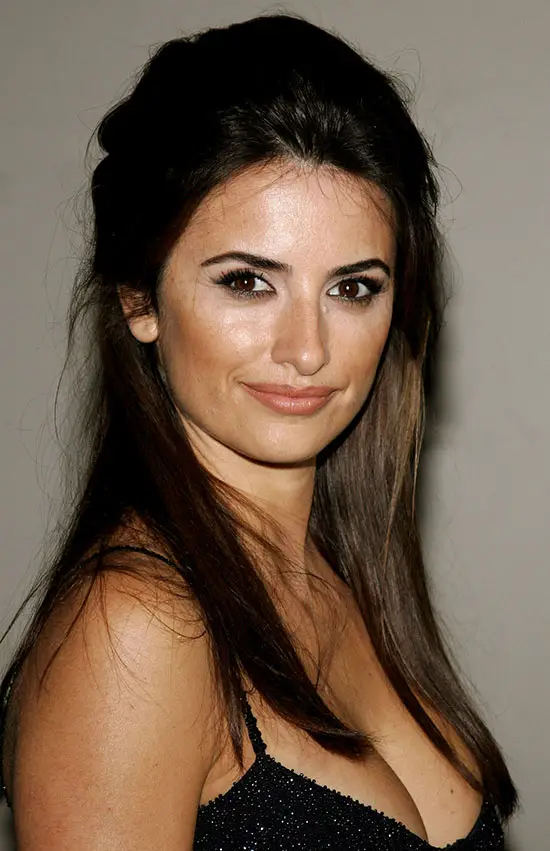 Penelope looked super hot in this half-up half-down hairstyle which matched well with her glamorous black dress. The medium-length straight tresses with half-up and messy flyaways were amazingly splendid on her. This is the easy hairstyle that everyone can try.
2. Face-framing Curtain Bangs Layered Haircut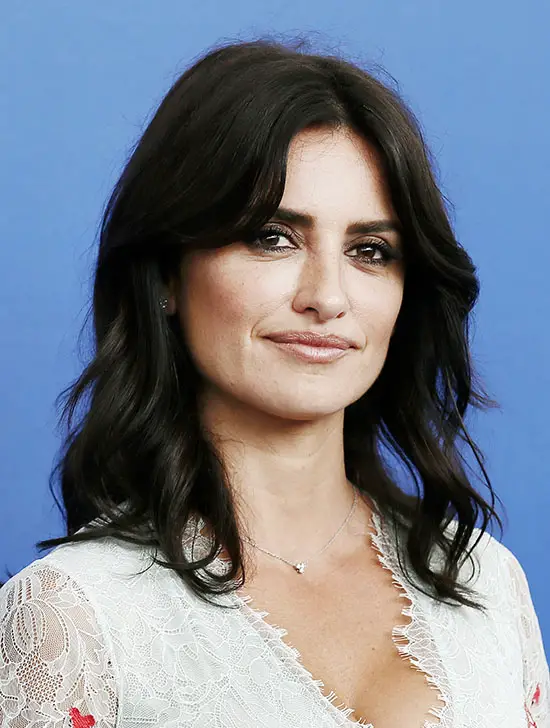 This is a face-framing bangs with a layered cut on medium-long hair. Medium layers are cut and blow-dried smooth to wavy and twisted ends. Penelope looks absolutely beautiful in this splendid haircut.
3. Penelope In Half-up Half-down Hairstyle In Straight Hair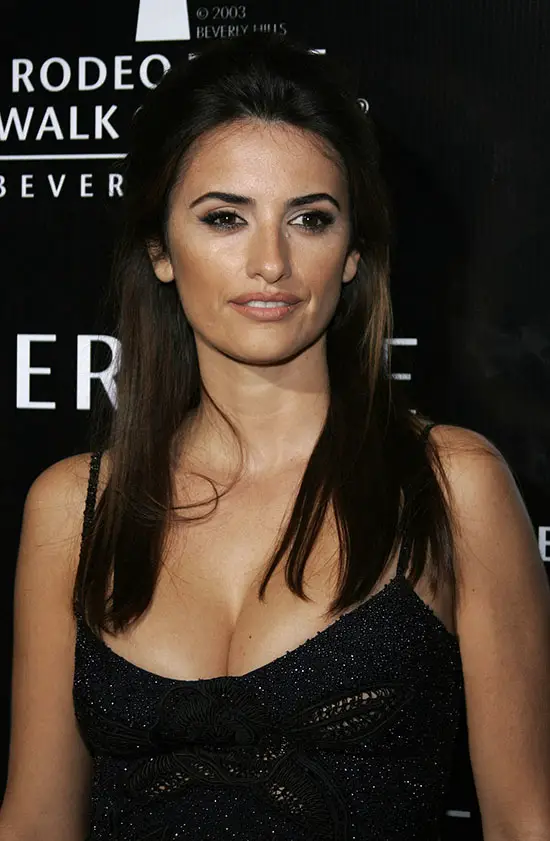 This beautiful actress looks stunning in this half-up half-down hairstyle in her medium-length straight hair. She paired this simple yet alluring hairstyle with her glittery black glamorous dress.
4. Side Parted Voluminous Wavy Hairstyle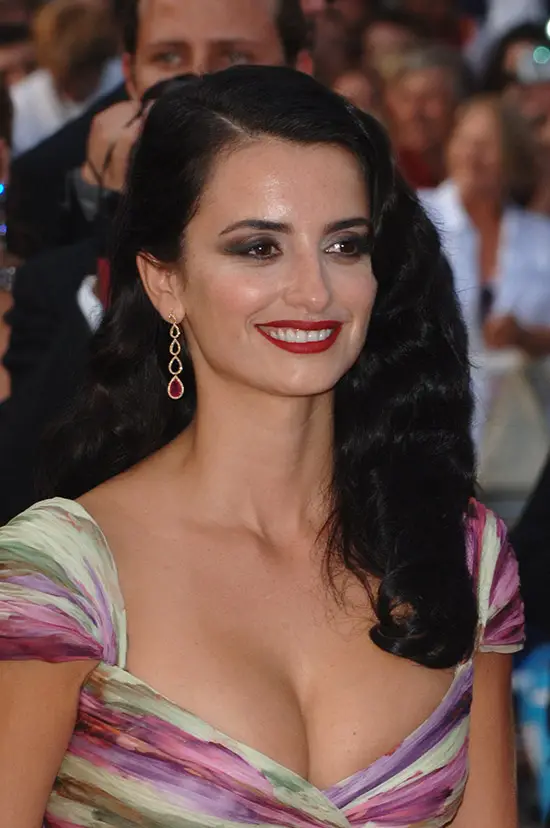 The side-parted wavy voluminous long hairstyle makes Penelope look pretty and beautiful. The side-parted hair is pinned on one side and the other side of the hair is set free. This hairstyle magnificently suits this talented actress.
5. Penelope Looking Gorgeous In A Tightly Pulled High Bun Hairstyle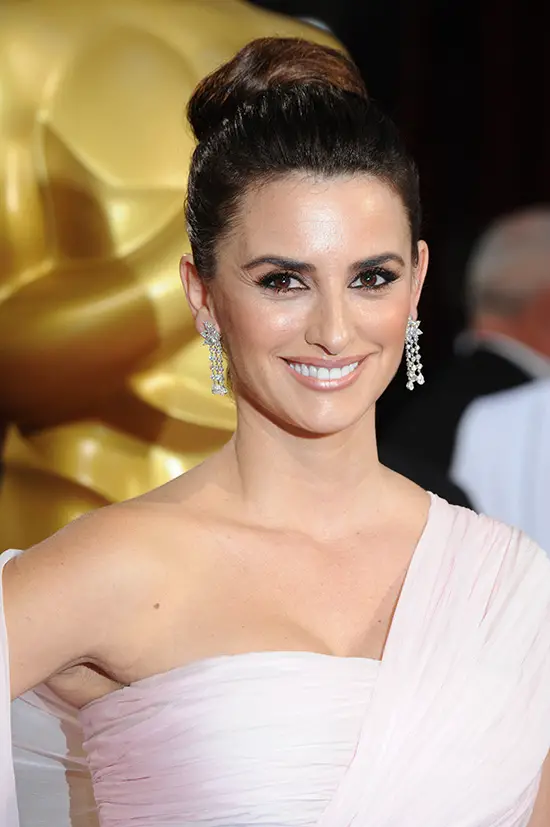 Penelope popped up in an event with the tightly pulled high bun hairstyle complementing her baby pink one side-shoulder wrapped lovely dress. This classic bun hairstyle makes her face appear to the fullest and beautifully looks on her.
6. Penelope's Face-framing Center Parted Long Layered Haircut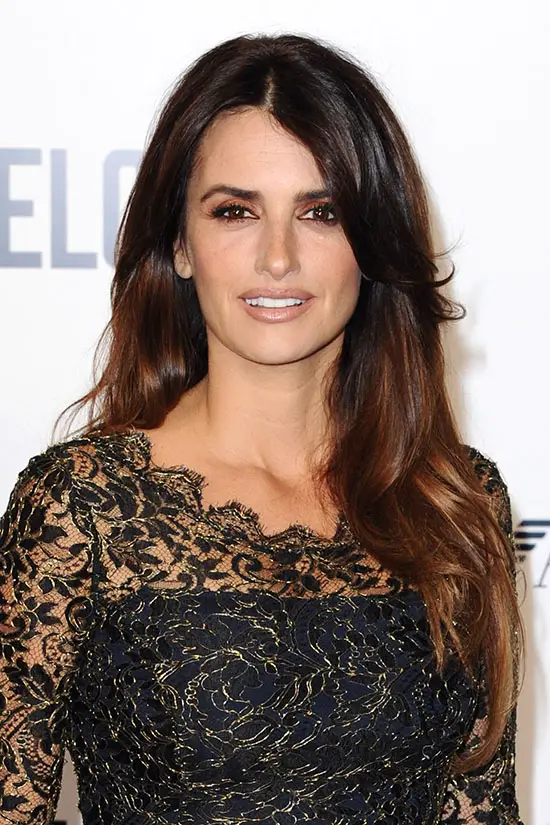 This long layered haircut is loved by many of her fans and makes a trip to the saloon. The face-framing long layers elevate this talented actress's chic jaw bone making her look more adorable. Long layers are cut along the hair and the face-framing fringes highlight her cheekbones.
7. Long Hair With Half-up Side Swept Bangs Hairstyle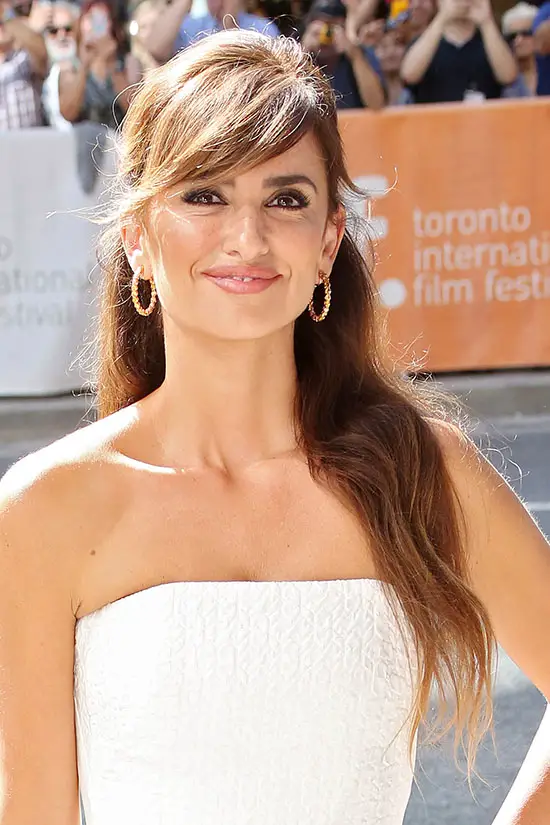 Penelope was spotted at the premiere of 'Ma Ma' during the 2015 Toronto International Film Festival with this charming half-up style with a side swept bangs hairstyle of her long wavy hair. This side swept bangs on her forehead make her look cute as well as lovely.
8. Penelope In A Side Swept Bouncy Waves Hairstyle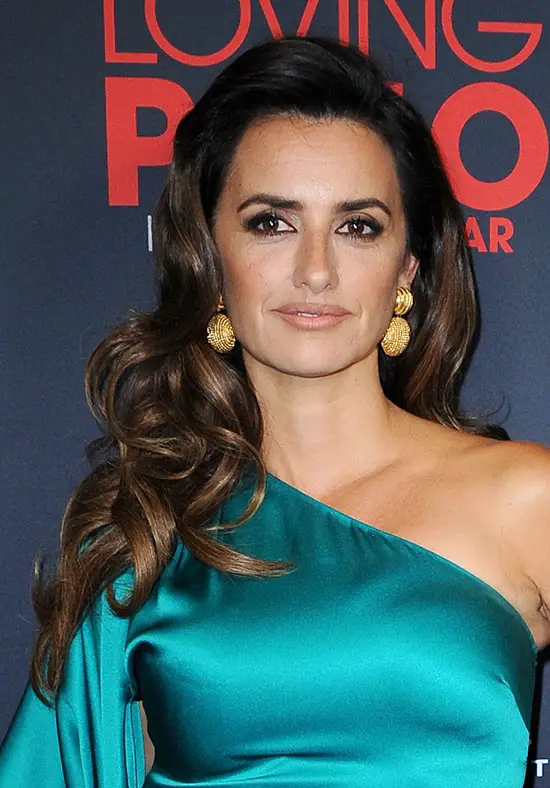 Penelope Cruz appeared in an event with the big bouncy waves side swept hair complementing her teal halter dress look. These bouncy large waves add gorgeousness to Penelope's look. Big loose bouncy waves are added to the layered medium-length hair.
9. Penelope Cruz's Vintage Mid-length Bob Hairstyle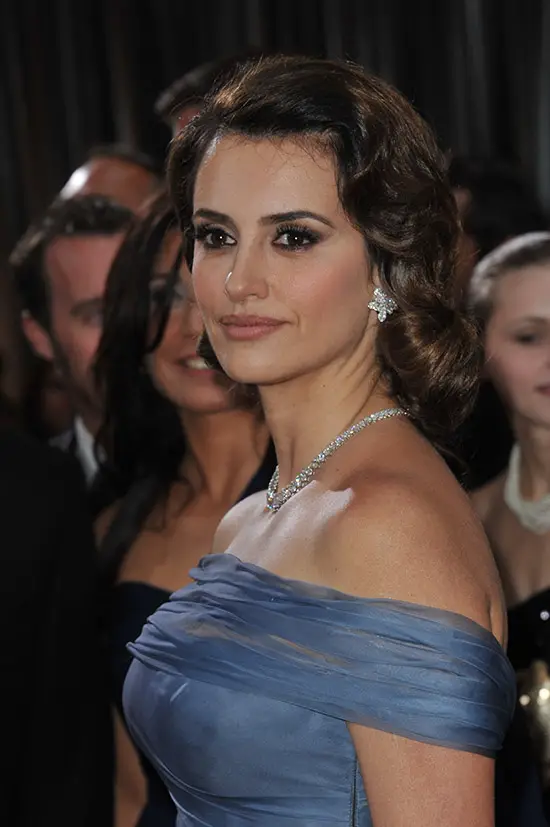 Penelope looks fabulous in this classic mid-length bob. The smooth slight waves are added to this mid-length vintage bob. This classic bob hairstyle is tremendously looking beautiful for this Spanish actress.
10. Short Soft Curls With Side Bangs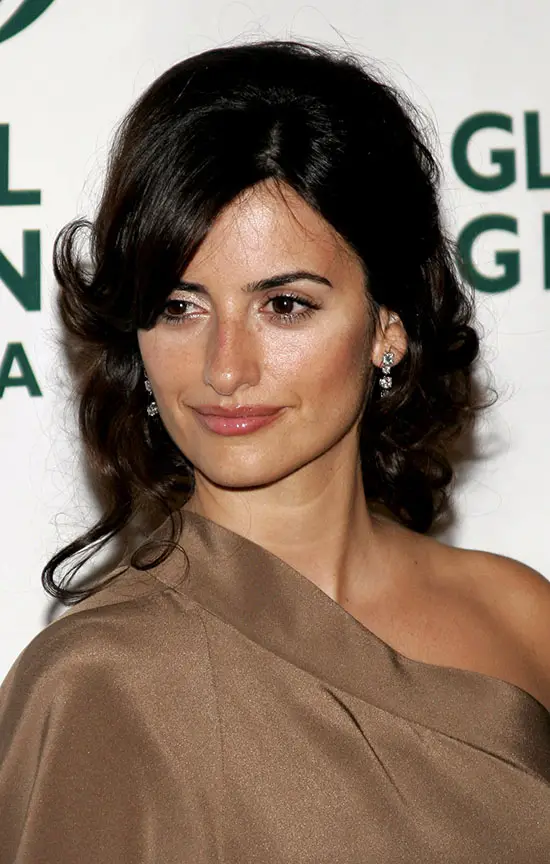 The short layered hair is curled soft along with the side bangs. Penelope rocked with this short curls with side bangs hairstyle at the 3rd Annual Pre-Oscar Celebration. This hairstyle makes Penelope look splendid with her charming beauty.
11. Penelope In Long Hair With Side-swept Loose Curls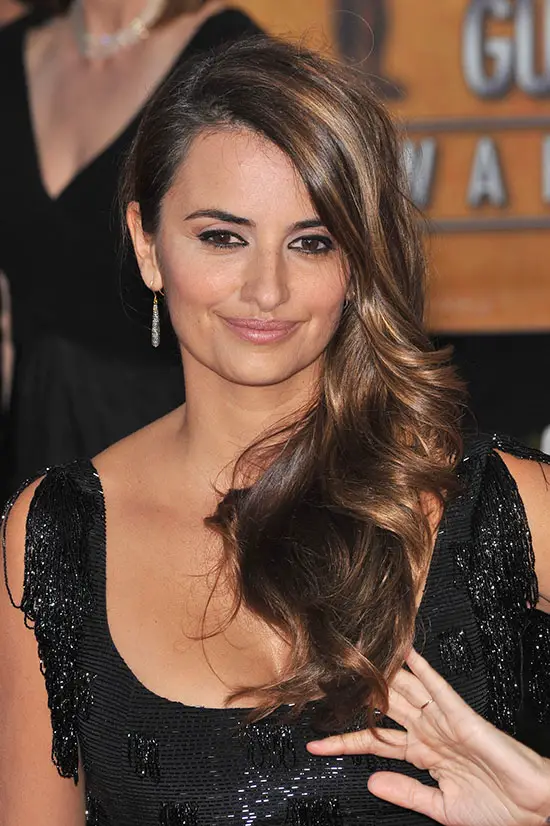 Penelope looked absolutely gorgeous on this side-swept loose curls hairstyle. The long layered hair is side swept away and a few strands are dark blonde highlighted. This pleasing hairstyle is lovely and fabulous.
12. Center Parted Medium Short Cut Straight Hair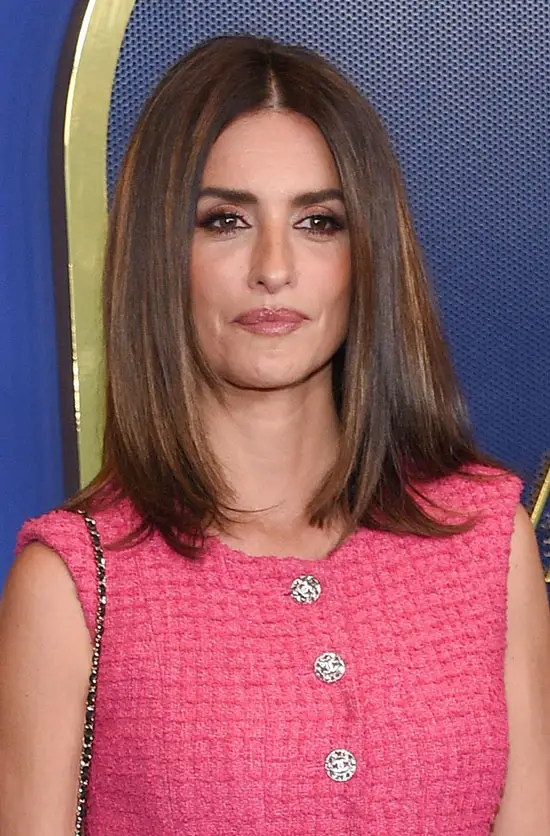 This haircut is super simple and elegant. The medium short hair is flat straightened and center-parted which gives a casual look on Penelope. This plain and humble hairstyle is easy to carry with no fuss and flyaways.
13. Chignon Hairstyle With Asymmetrical Short Bangs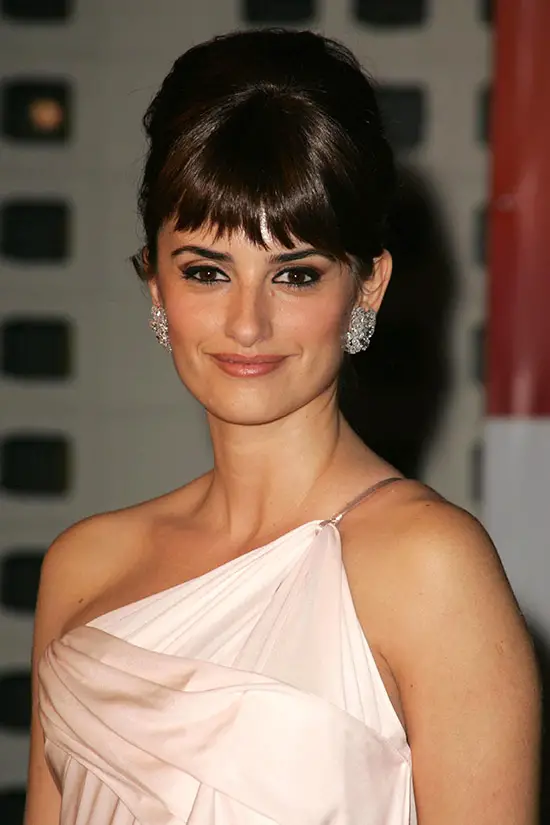 Penelope Cruz made an appearance with the popular Chignon hairstyle with asymmetrical short bangs. This hairstyle looks glorious on Penelope and elevates her beautiful face. This asymmetrical short bangs then became popular among her fans and influenced them to try them once.
14. Penelope's Ombre Feather Cut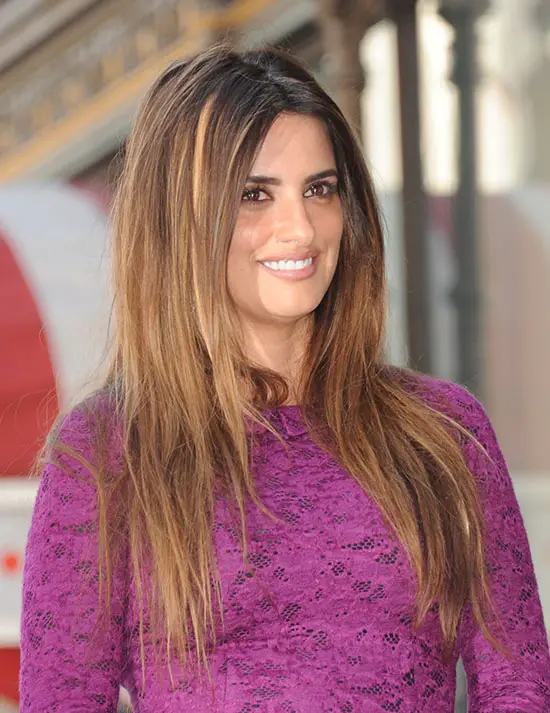 This is the ombré feather cut style that every blonde people loves to have. The fine straight ombre hair is center parted. This fussy medium-length flat hair brings in the shine and glow on Penelope's face. This carefree hair is the casual and easy-to-go hairstyle that everyone can carry effortlessly.
15. Cool Face-framing Front Layer Cut Straight Hair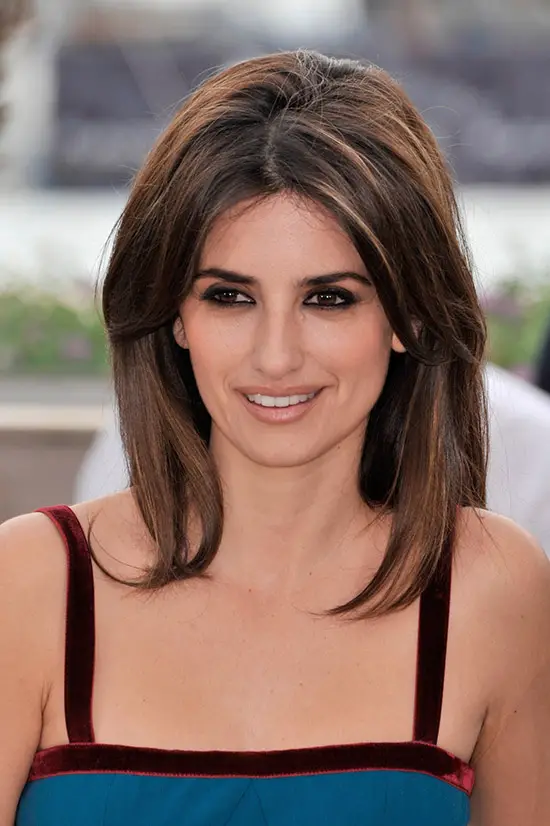 Penelope Cruz was spotted with this elegant face-framing front layer haircut. The dark blonde highlighted straight hair is layered cut to shoulder length in the sides that slide back and forth. This is the super cool and smooth hairstyle that anyone can have with ease.
16. Penelope Looks Absolutely Gorgeous In Bob-length Curls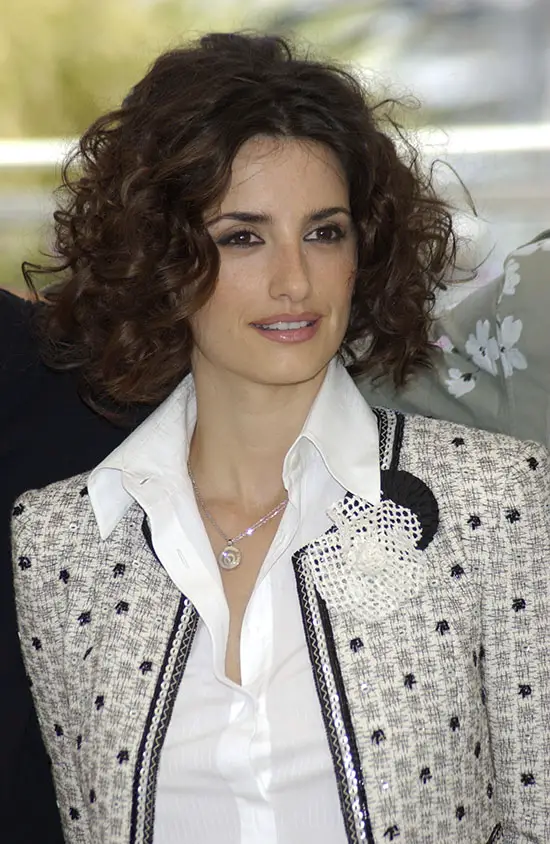 This lovely bob-length defined curl look superbly gorgeous on this beautifully talented actress. The bob-length hair is center parted and added well-defined curls to it that look messy and glorious. Penelope looks too adorable in this defined curls hairstyle.
17. Penelope In A Short Bob Cut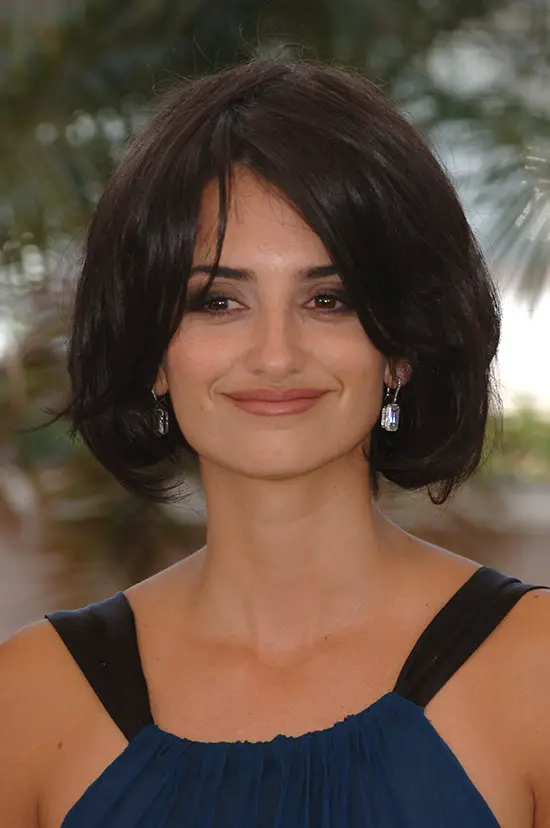 Penelope chopped off her hair into a short bob with side-swept curtain bangs complementing her look at the 58th International Cannes Film Festival. Her volumized dark locks are chopped off onto a bob cut that looks classy and trendy. This hairstyle makes Penelope look chic and bold.
18. Tightly Pulled High Bun Hairstyle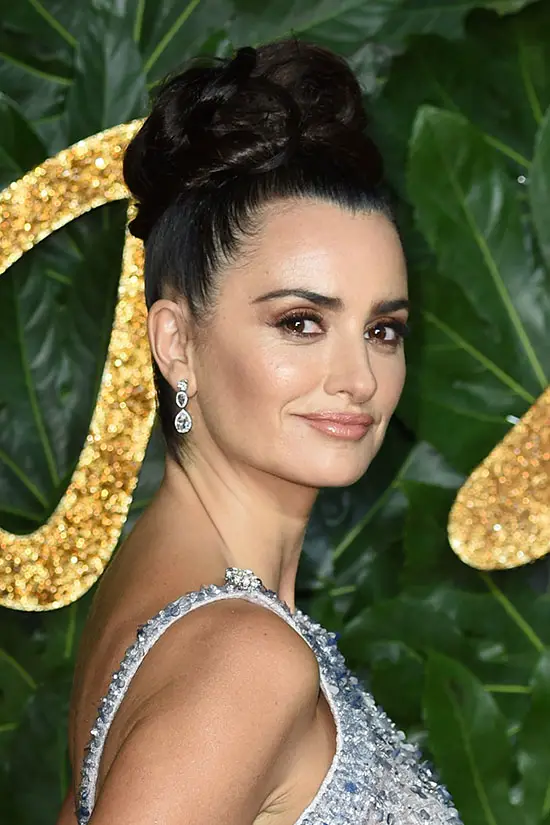 Penelope Cruz looked all gorgeous in this tightly pulled high bun hairstyle. She made her appearance at The Fashion Awards at Royal Albert Hall with this stunning hairstyle that accentuated her facial features well. This high bun hairstyle is mostly seen in celebrities appearing in various events or celebrations.
19. Penelope Cruz In Center-parted Feather Cut Straight Hair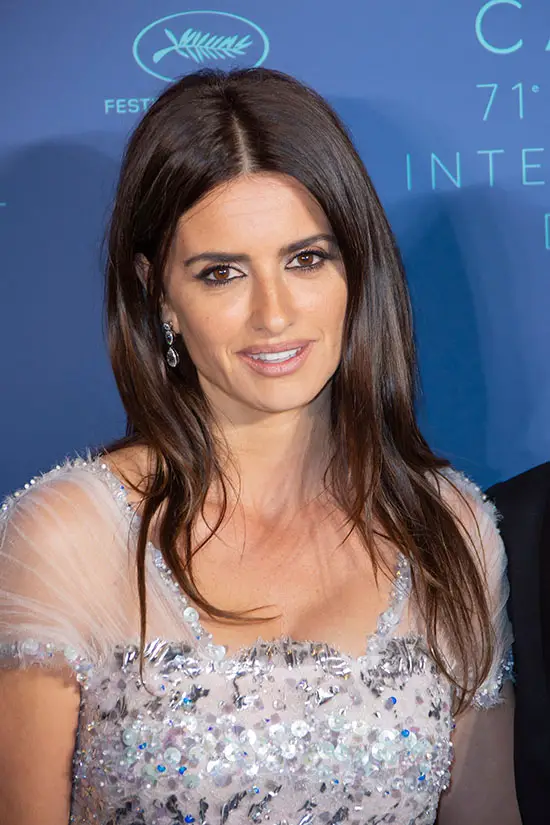 This is the most casual and commonly seen haircut and style that anyone can have easily. The long straight hair is feather cut that slides back and forth. The smooth flat center-parted hair looks amazingly elegant and splendid on her. This effortless easy hairstyle can be tried by anyone.
20. Messy Updo Hairstyle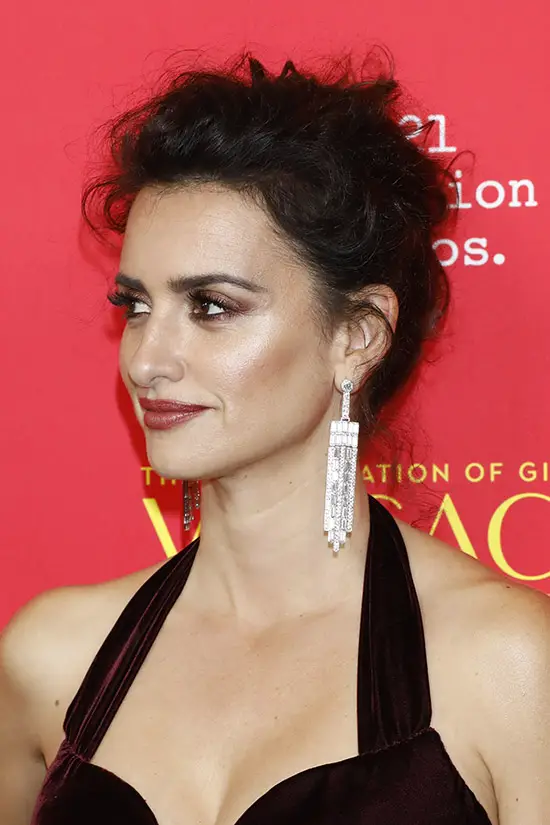 This messy updo hairstyle makes Penelope look amazingly stunning. This mesmerizing messy hairstyle creates a new trend that everyone tried and rocked at parties. The messy updo gives an undone finish look which is great on Penelope.
21. Tight Classic Bun Hairstyle Suits Her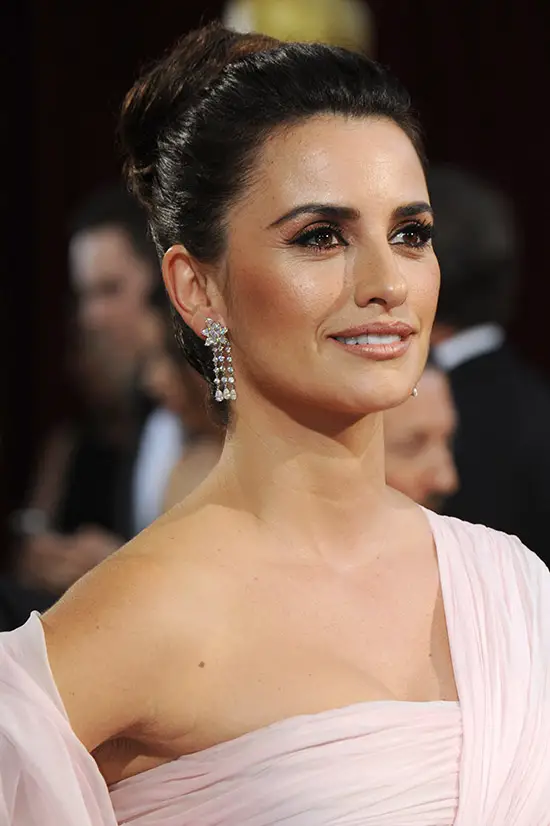 This is the classic tight bun hairstyle. This hairstyle intensifies Penelope's facial features clearly well and it looks tremendously beautiful on her. The typical classic bun hairstyle suits her as well.
22. Penelope Cruz's Stunning Braided Bun Hairstyle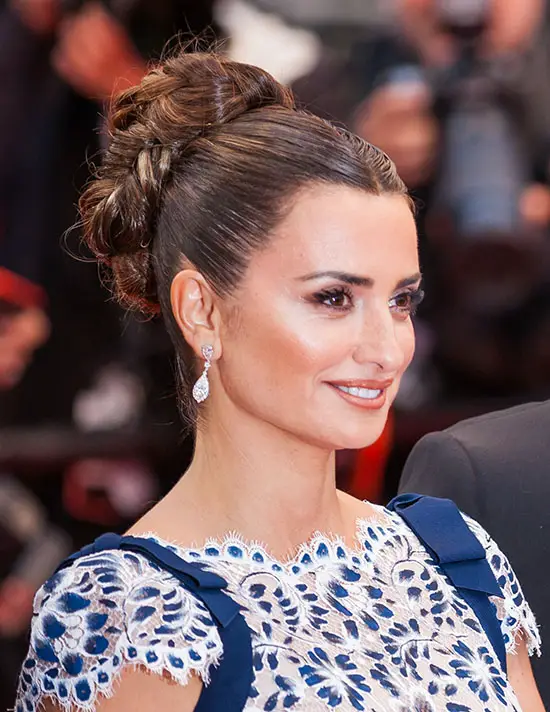 Penelope Cruz escalated her facial features with this center-parted tightly pulled braided bun hairstyle. This look is completely neat and elegant on her and the high braided bun looks brilliant and fantastic.
23. High Chic Ponytail With Bangs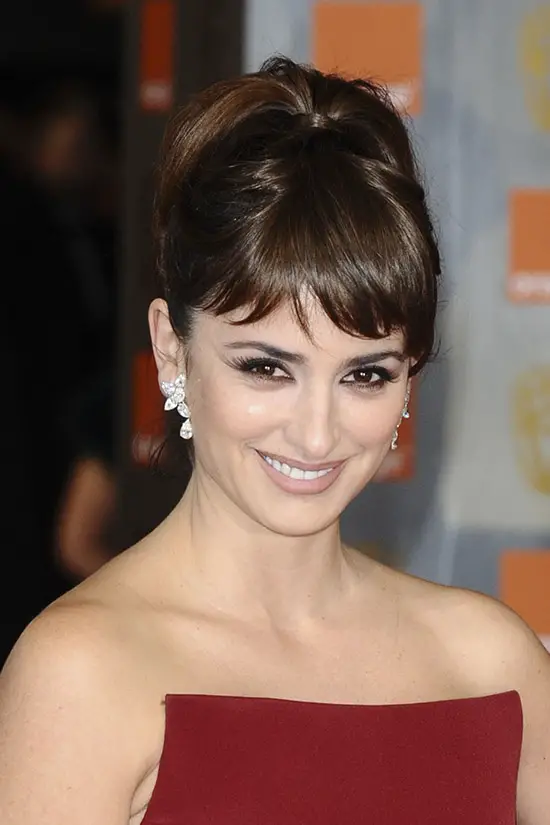 Penelope Cruz showed off on an occasion having this chic ponytail hairstyle with bangs that appeared fabulous on this wonderful actress. She matched this hairstyle with the red outfit and diamond earrings. This chick look went well with her outfit.
24. Penelope Cruz Rocks In The Retro Look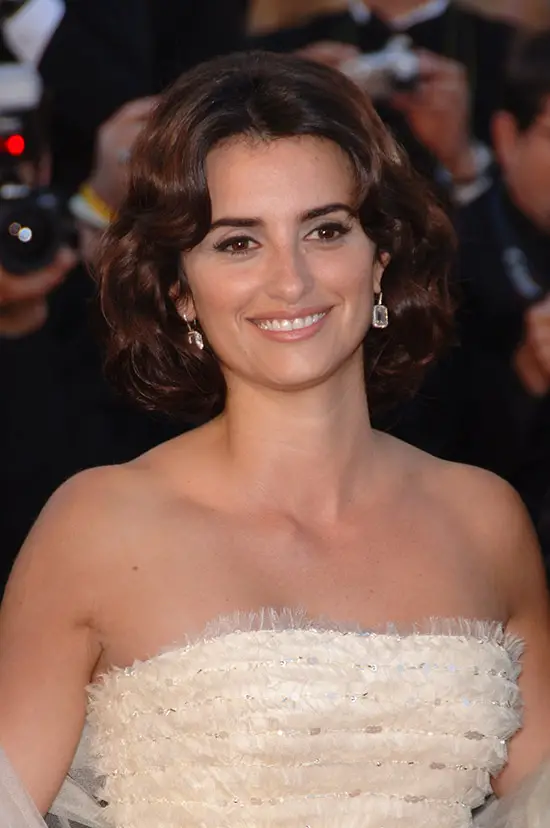 Penelope Cruz popped up with the retro hairstyle. The center-parted face framing short curtains adds scrumptiousness to her overall vintage glimpse. This hairstyle is a wavy shoulder-length bob. This looks great on Penelope.
Best Hair Styling Products
You Might Also Like: