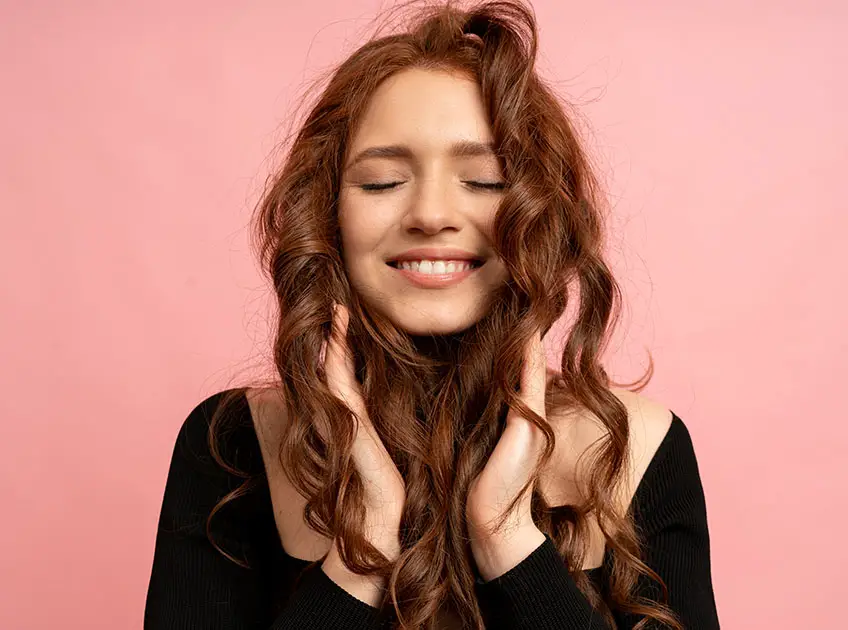 Everybody envies your long hair, but do you dream of having a shorter mane? Many women are surprised by this situation. Your voluminous tresses should make you happy, shouldn't they? Today, women can make their hair look shorter in various ways.
How To Make Your Hair Look Shorter Without Cutting
The simplest way to do it is to visit a hairstylist. Your long locks will transform into a pretty pixie with a few cuts. Nevertheless, most women are unsatisfied with this option as well. It is too painful to let go of your long hair in a flash after spending all these years growing it.
How can you keep your hair short without cutting it? We devised a few simple ideas to help you forget about the scissors.
1. Braid your Hair
The length of your hair immediately decreases when you braid it. Especially for cornrows, this is true. French braids, however, work just as well. You should start braiding at the top of your head and work your way down. At least two braids should be made.
When you braid your hair tighter, it will look shorter. Make three braids, then braid them together. You'll be able to achieve a very impressive hairstyle while shortening your hair significantly.
[ Read: Do Braids Help Your Hair Grow ]
2. Use a Headband
This is one of the simplest and quick ways to achieve short hair. Just follow the steps.
Take a thin piece of fabric or a headband.
Collect your hair and ponytail it. Tie only the bottom part of your hair. Furthermore, the knot that ties the ponytail should be in the middle of your headband.
Take one end of the band to your left and right.
Pull the pony towards the neck and upward.
The ponytail wil hide inside your hair.
Now tie the knot on the top to make a bow.
That's it. You are ready with short hair.
[ Read: How To Maintain Short Hairs? ]
3. Clip it up
Hair Clips can be the best option to make beautiful short hair without scissors.
Rinse and dry your hair.
Spray some curl enhancer on your hair
Split your hair into two and clip the middle part upwards.
Apply hair gel to the rest of the remaining hair until it becomes smooth.
Wait for a few moments and untwist the strands.
Repeat the process.
4. Loose Bun
To shorten your lengthy hair, try a loose low bun hairstyle. It may look messy, but it gives a cute look to your hair. How?
Tie your Hair back to the nape.
Double it and secure it with a band
Flip the little bun up and inside in the gathered hair.
If you wish to have a loose french twist hairstyle, flip the little bun twice.
Now, hide the bun inside the rest of your hair and clip it.
That's it.
5. Braided Mohawk
You can create a stunning braided mohawk on your long hair by following the steps
Split your hair into two parts with a middle part.
Take thin strands from each side of your hair at the front.
Make use of two strands from each side and begin making braids.
Once you reach the bottom of your hair, continue braiding with the rest of the hair.
Now, lift the braid and pin it or leave it hanging.
6. Pixie
Though you haven't dreamed of a long-haired pixie, you can make it. Follow the steps
Take your hair, pull it back, and make a very tight ponytail
Depending on your hair length, you can wear either a ponytail or a braid.
Do not pull the hair up and clip it at the crown spot or near the front of the hairline.
The ends of the ponytail should be arranged as bands.
7. Fake Lob
Anyone can create a fake lob on the long hair. Secure the ends of the hair with an elastic and push it underneath at the nape. Now clip it. It is similar to the loose bun. However, you don't need to double the hair inside the elastic as we did with the loose bun style.
8. Pin curl
It is one of the amazing coifs. You can design it like a vintage curl. It is a lovely hairstyle. However, you need little help to curl the hair in the right position. Also, be sure to do it at night and tie them down with a silk scarf. In the morning, add some hairspray to keep perfectly getting the right hairstyle.
9. Center Back Ponytail
If you have lengthy hair, why don't you try a center-back ponytail on your head? If your ponytail it at the nape, your hair may look longer on the back. When it is in the centre, it gives a shorter look.
Closure:
These are only a few techniques to make your long hair look shorter. There are many hairstyles for you. However, if you try any of these styles, you'll rock your party.
Image Credit: freepik
You Might Also Like: