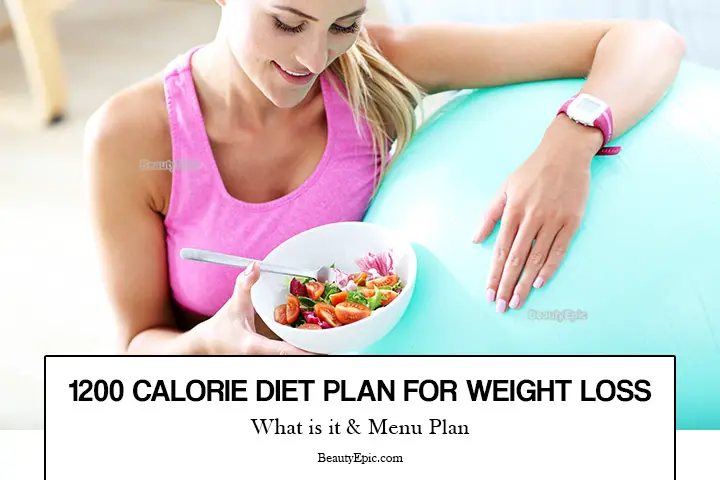 Ok, so what exactly do you mean by 1200 calorie diet plan? Reducing the calorie consumption to shed weight and keep the body fit? Yes, right! While there are many other methods too, the 1200 calorie diet plan is one of the most effective. Let us see what it is.
What is 1200 Calorie Diet Plan?
Do you quickly want to lose those extra pounds which have been taking a toll on your health? To help with that, 1200 calorie diet plan follows. Getting all the essential nutrients holds much significance and 1200 calorie plan is all about adding high fibre fruits, veggies, low fat proteins, and whole grains etc.
Low calorie diet includes loads of nutrients to provide complete nutrition. The agenda behind the 1200 calorie diet is to restrict the consumption of calories and rather consume fruits, vegetables, healthy fats, legumes, and whole grains.
While there are no particular restrictions on food consumption, you should make sure that few foods are not right for your body. Since every human has different body mass index, resistance level and immunity, it is important to understand the appropriate nutritional intake for losing weight. Here we go with the diet plan to follow throughout the day.
[ Read: 1000 Calorie Diet Plan ]
How to Create 1200 Calorie Diet Plan?
Well, creating a diet plan is not challenging but following it is. Drink as much water as you can to stay hydrated when you are on 1200 calorie diet plan. The consumption of sweetened drinks must be limited and lime drink should be added, instead. Here is the complete 1200 calorie diet plan for a day:
1. Breakfast
Take 1 cup green tea with honey (65 calories), 1 glass kale smoothie with cucumber and pomegranate (213 calories), and 1 white boiled egg with a slice of multigrain bread and low fat cheese (243 calories).
(Or)
Other than that, you can take dry roasted nuts with green tea (50 calories), mix veg. juice, idli with sambhar, or poha with tomato onion chutney or besan chila with paneer stuffing with groundnut chutney (300 calories).
(Or)
2 slices of fresh mango, 1 boiled egg, ½ cup of unsweetened oatmeal.
2. Lunch
Prepare your lunch to relish your taste buds. Take asparagus, spinach, and mushroom salad with light dressing (298 calories), or tuna sandwich with tomato and lettuce with 1 tbsp of low fat mayonnaise (285 calories).
(Or)
Take mixed veg. salad, egg white poached or whole gram dal and any veg. curry or brown rice (350 calories).
(Or)
½ cup of black bean soup, 2 cups salad with tomato, carrots, avocado, and leafy veggies with vinegar, ¼ cup Greek yogurt.
3. Dinner
Take some baked salmon with veggies (410 calories) or chicken clear soup with lots of veggies (316 calories).
(Or)
Consume chicken salad or healthy paneer tikka and lentil with tomato soup (250 calories).
(Or)
¾ cup of brown rice, 3 oz. of wild salmon, ½ cup miso soup, 1-2 cups steamed broccoli with rice vinegar.
4. Snacks
Green tea with 1 multigrain biscuit is enough as an evening snack (73 calories).
(Or)
2 cups of popcorn or ½ cup of blueberries, or ½ cup baked apple with ½ tsp cinnamon.
(Or)
¼ oz of walnuts or ½ cup raspberries.
You can follow this diet plan and for that matter, anyone can. There are many contributing factors such as weight, medical history, age, genes, and hereditary issues which enhance or hamper the performance of the plan. Although there are many other diet plans, you should consult the dietician or the nutritionist for maximum benefits.
How Much Weight Can You Lose on a 1200 Calorie Diet?
The 1200 calorie diet plan helps in losing weight more effectively than any of the other methods. You can lose 20 pounds in 90 days with this plan wherein, it is essential to take healthy carbs, proteins, fats, and nutritious food per day. Shedding that stubborn fat is not easy, however, you need to adopt regular exercise schedule as well.
Do it right to be sure your body is consuming all the right nutrients to get into shape. Eating fewer calories makes your body fit and also eliminates the need of burning the fats. Why to burn when you are not even consuming that much of calories? To accelerate the weight loss process, diet plan as well as regular exercise is required. Starving is a very bad idea, never do that or else you will land up on eating unhealthy items to satisfy your hunger. Plus, make sure not to skip the meals as it will only sabotage your health without doing anything good.
Obviously, you want to lose weight but not at the cost of your health. Because in 1200 calorie diet plan, you take minimum calories, cutting the meals off will leave bad effect.
Of course, 1200 calorie diet plan brings kilos down but you should remember not to adopt rigorous workout. Never go too crazy with your lifestyle and instead do only that much which you can easily do. Because you have gained weight over a long course of time, losing will definitely take time. Be patient with your food choices and start losing weight steadily.
Also, when you are on calorie diet plan, proteins help a lot in maintaining body tissues. Not only do the proteins make you fuller but also prevent your hunger cravings. Instead of eating unhealthy food, go for dairy products, beans, nuts, seafood, and eggs etc. as they are rich in proteins. Have small frequent meals to see proper effect of 1200 calorie diet plan and keep the body energized, fresh, and boosted throughout the day.
You Might Also Like: