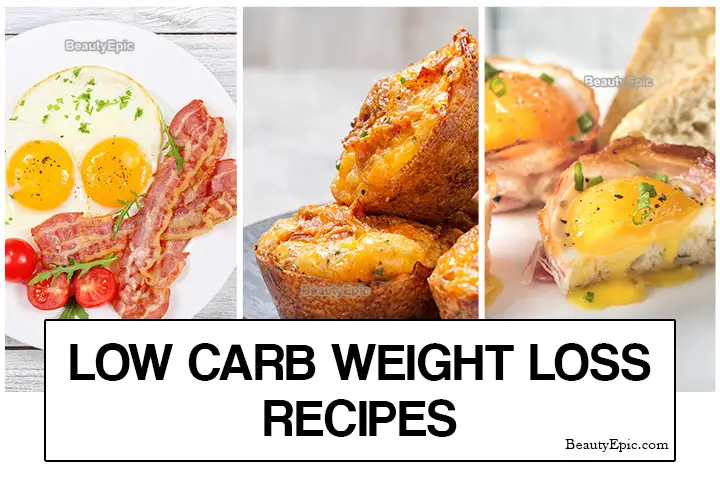 Low carb diet has become quite popular in recent times. Previously, it used to be controversial but it has now gained mainstream acceptance.
Can You Lose Weight Eating Low Carb?
A low-carb diet restricts the use of carbohydrates like the ones that are found in starchy vegetables, grains, and fruits. It emphasizes on food items that are high in fat and protein. This is the reason it is used for losing weight. Here are some low carb weight loss recipes.
1. Bacon Wrapped Egg Cups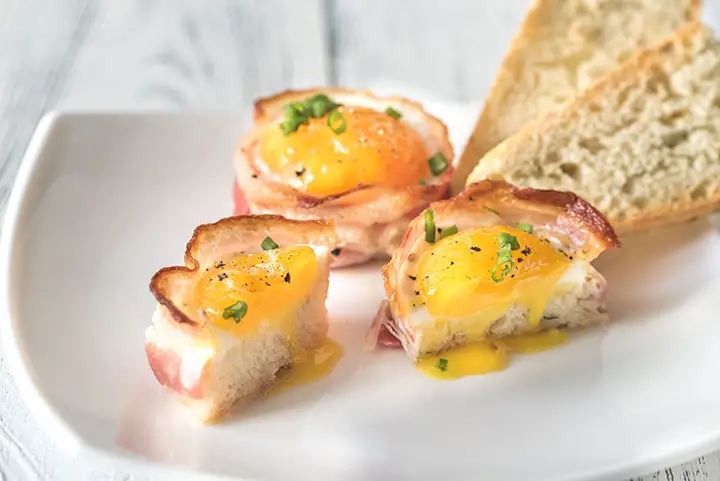 Ingredients:
12 eggs
12 strips of bacon
Pepper
Directions:
Preheat your oven to 400 degrees Fahrenheit. Take a muffin tin and spray it with coconut oil.
Use bacon for every muffin space to create a basket for the eggs. Make sure the bacon covers the sides of the muffin tray completely. Use a scissor to cut the remaining sides.
Place the tray in the oven and allow it to bake for 7 minutes at 400 degree Fahrenheit. Take it out before it starts to get crispy.
Crack an egg inside each bacon basket.
Bake for another 15 minutes.
Season with pepper and enjoy.
[ Read: Healthy Breakfast Ideas Under 100 Calories ]
2. Muffins with Sausage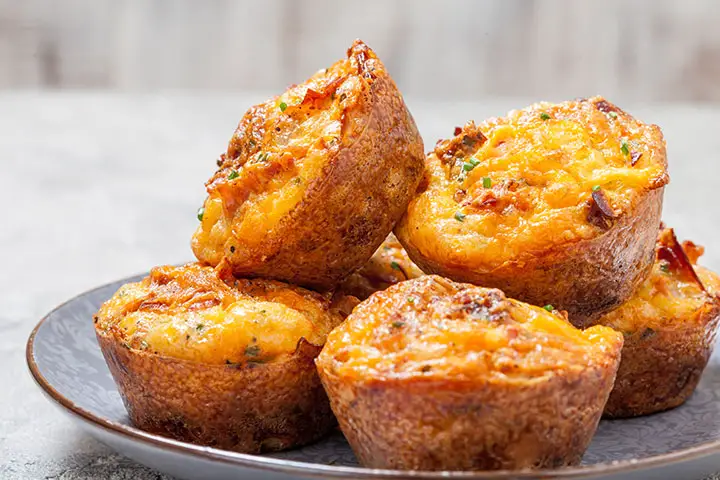 Ingredients:
4 eggs beaten lightly
1 lb. sausage
1 cup of shredded cheddar cheese
1 cup of baking mix
Directions:
Preheat the oven to 350 degrees. Take a 12-cup muffin pan and grease it with oil.
Take a skillet and cook the sausage on medium heat. While it is cooking, break it with a potato masher. Drain as much fat as you can.
Add the cheese, eggs, cooked sausage, and baking mix in a bowl. Stir till it combines.
Fill up the muffin cups with this. Make sure that you fill only ¾ of it.
Bake it for about 20 minutes till it golden brown at the top.
[ Read: Healthy Low Calorie Snack Ideas ]
3. Avocado Egg Bowl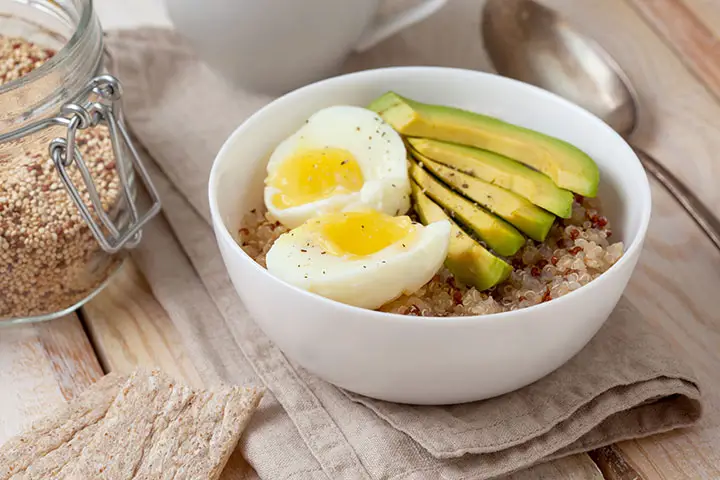 Ingredients:
1 halved avocado with stone removed
3 large eggs
1 tablespoon of salted butter
3 rasher bacon cut in small pieces
Black pepper and salt
Directions:
Scoop out the avocado flesh and leave half an inch around it.
Take a saucepan and place it on a low heat. Add butter and when it melts, add cracked eggs into it. Beat it and add a pinch of pepper and salt.
At one of the pan add the bacon and allow it to fry for a few minutes. Add the eggs to the other side and stir to prepare scrambled eggs.
Mix the scrambled eggs and bacon in a pan and spoon it to the avocado bowls to enjoy.
[ Read: Low Carb Keto Strawberry Shake ]
4. Strawberry Chia Pudding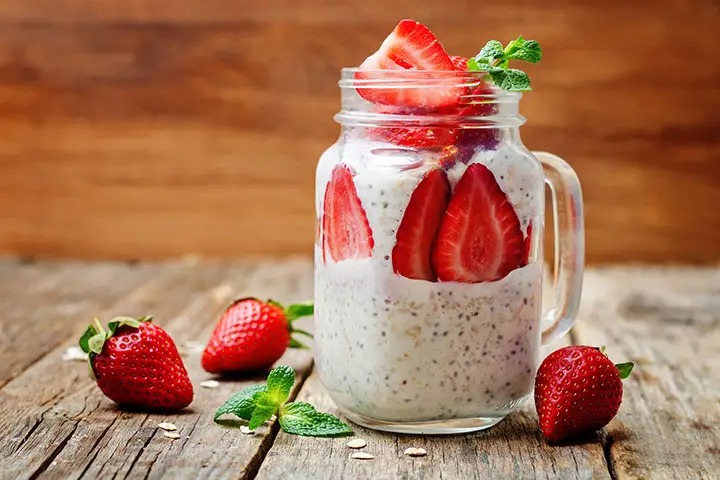 Ingredients:
2 cups of almond milk
1/2 cup of chia seeds
¼ cup of honey
1 tablespoon of vanilla extract
Directions:
Make a puree out of the strawberries and almond milk by blending until it forms a smooth mix.
Add in honey, chia seeds, and vanilla extract to the puree.
Cover the bowl using a plastic wrap and place it in a refrigerator for around 4 hours.
[ Read: Smoothie Recipes for Weight Loss ]
5. Pork Chops with Vegetables
Ingredients:
Marinade
5-6 pork chops
3 cloves of chopped garlic
4 tablespoon of vegetable oil
1 lemon juice
1 teaspoon of thyme
1 teaspoon of regular or smoked paprika
Pepper and salt
Vegetables:
16 oz green beans
1 large onion julienned
2 red bell pepper julienned
½ teaspoon of thyme
4 potatoes cubed
½ teaspoon of garlic powder
Salt and pepper
3 tablespoons of vegetable oil
Directions:
Preheat the oven to 450 degree F.
Take a Ziploc bag and place the pork chops in it. Add lemon juice, oil, garlic, pepper, salt, thyme, and paprika. Seal it and allow it to rest in the refrigerator.
Place the beans on a baking tray along with red bell pepper, onion, cube potatoes, and mix them with pepper, salt, thyme, and oil.
Place the meat with marinade over the vegetables.
Bake it for 25 minutes. Makes sure that you flip the meat after 15 minutes. if the potatoes are not done bake for another 5 minutes.
[ Read: Homemade Drinks for Flat Tummy ]
6. Bacon and Eggs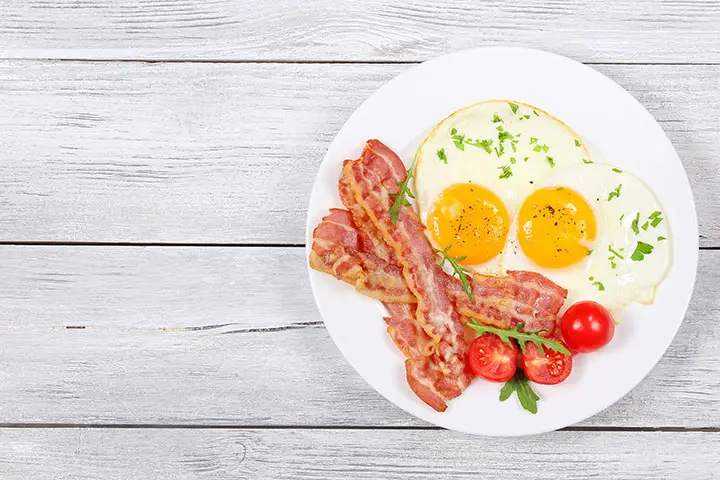 Ingredients:
5 oz of bacon slices
Cherry tomatoes
8 eggs
Fresh parsley
Directions:
Take a pan and fry bacon on medium heat till it is crispy. Put it on a plate.
Use the same pan for frying eggs. Heat the pan and crack the eggs.
Cook the eggs the way you like.
Add cut cherry tomatoes and fry them with the eggs.
Add salt, pepper, and fresh parsley.
[ Read: 25 Best Weight Loss Tips That Definitely Work ]
7. Grilled Chicken Wings with Raw Spinach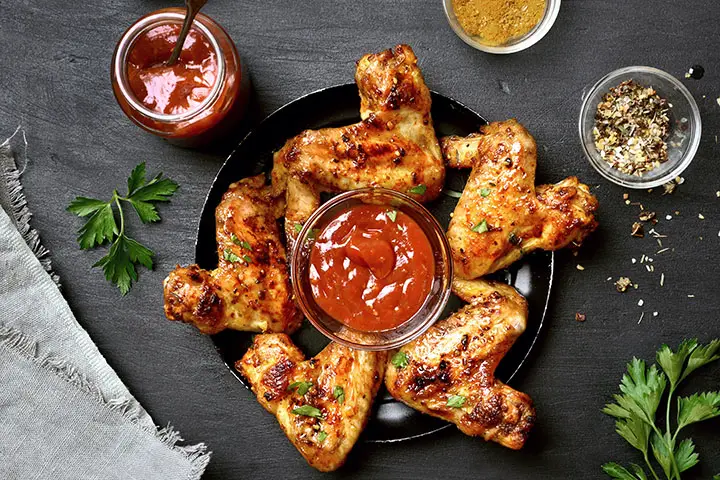 Ingredients:
1 tablespoon olive oil
5 clove garlic minced
1 knob of ginger
1 tablespoon of honey
1 tablespoon of apple cider vinegar
2 cups of baby spinach
6 chicken wings
½ lemon juice
½ teaspoon sea salt
Directions:
Preheat the oven to 400 degrees.
Take the chicken and toss it on oil and add seasoning.
Place the chicken on the baking sheet and add garlic and ginger. Add lemon juice.
Roast the chicken for 45 minutes. Make sure you check them every 20 minutes.
Toss spinach over chicken and some lemon juice. Mix it with the chicken.
Serve it and enjoy it.
[ Read: 7 Day Flat Belly Diet Plan ]
8. Asparagus, Leek & Pancetta Tart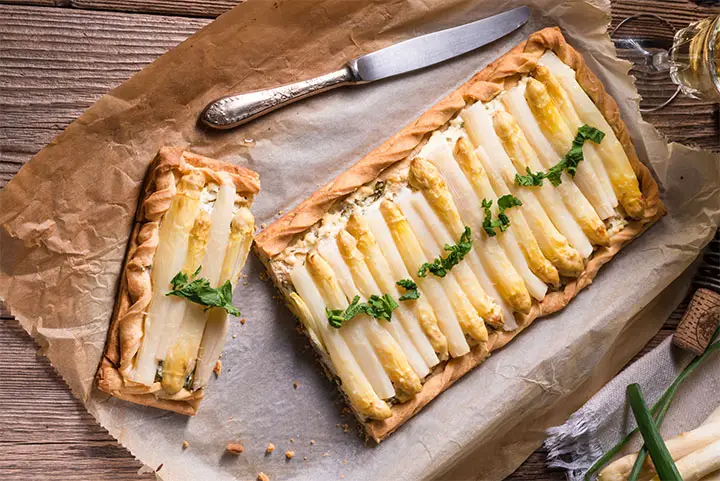 Ingredients:
6 tablespoons of melted butter
½ tablespoon of kosher salt
2 cups of almond flour
1 cup of fresh lemon zest
Filling:
1 cups of sliced leeks
4 oz of chopped pancetta
2 tablespoons of butter
1 tablespoons of kosher salt
2 cups of thin-sliced asparagus
Ground black pepper to taste
1 cup of whipping cream
2 oz soft goat cheese
3 egg yolks
Directions:
Crust
Combine the ingredients for the crust in a medium bowl and mix them well.
Take a 9×9 pan and an 8×11 sheet for pressing the dough.
Bake it for 12 minutes at 350 degrees until it is golden brown.
Filling
Take a saucepan and melt the butter. Add the leeks, pancetta, pepper, and salt.
Cook till the leeks are transparent and soft.
Add the asparagus and cook for 2 more minutes.
Arrange the asparagus over the crust.
Whisk the whipping cream and egg yolk in a bowl until it is combined well.
Pour it over the asparagus and sprinkle goat cheese.
Bake for 25 minutes at 350 degrees.
Serve it chilled or warm.
Choose a recipe as per your preference and lifestyle. Keep in mind that the best diet is the one you will be able to stick to.
You Might Also Like: