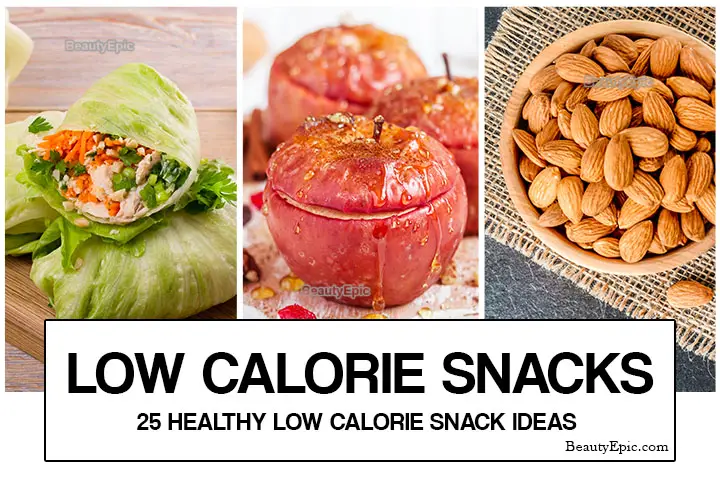 When it is about healthy eating, junk food is not in the list. You need a balanced portion of proteins, fats, carbs and fibre. For that, low calorie snacks follow as they are a rich source of omega 3 fatty acids, fiber, and proteins. As you may know, fibre breaks down slowly in the body keeping your hunger cravings aside for some time and proteins are good for metabolism.
In order to keep the calorie count low, we have jotted this list of 25 low calorie snacks which are sure to provide you enough amounts of all the key nutrients and vitamins. Without compromising on your health, these snacks can be consumed on daily basis. So check out these 25 low calorie snacks which will keep you energetic, nourished, and full of enthusiasm:
[ Read: Breakfast Ideas Under 100 Calories ]
25 Healthy Low Calorie Snack Ideas
1. 1/2 Cup Slow-Churned Ice Cream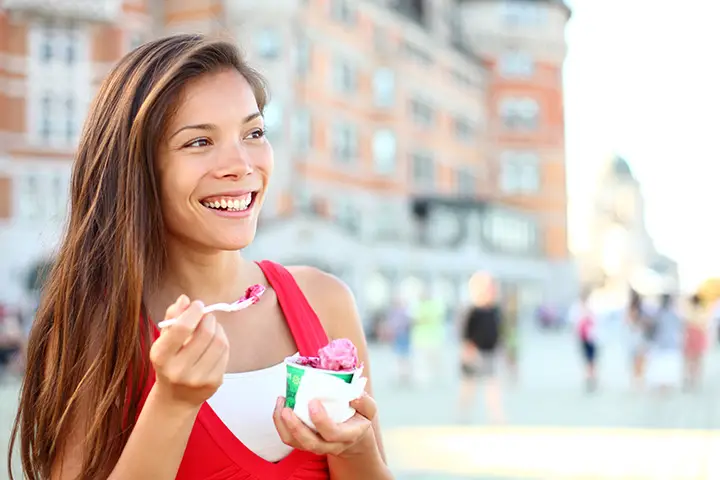 I love ice cream. This one is my favourite. We are starting our low calorie snack list with ice cream which is considered as the heavy calorie food. But let me tell you that, the slow churned ice cream has lesser calories. Slow churning reduces calories and fats from the ice cream and still keeps the texture and consistency of the cream perfect. Take ½ cup only as it contains 100 calories, 20mg cholesterol, and 45 mg sodium.
2. Nutty Choco Popcorn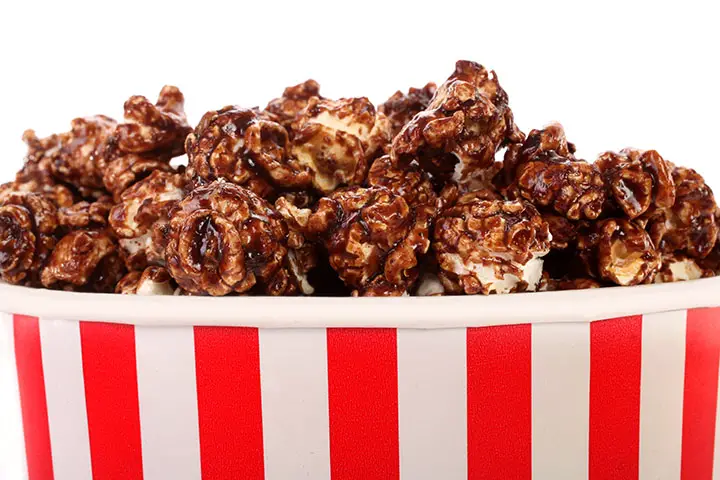 Munching in the evening is interesting as you get to enjoy your favourite snack. Add this nutty choco popcorn in your routine to stay healthy and fit. Put 2 spoons popcorn kernels in brown paper bag, fold several times and microwave for a minute or two. Popcorns will pop and then add salt to taste. For added flavour, add 2 tbsp roasted almonds and 1 tbsp choco chips.
[ Read: Top 26 Zero Calorie Foods ]
3. Eggs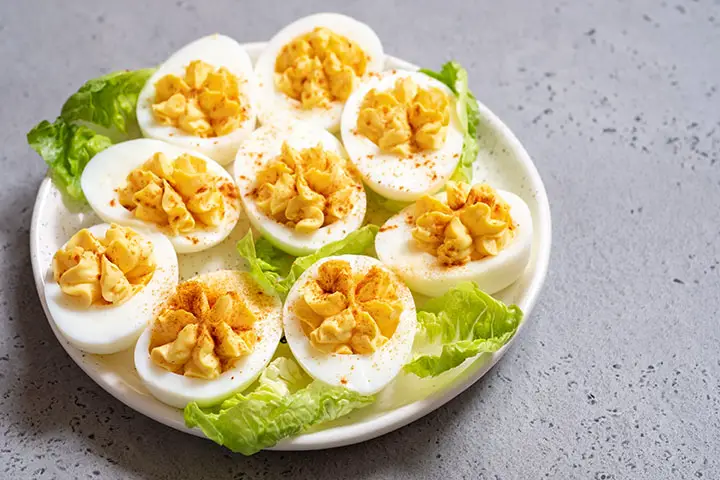 Eggs are loaded with proteins so let us make our evening snack. Boil an egg and peel it when hard. Cut half lengthwise, remove yolk and put it in a small bowl. Now add 1 tbsp hummus and Greek yoghurt, salt, and pepper to taste. Mix them thoroughly and put the mixture in the egg half. Enjoy this delicious egg with smoked paprika sprinkled on the top.
4. Mini Quesadilla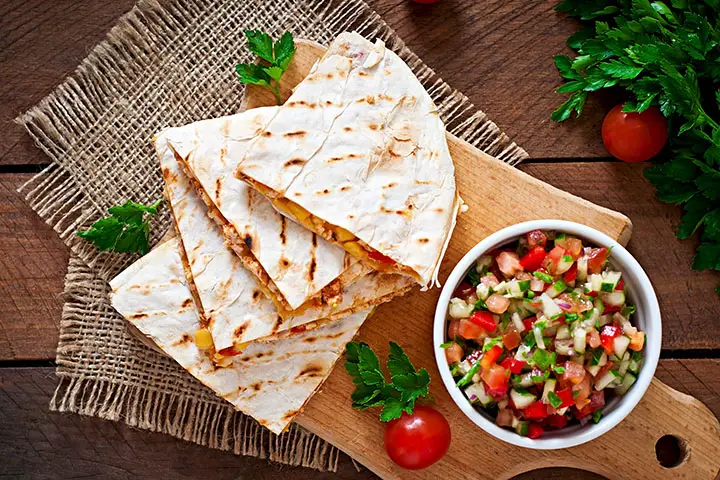 When did cheese come into low calorie food? Well, it was never but try this recipe. Take low fat cheddar cheese and sprinkle an ounce of it over corn tortilla. Fold it and microwave for 15-20 seconds. Enjoy the dish as it contains as less than 100 calories along with 1.3 grams of saturated fat.
[ Read: Low Carb Weight Loss Recipes ]
5. Celery and Hot Sauce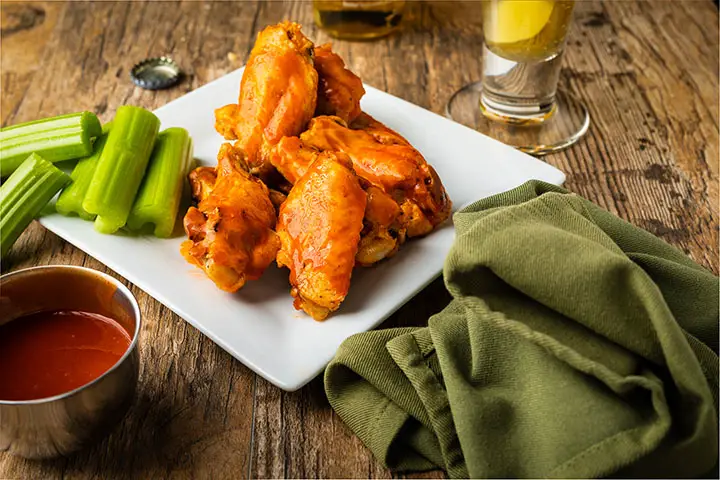 Once again my favourite! Cut 1 large celery stalk and add hot sauce on the sticks. Since hot sauce contains lesser calories, the celery has only 10 calories. All you need to do is replace chicken wings with celery sticks, that's it.
6. Greek Yogurt and Green Bell Pepper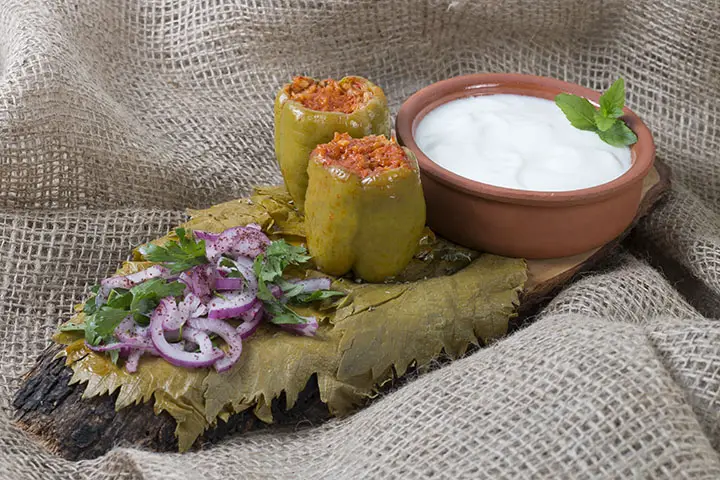 Bring green bell peppers to create a low calorie snack. Slice it up and eat it with one ounce of plain Greek yoghurt with a pinch of curry powder. It is healthy as well as nutritious as bell pepper contains potassium and vitamin C.
[ Read: Best Fruits for Weight Loss ]
7. Balsamic Vinegar and Strawberry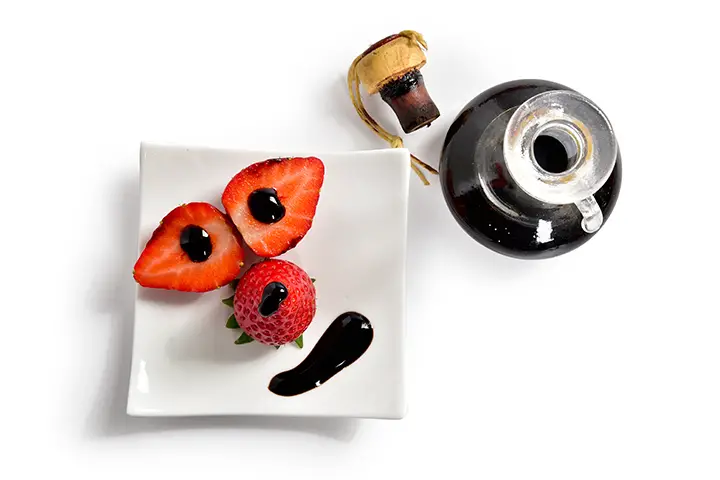 Cut your calorie consumption with this recipe. Take ½ cup sliced strawberries and sprinkle 1 tbsp of balsamic vinegar to relish your taste buds. This dish contains 41 calories and it makes a tasty dish due to the citrusy flavour.
8. Cantaloupe and Cottage Cheese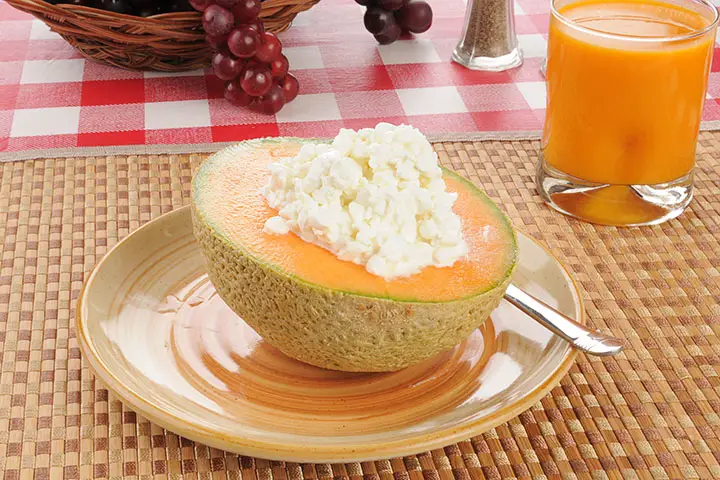 As you know, cottage cheese is packed with proteins. Take low fat cottage cheese and a small wedge of cantaloupe to stay healthy for a little longer.
[ Read: Best Foods to Eat to Lose Weight ]
9. Loaded Banana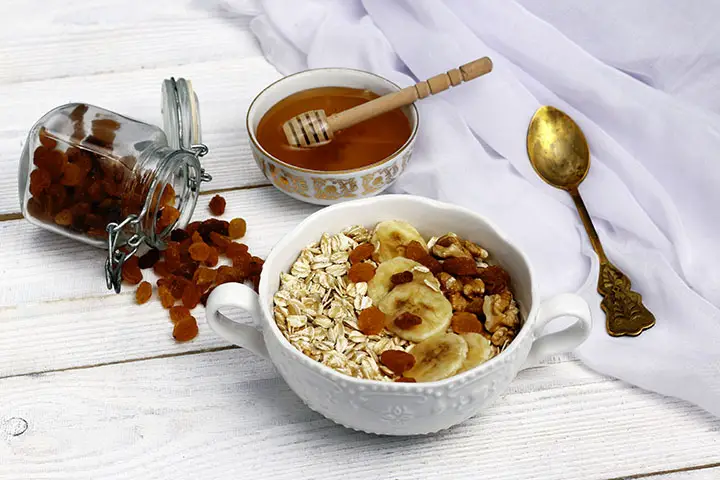 Bananas are cool and they provide enough protein and healthy fat to the body. Take 2 tbsp whole grain cereal and 2 tsp raisins and crush them together in a small bowl. Now take banana and spread 1 tbsp almond butter over ½ of the banana and roll it in the mixture. Enjoy this luscious delicacy at any time of the day.
10. Microwave Popcorn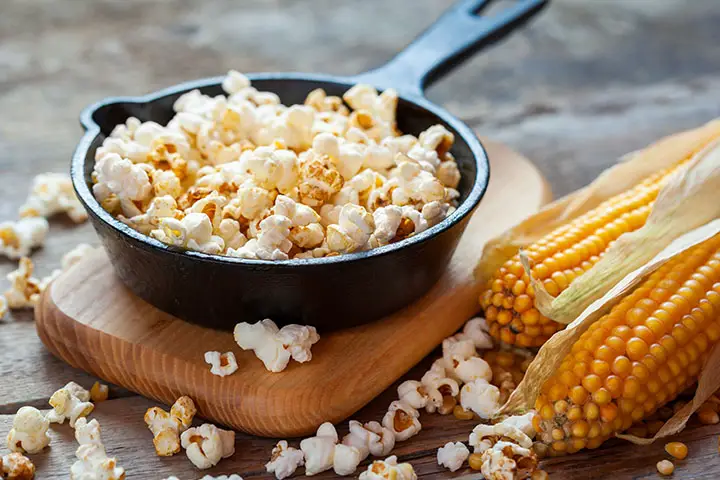 Popcorn is a large snack with just a small calorie count. Put the popcorn kernels in the microwave and when they are ready, take them out and keep munching watching your favourite movie. Popcorns are high in fibre and contain 0.5 gm saturated fat.
[ Read: Healthy Fat Burning Foods ]
11. Three Crackers With Cheese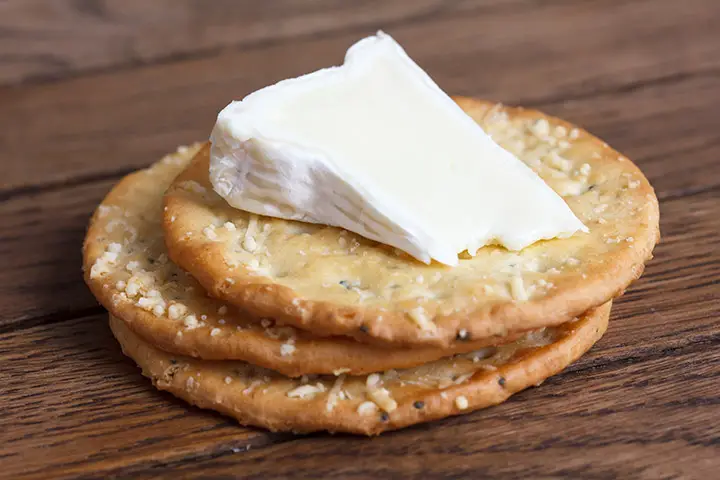 Whole grain crackers are full of fibre and they keep your tummy full at all times. If you want to chew between meals, this is the perfect recipe. As cheese contains calcium and protein, crackers make a perfect combination in keeping the calorie level under 100. Cut one slice of cheese and put it over three crackers. Then enjoy!
12. Hummus and Cucumber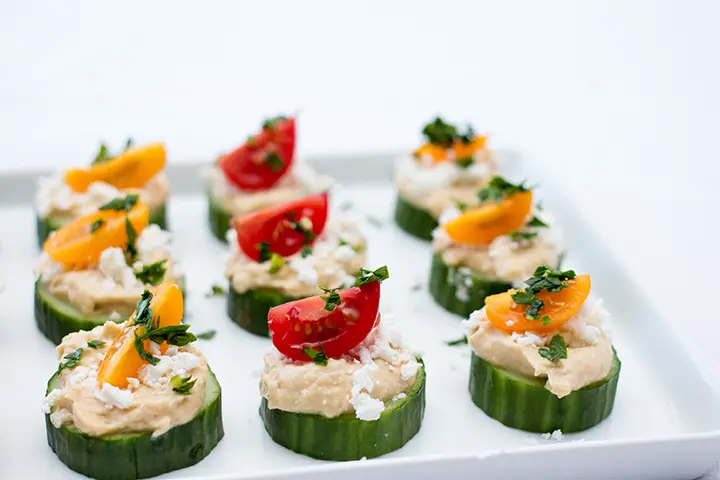 This snack contains 48.5 calories. All you need to do is cut the cucumber into crisp and thin slices and enjoy the mild flavour. Hummus makes a good combination with cucumber slices or you can use any kind of dip.
[ Read: Green Tea for Weight Loss ]
13. Broccoli and Reggiano Cheese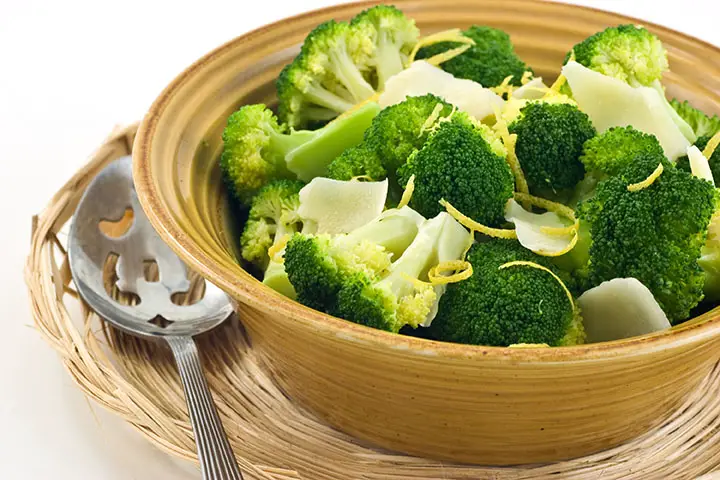 Broccoli tastes superb when combined with Parmigiano-Reggiano cheese. This dish has a good flavour and if you are keeping a close eye on the calories, it is a perfect thing as it contains only 37 calories. Zap both the broccoli and cheese raw to bring out the flavours and then eat it.
14. Vanilla Maple Ice Cream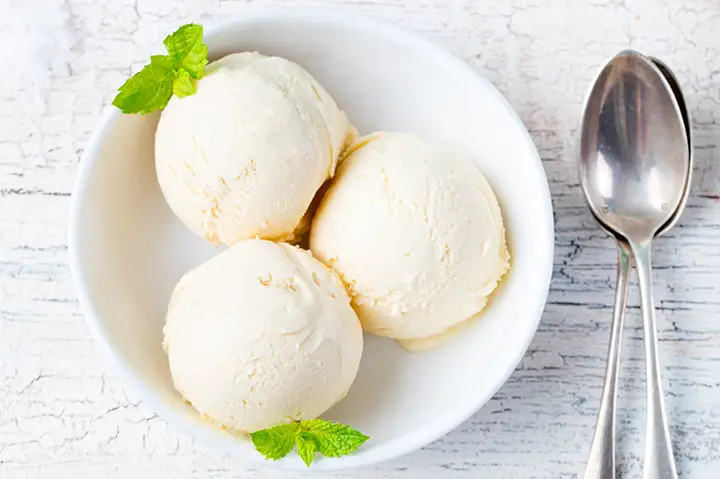 Half a cup of this ice cream contains 35 calories. If ice cream is your comfort food, here's good news. It tastes delicious and makes sure to satisfy your taste buds and what's more, you just have to take it and eat it without any further ado. Get a tub of maple ice cream and there you go.
15. Almonds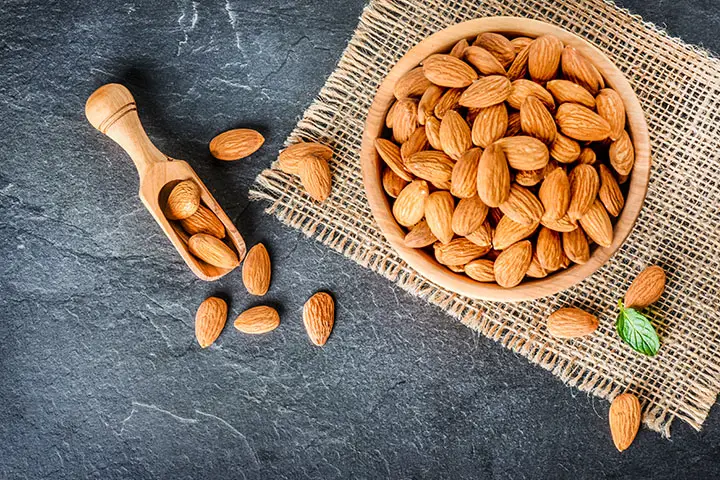 What else better than almonds or nuts? Whenever hunger strikes, put your hands in the container and take out 14 almonds while on the go. And do you know? You will not even go close to 100 calories with almonds and because they are rich in fibre and protein, the body stays healthy and fit.
16. Lettuce Wraps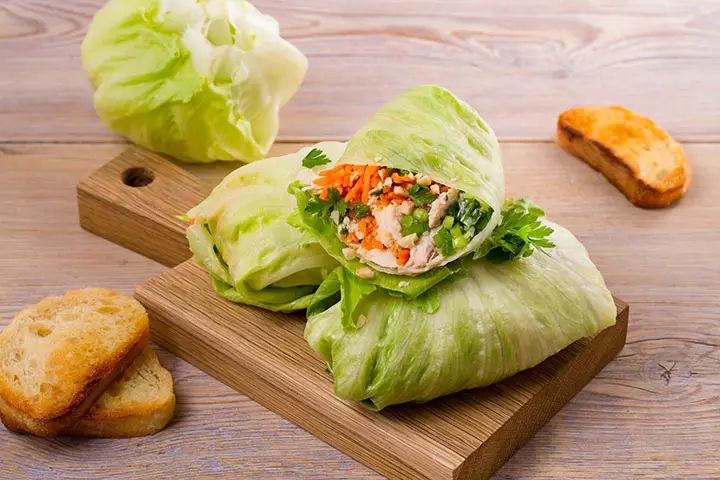 Lettuce tastes amazing like tortilla chips. Combine lettuce with beans to get enough fibre and protein in the body. Divide ½ cup black beans between 3 large lettuce leaves and add salsa topping. VOILA, it looks great.
17. Baked Apple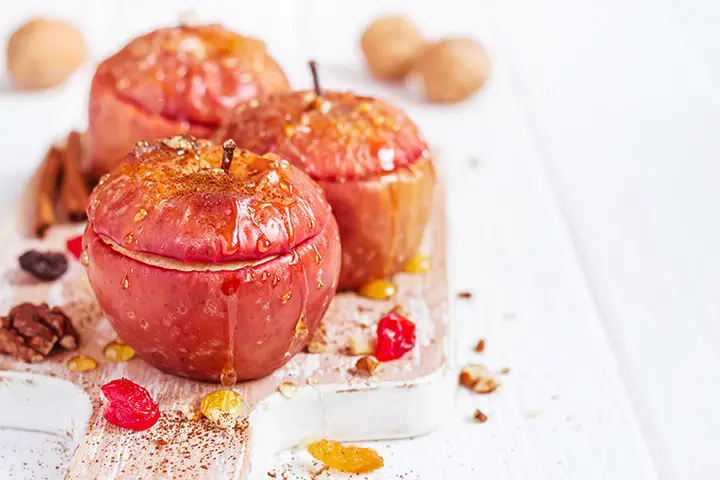 Apple is healthy as they say, "An apple a day keeps the doctor away". Why not give a makeover to the traditional use of apple? Apple tastes like dessert when baked and a little cinnamon is sprinkled over it. While it keeps you fit, it makes sure to keep the calorie level low.
18. Fig and Cottage Cheese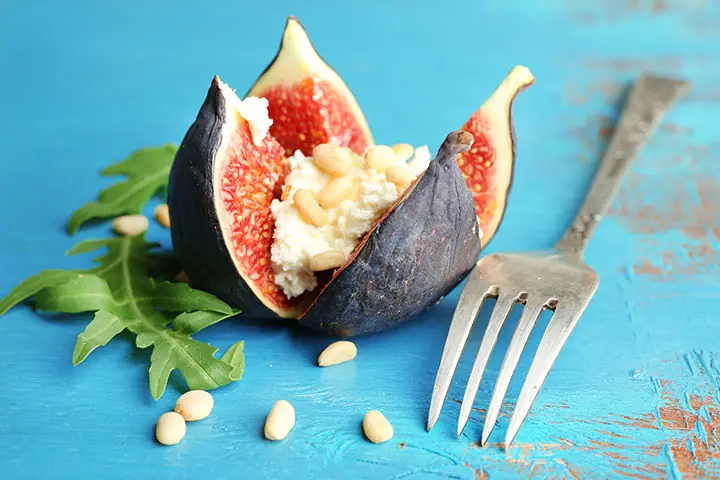 This dish is inspired from Mediterranean areas. The snack is power packed with rich flavours and protein. Add some sea salt on the fig and cottage cheese and extract out the natural flavour of fig. Enjoy!
[ Read: 7 Day Flat Belly Diet Plan ]
19. Plain Yoghurt and Cinnamon Apple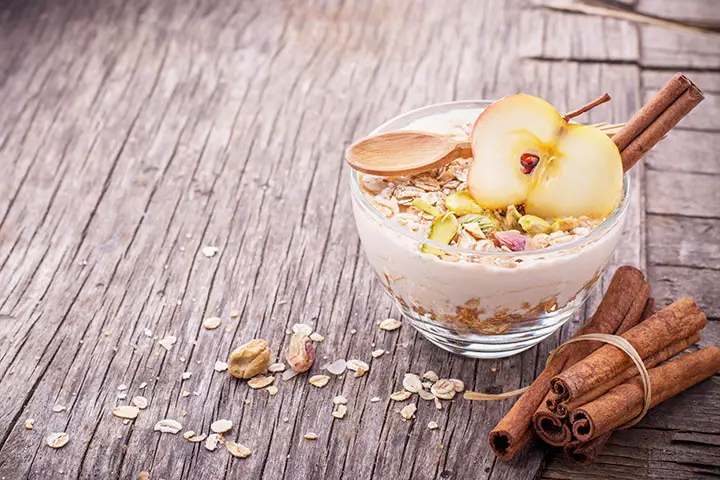 This dish contains 134 calories, yes it is a little on the higher side when we talk about calories but is very healthy. Slice the apple, sprinkle some cinnamon and dip the apple slices in plain yoghurt. Since it is easy to make, you can have it daily. Fiber, protein, and antioxidants all in one dish! Not to forget the flavour too.
20. Blueberry Smoothie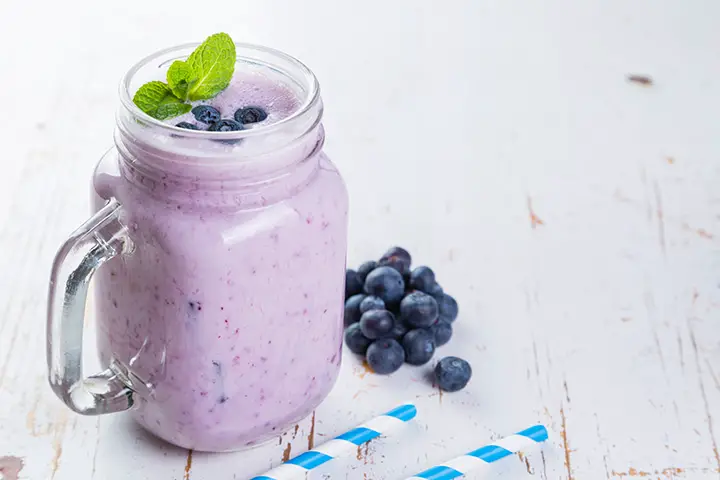 The name says it all. Fruit smoothies are delicious and blueberry is all time favourite. Get that extra dose of antioxidants and calcium as it contains 1/3 cup of non-fat yoghurt with 2/3 cup of frozen blueberries. Add ice if you want. If you want to kill that heat, this smoothie is amazing as it is quite refreshing and cold.
[ Read: Healthy Weight Loss Smoothies ]
21. 3/4 Cup Frozen Mango Cubes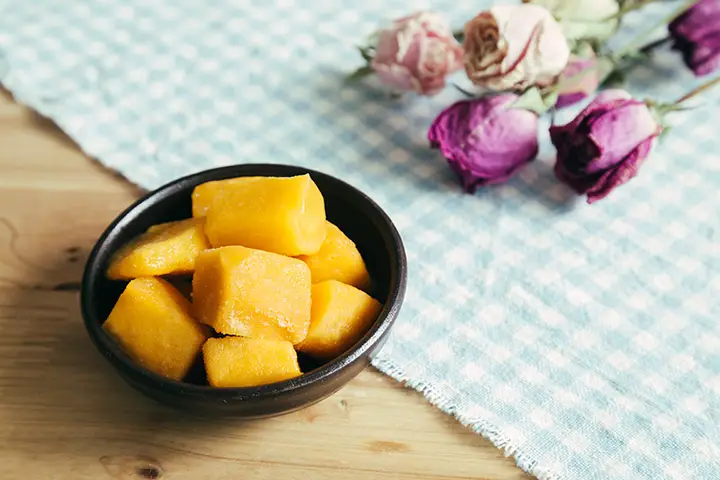 Frozen mangoes are like mango candy. Satisfy your taste buds with frozen mango cubes as they taste like heaven. Just about 90 calories and tummy is full! Also, enough vitamin c is supplied to the body.
[ Read: Top 10 Teas to Lose Weight ]
22. Baby Carrots With Hummus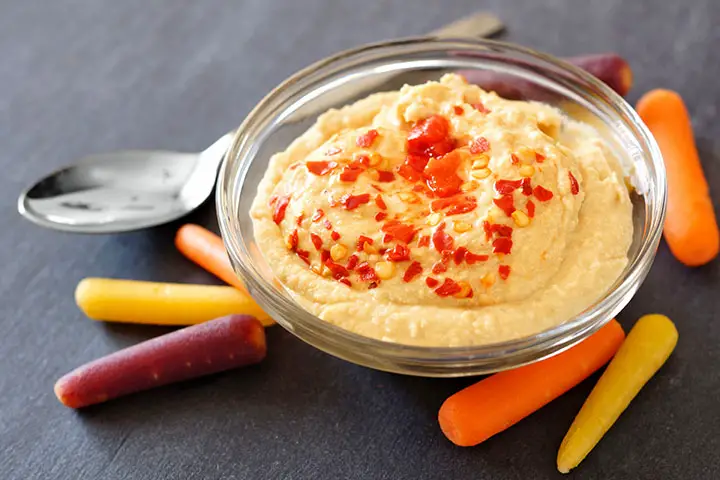 Dip large baby carrots in 2 tbsp of hummus and you are all set to experience the crunch. It gives enough vitamin A, protein and beta carotene.
23. Yogurt With Sunflower Seeds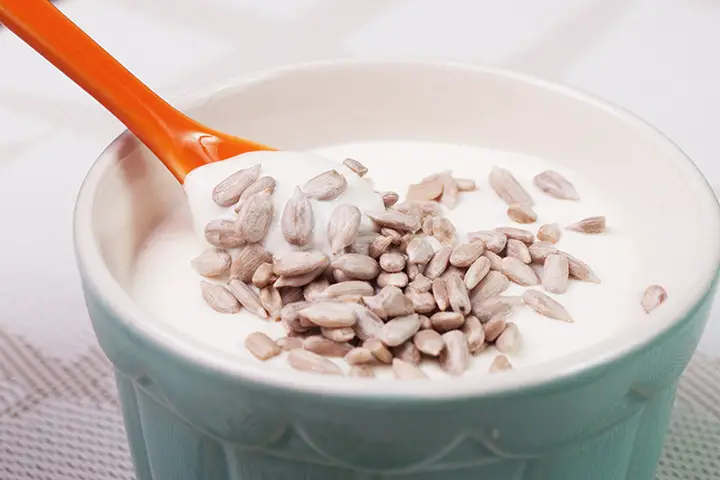 Add a tsp of sunflower seeds in ½ cup of nonfat plain yoghurt. As you know, yoghurt is brilliant in proteins and the sunflower seeds are all in all healthy. Use unsalted seeds in the yogurt.
24. Baked Potato With Salsa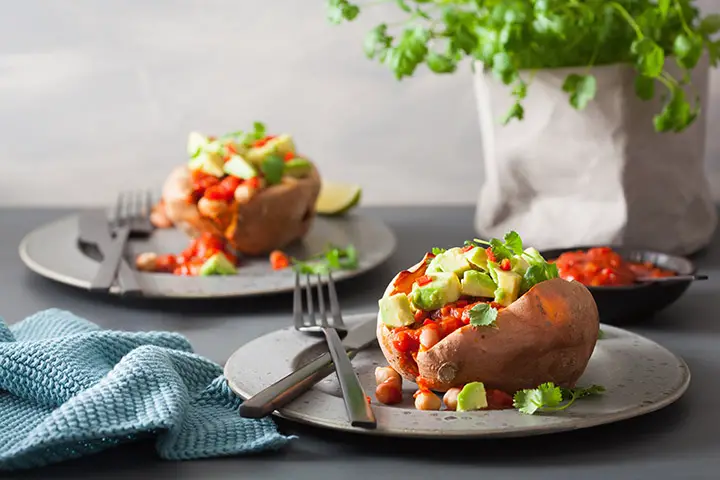 Bake a potato and put it in microwave. Spread a tbsp of salsa on top of it but make sure the potato has the skin intact. Eat it as it is and relish the nutrients it provides.
25. Pistachios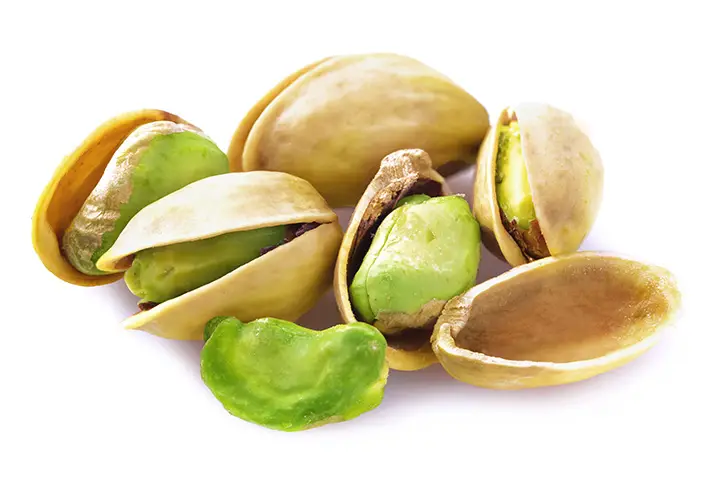 Eat 20-25 pistachios as they are rich in protein, fibre and key vitamins required for the body. Roast them dry without salt to reap maximum benefits.
So, why not try out these low calorie snacks when you are craving for something other than full fledged meals? Go ahead and eat one you like the most. Yes, yes, I know how do we feel when hunger hits the brain, stomach, intestines, and everywhere in the body, LOL. Happy snacking!
You Might Also Like: