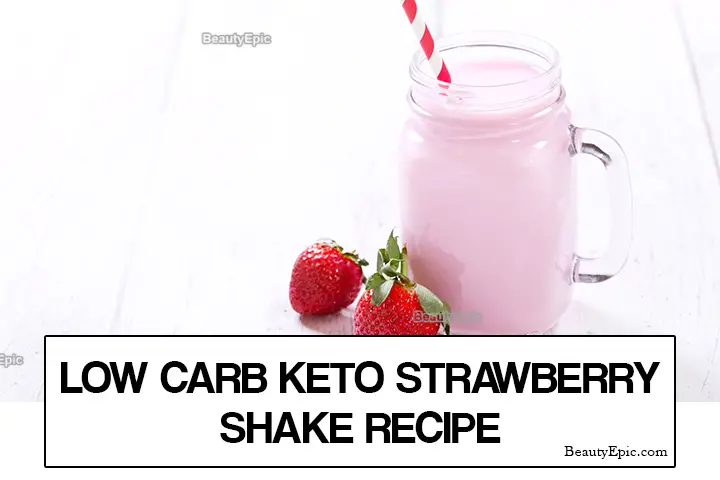 A keto strawberry shake is always a welcome alternative for beginners who find it a bit challenging to get keto-friendly meals when they are just starting out. Strawberries are filling fruits that can be included in your keto diet in moderation. A half-filled cup of sliced strawberries has about 4.7 grams net carbs and 4.1 grams sugar. Keto strawberry shakes are easy to prepare. It takes you only a few minutes have your delicious shake ready.
Making yourself a low carb keto strawberry shake will not only get you filled but also aid the body in fighting several conditions. A study published in the Journal of Medicinal Food revealed that strawberries can provide plenty of benefits to the body including antioxidant benefits and more.
How Much of Keto Strawberry Shake Should You Consume?
On average, eight medium sized strawberries are enough for one serving. Consuming more that this will no longer help your ketosis. For every 100 grams of strawberries you consume, you have 6 grams of carbs in your body.
You will come across many recipes of the keto strawberry shake when you search the internets. But you have to choose wisely one that suits your body's calorie requirements. Below is one recipe that can fulfill your macronutrient requirements.
[ Read: Healthy Weight Loss Smoothies ]
Low Carb Keto Strawberry Shake
1. The Low Carb Keto Strawberry Shake Recipe
This is the recipe for a healthy strawberry shake ideal for breakfast.
The Ingredients are as Follows:
Five fresh or frozen ripe strawberries
Half a cup of fat Greek yogurt
A tablespoon of sweetener of your choice
Quarter cup of almond milk (optional)
Quarter cup of ice to make yogurt thicker (optional)
One drop of pink food color (optional)
Here is How to Prepare Your Shake
Put the ingredients in the blender, beginning with liquid ingredients, followed by the ice and lastly the strawberries.
Blend them into a smooth shake. You can leave the shake as thick as it is or add almond milk to your preference.
If on a hot day, you can add crushed ice. This single serving consists of 149 grams of calories. Adding Greek yogurt will make the shake more healthy and delicious.
You can easily adapt this recipe to suit your keto diet's macronutrient needs. For example, you can plain protein powder for more protein content or a sweetener to make it sweeter.
[ Read: Healthy Low Calorie Snack Ideas ]
The Health Benefits Offered by a Strawberry Shake
As mentioned earlier, strawberries have loads of health benefits. Keto strawberry shakes provide the following health benefits to the body:
Can Boost the Body's Immunity
Strawberries are sources of vitamin C, making them excellent antioxidants and immune boosters. One cup serving of strawberries provides adequate intake of vitamin C as recommended. Vitamin C stimulates the antibodies that boost the immune system to enhance the ability of the body to fight infections. Strawberries are can also fight asthma, allergies and strengthen the cornea and retina of the eye.
Fighting Inflammation
Strawberries have quercetin, which combined with regular exercises can lower the formation of atherosclerosis plaque. The antioxidants and phytochemicals contained in strawberries can prevent inflammation in joints and ease the symptoms of gout and arthritis.
Strawberries contain pectin, a soluble fiber that helps to lower the levels of bad cholesterol (LDL) in the body. The ellagic acid and flavonoids within the strawberries can protect your heart from LDL while the lutein and zeathancins antioxidants can fight free radicals in the body.
Source of Probiotics
The Greek yogurt has probiotics – microorganisms found in the intestines such as bacteria and yeast. The probiotics help to control the accumulation of bad bacteria in the body.
Regulating Blood Pressure
Strawberries have potassium which helps to manage high blood pressure by balancing out the effects of sodium in the system. Anthocyanins are strong antioxidants found in strawberries. They are known to relax and open up the blood vessel lining thereby helping to lower blood pressure.
Almond Milk
Almond milk is healthy compared to regular milk. It is dairy free, nutritious, high in vitamin D, low in calories and can help reduce heart disease risk. Unsweetened almond milk maintains the blood sugar level.
A strawberry shake offers excellent health benefits whether you are on a keto diet or not. The health benefits of this shake can vary as ingredients change. But with these particular ingredients, you are in for a pack of benefits both from the strawberries, almonds and the Greek yogurt.
You Might Also Like: