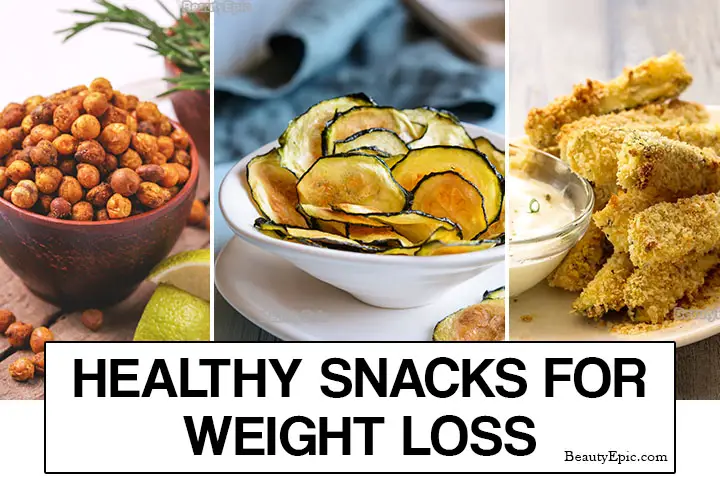 One of the best ways to control the working of your body is to consume the right combination of foods in the right proportions. You can also use this technique to combat weight gain and obesity that becomes more intense as you age. In this review, we have discussed 15 healthy snacks that can directly as well as indirectly help you in shedding your fat stores.
Is Snacking Good for Weight Loss?
Snacking can aid your weight loss efforts, provided that the snacks you choose are low in calories and full of nutrients. Besides selecting foods that can boost your metabolism and replenish your energy needs, you need to regulate the quantity and timings at which you have them to derive the best results.
Healthy Snacks that can Help You Lose Weight
For making your snacks healthier and more nutritious you can include some of the items listed below. These are food combinations that can significantly improve the results of your weight-loss plan.
1. Yogurt with Nuts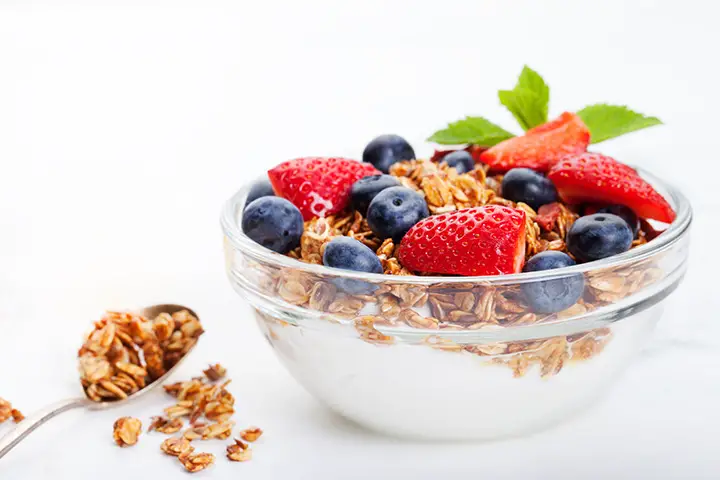 Yogurt blended with nuts makes an incredible combination that can not only satisfy your cravings but also help your body in restoring its energy reserves. Besides being a high-protein diet, the iodine-rich yogurt can improve your metabolic rate and also maintain the level of thyroid hormone produced. Furthermore, nuts like almonds and walnuts can boost the rate of fat metabolism and thereby enhance the results of your weight loss diet and exercises.
[ Read: Low Carb Snacks for Weight Loss ]
2. Shrimp and Cocktail Sauce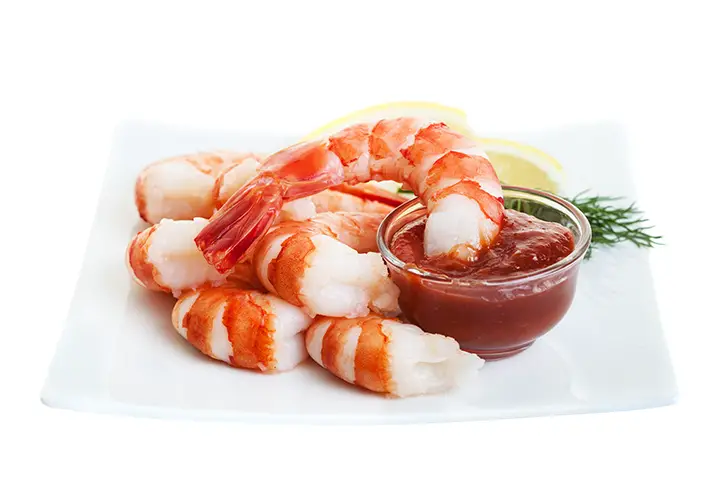 Shrimps are one of the best sources of omega 3 fatty acids including DHA and EPA. This serves as an energy booster that can keep you active for longer hours and thus help you in burning more calories. Shrimp can be prepared in several ways and they taste great when served with cocktail sauce. This is a low-fat sauce made of ingredients like lemon juice, horseradish, and hot sauce. It is a vitamin-rich preparation that can be stored for several days.
[ Read: Healthy Low Calorie Snack Ideas ]
3. Low Fat Cheese
Cheese is a common ingredient used for preparing different types of snacks. It is a rich source of protein and calcium that forms the basis for strong bones and muscles. People who are on a weight-training regimen require a high supply of calcium as well as protein.
A regular supply of calcium also promotes the secretion of various enzymes and hormones that are responsible for improved metabolism and better fat burning process.
[ Read: Healthy Breakfast Ideas Under 100 Calories ]
4. Boiled Eggs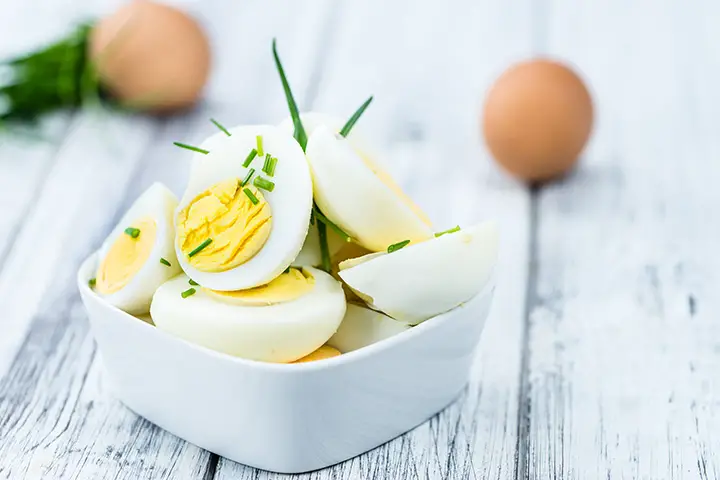 Eating boiled eggs is an effective way to control your hunger pangs which become more prominent when you are working out. Especially, hard-boiled eggs can keep your tummy feeling fuller for several hours. And since no other ingredients are required for boiling eggs, you need not worry about any extra calories.
Both hard-boiled, as well as soft-boiled eggs, serve as a pure source of protein, vitamin B12, iron, and DHA. Vitamin B plays a key role in inducing weight loss as it gradually improves the rate of metabolic activities.
[ Read: Low Carb Weight Loss Recipes ]
5. Popcorn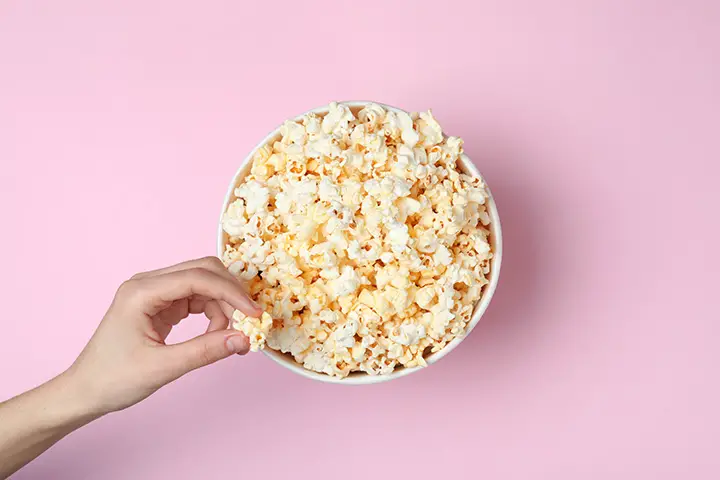 For people who are addicted to the habit of snacking, popcorn can save the day. Besides being very low in calories, popcorn can taste great when prepared in the right manner.
You can also make them spicier by adding some of your favorite seasoning ingredients. Popcorns are one of the best natural foods that serve as a good source of fiber.
[ Read: How To Lose 10 Pounds In A Week ]
6. Oatmeal with Almond Butter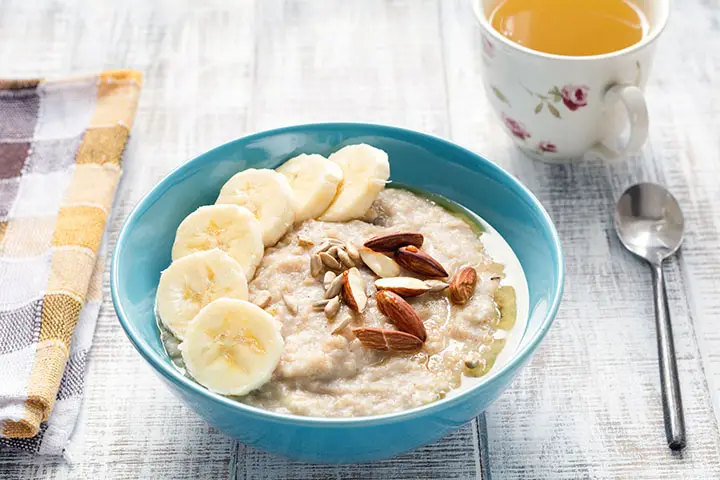 Regular exercise and dieting bring great results during the initial stages but after a certain period, you might witness a gradual decline in the rate of weight loss. During such times you can bounce back by replacing your normal diet with oatmeal.
Oatmeal, when combined with almond butter, serves as a low-fat superfood that can strengthen your digestive tract and help it expel all the toxins. Thus it corrects several factors that have been making your body resistant to your weight loss efforts.
It is a rich source of antioxidants, minerals, and vitamins. The addition of almond butter can make your oatmeal snack further healthier and supply your body with all the essential elements required for enduring long sessions of workout.
[ Read: Bedtime Weight Loss Tips ]
7. Roasted Chickpeas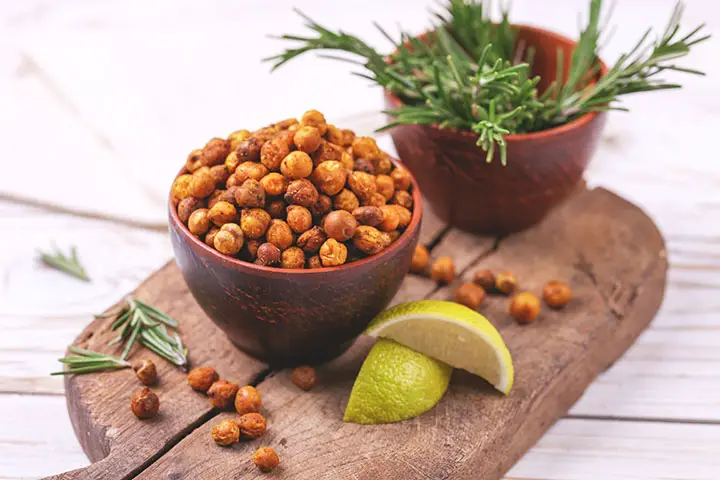 Chickpeas are a rich source of protein that can serve as a vegan substitute for common meat varieties. And when you roast them, you get a sumptuous snack packed with vitamin C, vitamin B-6, iron, calcium, magnesium, and dietary fiber. Chickpeas can be roasted using a wide range of spices like cinnamon, cayenne pepper, and fenugreek.
These spices are popular for promoting healthy weight loss. To make your chickpeas more delectable garnish them with onions and parsley. Including chickpeas in your daily diet can strengthen your muscles and thus make your workout sessions far easier.
[ Read: Detox Juice Recipes for Weight Loss ]
8. Chia Pudding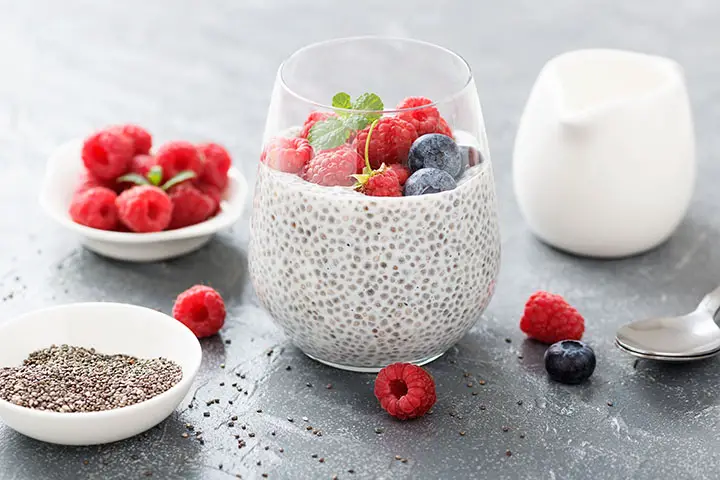 If you want to accelerate the results of your weight management plan then include chia pudding in your daily diet. This amazing recipe is full of dietary fiber, iron, calcium, and protein. Improved fat metabolism and weight loss benefits induced by chia seeds can also be attributed to the considerable amount of Omega 3 fatty acids and magnesium they contain. Snack on a bowl of chia pudding 2 to 3 times a week and you can see the difference within a month.
[ Read: Fruits To Eat To Lose Weight Quickly ]
9. Carrots with Hummus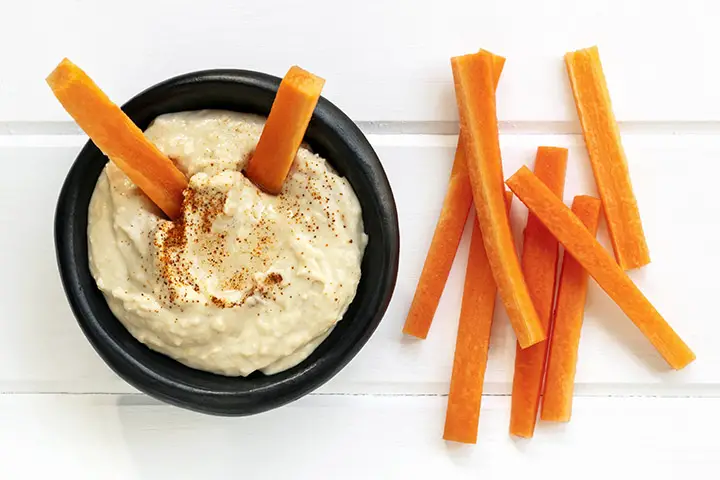 Hummus is a high-protein diet that combines the goodness of sesame seeds and olive oil. It is a low-fat preparation that serves as a rich source of Vitamin B-6, iron, Vitamin E, dietary fiber, and magnesium. Besides offering a rare combination of nutrients that promotes improved metabolism, chickpea hummus can be a filling snack when enjoyed with carrots.
[ Read: Healthy Soup Recipes For Weight Loss ]
10. Baked Sweet Potato with Nut or Seed Butter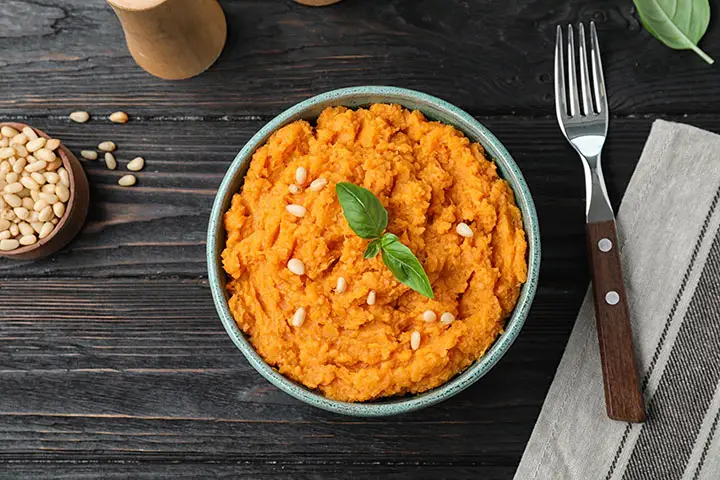 If you are fond of sweet-tasting snacks that do not hamper your calorie intake plan, sweet potato is perhaps the best choice. Packed with vitamins, iron, and a variety of minerals, baked sweet potatoes can be made more palatable and nourishing when mixed with your favorite nut or seed butter.
Compared to nut butter seed butter have a higher concentration of antioxidants and magnesium. However, you can readily use almond butter if you are not fond of seed butter. Almonds are also equally nourishing and come with a group of nutrients that can help your body in recovering faster from the stress induced by your weight loss regimen.
[ Read: Homemade Drinks for Flat Tummy ]
11. Oatmeal with Cinnamon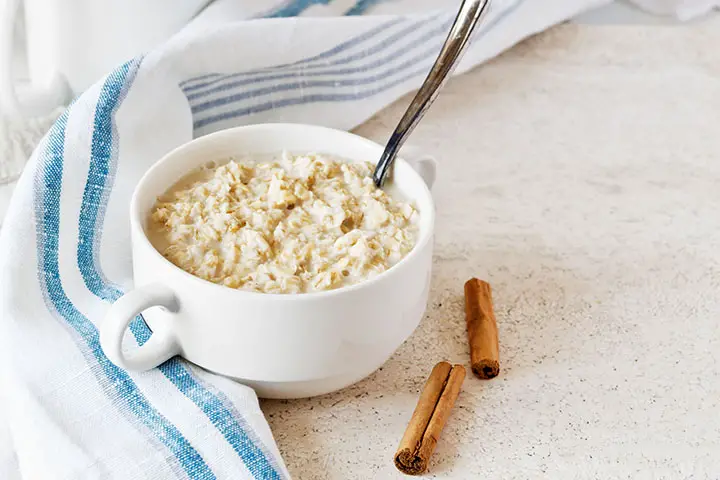 One of the easiest ways to make your oatmeal taste better is to combine it with cinnamon. Rich in antioxidants, cinnamon improves the way your body breaks down fat and glucose. When consumed daily, the strong anti-inflammatory and medicinal properties of cinnamon can improve your energy levels and help your body in eliminating toxins. This would naturally improve the rate at which your body burns the excess fat.
[ Read: Detox Smoothies to Cleanse Your Body and Lose Weight ]
12. Zucchini Fries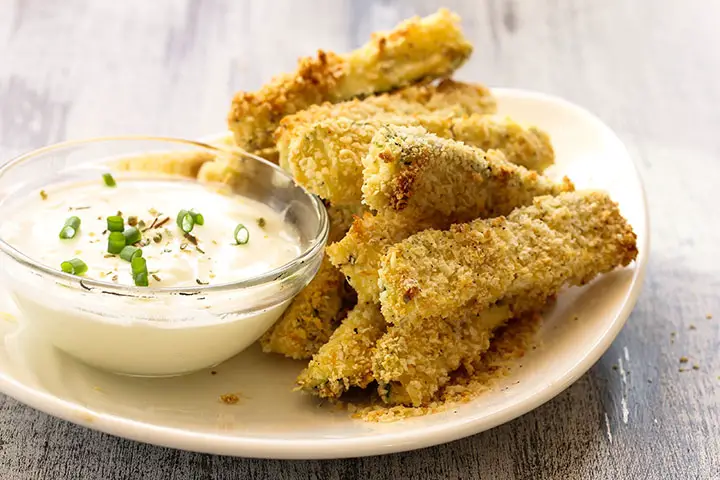 Zucchini fries are made of several ingredients like cayenne pepper, olive oil, garlic, eggs, lemon juice, and yogurt. This makes the preparation a unique combination of nutrient-rich foods that can not only satisfy your cravings but also stimulate your body's weight management system.
You can alter the ingredients to suit your taste and make the preparation as delicious and as healthy as you want. You can also cut down the calories by adding low-fat yogurt or by avoiding egg yolks.
[ Read: 25 Best Weight Loss Tips ]
13. Mini Muffins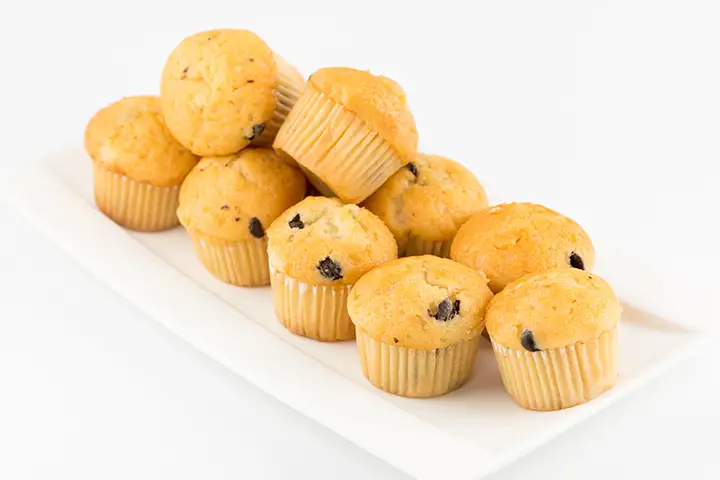 If you are fond of baked snacks, you can certainly enjoy mini muffins prepared with some of the choicest ingredients. To aid your weight loss efforts, you can replace sugar with natural sweeteners like maple syrup, dates, or stevia. You can add to the nutritional value of your muffins by adding dried fruits like apricots, walnuts, raisins, and cashews. These ingredients not only provide weight-loss benefits but also make the muffins taste richer.
[ Read: Chia Seeds and Lemon for Weight Loss ]
14. Blueberry Zucchini Cake with Lemon Butter Cream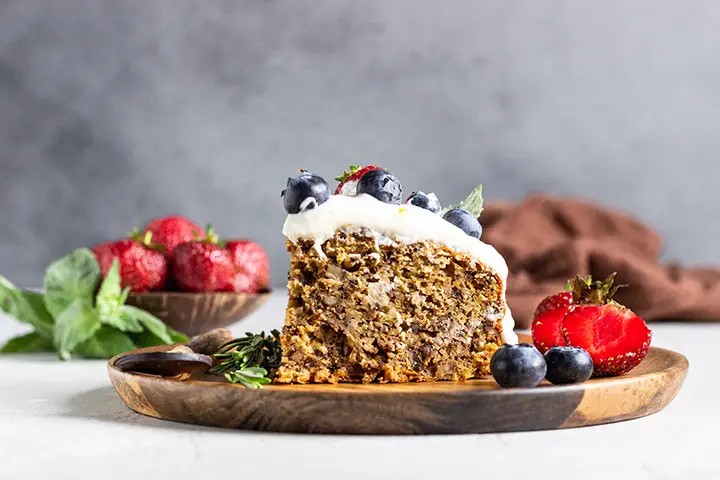 A Zucchini cake can be made in different ways and one of the healthiest methods is to add some crushed blueberries. Berries are packed with antioxidants, vitamin C, vitamin B-6, and potassium. Regular use of blueberries can reduce the effects of aging and keep your body's metabolism fairly high. To make your cake more palatable you can also add a portion of lemon butter cream.
[ Read: Detox Teas for Weight Loss ]
15. Oven Baked Zucchini Chips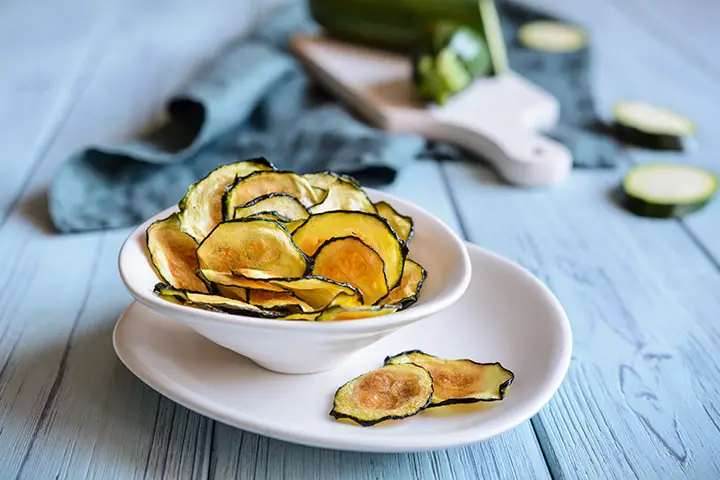 If you are not sure about snacking on Zucchini fries, you can opt for a healthier preparation of baked Zucchini chips. It is an easy-to-make snack that requires only a few ingredients like olive oil and a combination of spices. Filled with antioxidants, vitamin C, and minerals, Zucchini can enhance your weight loss benefits.
They are also beneficial in controlling sugar levels for those who are struggling with diabetes. Note that Zucchini chips are fairly low in calories when baked without adding any kind of oil.
Losing weight is a real challenge for many of us but if you have strong control over your eating habits and calorie intake you can definitely see some amazing results in the long run. By including all or some of the above-mentioned foods in your daily diet, you can not only improve your overall health and energy levels but also lose weight at a faster pace.
You Might Also Like: