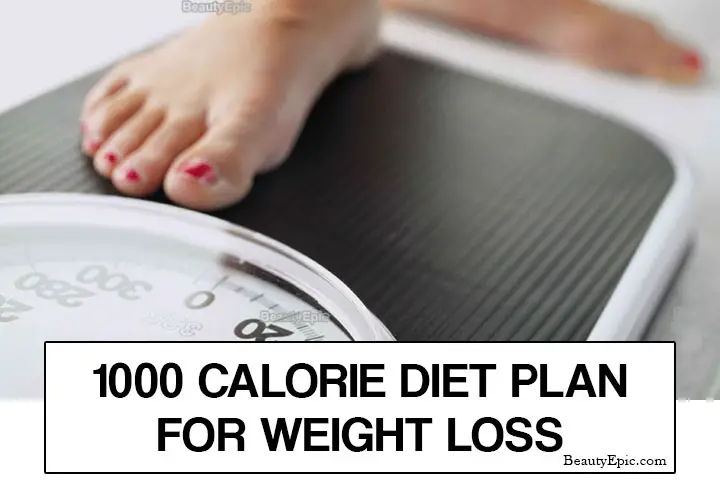 Looking to lose weight fast for an upcoming event? We all want to look at our absolute best whether it is a wedding, a corporate event or our own occasion, right? In such a scenario, you expect a miracle that happens overnight resulting which you lose 1 to 2 pounds in a week. Well, this is not impossible but yes, there are few things you should know if you want to follow 1000 calorie diet.
First of all, you have to give up on all the fatty food items and stick to a diet for a week in order to lose the undesired flab. This diet plan works for those who don't work out because it makes you feel really weak and hungry. Let us see what exactly this 1000 calorie diet plan is:
What Is 1000 Calorie Diet?
You may know the basic definition of this diet plan. Here I will tell you about this with an example. Now by following 1000 calorie diet plan, you are pushing your body to eat fewer calories than it burns. Basically, the weight loss is done by creating calorie deficiency and when that happens, the body loses weight faster.
Take an example, currently you are burning 2500 calories a day and by reducing your calorie intake to 1250 calories, you create calorie deficit in the body. And because one pound of fat contains 3500 calories, you have to burn the extra calories to lose each pound and when you are not taking that much of calories it becomes easier to lose weight. With this reduction of calorie intake, you can lose more than 2 pounds a week.
Limiting the calorie intake definitely makes you lose weight fast but it can pose your body to serious health risks as well. However, we suggest consulting a dietician to know whether or not you should follow this plan. Not only this plan make you lose fat, but also muscles that causes the body to feel really weak.
How To Plan A 1000 Calories Diet
Planning a 1000 calorie diet is not tough if you know the basic ingredients that contain lesser calories. Plus, it is extremely important to cut back the consumption of fats to make you don't exceed the 1000 calories in a day. Drink water, coffee without sugar and milk and diet coke throughout the day for a week when you are on 1000 calorie diet.
The diet plan we have mentioned below contains 1000 calories, 21g-25g fat, 60-70g proteins, and 145g-150g carbohydrates.
[ Read: 1200 Diet Plan for Weight Loss ]
Breakfast
In breakfast, you should consume apple oatmeal. To make that, you need ½ cup water, 2 oz. oatmeal, ¼ tsp cinnamon, ½ a grated apple, and ¾ cup skimmed milk. Boil the water, half of the milk and oats in a pan for 5 minutes and then add grated apple. Pour in the remaining milk to cool.
Or
Eat banana sandwich with orange juice. 2 slices of whole meal bread and a small banana will do the deal.
Or
Make banana smoothie by blending 1 cup fresh berries, ½ cup low fat yogurt, ½ banana, ½ cup water, 1 tsp honey and 1 tbsp flax seeds.
[ Read: Zero Calorie Foods ]
Morning Snack
For morning snack, go for 100g low fat fruit yogurt
Or
Veggie smoothie made with cucumber, carrot, spinach, and tomato
[ Read: Healthy Weight Loss Smoothies ]
Lunch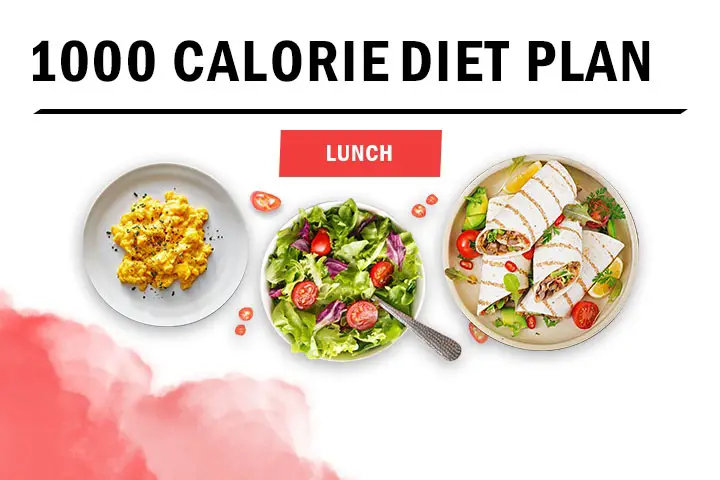 At lunch time, go a little heavy with 1 wholemeal roll filled with tuna and mayonnaise
Or
Mixed salad made with lettuce, spring onions, and yellow sweet peppers
Or
Scrambled eggs by beating egg with milk and then scramble in a pan. You need 1 egg, 1 slice whole wheat bread, 1 tbsp fat free milk, and ½ oz of cheddar cheese. When you are done with scrambled eggs, put it on toast and add some cheese on the top.
[ Read: 7 Day Flat Belly Diet Plan ]
Afternoon Snack
Keep it light with low fat crisps
Or
1 orange
Evening
Evening time is the best time to eat your favourite items. Prepare a low calorie hot chocolate drink and sip in while watching PLL.
Or
Green tea and 2 oats biscuits
[ Read: 3 Day Diet Plan for Weight Loss ]
Dinner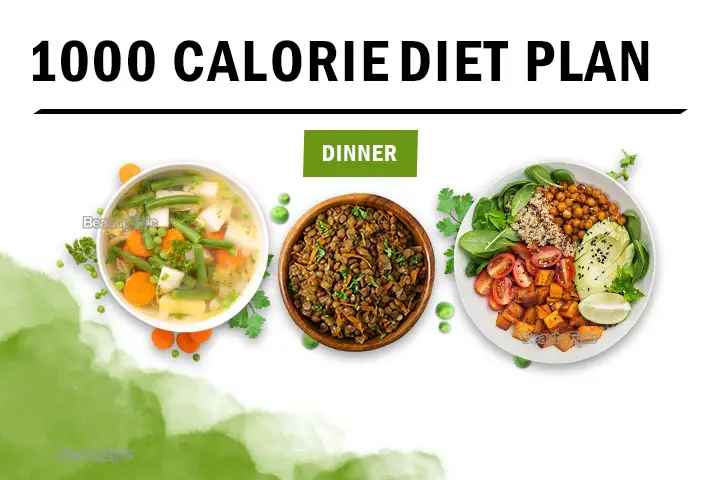 You can eat vegan salad with fat free salad dressing
Or
A bowl of boiled lentils with capsicum, stir fried French beans, chopped garlic, and peas
Or
Vegetable clear soup with 2 slices of whole wheat bread
[ Read: Best Foods to Eat to Lose Weight ]
How Many Pounds Do I Lose If I Eat 1000 Calories A Day?
Well, it is hard to tell because there is a variation in the bodies, genetics, age, gender, diet, and shape. People go on 1000 calorie diet to reduce weight rapidly which is not very well suggested but if you are on an agenda, you can go for this if the doctor allows you. With 1000 calorie diet, you will be able to reduce 8% of fat and 1 to 2 pounds in a week. As this 1000 calorie diet is not suggested for more than a week, it would be best if you don't continue with this.
Tips & Precautions
Here are few precautions you need to take while on 1000 calorie diet plan:
Avoid consuming oils like coconut, walnut, palm, avocado, ground nut, and animal fat oil. Plus, stay away from the peanut butter, almond butter, cream cheese, ghee, cashew butter, and cheese
Avoid dates, figs, cranberries, prunes and apricots
Don't eat walnuts, chia seeds, coconut, and peanuts etc.
Foods like mango, litchi, soybeans, corns, potatoes, and custard apple must be avoided
Add vitamin B, fibers and proteins in your diet
Reduce the intake of carbs and trans fats in your body
Add orange, kiwi, pears, strawberries as they have minimal calories
Consume more leafy greens like spinach, zucchini, broccoli, and celery etc.
[ Read: Flat Belly Diet Drinks ]
Is It Healthy To Eat 1200 Calories A Day? Or Shall I proceed with 1000 calories diet only?
Let me explain in detail!
Eating 1200 calories a day is not a bad idea definitely. Women who weigh more than 165 pounds and people who are leading an active life should stick to 1200 calories a day. If you are trying to lose weight in a week, 1000 calorie diet plan is perfect for your body. Yes, it does come with few cons but the cons don't matter that much if you lose the desired weight for something specific.
Besides, if you are looking to shed weight following health approach, then 1200 calories a day is suitable as compared to the 1000 calorie plan. Before starting any diet routine, don't forget consulting the doctor as he knows your medical history and food items you are allergic of.
While 1000 calorie diet is capable of making you lose weight rapidly, hanging on to this diet for long can prove harmful for your health. If you are looking to shed that flab off your body, 1000 calorie diet is a good choice but only when followed for a week or so. With 1000 calorie diet, you feel tired, hungry, weak, and low in energy. So unless there is no specific purpose of losing weight in a week, it is suggested to take proper doctor consultation as the doctor can tell whether or not you can follow this diet plan. Have a good day!
You Might Also Like: