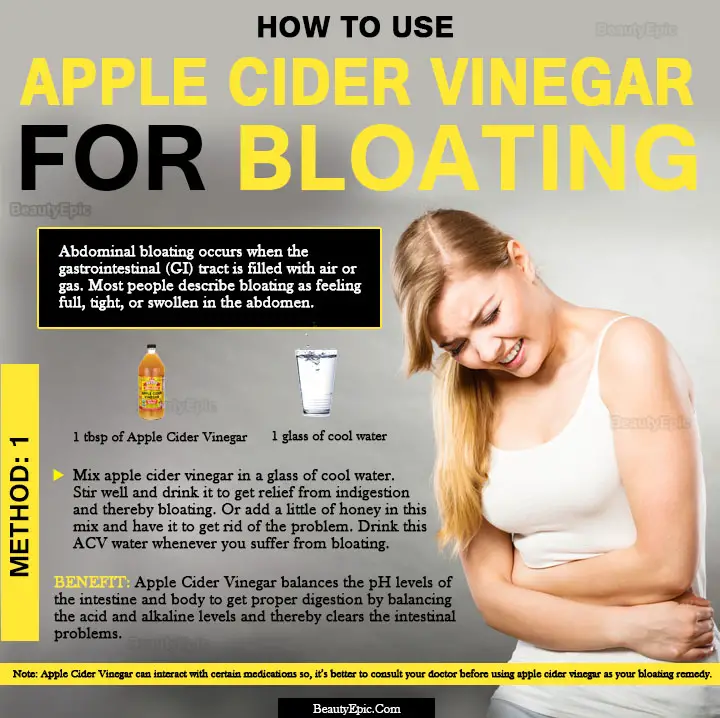 Weddings, festivities, Parties are certainly jolly! So have you indulged in overeating and is your stomach feeling tight, puffy and uncomfortable? So now it's time for you to search for some effective remedies to keep this feeling at bay! Bloating is the swelling up of the abdominal area/ diameter with air or gas. It makes you uncomfortable, tight and uneasy. It also can cause symptoms like nausea, flatulence, frequent burping and Abdominal cramps. There are several other causes for bloating like indigestion, water retention etc. Apple cider vinegar (Commonly called as ACV) is one of the famous folk remedies to treat many ailments and of course bloating too. ACV is the fermented version, made from the apple extracts rich in many nutrients and known for its various health benefits. Here are some effective ways to use apple cider vinegar for bloating relief .(1)
Let's take a look at this magnificent natural ingredients' role to cure bloating.
How to Use Apple Cider Vinegar for Bloating
ACV's acidic nature supplies digestive acids to our body which helps break down food and digestion easy and also its antibacterial and anti fungal properties improves bowel irregularities.
1. Apple Cider Vinegar Drink for Bloating
You'll Need:
1 tablespoon of apple cider vinegar
1 glass of water
How to do:
Take apple cider vinegar and dilute it in 1 glass of water.
Consume this solution to fight away bloating symptoms.
Best Time to Drink: You can also take it as a preventive measure by consuming this well before any meal.
Tip: If needed you can also add a teaspoon of honey for better taste. Include ACV in tea, salads etc.
Note: Apple cider vinegar has a sour taste hence it can be can be diluted in water.(2)
2. Apple Cider Vinegar and Baking Soda for Bloating
Ingredients:
1 teaspoon of baking soda
2 tablespoons of apple cider vinegar
1 glass of water
How to Prepare:
To make this solution take both the ingredients and mix in a glass of water
Stir and mix all these ingredients and consume this.
Repetition: Consume this mixture 2-3 times a day to prevent the signs of bloating and indigestion.
How it Works: Baking soda acts as an antacid and works very well with ACV which is abundant in enzymes to fight the signs of bloating.(3)
[ Read: How to Use Baking Soda for Bloating ]
3. Ginger and Apple Cider Vinegar for Bloating
ACV with Ginger makes a very good combination as ginger is known to treat intestinal gas and indigestion. For making this recipe mix the below ingredients(4)
1-2 teaspoons of ACV,
¼ cup fresh apple juice,
1 tsp Honey/ maple syrup to enhance taste,
a pinch of cinnamon,
I tsp grated ginger and 1 cup of water.
Stir them all and consume. Also Include this as your morning drink to prevent bloating.
4. Apple Cider Vinegar and Lemon for Bloating
Ingredients:
juice of one lemon
1- 2 table spoon of apple cider vinegar
2 cups of warm water
How to Prepare:
Mix juice of one lemon and 1- 2 table spoon of ACV and 2 cups of warm water.
Stir well and consume.
This solution will help detoxify your body, remove toxins from the digestive tract and relieves bloating.
Benefit: Lemon boosts up the immune system as its cleanses your system and aids digestion.(5)
[ Read: How Does Peppermint Tea Reduce Bloating ]
5. Apple Cider Vinegar- Organic Brew
Green tea is rich in antioxidants and along with ACV makes it an efficient tonic that helps relieve bloating. To prepare this brew we need the below ingredients:
A cup of Organic green tea
Juice of 1 lemon
1 Table spoon raw ACV
A tsp honey for taste.
Mix and stir all these ingredients and consume this ease out the bloated stomach.
Tips and Precautions
Avoid eating fast and chew your food properly for better digestion
Avoid eating late, it's always good to take meals on time for a healthy tummy.
Avoid drinking water along with food as this dilutes the stomach acids, Rather drink it half an later at least.
Always buy organic and raw ACV. Raw ACV will mean that it has not gone through any of the filtration processes that would make it less effective.
Hence folks, try these natural recipes with ACV to keep bloating at bay. With ACV being easily available prepare these recipes with ease and reap the benefits! However, if the bloating still bothers you then we suggest visiting a doctor to consider other reasons that could determine the causes of bloating for which medical treatment would be needed.
Scientific Evidence:
You Might Also Like:
Image:- 1