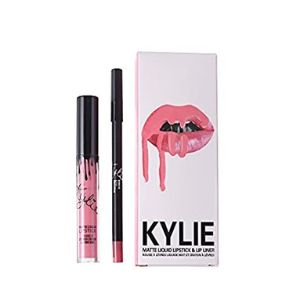 The multi-purpose lip kits from kylie have made a lot of things easy. They are highly pigmented, high-quality, and give a stunning result with a single swipe, proving worth the hype. However, when we talk about the price, half of us won't be able to afford it.
The good news is there is a affordable alternative to Kylie's lip kit that offers almost similar results and stands out in terms of quality and price. Colourpop Cosmetics and Kylie Cosmetics seem eerily similar not only in their formulation but in the range of shades as well. When we talk about ColourPop Cosmetics' price, they are way less than Kylie's, making them perfect for mainstream consumers.
We have listed the five best and high-rated Kylie Lip Kit alternatives from Colourpop that will surely win your heart. But, before knowing them, let us understand what makes ColourPop lip products worth your money and time.

Ingredients
ColourPop lipsticks are undoubtedly one of the most celebrated lipsticks of the time. They are rightly pigmented, highly affordable, and feature a long stay, creating beauty biz among makeup enthusiasts.
If you want the best lipsticks for your vanity bag, dropping cash on Kylie lip kits will not be a wise decision, as ColourPop promises to deliver the same result at a fraction of the price. The Lippie Stix Kits from ColourPop are the new fad and grabbing popularity with each passing day.
Lippie Stix consists of Vitamin E, mango, avocado, and shea butter that adds to comfort, nourishment, and moisturization of lips. Since the lippies from ColourPop are free from ingredients like sulfates and parabens, they are perfectly safe for the lips. You can get multiple shades of ColourPop lipsticks like nudes, purples, reds, and pinks that will suit different moods.
Using a ColourPop Lippie Stix Kit
If you have eyes on ColourPop Lippie Stix, it is essential to know the correct ways to use them for the best result.
Step 1- Exfoliate the lips and use a Lippie primer for smooth application and comfortable wear.
Step 2- Use a Lippie pencil to line lips that will help to attain a perfect finished and fuller look to the lips.
Step 3- Apply Lippie Stix and fill the lips properly.
Following these steps will ensure that Lippie stix will apply properly and evenly on lips and stay for long hours.
Features Of ColourPop Lippie Stix Kit
ColourPop Lippie Stix Kit comes in good packaging, usually in a hard cardboard box with a magnetic closure. You will get a mirror inside the box so that you can check your lips each time you apply the products. Perfect packaging is the add-on of ColourPop that gives the best first impression of the product.
The smell of Lippie stix is close to the pleasant smell of sweet vanilla, which is not too overpowering but still noticeable.
Some other features of the ColourPop Lippie Stix Kit include the following-
Formula, Texture, And Pigmentation- In almost every shade, the formula is consistent. The texture is smooth, nice, soft, and creamy, giving decent pigment on lips and opaque coverage in a single swipe. Easily buildable, the Lippie does not accentuate the fine lines of lips.
Finish, Wearability, Transferability, Staying Power- Lippie stix delivers a beautiful matte finish to the lips that are comfortable to wear and doesn't dry the lips. At the same time, they do not turn patchy and feature good intensity on the lips.
5 Best Similar Kylie Lip Kit Colourpop Products
1. Colourpop Matte X Lippie Stix (Cami)
The cool toned mauve color in this matte lippie stix delivers full coverage.
It is a super matte lipstick that feels velvety and light.
Free of parabens and sulfate that can harm the lips.
Vegan and cruelty free, suitable for everyday wear.
2. Colourpop Lippie Pencil – Bff Pencil 2
Long-lasting and smudge proof lippie stix that can be applied daily.
Light peach nude color gives sheer beauty to the lips.
It is highly pigmented and provides nourishment to the lips.
Prevents feathering and chapping as it consists of lip nourishing ingredients.
3. Colourpop Lippie Pencil – Bff
It is a warm nude pencil with high intensity.
Highly pigmented to deliver the perfect color to the lips.
It stays longer and made for long wearing.
Smudge-proof formula with highly pigmented color.
It is vegan and cruelty-free.
4. Colourpop Matte X Lippie Stix (Love Life)
Created to provide high intensity full coverage pigment with one stroke application.
Consists of long wearing formula that has the smoothest, most velvety glide without any uncomfortable dragging or pulling.
Delivers super matte finish to the lips without making them dry or cracking.
Feels light and flexible on the lips.
5. Colourpop Ultra Matte Liquid Lipstick (Bumble)
Highly pigmented lipstick that delivers super matte finish to the lips.
Keeps lips soft and comfortable throughout the day.
Stay for long hours and is suitable for long wearing.