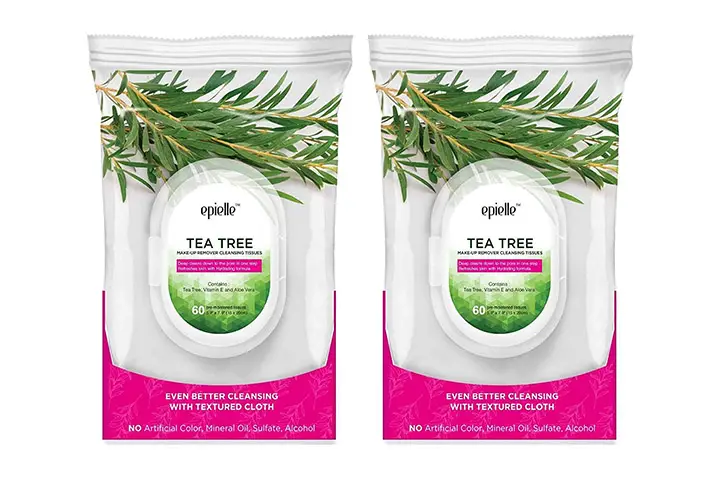 Epielle fresh tea tree makeup removing cleansing tissues help to remove all traces of makeup. These wipes dissolve dirt and oil to give you clean and refreshed skin.
They effectively remove stubborn makeup, debris and oil while moisturizing skin. These wipes work great to remove the impurities, moisturize your skin and help to eliminate makeup.
Epielle Fresh Tea Tree Makeup Removing Cleansing Tissues
How it Works:
These cleansing tissues are specially designed to take out dirt, oil,makeup and even the stubborn waterproof mascara.
They quickly work and leave your skin clean, fresh and hydrated anytime, anywhere!
The natural ingredients of this product are tea-tree oil, which works as anti-bacterial and help to reduce acne scars and leave your skin smooth and clean.
They also enriched with vitamin E,acts as a cleanser by keeping away dirt,grime and other impurities.
Aloe vera leaf extract soothes your skin.
Pros:
Value size pre moistened cleansing wipes with flexible flip-top.
Oil free and hypoallergenic.
Will not leave any oily residue.
No mineral oil,no alcohol and no sulfate.
Gently cleanses away dirt and debris.
Cons:
For some it may irritate eyes.
More wipes required to remove tough makeup.
Rating: 4.4 out of 5
These portable facial tissues can be carried easily. They are also alcohol and mineral oil free. The natural ingredients of this product boost up the freshness of your skin.
Frequently Asked Questions ( FAQ's )
Q. Are these wipes paraben free?
Ans: Yes, it's paraben free.
Q. Would these wipes be used for pets?
Ans: No .They will not be suitable for pets.
Alternate Products:
You Might Also Like: