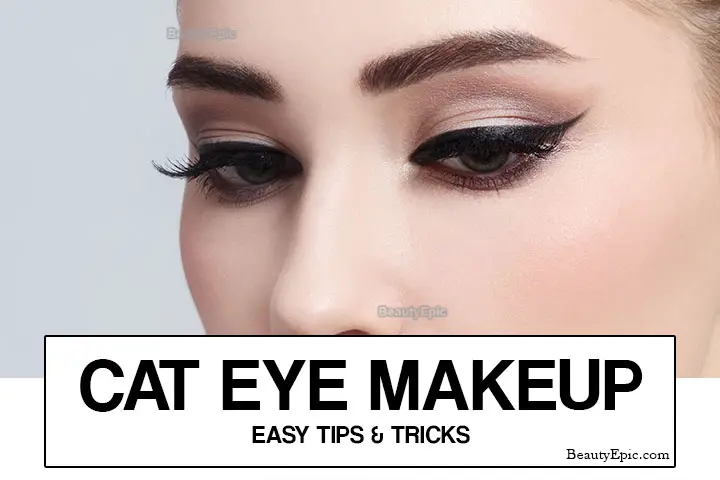 Cat's eye looks enchanting. The outline and the slender shape makes it seem like it has a lot to say. The cat eyeliner look is quite popular in the world of makeup for a long time now. As a matter of fact, it has been flaunted by several women who are fashion savvy. The look is here to stay. Better try it out and perfect it, right now. There are certain things that should be taken care of prior to starting with the makeup. Make sure that you pay attention to the steps that have been given below.
Cat Eye Makeup: Easy Tips & Tricks
Prep Your Eye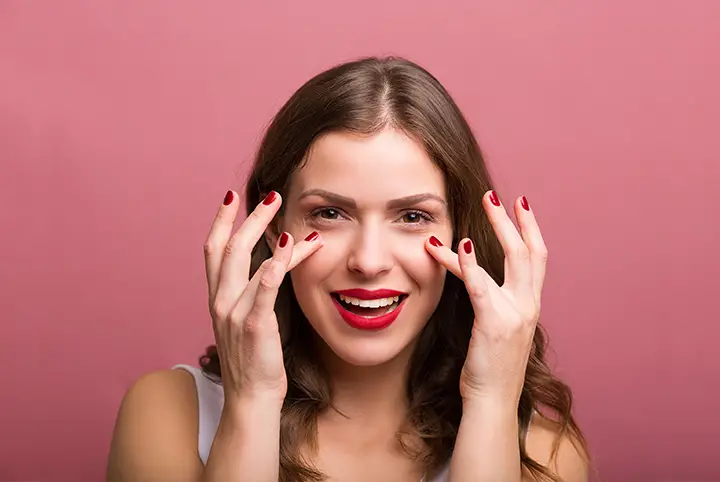 You have to create a base for your eye makeup. It is necessary to clean, tone, and moisturize. In case you have redness around the eyes, puffiness, or dark circles, you have to use an eye cream or an eye serum. These can work wonders. In order to ensure that the makeup is sitting well on the face, use a primer.
[ Read: How To Do Smokey Eye Makeup ]
Choose an Eyeliner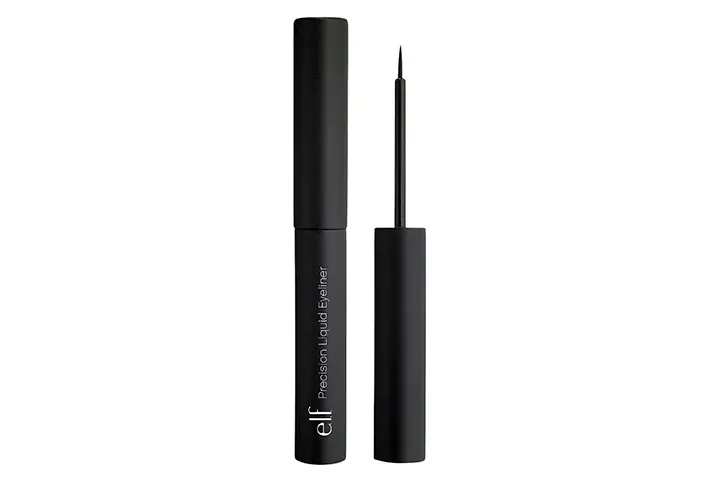 When you are done with the base, you have to select a product which will work for you. If you want, you can use a liquid liner that comes with a thin brush applicator or use a felt tip pen. A gel-based liner available in a pot can also be used. For this, you will have to use an eye-liner or angled brush. To make it simple, it is better to use a felt tip liner. It is easy to use when you are a beginner. Now, take a look at how to do cat eye makeup.
[ Read: How to Apply Eyeliner Like a Pro ]
Lining The Upper Lash Line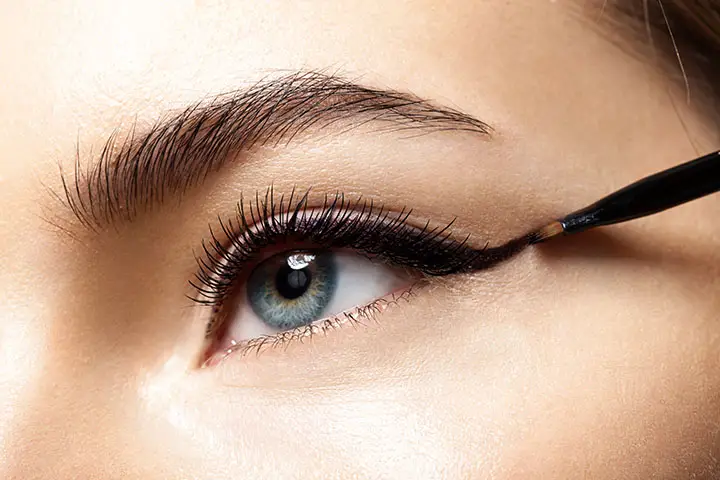 Use slow strokes for lining the upper lash line. You have to start with smaller strokes. Make sure that you do not rush as it can mess up the makeup. When you use smaller strokes, you will be able to increase the thickness, gradually according to your requirements.
[ Read: How to Apply Liquid Eyeliner ]
Find the Right Angle
Follow the eye's natural shape as it will guide you where the flick has to go. Consider the lower lash line to be extended. This is the angle where you will have to create a flick. For mapping out the shape, you can use an angled brush or an eye shadow.
It is important to use the best quality eyeliner and the angled brush so that you get the desired look without much effort.
[ Read: Simple Makeup Tips for Hazel Eyes ]
Draw the Flick
When you have figured out the angle, you will have to use dotted motions using the eyeliner for creating the flick. When you use the dots, you can understand what the final shape is going to be like. When you are done, join the dots and fill for connecting the line which you have drawn over the last line.
Clean
In case the shape of the makeup is a little wonky, use a concealer or a cotton swab for correcting it. Now, you have the perfect cat eye, ready to turn heads.
[ Read: How to Fill in Eyebrows With a Pencil ]
Play With The Cat Eye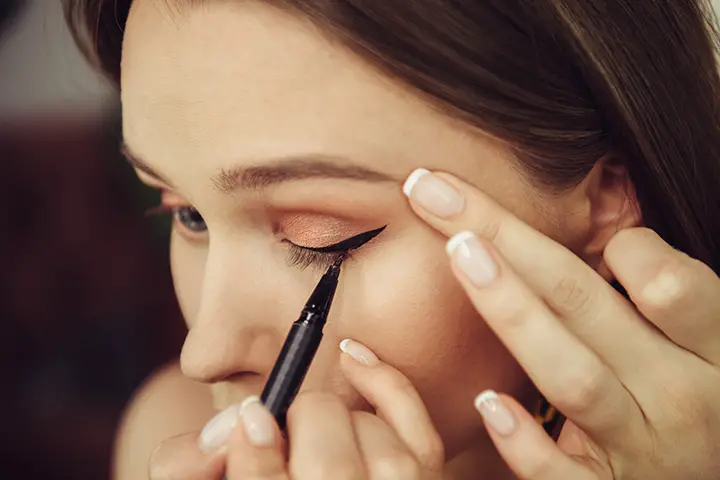 (i) Thickness: Do you want to make it a little bold? All you have to do is make the line over the lashes a little thick.
When you have a thicker and rounded look, it is going to make the eye appear bigger. In case you have to elongate the eye shape, make a thin line. When you have a thinner cat eye, it gives the appearance of longer eyes.
(ii) Length: If you want, you can also try out flicks with different lengths. However, don't play too much. In case you have to keep it a little simpler, go with a tiny flick. This is called the kitten eye.
If you have to go for a dramatic look, the flick can be made a little longer. Make sure that you don't go to the extreme with any of these as it might appear out of place.
[ Read: Eye Makeup Tips for Small Eyes ]
(iii) Shape: Another thing that you need to take into account is what type kind of shape you want. A sharp or straight flick is going to offer an edgy appearance. However, when you go for a curved one, it will make you look graceful.
It is better to use liquid eyeliner to get the perfect cat eye rather than using the pencil liner. Never add other fashionable items like glitter or shimmery lips to cause interference to the simple looks.
You shouldn't pull the skin near the brow bone when you are creating the flick. This can end up messing up the flick shape. You should rather look down so that your skin is smooth and you can work on it easily. Get a makeup mirror as it can help you with perfecting the details.
Use a dressing or a vanity table when you are applying eyeliner. It will hold the body in a proper position. While you are doing the makeup, you can simply rest the elbow on the table. This way you will have a steady hand and also a steady outcome. Now that you have all the tips to get the perfect cat eye makeup, what are you waiting for? Go flaunt it, girl!
You Might Also Like: