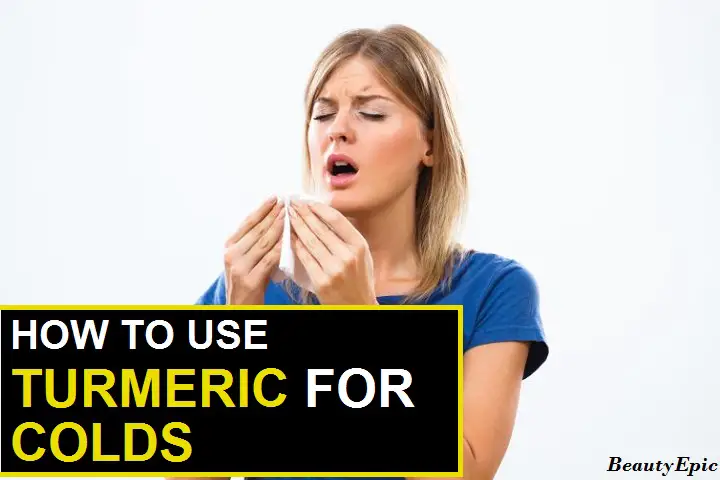 Cold is a common problem among people in Winters. This is also why it is called as common cold. One of the reasons of common cold is the weak immunity of body. Turmeric has been a great medicine for common cold kind of diseases which not only makes you feel better during cold but also boosts Your immunity. Here we share with you some amazing ways to use turmeric for colds.(1)
Does Turmeric Prevents Colds?
Turmeric has several health benefits and is renowned for the treatment of cold.
In the Indian subcontinent, turmeric has been used for the prevention of cold for years, Soon the technique becomes common in the whole world.
In addition there are several herbs which are also an effective aspect in treatment of colds like lemon, honey, ginger etc.(2)
How to Use Turmeric for Colds
1. Turmeric Milk for Colds
Cold is annoying phenomenon. Turmeric is one of the best medications for colds. You can take turmeric tea for the same but turmeric milk is recommended to have more effective results.(3)
Ingredients:
Preparation time: 2-4 minutes.
Procedure:
Take 1 glass of hot milk
Add 1/4 teaspoon of turmeric powder
Add sugar to taste
How it works: Turmeric milk is a mixture of several nutritious elements, increasing your immunity and lowers down the cold effect.
Usage: It is quite alright if one takes it 7 days a week, but 3-4 days can be enough for cold.
[ Read: How to Use Apple Cider Vinegar for Colds ]
2. Ginger and Turmeric for Colds
Like turmeric, ginger is also immensely helpful in colds. Mixture of ginger and turmeric, the ginger turmeric tea has incredible benefits on colds.(4)
Ingredients:
Fresh Ginger
Turmeric
Water
Lemon can be added
Preparation time: 5 minutes.
Procedure:
Take 1 cup filtered water
add ginger (about a inch)
Add 1 teaspoon turmeric
mix 1/2 lemon
How it works: Ginger Turmeric tea has powerful antioxidants that work accordingly on cold and increases the body immunity.
Usage: once in 2 or 3 days is an ideal dosage.
Tips: Avoid taking too much of tea, it may be not suitable for your body.
[ Read: How to Use Garlic for Cold ]
3. Honey and Turmeric for Colds
Honey is primarily a single solution of several health issues. Honey and turmeric mix is also a great medication for cold. The mixture has potential to develop a good immune system.(5)
Ingredients:
Preparation time: 4-5 minutes.
Procedure:
Take 1 tbsp turmeric powder
Add 100 gm honey to it and mix well
How it works: Honey has great benefits in cold and turmeric Honey mixture is does a wonderful medication.
Dosage: taking the mixture for 3 to 4 days will be very helpful in cold.
[ Read: How to Use Oregano Oil for Colds ]
4. Turmeric Tea for Colds
Turmeric tea is quite a useful tonic in colds. Since turmeric is anti inflammatory and contains several elements for colds, turmeric tea is a wonderful medication. Turmeric tea is also an effective ways for the weight loss.(6)
Ingredients:
Turmeric
Water
Lemon for taste
Preparation time: 8-10 minutes.
Procedure:
Take about four cups of water
Add one teaspoon of turmeric
Add lemon for taste
How it works: turmeric tea has potential to cure cold, it works effectively along on cold and boosts immunity.
Repetition time: Every third or fourth day shall be a ideal dosage.
Tips: Do not take it on regular basis on long term.
Cold is a common problem and is often deemed as an irritating one. One of the most effective methods is Turmeric. It is often believed that natural medication has no side effects and is more suitable. We have been using herbs like turmeric, ginger, lemon and honey for thousands of years. Using them for treating colds and boosting immunity is a natural, effective and easy process.
Scientific Evidence:
You Might Also Like:
Image:- 1