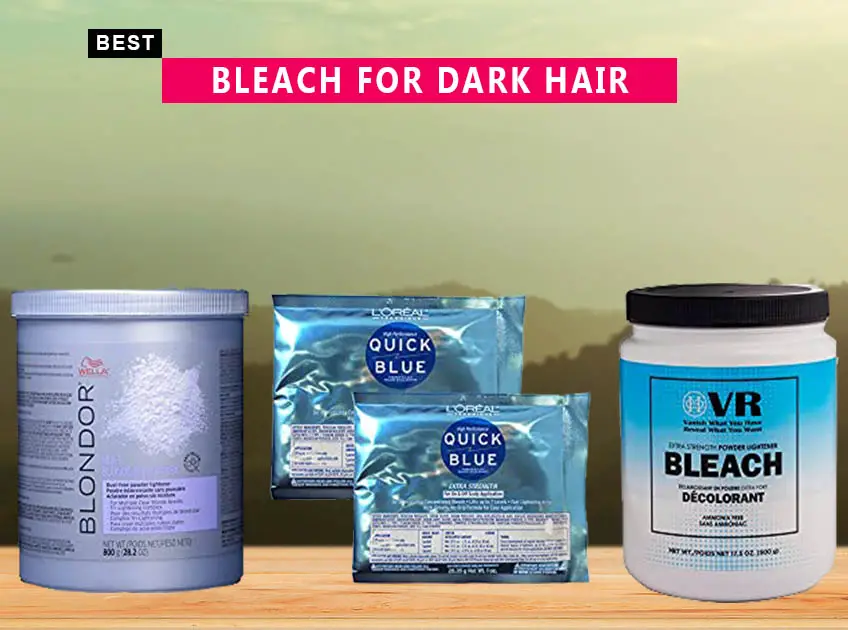 Choosing the right bleach is a challenging task. You can't just apply bleach to the hair until you don't know how it can affect your luscious locks.
The function of bleach is to strip the color of your strands. The process begins with an alkaline agent that opens up the hair cuticles, followed by the application of an oxidative agent that penetrates the hair cortex and dissolves the hair's natural melanin.
Bleach For Dark Hair
Since black is the darkest color, bleaching takes time. Also, using the right bleach to work on black hair becomes essential. Even though dark hair takes more than one session to strip off its natural color, the bleach must be effective.
We have listed the 7 best bleach for dark hair. Check them out!
7 Best Bleach for Dark Hair
1. Bleach With Anti-yellow Agents: Schwarzkopf BlondMe Bond Enforcing Premium Lightener
It has anti-yellow agents so that your hair won't turn brassy
It is a dust-free powder; therefore, it is not grainy and dusty
A floral scent that's not too overpowering
What We Don't Like: The product will not rinse out at the first wash, so be prepared to spend some time in the shower removing it.
2. Bleach for sensitive skin: VR Blue Bleaching Hair Powder Extra Strength Lightener & Toner by Cocohoney
Neutralizes brassiness with its blue powder
Good for sensitive skin
It has a nice, gentle texture
What We Don't Like: If you have darker hair, 2-3 sessions will help to bleach them properly. So, it is time-consuming.
3. Perfect Lightener: Wella Blondor Multi Blonde Powder Lightener
Works well with all types of hair
Won't dry out hair and deliver intense and vibrant color results
Infused with the highest quality ingredients
Prevents breakage and overdrying
What We Don't Like: Its formula is strong; therefore, people with sensitive skin should do a patch test first.
4. Extra Strength Lightener: Clairol Professional Basic White, BW2
Recommended for off-scalp treatments such as ombre, highlights, or balayage.
It provides a good lift but makes sure not to leave it in for too long
Keeps your hair soft and smooth
Doesn't break or chemically damage your hair
What We Don't Like: The bleach is one of the strongest, so be very careful and do a patch test first. IT may give different results on different skin types.
[ Read: Home Remedies for Damaged Hair ]
5. Keeps hair hydrated: L'OREAL PARIS Quick Blue Powder Bleach
It keeps your hair's moisture in place
It has a durable hair color and shines
Prevents hair from breakage and damage
What We Don't Like: 2 or 3 sessions might be needed to achieve level 9 or 10 blond hair. Also, due to its strong formula, it can cause skin irritation.
6. Aromatic Bleach: MASIL Dual Glam Self Hair Highlight Bleach Kit
Leaves your hair smooth
Doesn't dry out your hair
Features a pleasing smell that is not overpowering
It can be spread easily and evenly
What We Don't Like: If you have greys, this bleach for dark hair won't cover them.
[ Read: How To Highlight Hair At Home Without Foil ]
7. Bleach Hair Faster: Splat Lightening Bleach Kit
Restores hair moisture and health
Less time-consuming as you can leave the bleach for 30 minutes at most
It comes with shampoo, gloves, oxide, conditioner, and even one bleach and one color of your choice
What We Don't Like: If your hair is already damaged, skip this and opt for something gentler. This is recommended for people with healthy hair in a rush.
Conclusion
Now that you know some of the best options in bleach for dark hair, do not waste any more time grabbing them. Since these products often remain in demand, they go out of stock very soon.
Also, remember to perform a patch test before slathering the entire bleach on hair to know how it reacts with your skin. Since every hair type and skin type is different, bleach that suits one person may not suit the other.
So, make the right choice and purchase wisely.
You Might Also Like: