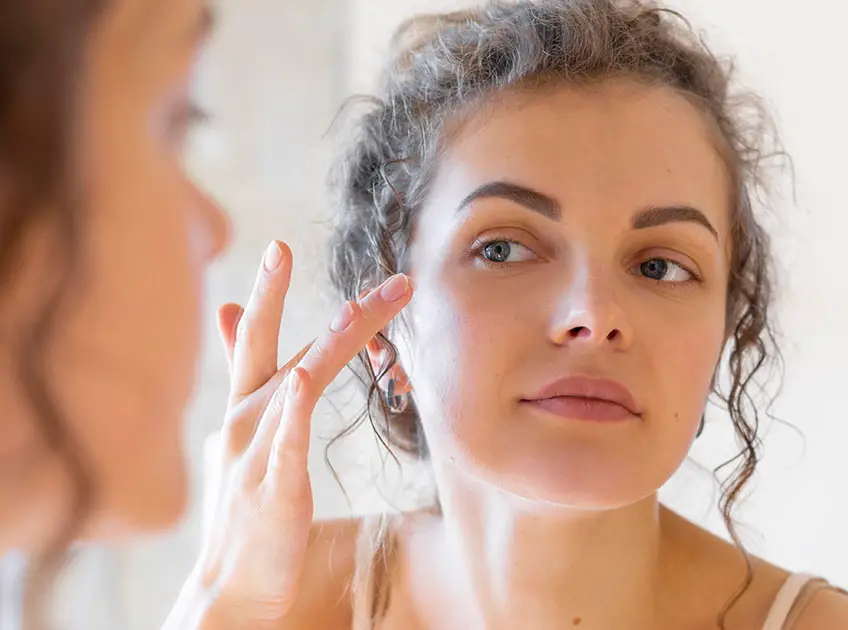 Ageing spots develop irrespective of ethnic background or skin color. They appear on the exposed skin areas such as
hands, shoulders, neck, chest, back and face, because of exposure to the sun. It results in melanocyte production that increases melanin in the skin, turning the skin darker. These age spots are harmless and non-cancerous. Let us see some natural ways of dealing with these.
Apple Cider Vinegar and olive oil for Age Spots
1. Apple Cider Vinegar and Olive oil
It has natural alpha-hydroxy acids which can lighten the sun and ageing spots.
Process: To use it, combine olive oil with it, so it will prevent the skin from dryness. Apply the mixture to the skin and wash it off after 20 minutes to experience a softer skin.
Tip: Those having sensitive skin will experience stinging and redness on using it, so it is better to dilute it with some water.
[ Recommended: How to Get Rid of Age Spots on Your Hands ]
2. Apple Cider Vinegar and Aloe Vera
The astringent properties of apple cider vinegar help in killing the acne-causing bacteria.
Process: Take 2 tbsp of organic apple cider vinegar in 2 cups of filtered water and add 1 teaspoon of fresh aloe vera gel. Mix the ingredients and store them in a spray bottle. After cleansing your face, use the toner to clarify and hydrate your skin.
3. Apple Cider Vinegar and Baking Soda
These ingredients fight acne and unclog the pores, making the skin clearer.
Process: Mix 2 tbsp of organic apple cider vinegar with 3 tbsp of baking soda. Apply it to the cleansed skin and rinse off once the mask dries up.
4. Apple Cider Vinegar and Honey
Process: Take apple cider vinegar, honey, and green tea, 1 teaspoon each, and half a cup of water. Add 3 tsp of granulated sugar to the water. The green tea needs to be boiled in water, strained and cooled down. To this, the other ingredients have to be mixed and scrubbed on the face to have smooth and spotless skin on regular use.
5. Apple Cider Vinegar Steam
Process: Mix 4 tbsp of organic apple cider vinegar in steaming water and add some tea tree oil drops to it. Let the mixture seep into the pores so the skin will be clarified and cleansed, reducing acne as well as dark spots.
Ageing is a natural process that can't be stopped but you can adopt lifestyles which can slow down ageing. For example, inculcating healthy eating habits, doing regular exercises and keeping the skin hydrated are some ways which reduce the chances of appearance of aging dark spots. So follow this, besides using the above home remedies, for better results.
Recommended Topics: