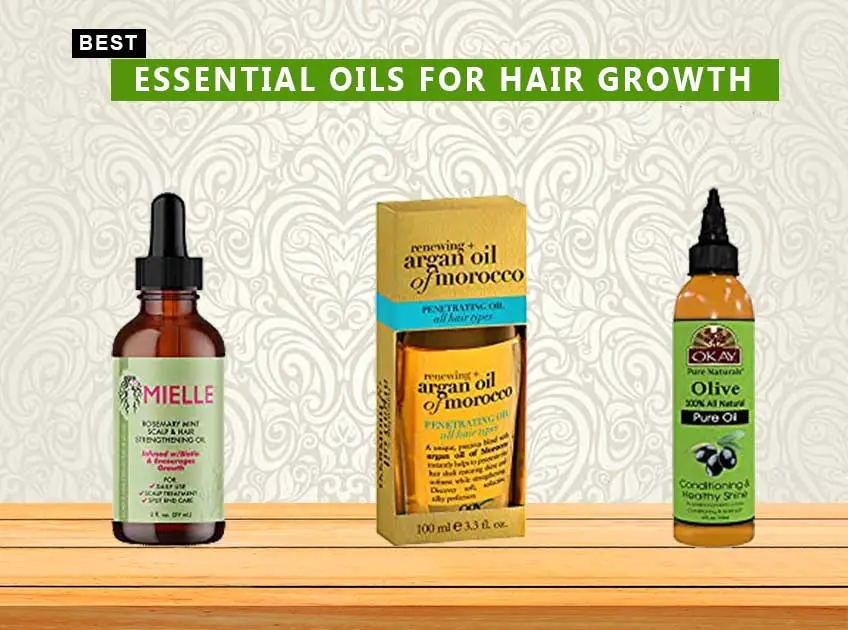 Hair fall is one of the most common hair issues. It can happen for multiple reasons, such as poor diet, lifestyle habits, overuse of heat styling tools, poor quality hair care products, etc. Besides, genetics and certain medical condition also lead to hair fall.
In order to reverse hair fall and hair thinning, you can use different types of hair care products. Apart from using the right shampoo and conditioner, oil also plays a great role in affecting hair growth.
Essential Oils
Essential oils are extracted from medicinal plants and are highly effective in promoting healthy hair growth. Here we have listed the 7 best essential oils for hair growth that also addresses other hair issues like split ends, dry and damaged hair, and flaky scalp. Moreover, they can trigger new hair growth.
Check them out!
7 Best Essential Oils For Hair Growth
1. USDA Certified Organic: Kate Blanc Cosmetics Castor Oil
Castor oil promotes healthy hair growth, giving longer, thicker, and voluminous hair and diminishing hair fall
Works well for the scalp, eyebrows, and eyelashes too
It is 100% guaranteed authentic, pure, natural, and hexane free.
Effective treatment for dry, brittle hair, dry scalps, and dandruff
Useful for the skin, too, as it moisturizes skin and reduces blemishes, acne, pimples, scars, and fine lines without leaving your skin dry
What We Don't Like: It feels sticky and makes hair greasy.
[ Read: 7 Simple Home Remedies For Dry Itchy Scalp ]
2. 100% Pure: OKAY Olive Oil For All Hair Textures & Skin Types
It is a multipurpose essential oil, suitable for all hair textures and skin types
It helps moisturize, soothe, massaging, and heal damaged hair
Provides deep nourishment to hair, making them silky, shiny, and voluminous
It is formulated with 100% Pure Olive Oil, which is loaded with anti-aging antioxidants and hydrating squalene
What We Don't Like: The smell may feel a little awkward.
[ Read: 5 Homemade Hair Rinse Recipes for Silky, Shiny Hair ]
3. Best Hair Fall Remedy: Mamaearth Onion Oil for Hair Growth & Hair Fall Control with Redensyl
It is an effective blend of onion oil, and recently that promotes healthy hair growth
The powerful blend of sunflower oil, amla oil, and hibiscus oil nourishes each strand, making them stronger to prevent further damage.
Rich in Vitamin D that makes hair healthier and stronger than ever
It is made with natural ingredients, thus suitable for all hair types
Works well for color-treated hair too
What We Don't Like: The results take time to come.
4. Best for Thinning Hair: Luseta Tea Tree Oil for Hair Growth
It is exclusively designed to maintain hair health by delivering essential nutrients to the scalp and rejuvenating it
Infused with argan oil to nourish and revitalize hair
It helps make hair healthier and shiner and scalp calm and soothe
It is color safe and free of sulfates, parabens, and gluten
What We Don't Like: Hair gets greasy and sticky.
[ Read: 16 Effective Tips to Maintain Healthy Hair ]
5. Moisturizing and Strengthening: OGX Renewing + Argan Oil of Morocco Penetrating Hair Oil Treatment
It is suitable for all hair types and helps give strong and silky hair
It helps seal in nutrients and shines to the locks, making them look voluminous and bouncy
The oil penetrates deep into the cuticles, giving a renewed look and feel of silky perfection and radiant shine
Features a potent blend of rich cold-pressed Moroccan argan oil that revives each hair strand
The pleasing citrus-fresh, floral-green, and woody scent gives good vibes
What We Don't Like: It is more pricey than other essential oils.
[ Read: 16 Home Remedies for Hair Growth, Thickness ]
6. Nourishing Treatment: Mielle Organics Rosemary Mint Scalp & Hair Strengthening Oil
It is a nutrient-rich, biotin-infused treatment that provides intensive deep treatment of hair
Prevents hair damage and gives strong and lustrous hair with voluminous growth
The fresh and pleasing scent makes hair feel and smell refreshed.
It is an effective oil that addresses multiple hair issues like split ends, hair fall, and hair thinning
The blend of 30 essential oils and nutrients penetrates the scalp and increases blood circulation to combat dandruff and itchy scalp
What We Don't Like: It may feel heavy on the hair.
[ Read: How to Strengthen Hair Naturally ]
7. 100% Pure Organic: Peppermint Essential Oil by Fiora Naturals
It is USDA Certified organic peppermint oil which is 100% natural and steam distilled
Massaging on the scalp helps relieve irritated scalp, reduce dryness, and leave hair soft and silky
It is effective against multiple hair issues, including dandruff and flaky scalp
It can be used on the skin and as aromatherapy for complete relaxation and stress-free life
What We Don't Like: The results are not long-lasting.
[ Read: How To Use Peppermint Oil For Hair Growth ]
Conclusion
Now that you know which essential oil works most effectively on hair, it's time to use them for the best therapeutic results.
You Might Also Like: