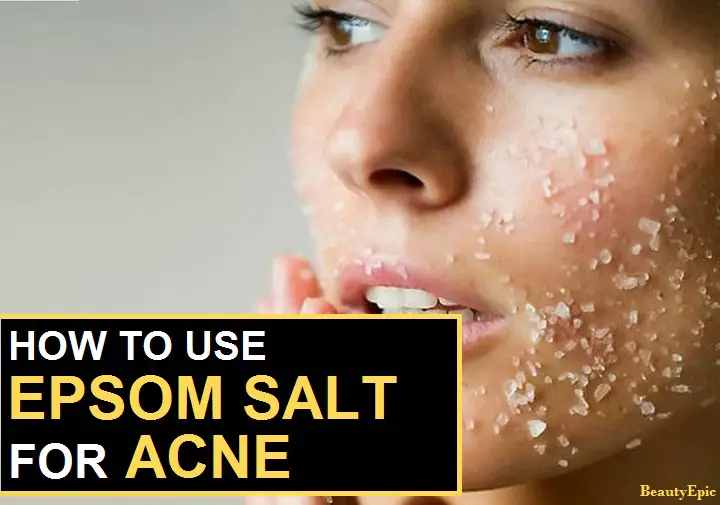 Even though there is no scientific evidence that proves the effectiveness of Epsom Salt for acne, it has been used as a useful remedy to treat different ailments for a long time. In fact, there are no studies claiming that this salt penetrates the skin and alters the composition, yet it has been seen in treating skin-related issues.
Let's know what makes Epsom salt and how it can be used to treat acne.
What Does Epsom Salt do for Acne?
Epsom salt, aka magnesium sulfate, comprises magnesium, oxygen, and sulfur as the major components. Let's find out how these components work together to bring positive effects to the skin.
Magnesium: The Mineral Magic- The body requires magnesium to perform different functions like upkeep of bone health and nerve function. At the same time, magnesium also helps to reduce inflammation. Therefore, Epsom salt can help relieve skin issues like acne, eczema, and psoriasis.
Sulfur: Treatment for Acne- Sulfur in Epsom salt is the best bet for working on acne and pimples. It has anti-inflammatory properties that can work wonders in improving skin conditions.
Since there is a lack of research regarding Epsom salt for acne, the effects are believed to be placebo. However, many believe that the absence of proof doesn't mean that this salt doesn't work at all. People use it and swear by its benefits.
Epsom salt has been extensively used in Traditional Chinese Medicine (TCM) for centuries to improve blood circulation, promote sleep and relaxation and eliminate toxins from the body.
Here are some of the desirable things that Epsom salt can do for acne:
It has anti-inflammatory properties that reduce pain, inflammation, swelling and redness caused by acne.
It has magnesium that soothes the nervous system hence alleviating the acne induced by stress.
It has sulfur which contains properties of being anti-fungal, antiviral and antibacterial.
It has zinc, vitamin D, and potassium which are necessary to achieve a spotless skin.
It dehydrates bacteria by absorbing the excess oil from clogged pores
It exfoliates to eliminate dirt, dead skin cells, and other impurities.
To use Epsom salt to treat acne, one of the following remedies can be used-
How to Use Epsom Salt for Acne
There exist numerous ways of using magnesium sulfate for treating acne. Although you can just use it with water, there are other ingredients you can mix with to get better results. One of the simplest methods of dealing with acne involves the use of effective natural remedies such as Epsom salt. The use of magnesium sulfate (Epsom salt) helps cleanse the skin as well as exfoliate it. One great thing about Epsom salt is its ability to cure acne without allowing scars to form.
1. Baking Soda and Epsom Salt for Acne
Having cystic acne can be very discomforting. Luckily, the magnesium found in Epsom salt soothes all those areas affected by acne. On the other hand, sulfate cleanses the skin by flushing out toxins. When the baking soda is added to the mix, it acts as an antiseptic and also helps in the removal of excess oil from the skin.
You'll need:
epsom salt
baking soda
warm water
Preparation time: 3 minutes.
How to do:
Mix Epsom salt and baking soda using warm water
Stir properly until you get a fine paste
Then, apply that fine paste on the affected areas and let it dry for a couple of minutes.
After it has hardened, you can rinse the area gently using some warm water.
Repetitions: Repeat the process regularly until the acne cysts are under control.
[ Read: How to Get Rid of Acne with Baking Soda ]
2. Lemon Juice and Epsom Salt for Acne
A combination of Epsom salt and lemon juice is considered to be among the effective ways one can use to get rid of the acne completely.
You'll need:
1 tablespoon of fresh lemon juice
1 tablespoon of epsom salt
cognac and milk powder
Preparation time: 5 minutes.
How to do:
Mix fresh lemon juice with  epsom salt. A small amount of cognac and milk powder can also be added to this mixture for better results.
Apply the resulting mixture to the areas affected and wait for it to dry.
Then rinse your skin using cold water and wait for it to dry.
Now you can add an oil-free moisturizer.
Repetitions: Repeat the process daily to clear acne successfully.
[ Read: How to Get Rid of Acne with Lemon ]
3. Honey and Epsom Salt for Acne
Honey in this mix helps soothe the irritated skin while Epsom salt helps flush out all the impurities.
You'll need:
1 tablespoon of raw honey
epsom salt
few drops of lemon juice and olive oil (Optional)
Preparation time: 4 minutes.
How to do:
Mix honey with epsom salt in a tiny bowl. You can also mix the solution with a few drops of lemon juice and olive oil for better results.
Apply the mixture to the affected areas of your skin.
Do not disturb it for the next 15 to 20 minutes.
Afterwards you can rinse the areas with water.
Moisturize those areas after they are dry.
Repetitions: Repeat the process often to avert acne.
[ Read: How to Treat Acne with Honey ]
4. Tea Tree oil and Epsom Salt for Acne
Although you can use each of these ingredients separately, you can combine them to get great results when dealing with acne problems.
You'll need:
5 tablespoons of steaming water
10 drops of tea tree oil
2 tablespoons of Epsom salt
cotton ball
Preparation time: 5 minutes.
How to do:
Get a small pot and add steaming water, tea tree oil and Epsom salt in it.
Mix properly and store the resulting mixture in a clean bottle.
Use a cotton ball to apply the mixture to the affected areas
Repetitions: Follow the above process 2 to 4 times a day until you get rid of the acne.
[ Read: How To Use Tea Tree Oil for Acne ]
5. Epsom Salt and Coconut Oil for Acne
Coconut oil is very rich in fatty acids that can protect your skin from infections and bacteria. Better still, it moisturizes your skin without clogging its pores.
You'll need:
2 tablespoons of coconut oil
tea tree oil (Optional)
3 tablespoons of Epsom salt
Preparation time: 5 minutes.
How to do:
First, melt coconut oil using low heat. You can also add tea tree oil for better results.
Then add Epsom salt to it, Stir until all Epsom salt has dissolved
Remove the mixture from the heat and don't use it until it cools to room temperature.
Apply by massaging gently, to all the affected areas, for 5 minutes.
Use warm water to rinse followed by cool water
Once the areas get pat dry, apply a moisturizer.
Repetitions: Repeat those steps 3 times per week.
[ Read: Does Coconut Oil Treat Acne ]
6. Epsom Salt Soak
You can get an at-home spa treatment with a bomb Epsom salt facial that will help to treat acne. Follow these steps for Epsom salt soak
Take 2 cups of warm water and dissolve 2 to 3 tablespoons of Epsom salt in it.
Now soak a clean cloth into the solution and wring it out to make it damp.
Place the damp cloth over the face and let it stay until it cools.
Rinse face with warm water.
7. Epsom Salt Spot Treatment
This treatment will help to improve pesky pop-up pimples and give immediate results in the following ways
Take 2 cups of warm water and dissolve 2 to 3 tablespoons of Epsom salt in it.
Damp a cotton ball in the solution and pat it on the zit zone.
Let the cotton ball sit for 30 seconds and rinse well with warm water.
8. Epsom Salt Scrub
Epsom salt works as a great exfoliating agent. It can help to remove the dead skin and unclog the pores. You can include Epsom salt in your healthy skincare routine in the following way
Mix 1 tablespoon of Epsom salt with one tablespoon of olive oil or coconut oil.
Make a paste and apply it over the face in light circular motions.
Let the paste stay on the face for a few minutes and rinse well with warm water.
Note: Do not scrub this paste on open wounds or sores as it can cause irritation. Also, avoid using it more than three times a week.
Safety Measures while using Epsom Salt for Acne
Even though Epsom Salt is safe to be used topically, you need to keep a few things in mind to avoid any uncertainty.
Rinse the mixture/paste/soak of Epsom salt thoroughly as long exposure to it can make the skin dry and patchy.
Do not apply Epsom salt to open cuts and rashes to avoid a burning sensation and itching.
Avoid its application near or into the eyes to prevent eye irritation.
Although rare, you could be allergic to Epsom salt if you develop hives, rashes, mouth swelling, or face trouble breathing. In such a case, contact your doctor immediately.
How Long Does it Take for Epsom Salt to Work for Acne?
The time it takes for you to start seeing results is dependent on many factors. Some of the things that may affect the results include the type of acne, how many times you apply it, skin type, what you mix the Epsom salt with among others.
Majority of people using Epson salt starts experiencing some changes within seven days but it can actually take a long time to completely heal acne. In some cases, you can only lessen the seriousness of the acne but not heal it.
Final Words
Even though Epsom salt is believed to heal and treat acne, the benefits are largely anecdotal. Using it topically is considered safe; however, it can cause the skin to dry, leaving uncomfortable residues when not rinsed properly.
There are many methods to treat acne, and Epsom salt can be considered one of them, but without any scientific proof. It can alleviate inflammation, reduce swelling, lose blackheads and exfoliate the dead skin. While the effectiveness of Epsom salt is not scientifically proven, there are people who swear by it. Since it is safe to use topically, there is no harm in experimenting with it, especially if you have mild and recurring acne.
You Might Also Like:
Image:- 1