With Diwali just around, the world is lightening with positive vibrations and colourful Rangolis. "Rangavalli" the Sanskrit word or Rangoli is an art which is considered very auspicious and prime in any religious ritual especially in India.
You must be really wondering what is the real aim of drawing Rangoli on occasions. Well, revelation of beauty and the acquisition of auspiciousness is what Rangoli mainly aims at. And No, no rulers, no threads and no brushes, but just your lovely hands freely moving its fingers.
Rangoli is a coarse powder mainly found near Maharashtra and Goa states in India. Basically the husks of rice are burnt and the white ash obtained is what we use as Rangoli.
This Diwali lets take you through a few simple and easy Rangoli Designs:
1. Colourful Rangoli with Diya
This pretty design is simple to draw. Points can be created on the floor and later these points can be joined with curved lines and shapes as shown. Colours can then be filled in. Plus, Diya is the the beauty of Diwali. Try surrounding your design with Diya's with one pretty one at the center.
 
2. Pink Beauty
Rangoli has no boundaries. It can be drawn in any or no shapes. This spending circular Rangoli with bright colour of Pink has a traditional look with turmeric like colour at the center.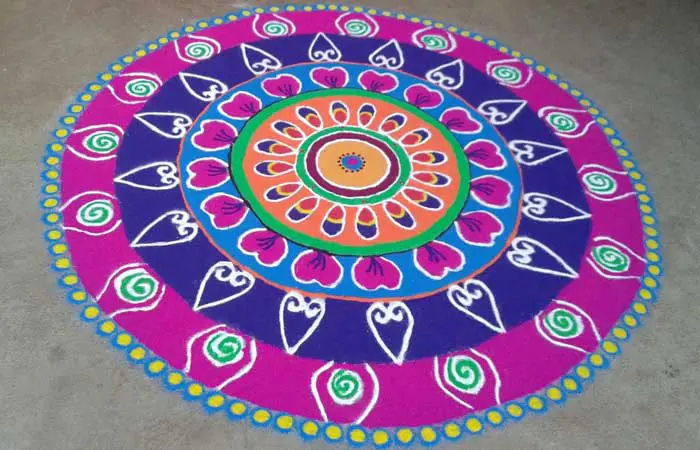 3. Lotus deep Rangoli
With deep shades of Blue and Orange, this Rangoli has a splendid additional beauty with the famous and prettiest flowers, the Lotus in its original colours drawn in.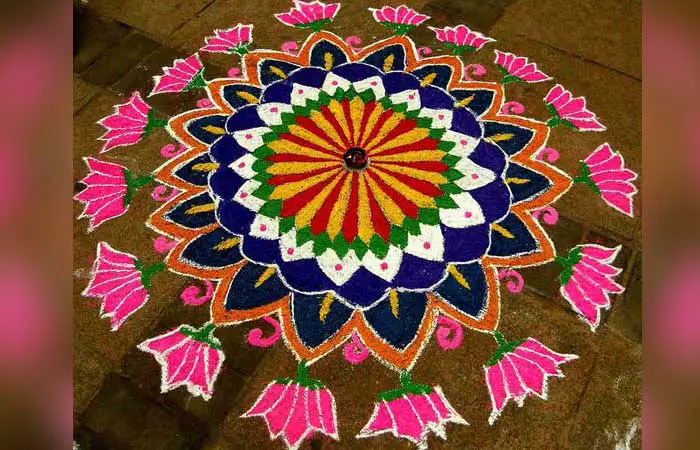 4. Family Rangoli
Diwali is an occasion where the family unites and celebrates joy and shares laughter. So why not showcase this love in form of this family Rangoli with members of all age group enjoying each other's presence.
 
5. Diya Rangoli
Try this simple Diya rangoli with simple and broad colour presence in defined areas making it elegant with the original color of Rangoli come in the main light.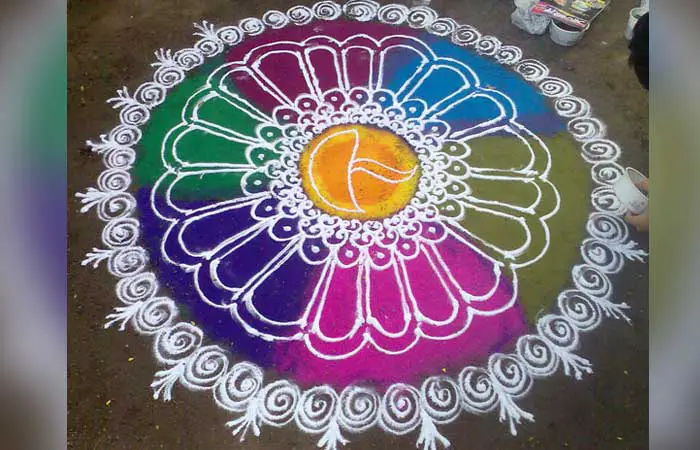 6. Artistic Rangoli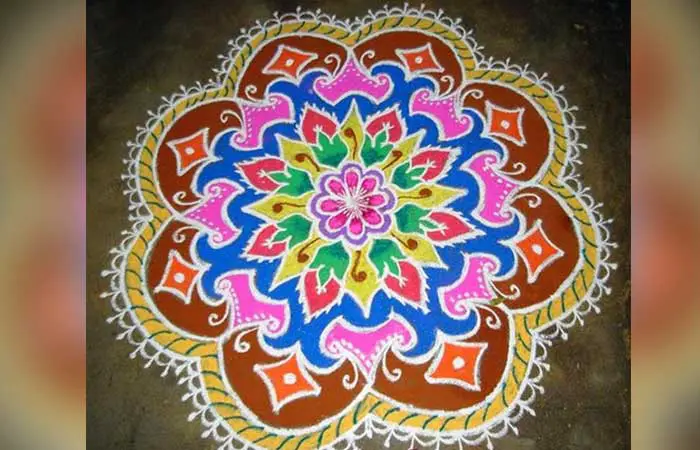 Do not get scared with the first look of this easy Rangoli. It might look complex but once you have the determination to draw, try making a rough first and then you can frame it just right wherever you wish.
7. Colour Splash
Pinks and Yellows, greens and blues oh! What a beauty! This amazing Rangoli has several colours splashed and is simple to make as the design is constant in the circle.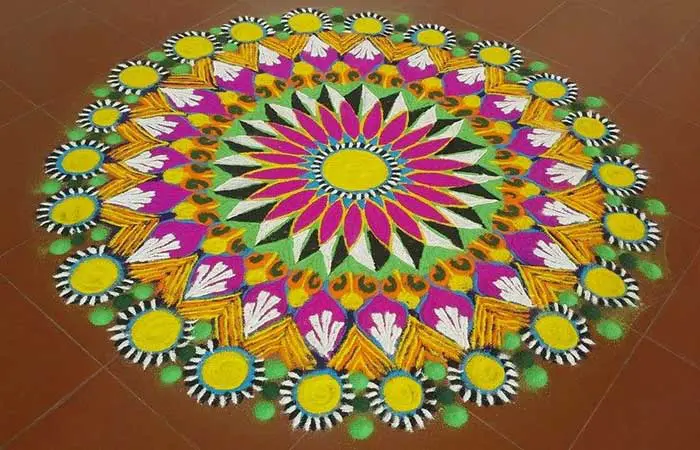 8. Ethnic Rangoli
This beauty has subtle colours of yellow and beautiful shade of brown making it look purely traditional and ethnic to its very nature. The tri-light Diya makes it look even more appealing to the eyes.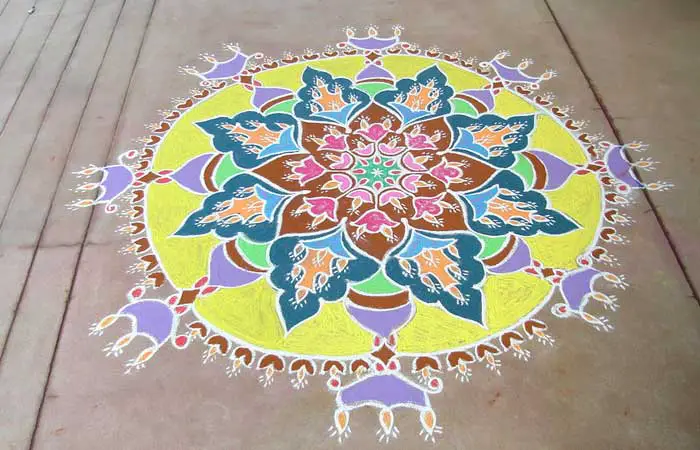 9. Floral Rangoli
With one beautiful flower in the center surrounded by the many coloured leaves, this simple Rangoli will add shine to your house.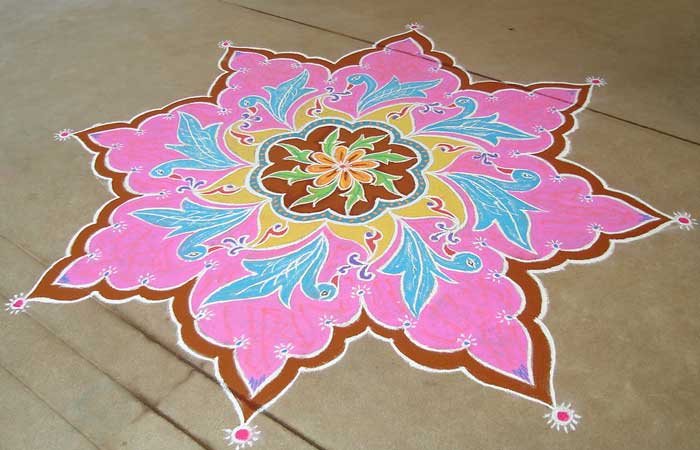 10. Lotus Flower Rangoli
The majestic lotus flowers drawn in the best possible manner with its pure colours surrounded by a mix of colours makes this Lotus Rangoli one of the favorites this Diwali.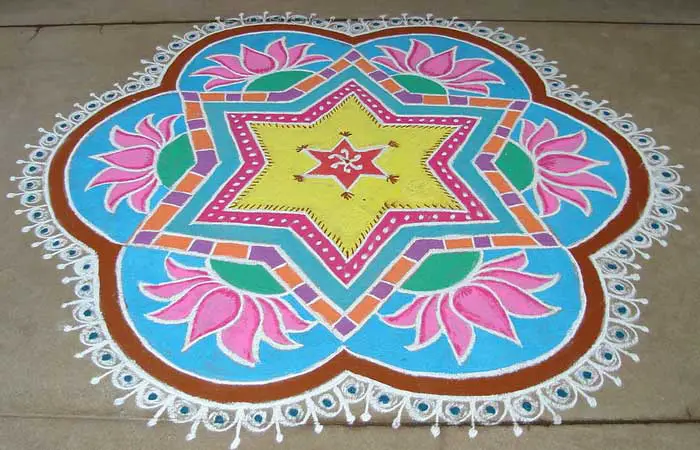 11. Quick Rangoli
This easy and simple Rangoli takes minimum efforts to draw the outline and fill in with colours of your choice. But trust me, this looks pretty and even more prettier with those surrounding Diya's.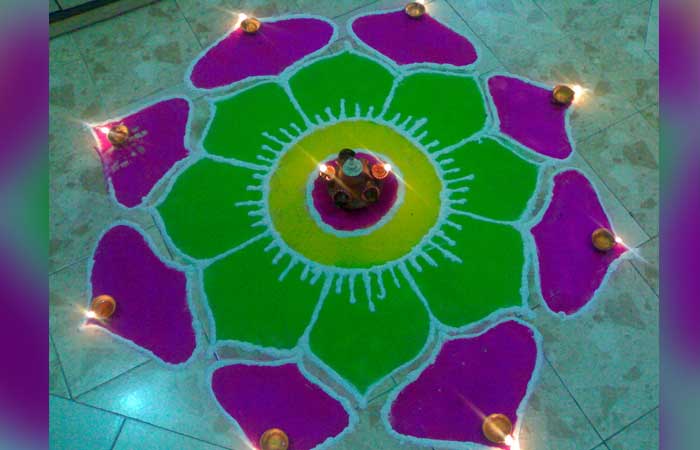 12. Traditional Rangoli
For this beauty, all you have to do is little extra effort and those magical colours and you can light up your house this Diwali with this traditional and easy Rangoli design.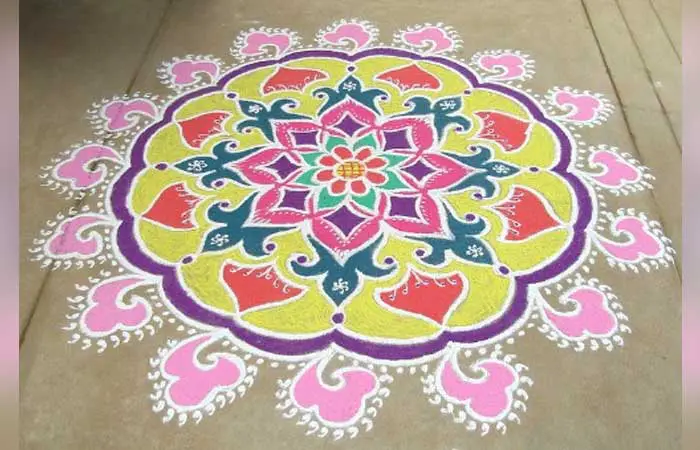 13. Modern Rangoli
With bold and bright colours, a mix of the most traditional re and green, this easy Rangoli design will add beauty to your home.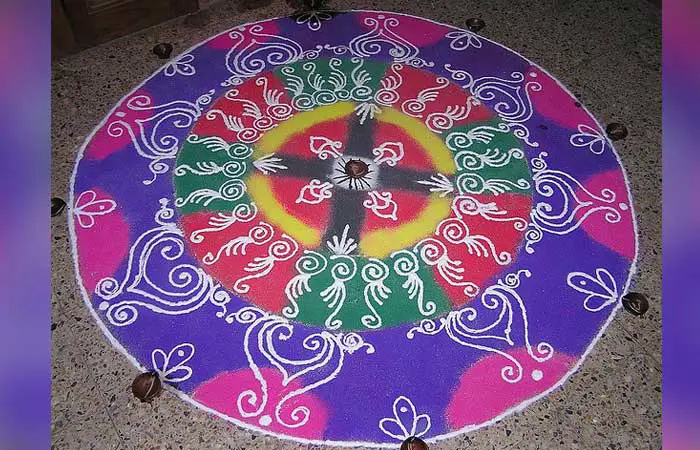 14. Blissful Rangoli
With presence of these subtle and eye pleasing colour and pretty flowers this Rangoli is a bliss in your Diwali celebrations.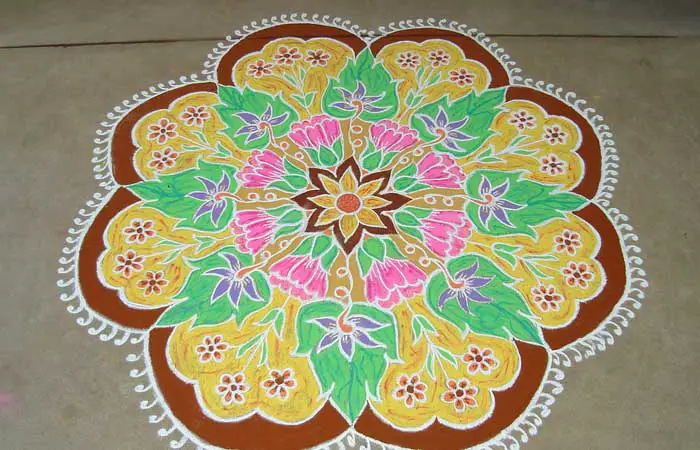 15. Peacock Rangoli
Bold red and bright yellow, what a combination centering India's national bird peacock in the most artistic way with scenic flowers decorated.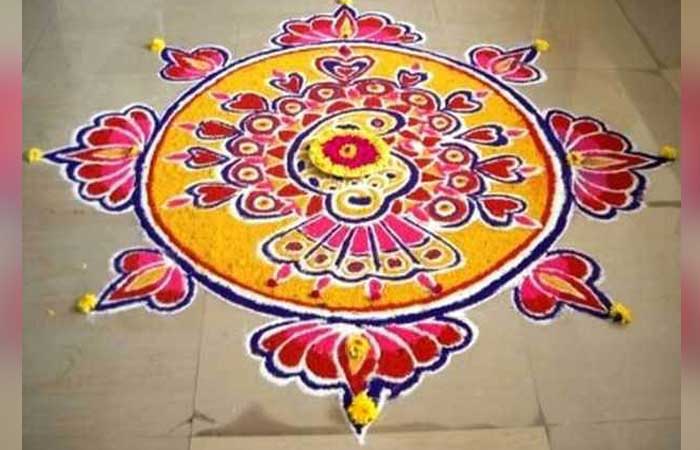 16. Easy hand Rangoli
Place few colours by your side, make those outlines and just drop in and fill your favorite colours in the outline. There you go! Easy and beautiful Rangoli is ready within no time.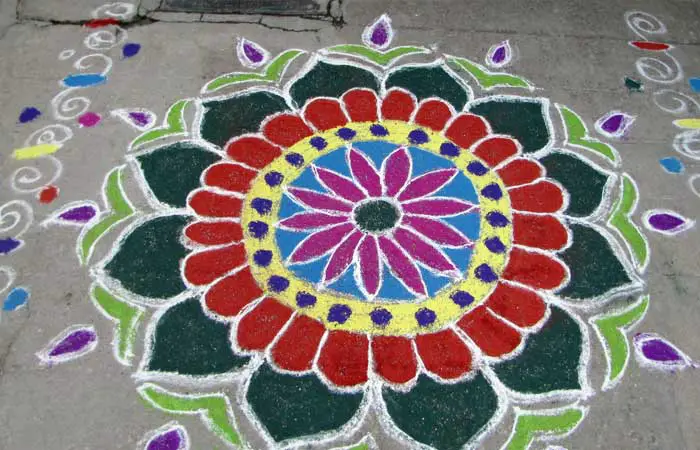 17. Colour-Fill Rangoli
Make a large circle, add in your creativity with those splendid colours and just keep filling in. For a more amazing look, add in Diya's around this Colour-Fill Rangoli.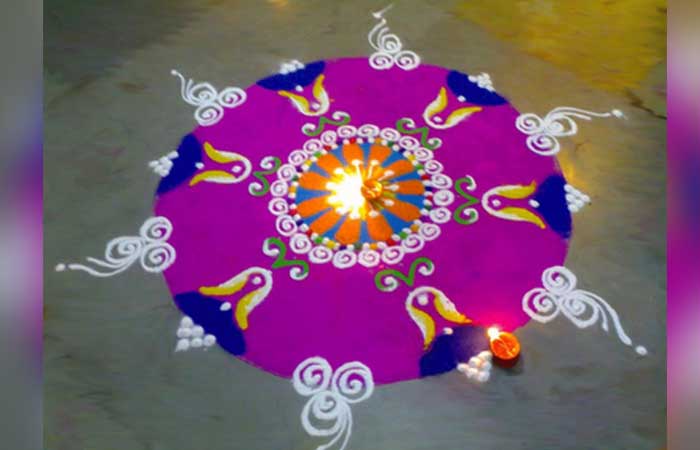 18. Desi Rangoli
Do not get lost in the many circles of this design but admire the beauty of each circle having its own thickness, colour and designs.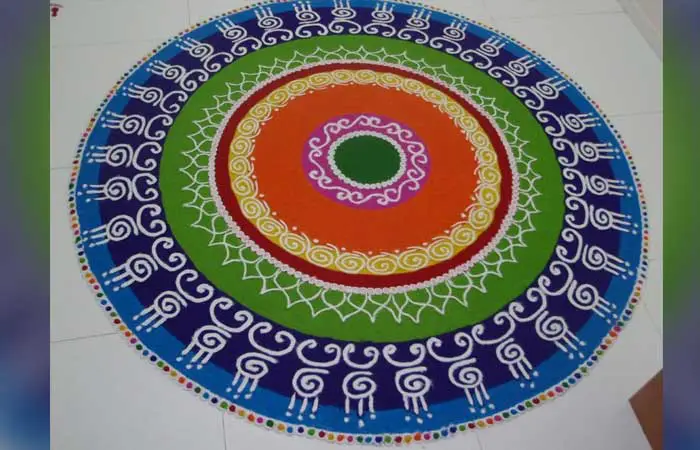 19. Kalash Rangoli
Considered to be very auspicious in Indian tradition, try this Kalash Rangoli with addition of several colours making it look rich and more authentic with Diya's and flowers around. This is a symbol of deity welcoming Goddess Laxmi into the house.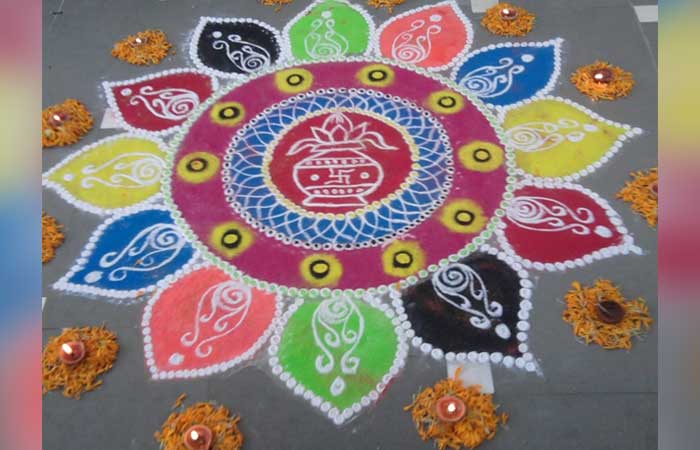 20. Colourful Bells
Ringing a bell in the temple is a part of an Indian's routine to the holy place. So why not bring this in to our favorite Rangoli design with playful colours.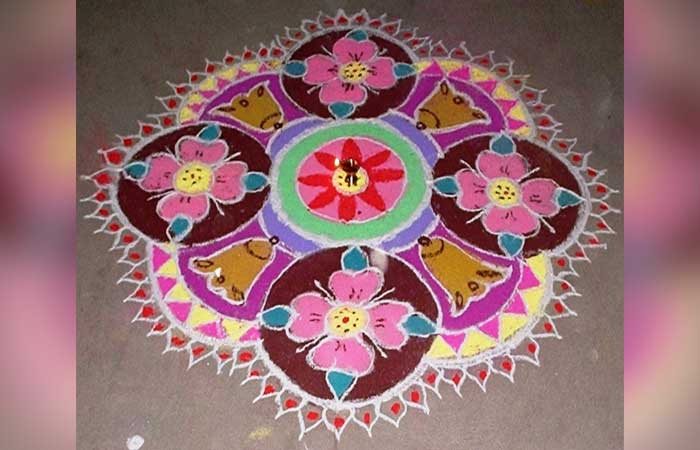 21. Square Rangoli
Most of us exactly know the shape that's going to fit exactly well in our house compound or within the home itself. Try this Square shaped beautiful Rangoli this season.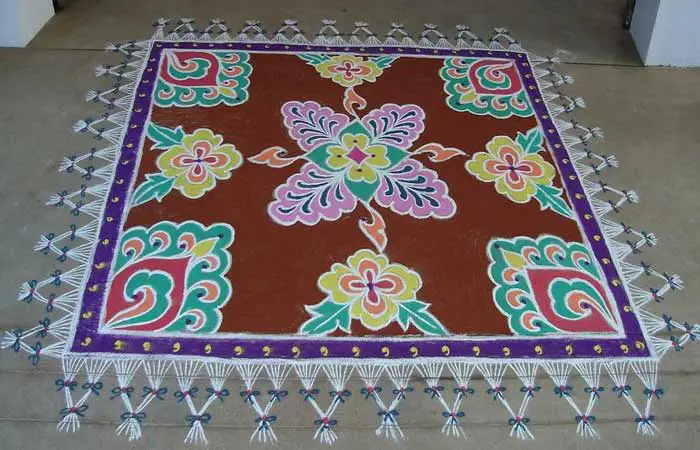 22. Diya Lamp
Why place a small Diyaamidst a whole Rangoli when you can make a whole Rangoli within a Diya? Plus, the presence of so any colours and the name of the occasion is just complementing the over all look.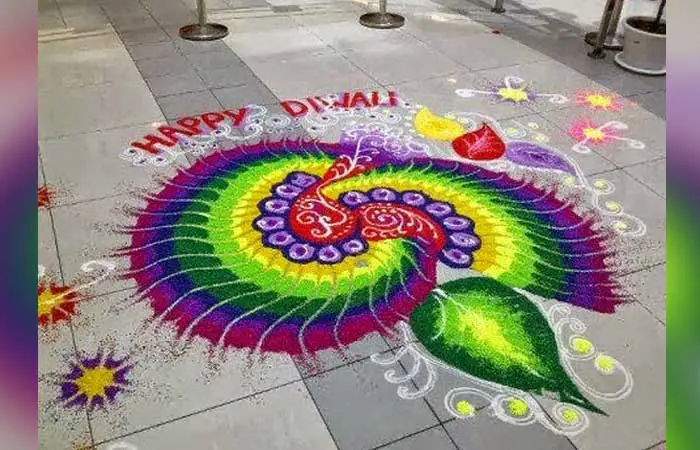 23. Deep Green and Blue
Complementing the deep and dark shades of green with borders of white and blue, orange in the center has just stolen the look making it a must-do this Diwali.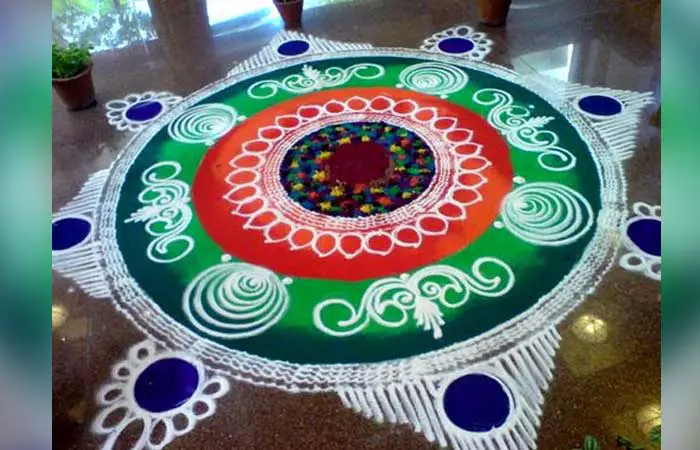 24. Princess Peacock
Make the national bird feel like a princess this Diwali by adding in its natural colours and making it shine with the presence of holy Diya's.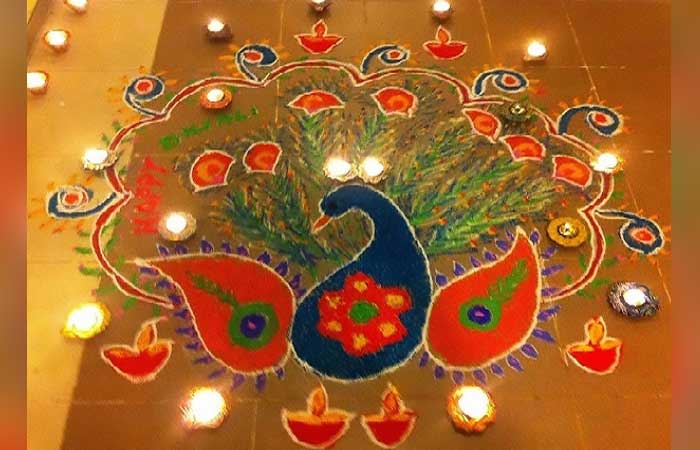 25. Simple Rangoli
This is the traditional rangoli design with the basic borders and outlines and contrasting and vibrant coloursadded in. If you are running short of time or are a novice, this is just the right one for you.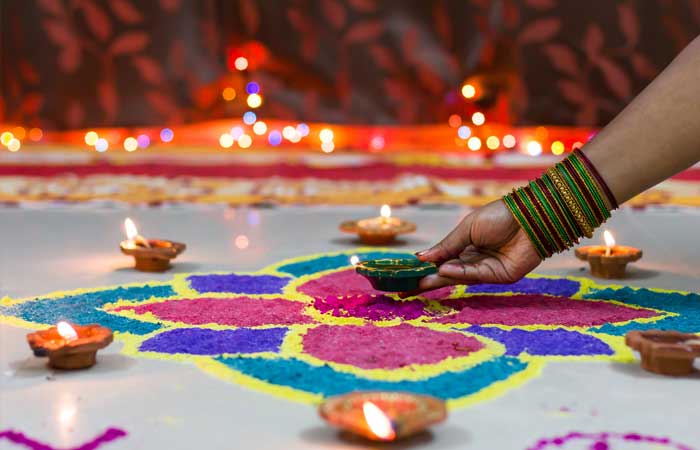 What are you waiting for? Finalize your ideal design and attract the attention of the guests on this joyous occasion. Set your moods, celebrate and brighten up your home. Happy Diwali!
Photo Credit –1,2,3,4,5,6,7,8,9,10,11,12,13,14,15,16,17,18,19,20,21,22,23,24,25SHARE THIS STORY ON FACEBOOK